One of the latest contemporary trends right now is rustic decoration. Wooden signs made of rustic materials have a vintage aesthetic and a hint of the rustic beauty of country life. The rustic interior design exudes coziness and warmth. Natural textures, soothing neutral tones, and earthy elements are typical of said rustic concept, which brings the essence of the woods inside or close to the home. Let's begin a set of decorating suggestions for your home using basic, original rustic decor. Let's see how you can add a rustic appeal to your home.
Rustic Family-Owned Business Sign
Source: pinimg.com
Perhaps you're searching for the ideal rustic sign to hang in your living room. Family-owned business signs are quite popular all year long. The ideal blend of traditional elegance and rustic vibe is adding that wonderful vintage wood established sign to your house decor!
Additionally, you may also include cute phrases that are excellent for establishing the mood in your home. Some of these adorable signs would look great on a cabinet, fireplace, or walls. Having a reliable sign is ideal for any home, regardless of whether you recently got married or recently celebrated your 50th anniversary.
Home Decor for a Rustic Kitchen
Source: onekindesign.com
There is no other space that is as functional as the kitchen. This multipurpose room is usually the center of the house. It serves several functions including entertaining guests, cooking, and sharing meals.
If you are thinking about remodeling the kitchen space, think about the fact that a perfect rustic kitchen design must combine practicality with individual preference.
Rustic Canvas with Quotes
Source: amazon.com
When looking for the best-customized canvas quotes with that remarkable rustic vibe, you can find it difficult to choose the most ideal for you and your family. You can get playful by making use of your favorite dates.
Typical personalized quote wooden signs feature established anniversary family signs, marital dates, and the kids' names and dates of birth.
Rustic Signs Made from Burlap
Personalized signs made from burlap are special presents that can be chosen to give for any celebration or bought for your own house to add a touch of rustic style. Real barn wood furniture and the burlap's texture come together to create a truly unique work of customized wall art.
Alternatively, you can add a personal touch to your burlap rustic signs by adding your surname, a simple logo, or a favorite phrase or verse. A rustic flair can be elegantly showcased with burlap. Each project can be made to look rustic or shabby chic by using burlap.
Furniture in the Bedrooms
Source: squarespace-cdn.com
Make your bedroom cozy and warm with a vintage, rural farmhouse. Using distressed, stained, or recycled wood, you may make your own rustic headboards and footboards. As opposed to what may be purchased from a store, this can be achieved at a relatively minimal cost.
To give a room a typical farmhouse look, add a shiplap to an interior wall. The ideal tones for a vintage home are creamy white, soft earth tones, and exposed metal. Rustic-themed signage and décor made of canvas and burlap will create the ideal ambiance.
Traditional Bible Verse Canvas Wall Art
Source: shopify.com
Any biblical canvas displayed throughout the house would create a beautiful décor. What a lovely way to decorate your property with some rustic elements and transform any space with your favorite verse! With a rustic bible sign, you may add uplifting words to the interior design of your home.
Simple notes might help you get through difficult times and move past them. Acquiring a rustic biblical artwork is the ideal way to add a very potent message to your home.
Rustic Knick Knacks
Source: instructables.com
You have the chance to go to an all-out farmhouse with your knick knacks or keep it more rustic. A large portion of the farmhouse's furnishings will be animals or other objects that have been decorated.
Galvanized containers play a significant role in rustic farmhouse design as well. Reduce these to a handful of pieces in a few spots, or for a more subtle effect, pick items that blend in.
There is no need to decorate or adorn every area in your home. The environment will start to appear cluttered if you don't give your eyes room to rest. It's not necessary to always have a complete collection of candles and flower arrangements on your dinner table or a book on your side tables.
Plants
Source: unsplash.com
Taking plants inside will enhance the attractiveness of your house, and the pot or vase you use to house them will add to its vintage appeal. Choose an earthy wood box, or terra cotta, or construct a macrame plant hanger to give depth to your decorations if you're going for a rustic look.
If you aren't blessed with a green thumb, you may still add artificial plants to the space to add some greenery. They give the house a lived-in appeal while not piling another set of tasks on your everyday responsibilities.
Also Read: 30+ Rustic Modern House Designs that fit the 2023 Trend & Beyond
The Best Design for Your Farm
Source: treehouse.co
Choose mountains and wooded features, which offer simple comforts in a carefree environment. You would want to create a welcoming space for friends and family, making it an ideal house for each season, and a place where your mind is at ease at all times.
The basic features of the rustic style give off a cozy, welcoming environment that makes you never want to think about leaving.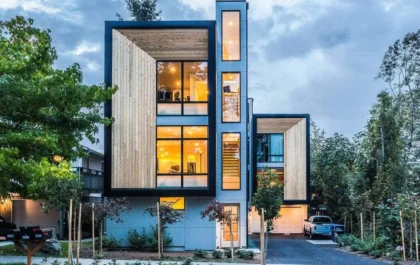 27+ Stylish & Modern Townhouse Designs for Urban Living.
The townhouse's first impression is normally too small, too compact, too narrower, and the list is endless. Well, let us…