Aquaticum Waterpark in Debrecen: A Waterpark With Incredible Architecture!  
archistyladmin ,

Updated on 24th November, 2020
5 min

read
5705
Aquaticum Waterpark
Source: arkitera.com
Project name: Aquaticum Waterpark in Debrecen
Architecture firm: BORD Architectural Studio
Location: Debrecen, Hungary
Built area: 5,624 m²
Design year: 2017-2018
Completion year: 2020
Typology: Recreation, Waterpark
Recently, A water park was opened for the public in Debrecen, Hungary. Yes, we're talking about the grand Aquaticum Waterpark in Debrecen. This is not the usual waterpark that you might be thinking of; rather, it is an ultimate luxurious spot that is known for its remarkable modern architecture. Are you excited to know more about this incredible building? If yes, then keep scrolling. 
Source: archilovers.com
Designed by BORD Architectural Studio, The Aquaticum Mediterranean Pleasure Bath has already won millions of hearts by its incredible design. With an area of about 5,624 m², it has a capacity of 4,008 people at a time! It is now fully completed and ready to provide an incomparable experience to its visitors with its unique atmosphere.
Source: worldarchitecture.org
Architect of the BORD Architectural Studio says about this place: 'It is not unusual in the picturesque landscapes of forests that a tiny lake would hide within the trees. The erratic lakeside is populated by versatile flora: an oasis within the woods. The spa emerges like an object – a box. We envisaged the horizontal and vertical water surfaces folded in this box. The folded vertical water surfaces make the impression of an endless horizon of water. A hidden oasis locked up in a box deep within the woods. The result is a sculpture-like building that provides due space for the wood and is an essence of the forest lake and its surrounding flora. A special atmosphere is provided by the designed excess dimensions.'
Source: civishir.hu
There is a domed shaped hall in the main building, measuring about 66 m in diameter. It creates rich tropical vegetation and special fun elements in the hot summer days of the year. There is an entertainment spot for almost every age group, which makes this park really exceptional. 
Source: worldarchitecture.org
Location: In the Heart of City Debrecen
Source: pinimg.com
The Aquaticum Mediterranean Pleasure Bath is situated in the heart of Debrecen's Great Forest. You'll be surprised to know that Debrecen is the second most populated city in Hungary, and it is also known as the cultural and scientific center of the region. The water park renewal was a basic need of the local population because this location has always been the foremost location for sport, relaxation, and pastime activities. 
Source: arkitera.com
Aquaticum Waterpark in Debrecen issued an architectural design competition to design and innovate the water park belonging to Aquaticum Spa and Wellness Centre in the summer of 2015. They wished to have an ultimate luxurious and popular spa that is suitable and available for all age groups. 
Source: archilovers.com
Their main aim was to create a high quality, loveable, family-centered, and touristically attractive unique water park. And finally, The design of BORD Architectural Studio won first prize at the competition.
Source: worldarchitecture.org
The Unusual Outlandish Concept
Source: amazingarchitecture.com
The architecture of this structure is unique in itself. Architects refer to this as "An oasis locked up in a box." The whole concept focuses on the life-giving aspect of water and the breathtaking forest environment. 
Source: archilovers.com
As this is a water park, you will see water everywhere. The water and flora will appear on the spa's horizontal and vertical surfaces. From water in the pools, the lawn, to the water curtains, the waterfalls, and the walls are covered by plants. These surfaces create a beautiful artistic composition of spaces, which mesmerizes the visitors.  
Source: worldarchitecture.org
The whole site consists of a wave pool, kid's pool, spray park, paddling pool, lazy river pool, playgrounds, sports courts, and many more. 
Source: archilovers.com
The spa is also situated on the same spot, and it also connects to the already existing building of Aquaticum. 
Source: worldarchitecture.org
An Unparalleled Water Experience
Source: archilovers.com
Looking for a fun place where you can spend your weekends with your family and friends? There is no better place than this! With more than 5,624 square meters of area, this is an ultimate enjoyable destination. The remarkable long, single-story entrance connects the new pedestrian pathway and the waterpark like a bridge. 
Source: behance.net
The Changing rooms, the restrooms, the shops, and a colorful food court are situated in the entrance building. You will also find many restaurants, featuring a diverse selection of international cuisine on your path to the waterpark. 
Source: archilovers.com
The building's top roof is actually a green roof that resembles a wave because of its curvy shape. 
Source: worldarchitecture.org
The waterpark's main visual piece is about a 196m x 26m floor-place size, 12m high cuboid. This unit also includes a 4m deep swimming pool, an adventure pool with a 400m long slide, a water-cave, another swimming and teaching pool, a thermal water pool, a relaxation zone, a sunbathing terrace, and bars. 
Source: civishir.hu
Another spot in this amazing park is the kids' water theme park, inspired by the anime "Treasure Planet" with its pirate boat sailing in between stars. Pirate nests with cannons, balloons, and slides, your children will surely enjoy in this place.
Source: civishir.hu 
Also Read: An Incredible Place to Explore in Paris: Parc De La Villette By Bernard Tschumi Architects
The "Green" Concept
Source: pinimg.com
As the spa has many heating equipment and requirements, it was necessary to infuse ecological energy resources in the structure to balance everything. 
Source: leisureopportunities.co.uk
The unique "green concept" has been implemented by the BORD HVAC Engineering in the entire project. The building's heating system uses the heat released when the thermal water is cooled to suit human needs.
Source: archilovers.com
Feel an Incomparable Water Experience! 
Did you know that the overall cost to build this entire structure is more than the 27 400,000 Euros (9.5 billion HUF)? Unbelievable at first, but after reading this blog and seeing the breathtaking pictures of the Aquaticum Waterpark in Debrecen, you know that this place is a must-visit destination. 
I hope you like this blog. If you're curious to know more about other family destinations, read our previous blog on The Luxurious Hard Rock Guitar Hotel.
Browse various sections of Architecturesstyle for more interesting content. 
Related posts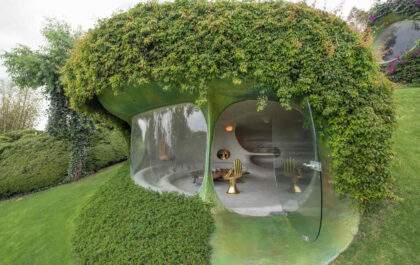 Javier Senosiain's Organic House: A Unique Architectural Wonder 
Project Credits: Project name: Organic House Architecture firm: Javier Senosiain Location: Acueducto Morelia 26, Vista del Valle, 53296, Naucalpan de…