Every construction industry is facing specific challenges that undermine employees' productivity and influences the company's overall profitability. From general problems to industry-exclusive matters, managers struggle to overcome these obstacles to remain prolific and protect their company from bankruptcy.
With more than 7 million individuals employed in its service, the construction industry in the USA today is worth 1.36 trillion, according to Statista. The North American construction sector alone will achieve a CAGR of over 5% from 2021 to 2026.
However, construction fatalities increased by 41% in 2011-2019, while every tenth worker is injured annually in this industry. So, how do project managers tackle these issues?
Challenges Facing the Construction Industry Today
Contractors face several challenges – in small and large projects alike – that plague their progress and cause them colossal losses. That's why most new entrants always demand construction professionals to inform them about different strategies to counter common problems in this industry.
From the workforce being untrained to the unavailability of documents – all of these challenges have viable solutions. You can resolve these matters immediately by paying close attention to details after you have undertaken a project.
Some of these challenges emerge when they're least expected. So, how do construction workers handle these conflicts and maintain their productivity? We'll discuss some matters and their solutions below:
1. Scheduling Problems
Even the most experienced construction professionals can become frustrated with these problems. Scheduling has remained a challenge shared by several construction workers throughout the globe. That's why we suggest choosing Primavera P6 project scheduling services to manage your construction work responsibilities efficiently. It helps you identify the pathway to the fulfillment of your project.
It also lets you plan for future events while determining short-term and long-term staffing requirements during the project's tenure. You can also prepare alternatives to your original strategy by anticipating any changes that may disrupt it. That's how this problem is resolved by leveraging technology today.
2. Unskilled Laborers
Source: metallhandwerk-nrw.de
How to ensure that recruits are skilled enough to work on a project? Contractors often complain about the lack of skills among candidates who can't meet the demands of this growing industry. We will also discuss the problem of labor shortage next.
Nonetheless, we suggest contacting staffing agencies in the construction industry to hire a capable workforce. It'll allow you to discover the right talent for your building projects and hire well-experienced people.
3. Labor Shortage
The shortage of workers isn't a construction industry-specific problem. Instead, it poses a threat to different businesses nationwide. The coronavirus pandemic brought a recession that forced many workers to leave the industry, and not everyone made it back.
Contractors can't encourage students to join the construction workforce – however – they can offer reskilling/upskilling opportunities to existing employees. These programs enable your workers to become eligible for further responsibilities while limiting labor shortage issues.
4. Expensive Materials
During the ongoing pandemic, the rising costs of building materials (steel, timber, and aluminum) caused incredible frustration for contractors. Moreover, political decisions can bring newly-imposed tariffs, so it's viable to add clauses in all contracts to create a safe room for expensive materials.
Don't forget that some of these construction materials come from China, and disruptions in logistics may lead to increased expenditures. So, monitor revisions in your contracts to document everything precisely.
5. Worker Safety
Source: primagaz.be
This industry, unfortunately, remains one of the most dangerous occupations in the world today. Statistics show that 2019 brought 1,000+ fatalities in construction. These on-site accidents hamper the project's progress and may result in lawsuits brought against contractors.
That's why you should implement OSHA safety guidelines while observing precautions to mitigate safety challenges. Employees should wear proper PPE and get training to operate heavy machinery to limit injuries at work.
6. Ineffective Communication
Communication breakdowns can create problems for contractors. With our increased reliance today on technology, effective communication isn't that grave an issue anymore. You can leverage emails, Skype calls, and numerous software applications available for communicating with everyone on your team.
It'll ensure that everyone remains updated about the project's progress. Technology helps you diminish slowdowns affecting your project, thereby making the team productive.
7. Delayed Cashflow
Outdated invoicing systems often delay the company's cash flow, leading to delayed payments that may negatively influence the project. That's why we propose replacing the traditional invoicing system with a technologically advanced one.
Similarly, you must have an open line of credit to fulfill your payments to vendors, suppliers, and employees. Unless you have the required funds to reimburse everyone, it can hinder the project's progress. So, become financially attentive.
8. Document Management
Source: constructionmonitor.com
Every project in the construction industry deals with a massive amount of paperwork that requires proper organization. A viable solution involves going paperless and conducting your transactions digitally to avoid documentation challenges.
You can also create backups of these electronic documents on the cloud to prevent loss/theft while sending them quickly to other parties. Going paperless constitutes a cost-effective answer to your document problems, and it's better for the world's environment too.
9. Project Delays
Several factors may hold up your project, including changed designs, workplace conflicts, equipment failures, or unfavorable weather conditions. A survey shows that only one-third of projects are finished on time and within budget.
We suggest leveraging IPD (integrated project delivery) that allows workers to collaborate on issues arising with designing and scheduling. Using state-of-the-art technology can help contractors communicate effectively and bring some accountability.
10. Unreliable Subcontractors
Besides employees, contractors encounter unreliable colleagues as well. Unreliable subcontractors can hamper the productivity of your workforce while endangering the success of the entire project. So, how do you make sure that only trustworthy subcontractors work with you?
Seeking suggestions from your usual partners can prove beneficial in this regard. They can recommend reliable suppliers for your project. Check their licensing before employing their services. Also, ensure that they carry liability insurance to safeguard your project against any arising issues.
Conclusion
The construction industry is facing many challenges throughout its journey, hampering the productivity of the people involved. So, what strategies should project managers implement to ensure the success of their construction projects? They must employ skilled laborers and keep their expectations realistic to avoid shattered dreams.
Also, effective communication can prevent an accident from taking place. Don't disregard the on-site worker safety and leverage technology to prevent a problem from becoming a permanent headache. That's how you can protect your construction business from downfalls this year.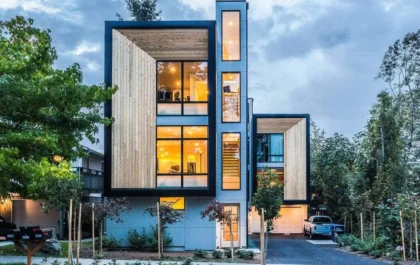 27+ Stylish & Modern Townhouse Designs for Urban Living.
The townhouse's first impression is normally too small, too compact, too narrower, and the list is endless. Well, let us…