Essential Things You Need to Consider While Designing a Bathroom  
archistyladmin ,

Updated on 31st May, 2022
5 min

read
1087
The bathroom is one of the most important aspects of your house. You cannot impress your guests if the bathroom is dirty and unattractive.
This is why many business owners take proper precautions while designing or remodeling their bathrooms. One small mistake can ruin the entire interior atmosphere of your house. 
As the bathroom will be used frequently by everyone in your house, you need to pay the same attention to designing the room just like other rooms in your house.
If you have the opportunity to build from scratch or remodel the bathroom, this will be the perfect investment that will also help you boost the overall value of your property. Here are some important things you should consider while designing your bathroom. 
The Layout 
Source: sndimg.com
Before you start choosing dream accents and statement tiles, make sure you consider the overall layout of your bathroom. When you contact UniqueDeck for the bathroom remodeling project, they will not only ensure the functionality but also the appearance of your bathroom. 
While going through the bathroom layout, make sure you consider the bathroom routine of you and your family members so that you can choose something most relevant as per your preferences.
If your lifestyle requires a bathtub, you need to determine the specific style. On the other hand, you also need to determine whether a bathtub or standing shower will most and feel most relevant as per your lifestyle. 
You also need to consider the electric and plumbing outlets, especially if you're following a tight budget. This is because they might cost you a significant amount of money. You also need to pay attention to the ventilation and lighting while focusing on the fixtures. Make sure you don't include too many additions as they will clutter the space. 
Focus on the Lighting
Source: housing.com
The lighting you choose will play a major role in the mood and functionality of the bathroom. As per Modobath, bathroom lighting is important. Good lighting will undoubtedly help you boost the mood in the bathroom.
Additionally, lighting will make your bathroom look and feel bigger and brighter. Make sure the layout of the bathroom is capable of complementing the natural light and after that, consider the lighting you want to implement. You can choose a relaxing tone over the warmer light as per your requirements. You can also choose dimmers as they are the perfect way to switch between ambiance lighting and task. Don't forget to hire professional electrical maintenance who will help you with the lighting installation. 
It doesn't matter what you do, ensure that the bathroom is adequately laminated. 
Don't Forget the Interior Style
Source: cdn.com
Seek out colors, designs, and finishes that will complement the interior of your house so that you can develop a sense of cohesion. As there are countless material options available in the market, you will face difficulties choosing the exact thing you're looking for.
Therefore, you need to develop a flow-on effect with the help of similar statement tiles that are used in other bathrooms or kitchen cabinets. You can also use timber accents for your bathroom.   Timber is an excellent material that can make your bathroom look both rustic and luxurious at the same time. 
Pay Attention to the Storage Needs
Source: hzcdn.com
Make sure you include ample storage space in your bathroom so that you can keep all the essential items within your reach. This will also help you declutter the space. The towel rails, shelves, and cabinets will prove to be helpful in this case. 
You need to focus on the storage needs of your family while designing the bathroom. If you have a lot of beauty products, make sure you include ample space for them as well. Don't forget that the bathroom is one of the busiest rooms in your house and therefore, it requires a lot of organization. 
Bathroom remodeling is a significant investment and you need to be extra careful while making decisions. Keep the tips mentioned above in mind to ensure you end up with the bathroom of your dreams.
Cabinet Handles, Tapware, and Towel Railings
Source: interceramica.co
These are the three integral parts of any bathroom. These also help in providing the finishing touch to your bathroom. Modobath can provide you with a wide range of these products so that you can choose the perfect one for your bathroom. Visit their website now to take a look!
UniqueDeck is a remodeling company that offers various services to its clients. These services include deck reconstruction, bathroom remodeling, flooring, and many others. We have a team of highly skilled professionals who can transform your bathroom into the one you have always wanted. 
If you are planning to remodel your bathroom, there are certain things you need to keep in mind to make sure the process goes smoothly. The first thing you need to do is set a budget. This is because bathroom remodeling can be quite expensive.
You also need to pay attention to the ventilation and lighting while focusing on the fixtures. Make sure you don't include too many additions as they will clutter the space. 
Conclusion 
These are the important things you need to consider while designing your bathroom. What are your thoughts? Comment below to let us know. 
Related posts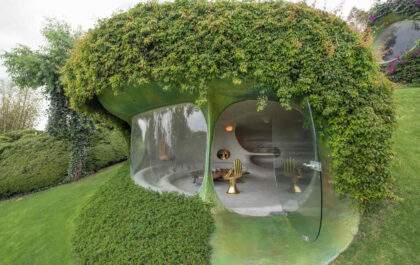 Javier Senosiain's Organic House: A Unique Architectural Wonder 
Project Credits: Project name: Organic House Architecture firm: Javier Senosiain Location: Acueducto Morelia 26, Vista del Valle, 53296, Naucalpan de…