A two-storey building designed by Florida-born architect Horace Gifford has been renovated and overhauled by American studio Andrew Franz Architect. Located in fire island, United States, originally this cedar-clad dwelling was built in 1965. This place has always been a popular getaway spot for New Yorkers.
Are you excited to know about this building? Let's see how the architect has planned everything and built the house of his dreams without disturbing the original structure much.
Fire Island House
Architects: Andrew Franz Architect
Location: Fire Island, United States
Area: 1500 ft²
Year: 2019
Architectural Designer: Jennifer Budde
Garden Design: CF Gardens
Lead Designer: Andrew Franz
Project Manager: North Keeragool
Interior Design: Peter Dunham
Design Consultancy: Jamie Bush
Landscape Architecture: Tania Compton
Nestled in a wooded site near the beach of a sandy barrier island, Fire Island House is a modern masterpiece. This property was constructed in 1965 by architect Horace Gifford, who is well known for his amazing 60 glass and cedar beach houses on the island.
Currently, it is owned by Michael Giordano, and in 2019 he planned to renovate and update this beach house. He asked his friend, Andrew Franz, a Manhattan-based architect who previously also built his New York City apartment. along with the Andrew Franz Architect, the interior designer Peter Dunham, designer Jamie Bush, and landscape architect Tania Compton were also on the team for this project.
Source: adsttc.com
The modern and rustic house was renovated and restored. The construction process includes several modifications, including a new guest house and a pool and deck. The fascinating thing is that the architects not only renovated the original cedar-clad dwelling but also expanded the existing structure with various adjustments. 
The Master Plan & Design
Source: futuristarchitecture.com
The master plan of the new design includes a new guest house, pool, exterior stair, new decking and circulation paths, and relocated entry pavilion.
The new guest house is now about 1200 square feet in size, and it offers exciting new exteriors and all kinds of facilities. Let's talk about the style; the guest house is rustic and also modern despite its dramatic yet simple cruciform plan. As compared to the original, this part of the house has simple geometry. Overall we can say the new guest room has a clear and efficient design.
Source: adsttc.com
The owner reversed the entrance from the back of the house to the front in the new plan. Apart from these, he has also made a few interior changes here and there, such as previously there was one bathroom with a little laundry room, and now this has been converted into two bathrooms. 
Though architects have made changes, their goal was to create additions that stand out from the original design and keep the rest of the architecture the same (original).
Source: adsttc.com
Small other upgrades and modifications have been done to improve circulation and function of the space, including enlarged bathrooms, renovated kitchen, and period fireplace. Apart from the exteriors and interiors of the structure, architects have changed the landscape a bit also. They try to preserve its wild character by reintroducing the native vegetation. This way, they show their support to local wildlife and promote pollination.
"I think we all fell in love with this house and therefore only wanted what was best for it. In the end, the project became more focused on the protection of this modernist building than on its modernization, " said architect Andrew Franz.
Remarkable Details
Source: adsttc.com
Glass, aluminum, and wood: only these materials are used to construct the entire building. Before the oak flooring was done in most parts of the house, later, it was stripped and finished with new floors. Interior and exterior walls are cedar boards to match the flooring. To brighten up the space, designers had suggested sanding the cedar boards. 
Another surprising or more like a shocking thing about this amazing house is its doors! Even after sixty years, the original Arcadia sliding doors work perfectly. However, the exterior walls were not in that good shape, so they are all replaced by new cedar boards. Also, the outdoor decks were a little wobbly and shaky, so they were rebuilt to the previous configuration.
Source: adsttc.com
The entire structure of the Fire Island House by Andrew Franz Architect is built on columns, and each column has a closet. So now there are a total of twenty closets in this home. You might be wondering why there are so many closets? What's the use of them? 
That's because Horace Gifford thought that 'everything should be clean visually, and everything that can be put in a closet.'
This is because every closet is designed with a purpose. Yes, you can find all types of closets here, like a closet with a bar, a closet for firewood, a coat closet, and many more. 
Source: adsttc.com
The most interesting thing about them is that they also help block the light coming into space. This means if you want to block the natural light, all you need to do is open these closet doors. All of them fit exactly into the window and serve as a shutter. Pretty amazing, right?
Also Read: The Luxurious Black Villa New York in Harriman State Park
Before Renovation: Old House Structure
Old House:
The old structure was undoubtedly created brilliantly, but various issues started happening in many different parts of the building. The main agenda of this project is to create new spaces and make modifications while respecting the original structure. That's why architects only have included those necessary things and that too without disturbing the old structure. 
Source: futuristarchitecture.com
The new building combined different materials, especially glass and wood, to give strength and proper support. Fire island house allows the visitors to enjoy nature and the guest house itself easily. 
The new home has modern interiors, rustic wooden stairs, and flat roofs. Special lights have been placed in the guest house to create a romantic atmosphere at night.
After Renovation: Fire Island House
Source: amazonaws.com
The new rectangle shape of the building reminds of the original house's geometry and the cedar siding and louvered windows. They're specifically positioned to form an interior courtyard. 
This spacious internal courtyard also works double as a connector between the old and new and an extension of the indoor-outdoor living space. By taking the reference of the original building in geometry, cedar siding and jalousie windows have been included in the design.
Source: futuristarchitecture.com
A new cantilevered stair has been constructed, and it appears like it is floating away from the house. These stairs connect the ground-floor outdoor living areas with elevated decks and terraces.
As a team, "I think we all fell in love with this house," says Franz, "and therefore only wanted what was best for her. We all wanted to protect this iconographic modernist building." For the owner, too, "it was an act of love: restoring an heirloom. He wanted it to sing." 
Source: adsttc.com
Architects have completely restored the exterior of the original house. This includes the installation of new siding, copper flashing, and roofing. Other than that, as we already mentioned in the above paras, the interior wood surfaces and jalousie windows are also restored with a new HVAC system (heating and air conditioning system).
Source: adsttc.com
Source: adsttc.com
Source: adsttc.com
Source: futuristarchitecture.com
Source: futuristarchitecture.com
Source: futuristarchitecture.com
Final Thoughts
So, this is all about Fire Island House by Andrew Franz Architect. The main objective of the architects and designers while renovating this place is to add new spaces and upgrade a few parts without disturbing the original Horace Gifford design.
The new house or Fire Island House New York City has everything that the owner has asked for. From a spacious guest house with spectacular natural views to rustic and modern interiors, this architecture has many things to admire. The new elements and material palette additions are clearly distinguished from the original but don't look too distracting. 
I hope you liked this blog about this riverside beauty: Fire Island House NYC. Share this blog with your family and friends or with anyone curious to know more about renovations and modifications of old buildings.  
For more information about the various types of architecture and home improvement techniques and styles or decoration ideas, explore Architecturesstyle.
For daily updates about architectures, don't forget to follow us on our Instagram page, Architecturesstyleideas.
Himadri Shakya
Himadri Shakya is an enthusiastic Content Writer and Editor. She loves to create creative, engaging, and SEO-friendly content. Through her extensive research skills and practice, she has been generating high-quality and informative articles, and blog posts for over 4 years.
Related posts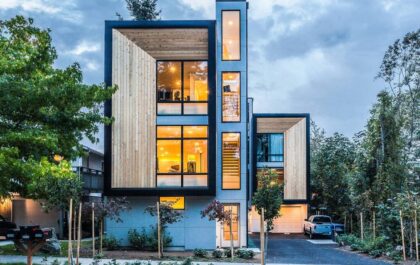 27+ Stylish & Modern Townhouse Designs for Urban Living.
The townhouse's first impression is normally too small, too compact, too narrower, and the list is endless. Well, let us…