The improvement of fireplace functionality goes beyond the use of a variety of fuel sources. These days, you have the opportunity to select between freestanding and inbuilt models as an added design feature. So, when faced with making a choice between freestanding and insert fireplaces, here is an overview of the key differences between the two types of fireplaces to act as a guide.
Freestanding Fireplaces
Source: living4media.com
Freestanding fireplaces do not need to be installed near or against any walls. As a result, you have plenty of wiggle room regarding where you choose to position your heater. However, as in most things, there are some advantages and disadvantages to having such a boon.
The primary advantage lies in the lower cost of installation. Since you don't have to contend with walls and the resultant major construction, putting in a freestanding fireplace can be much cheaper than installing an in-built one.
Next, freestanding fireplaces are not confined to a corner, thus allowing the whole structure to be exposed to the space it is in. As a result, you get to benefit from both convective and radiant heat. This feature ensures that more energy goes to warming the room, rendering this heater more efficient.
Finally, you can choose how you would prefer to vent your fireplace, whether vertically or horizontally. Bear in mind that this selection determines the fuel source you end up using. As a guide, wood-burning models use only vertical vents, while gas types are easily adaptable to both vertical and horizontal flues.
However, your ability to position a freestanding fireplace wherever you please has one specific limitation: not every area available will benefit the heater's efficiency. Therefore, to counter the possibility of making your fireplace less efficient:
If you have a wood-burning model, try to select the most central spot in the room. This consideration allows you to heat multiple rooms using just one fireplace. Furthermore, the vertical vent will facilitate more efficient heat distribution.
For gas models, the more flexible venting options allow you to place the heater wherever you prefer without compromising its optimum operation.
Insert Fireplaces
Source: rayarnoldmasonry.com
These are both the more conventional and better-known types because when heaters were first invented, these types of fireplaces were the premier types.
Artificial heat sources, like fireplaces, are what come to mind when people think of home heating. They often involve stone or brick facades and chimneys with mantles and grates.
Often seen in today's interiors, there are two types of insert fireplaces:
Inserts- which use already existing chimneys.

Fireplaces- which require a custom-made timber frame.
Inserts are ideal for maintaining or enhancing your open fireplace's efficiency, a welcome advantage when cooler temperatures prevail. Additionally, the installation process remains equally simple, whether you opt to have a gas or wood heater. However, the only disadvantage is that inserts are only suited for centrally positioned fireplaces. Otherwise, they tend to decrease your appliance's efficacy.
Fireplaces that are to be installed in timber framing allow for more design flexibility without the need for a larger space. In addition, both external and vertical venting systems work well with this type of heater. Therefore, you can select the ventilation method that you feel will work best for your purposes.
Concerning their aesthetics, both inserts and fireplaces are equally appealing. They look just like traditional open fireplaces while operating more efficiently. They also have fans to direct convective heat into the room.
Finally, the choice between freestanding and insert fireplaces lies in your preferences. For more guidance and advice, or would like to explore the models available, then contact your local heating experts.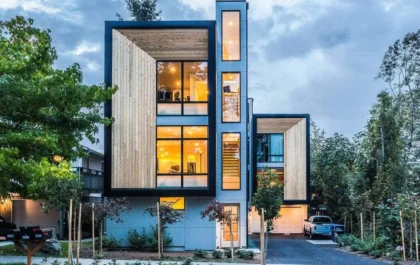 27+ Stylish & Modern Townhouse Designs for Urban Living.
The townhouse's first impression is normally too small, too compact, too narrower, and the list is endless. Well, let us…