Hana House: A White Riverside Residence in Vietnam
archistyladmin, 1 year ago
5 min

read
1475
Living in a riverside home with beautiful natural views is a dream of many people. Today in this blog, we're going to tell you about a white home known as "Hana House." Situated near a river, this home is close to nature and away from any kind of urban disturbance. Are you interested to know about this unique white architecture? Let's know more about it. 
Hana House
Source: adsttc.com
Architects: Dim Studio
Country: Vietnam
Area: 147 m²
Year: 2021
Designed by Dim Studio, this residence is known as the Hana House. It is situated on the a riverside site in a city of Vietnam on the verge of new urban development. Owned by Mrs. Huong, who is a fashion designer, this house is unique in itself. 
According to her, "this place is like a work of art where everyone in the family can experience every step of the way." This was also the main focus or goal for the architects when designing the final blueprint of the house.
Source: adsttc.com
Design Concept of Hana House
Source: adsttc.com
The owner wanted a place for the family where they could live peacefully and away from the hustle and bustle of the city. According to the client's specific demands, architects have built this dream home to live peacefully and close to nature. This place will also be their ultimate spot to relax. After a long day of work, they can finally take a rest and soothe their mind, body, and soul! 
Source: baoxaydung.com.vn
Architects had kept everything in mind and finally, they came up with this final design of the Hana house. This house has an introspective space, and the main focus is on the connection of activities of family members. Everything is designed as per the owner's wishes and the existing context.  
Source: cafeland.vn
Structure of Hana House
Source: adsttc.com
Source: image-us.eva.vn
As described by the Dim Studio, the structure of this residence mainly comprises distinct contrasts: 
Square – Round

Curved – Straight
If we talk about the main shape of the house, it is a rectangle. However, you can see many other shapes are gracefully used in various parts of the house. 
Source: photo-cms-tpo.zadn.vn
Source: adsttc.com
You might be wondering why designers go with a rectangle shape only? This is because this home works as a living entity. This way, it beautifully connects people with complementary nature and also blends to exist.
Source: image-us.eva.vn
In addition to that, different activities done by various people creates a different spatial picture. This all creates a visually appealing, aesthetically pleasing house. 
Construction Of Hana House
Source: adsttc.com
Let's talk about the construction process and design analysis of this project. As we already told you, the homeowner's original desire was to avoid interacting with the outside space. So, architects have used a contrasting structure with simple squares. 
Source: adsttc.com
In simple words, they use square structures that are wrapped around the outside. In comparison, the winding lines and complex interlocking structures have been used in the interiors of the space.
Source: adsttc.com
This makes an excellent contrast between simple exteriors but complex interiors. Instead of focusing too much on the exteriors and outdoor designs, architects have created creative and interactive interior spaces.
Exteriors & Interiors of Hana House
Source: adsttc.com
Just take a glance at the outside of this house. Doesn't it just look like a white rectangle box? As we already told you before, architects have kept the exteriors as simple as possible. That's why from the outside, it simply looks like a big white house, but from the inside, it is so unique and outstanding. 
Source: adsttc.com
After looking at the simple facade, the visitors will be curious and interested in knowing more about this place. This stunning building will attract people to get closer to it. What do you think? Does this architecture make you a little curious or not? 
Source: adsttc.com
Source: adsttc.com
Source: adsttc.com
The main entrance opensentrance is opens ed with a large gate, and the path gradually narrows towards the door. Whenever people enter through this gate, it creates a feeling of narrowness in them. But that's where you'll get a surprise. Yes, because just after this narrowing area, there is a huge and completely open space. 
Source: adsttc.com
Source: image-us.eva.vn
Source: baoxaydung.com.vn
A well spacious corridor connects living space, kitchen, living, and resting space. There are also straight stairs curving right along with the walls. This is again promoting the contrasting image and also creates an interesting frame. 
Source: baoxaydung.com.vn
Source: photo-cms-tpo.zadn.vn
Let's go a little more inside the space. Here you can see there is a winding core space. It was specifically created to create an interesting viewing experience for the inhabitants of the residence. According to the architects, "the hollow part is the lung of the house." The reason behind constructing this area is that here light, wind, and trees are concentrated altogether. 
Source: adsttc.com
Apart from these functions, this core also connects the spaces using the kitchen, living room. This wonderfully blurs the boundary between inside and outside and brings nature indoors for a serene living experience. All these things make a happy and livable atmosphere for the family.
Source: adsttc.com
Source: adsttc.com
Source: adsttc.com
Source: adsttc.com
Source: adsttc.com
Source: adsttc.com
Final Thoughts
So, this is all about Hana House, designed by Dim Studio. The house is built as per the owner's requirements, as she wanted a peaceful and calm house where she could live with her family away from the hustle and bustle of the city. 
Every part of the house has a different perspective which creates an interesting picture. Architects have built and arranged spaces according to the winding line. This maximizes the connection between indoors and outdoors, solid and empty, people and nature.
I hope you liked this blog about this riverside beauty: Hana House. Share this blog with your family and friends or with anyone who is curious to know more about various spectacular structures around the world.  
For more information about the various types of architecture and home construction techniques and styles or decoration ideas, explore Architecturesstyle.
For daily updates about architectures, don't forget to follow us on our Instagram page, Architecturesstyleideas.
Related posts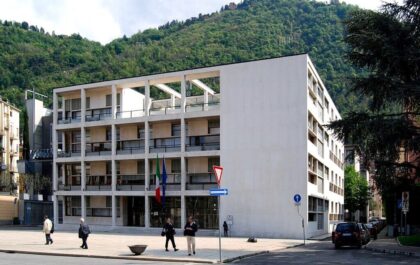 Casa Del Fascio: Fascinating Architecture in Italy
Casa Del Fascio Source: comozero.it Location: Como, Italy Architect: Giuseppe Terragni  Project Year: 1932-1936 Architectural style: Rationalist Type: Civic Casa…