Feel The Ultimate Royalty In Luxurious Hard Rock Guitar Hotel  
archistyladmin ,

Updated on 19th February, 2020
8 min

read
2823
Have you heard about the guitar-shaped hotel? A super grand construction has been completed of a hotel & casino, which is in the shape of a guitar!! Interesting, right? Did you know? On Feb 13, a light show with songs was performed by Jennifer Lopez at a guitar-shaped hotel. Isn't that amazing? So if you don't know about this, read our blog to get every small detail about this fascinating hotel. 
Not only it's named weird but also it has some remarkable features that perfectly define its name. It has bizarre things that were never seen before in any building. This is the first building that is shaped like a guitar. Some people call it a resort; some call it the best entertainment place in the world. So you might be inquisitive to find what this is. And surely after reading this, you may want to visit this place. If so, just book your tickets and enjoy the royal stay in this hotel. 
But first, let's know some mind-blowing facts about Hard Rock Guitar Hotel: 
Hard Rock Guitar Hotel
source: flickr.com
PROJECT INFO:
Official Name:
the Seminole Hard Rock Hotel & Casino
Architect:
Klai Juba Wald Architecture 
Location:
Hollywood, Florida, United States
Cost:
$1.5 billion
Year:
2019
Where is the Guitar Hotel? 
This beautiful hotel or casino is situated in Florida, United States. It covers almost 100 acres of the Hollywood Reservation of the Seminole Tribe of Florida. The actual name of Hard rock guitar hotel is Seminole Hard Rock Hotel & Casino. But it is popularly known as "The Guitar Hotel." It is a hotel and a casino situated in Florida, United States. The estimated cost of this hotel is $1.5 billion, and the current owner is Hard Rock International.
"It is known as Guitar Hotel because the shape of the tower is in the form of a guitar, which is quite bizarre. Isn't it? It opened on October 24, 2019, in Florida, US."
Development Expenditure
The total estimated cost of developing this remarkable fixture is around 1.5 billion dollars!! Yes, this is the total investment to renovate and expand the hard rock hotel with a 3.2 million square foot land area. This grand project was announced back in October 2017. You will be amazed to know that it included 13 projects in total, which will also be part of the central hotel. Another interesting fact about this is that this project gives employment to more than 2000 people. 
"In July 2018, the topping off ceremony of the tower was held, and the opening was on 24 October 2019."
Structure of the Guitar Building
source: lonelyplanet.com
This megastructure covers almost 596,044 square feet as the tower is around 450 square feet tall with more than 30 storeys. Initially, the guitar hotel had 1270 rooms, and after the new construction around the hotel, there is an addition of 638 new guestrooms & suites. The average size of a single suite is around 525 square feet. With this, there will be additions to the restaurants, bars, and lounges. 
"Not only this, it has everything you can ever imagine like it has 42,000ft² spa complex, a 3,200ft² fitness facility, and 3,600ft² salon. And the list goes on yes it has unlimited additions for the convenience of the public."
The newest additions also include 120,000ft² of meeting space to host banquets, a 38,000ft² exhibit hall for industrial exhibitions, corporate events, and even private spaces with the world-class food service, high-speed Wi-Fi access, and advanced audio-visual technologies.
How does it Look From Outside?  
source: browardpalmbeach.com
The whole structure exactly looks like a guitar from every side, including the neck and guitar face. Isn't it wonderful? That's not it, the exterior part of the tower also features guitar strings (without that no guitar is complete. Right?) stainless steel is used to create the outer structure of the porte-cochere. The entrance of this fabulous building is specially designed in such a way that it features a unique display that shows greenery and colossal water fountains. The whole building was constructed in such a way that it can withstand storms and hurricanes, as in Florida, these come pretty regularly. 
Even the outer facade of the guitar is embellished with reflective glass surfaces and lights & music for the music concerts and shows. The computer controls all these things by dedicated software and controllers are also used to control everything. 
"The outer part of the tower can be turned into a digital sculpture with the help of 2.3 million LEDs and lasers & video mapping. All this managed by Boston-based custom fabricator DCL (design communications ltd)."
Let's Look Inside 
Initially, the main master plan includes the guitar tower, which is part of 3.2 million square feet that includes Hard Rock Live theater, two garage improvements, villas, pools, a central energy plant, and an additional eight-story hotel tower. Also, there is remodeling and expansion of low-rise buildings that have gaming and restaurant spaces. All these constructions are estimated to complete in 2020 for the super bowl 2020, which is going to be held in Miami. 
Did you know that the Hard Rock Live theater has more than 7000 seats? 
source: news-press.com
Who Built This? 
This remarkable Guitar building was constructed by architect Steve Peck, who is from Klai Juba Wald Architecture – A Las Vegas-based firm and overall designed by Hard Rock International, who is also the current owner of the building. 
Did you know that it took around ten years to complete this massive structure? 
To create this kind of iconic building, the architects and designers had to take care of everything in mind, from cost to the strength of the tower, materials, everything matters. There is almost no error while constructing this guitar building. 
"It became a signature piece of the plan to say, 'We are the Hard Rock brand, and this is the executive home base,'" Peck says. "We put together some different looks for the hotels. Some were pretty conservative—basically giant shoe boxes—and some were more daring, including the guitar tower."
source: ledsmagazine.com
Fascinating Facts about Hard Rock Guitar Hotel
The lights can be formed in a human figure, which is much larger than Miami's 200-foot woman. 
This hotel is just 8.5 miles away from Hard Rock Stadium, which means it is visible from the Super Bowl 2020.
The exterior facade lights can be transformed into team colors such as orange and aqua Blue.
It's the world's first hotel in the shape of a guitar and probably the tallest one.
Light Show:

This building is not only a hotel but also a place that hosts live concerts. The front face of the hotel serves like a screen and a stage for musical performances. This is a perfect place for entertainment and enjoying the music, and also, you can enjoy the luxury by staying in one of the deluxe suites. 

This massive building has dedicated 140,000 sq ft (13,000 m2) for the gaming zone. 
What You'll Get in a Room of Guitar Hotel
We've already told you about the grand and luxurious things that this hotel has, so now you already have the idea that the Guitar Hotel rooms are also as glamorous & grand as any other part of the building. This hotel features Junior King Suite, Platinum Suite, Luxury King Suite, Deluxe King, and Deluxe Queen. 
Junior King Suite: 
source: mystylemyanmar.com
This is an 860 square feet suite that has all the luxury you want in a room. From custom-designed headboards to artworks, everything has a royal touch to it. 
Platinum Suite: 
source: nypost.com
As the name suggests, it has an ultimate lavishing feel as it has 1,090 square feet, which is perfect for your family. This suite also includes a king-size bed with Egyptian cotton linens. There is also a dining area that is separated from this space. 
Luxury King Suite:
source: classicvacations.com
Feel the real royalty in the Luxury King Suite, which is 760 square feet of space equipped with all the advanced electronics appliances. 
Deluxe King & Deluxe Queen
source: seminolehardrockhollywood.com
This is a perfect room for singles or couples, as this space is 520 square feet. A small floor area doesn't mean that you'll lack anything. This room has all the facilities that the other suites have. 
Here's is the list of amenities that you'll get in each room: 
| | |
| --- | --- |
| Guitar Rental | TTY Hearing Impaired (by request) |
| iPad/iPhone Docking Station | Sound System |
| Flat-Screen TVs | Mini-Bar |
| Complimentary Internet Access | Coffeemaker |
| Smoking/Non-Smoking Rooms | Sweetgrass Collection of Body Products |
Newest Additions
A new tower named "Oasis Tower" with a 10-acre swimming pool complex is being produced at the base of the Guitar Hotel

tower. 
This pool tower includes 168 guestrooms and suites with eye-pleasing three waterfalls. 
Architects decided to extend this guitar tower casino to another level by adding a new 18,000ft² poker room with 178 table games & 3,267 slot machines. 
Not only this but after the completion of the casino, it also features 20 bars and 16 restaurants, in total, more than $100 million are invested in this project.  
source: theceomagazine.com
So how do you feel after reading about this astonishing guitar building?
Amazing…Awesome, spectacular…We're pretty sure that these are your feelings. Right? Now you would definitely want to visit this place, so reserve your room today and enjoy staying with your family in this luxurious Guitar Hotel. If you're curious to know more about these kinds of buildings and architectural information, visit Architecturesstyle. 
Related posts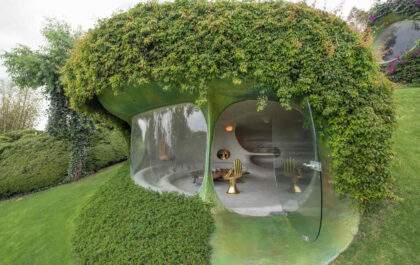 Javier Senosiain's Organic House: A Unique Architectural Wonder 
Project Credits: Project name: Organic House Architecture firm: Javier Senosiain Location: Acueducto Morelia 26, Vista del Valle, 53296, Naucalpan de…