Buying house and land packages have become a popular option among many first-time homebuyers, especially in Hobart, Australia.
A house and land package has plenty of attractive features and benefits to offer. However, there are several things to look out for when buying one. This article will let you take a closer look at the things to consider to avoid disappointment when purchasing a house and land package.
1. Location
The location of the house and land package plays a vital role in your decision to buy. It's a very important factor that'll have an impact on your quality of life as you move into the property.
If you're an employee, you need its location to be close to your work as much as possible. Obviously, if you're moving in with your family, it must be close to schools, department stores, clinics, and hospitals. Security and safety of the vicinity are also important; as such, you need to check if the location is near a police station so you'll know that peace and order in the area are always ensured.
It's also essential that you assess the location of the house and land packages in Hobart or wherever you plan to move in order to see if its value appreciates in the future. A property that appreciates its value in the future would be ideal as you can sell it off at a higher price than its market value.
2. Design Flexibility
Source: wsimg.com
One of the best things about buying a house and land package is that it usually comes with an amazing pre-designed home. But, even though the property is already stunning as it is, you still want it to have design flexibility. For example, if you want to have an eco-friendly house, you're going to tweak it and add this and that, so you can have the dream home you've always pictured in your mind.
With that said, you need to find a house and land package that comes with a flexible design, open collaboration and accepts your thoughts during the building process.
You should talk and collaborate with the builder to come up with a design that you like based on your finances and lifestyle. For example, you can add a personal touch to the flooring, finish, and landscape of the property. Just keep in mind, however, that this may incur additional costs, but at least you'll have your dream home. Aside from talking and collaborating, you should also monitor the progress and development of your property during the construction process.
3. Builder's Reputation
It's also important to research your prospective builder before you commit to one. If you're opting for a pre-built house, you should check the reputation and background of its builder. The same goes if you prefer to build a home after buying land.
You can check the experience and craftsmanship of a builder by taking a look at their previous projects and by visiting homeowners they've built houses for. If you see that their previous clients are happy with their homes, then you know you've picked someone who can build your property based on your preferences.
Here's an additional tip for you: find a builder who's willing to share information about the materials they're going to use to construct your house, as well as the after-sale/build warranty. If a builder does this, it means that they know their craft very well.
4. Building Timeline
Source: bryanfagan.com
It's also critical that you know when the building process starts and the timeline for it to be completed. This is important since you'll have to live elsewhere until the construction process is finished. However, keep in mind that the timeline of the construction of your house depends on your preferred design.
You should get a contract from your builder, which includes completion dates, guarantees, and payment schedules. This is essential as it provides you with a measure of protection should timelines are not met, especially if the delays are caused by severe weather conditions or the unavailability of some building materials.
Final Thoughts
Investing in a house and land package anywhere in the world requires you to have a good understanding of the local real estate market. The worst thing you can do is to just randomly buy a house and land package without taking the time to do your research. There's no need to rush. Take your time and be sure to check out the important factors to consider mentioned above if you're looking to buy a house and land package.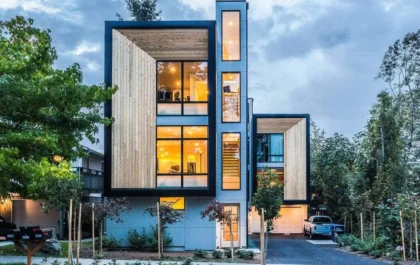 27+ Stylish & Modern Townhouse Designs for Urban Living.
The townhouse's first impression is normally too small, too compact, too narrower, and the list is endless. Well, let us…