Have you ever seen a rainbow building? You may have seen a structure painted in rainbow colors, but this building is on another level. We're talking about Jeuneville! It's a new structure, situated in Paris. What's so special about this Jean Nouvel Designs? Keep on reading to find out!
Jeuneville
Project Name:

Jeuneville

Architects:

Ateliers Jean Nouvel with Samuel Nageotte

Location:

Paris, France

Area:

100,000 m2

Year

: 2021
Recently influential French architect Jean Nouvel has unveiled a futuristic building design. Situated in Paris, France, this structure is design to offer a pleasant, greenery-filled place to live and work. 
However, the best part of it is that it completely supports sustainable design such as solar power and passive ventilation. This means the building will have a completely sustainable & eco-friendly design and elements.
This radical, avant-garde, colorful, and flexible project is known as Jeuneville. It is located in an area near Paris' Olympic Village (the city is due to host the Summer Olympics in 2024) on the banks of the Seine river.
This future-forward urban development aims for a low carbon footprint and will easily absorb changes in the city.
According to Designboom, "This project will incorporate "more than 100,000 square meters of innovation-centric workspaces as well as 30,000 square meters of public green spaces that will make up a new kind of ecosystem in which an expected 6,000 people will work, and 1,500 will live."
Space features lots of public green spaces, and the overall design will enliven by the use of bright primary colors (Rainbow Look).
As stated in the project description, the structure is highly adaptable and designed for a new generation of city dwellers. Each "urban layer" of the vertical neighborhood is flexible and will design with natural ventilation to be energy efficient.
Jean Nouvel said, "Jeuneville responds to the challenges of a metropolitan context while being integrated into a territory bordering the Seine, thanks to an architecture that is both mixed, evolving, and open to the outside."
He also added, "A new way of thinking about the city, this eco-system is designed for the new generations, and the new economy promotes connection, sharing while basing its architectural principle on natural breathing, improving the quality of urban life."
The Building Plan
The vertical neighborhood will have twelve floors. They're set around two main programmatic areas: living in the form of co-living and student accommodation and workspaces for tech, media, and creative businesses.
The complete site area is around 100,000 square meters, from which 30,000 square meters is only for public and green spaces. Architect Jean Nouvel has designed this structure for their client "General Projects."
Jacob Loftus, founder and CEO of General Projects, said, "By making diversity, modularity, and openness to the outside, the architectural design of this complex, Jeuneville brings a profoundly new perspective on the way of life of users."
He further continued, " Committed in all our projects to establishing new avant-garde standards entirely focused on the needs of future generations, the general project is committed to delivering this project that brings new life experiences in France."
Jean Nouvel Designs the project in such a way that it consists of 45,000 m2 of offices, 14,000 m2 of student residences, 30,000 m2 of public/green spaces, 6,000 workstations, 26,000 m2 of co-living space, 1,500 inhabitants, 4,000 m2 of maker / fablab spaces, 2,300 m2 dedicated to shops and 5,000 m2 dedicated to education. Pretty impressive, right?
From food venues, retail to sports facilities, this project will also have diverse amenities. There will be a central plaza design as the primary social space, where a series of events, screenings, and markets can take place.
The huge co-living spaces offer a centered lifestyle around sharing. All the residences will have community places such as living rooms, kitchens, cinema rooms, games rooms, rooms of sport, libraries, and laundry areas.
Also, the design focuses more on the education space within this campus. That's why a school or a university department will be constructed. This will further increase collaboration and social capital.
Sustainability & Design
Jean Nouvel has designed this structure which will unfold across a series of landscaped terraces. While modern technology is the main focus, still, sustainability is also a critical element of development. The entire is design for energy efficiency and natural ventilation.
It will use solar energy and specific carbon-free materials such as carbon-free concrete slabs, wood-frame facades. Besides this, bio-based materials will use for insulation and waterproofing to reach its environmental target.
This New Vertical Neighbourhood in Paris is also equipped with all the tools and technologies such as electric charging stations, bicycle storage rooms, free electric shuttles connected to neighboring stations, and many more.
Jeuneville will also have hands-free technologies throughout the building (Due to the current circumstances raised by the pandemic).
The Bottom Line
For now, only 3D or visuals are out; this grand project will schedule for completion in 2025. Ateliers Jean Nouvel Designs is to collaborate with Paris-based firm Samuel Nageotte Architectures. If everything goes well, construction was begin in 2022, and it will get completed around 2025. 
So, this is all about the Jeuneville, aka New Vertical Neighbourhood in Paris. I hope you enjoyed reading this blog.
Discover More:
Himadri Shakya
Himadri Shakya is an enthusiastic Content Writer and Editor. She loves to create creative, engaging, and SEO-friendly content. Through her extensive research skills and practice, she has been generating high-quality and informative articles, and blog posts for over 4 years.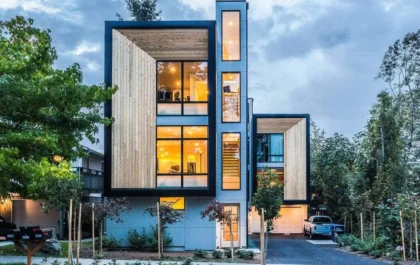 27+ Stylish & Modern Townhouse Designs for Urban Living.
The townhouse's first impression is normally too small, too compact, too narrower, and the list is endless. Well, let us…