Bathrooms are the place where our days begin and end. When you have a small bathroom, fitting everything in can be very challenging. If the bathroom is arranged well enough there may be only one lane to move through. However, sometimes it seems there is no space to move around in even when everything is cleaned up and organized! Whether it is a small full bathroom or a half bathroom, this article from the experts at www.steamshowerstore.co.uk will offer a number of ideas to make the most of your small bathroom.
The Sink and Vanity
Source: pinimg.com
The central pieces of any bathroom, but especially a small bathroom, is the sink and vanity. There are several features that will help your sink and vanity make the most of your small bathroom. The first is by installing a hanging sink vanity. This clears up floor space and makes the bathroom look larger. Secondly, consider installing a round sink and vanity.
Other than corners in a small space being a potential safety hazard, the rounded corners will offer more space and provide more ascetic for your small bathroom. Lastly, a corner sink and vanity will open up the moving lane and allow more wall space for other items.
The Mirror and the Counter
Source: hzcdn.com
Even in a small bathroom, there may be occasions when more than one person needs to use the bathroom. This is a great reason to include an extended mirror and counter in your small bathroom. The extended mirror allows more than one person to clean and freshen up at a time and the extended counter allows more than one person to have their items out as needed.
With the possibility of more than one person being in your small bathroom, lighting will be very important. A dimly lit bathroom will appear smaller than a well-lit one. There are numerous ways to effectively light a bathroom. Consider the shape of your bathroom and which set-up may work the best or look best to you.
Storage
Source: pinimg.com
While the sink and vanity may be the central pieces of furniture in the bathroom, storage may be the most important. There are a number of ways to maximize storage and space to make the most of your small bathroom. First, consider over-the-door storage. There are different types of shelves or over-the-door containers, but they all use the door efficiently to add storage space. The other option is to put towel racks on the door. This saves wall space for other items.
The same concept with over-the-door storage applies to over-the-toilet storage. Although the name may be humorous, this kind of storage uses all that empty space that is usually around and above the toilet. Get one that is sturdy and with multiple shelves and you can take advantage of all that space that is normally empty.
Secondly, most sinks have a mirror placed over them. Rather than adding another piece of furniture, just replace your mirror with a medicine cabinet. Medicine cabinets have mirrors on them, but when you open them there are usually several shelves within that you can place various bathroom items. Whether common medicines, vitamins, or toothbrushes, many small items that are used regularly can be placed into the medicine cabinet and easily accessed.
An often overlooked way for making the most of your small bathroom is with a helpful shower caddie. Shower caddies usually hang by the showerhead and can be great for storing whatever you may use while taking a shower. Shampoos, conditioners, body wash, hand towels, and everything else can be placed on the shelves of the shower caddie. Find one that is strong and has enough shelves or space and all your shower items can remain in your shower.
Lastly, if you are the creative type, consider storage cubes. In fact, if you have roommates or a family, you can customize each storage cube for each person in your home. These can be bought or custom-built. They can include shelves, curtains or doors, names, and other decorations to bring out each person's personality and interests. This way each person has a place to store their own personal bathroom items in a space they can call their own.
A Larger Small Bathroom
Source: wordpress.com
Most of us have lived in a home or apartment that has a small bathroom or a half bathroom. Here we have offered a number of ways to make the most of your small bathroom. Whether building a new bathroom, renovating a current bathroom, or simply looking for simple ways to maximize what you have now, one or more of these ideas will provide more options and opportunities for your small bathroom.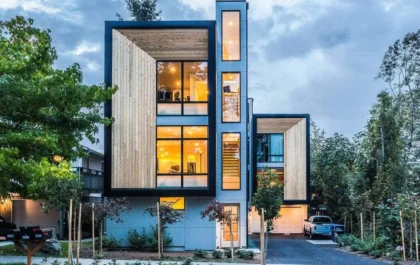 27+ Stylish & Modern Townhouse Designs for Urban Living.
The townhouse's first impression is normally too small, too compact, too narrower, and the list is endless. Well, let us…