New Palace of Justice By PACE – Featuring Scales of Justice
archistyladmin, 2 weeks ago
0
2 min

read
104
A huge construction is going on in Kuwait – the New Palace of Justice. This project has broken at least two records. Do you want to know which are they? The first one is that it will be one of the largest judicial building in the Middle East. The second one is – it has become the holder of the Guinness World Record for "Largest Automated Parking Facility." 
Source: adsttc.com
Let's look at the project details and then we will discuss its inspirational construction.
Project Details:
Project Name: New Palace of Justice
Location: Kuwait
Year: 2019  (In Construction)
Architect: PACE (Pan Arab Consulting Engineers)
Area: 33,384.5m2
Al-Diwan Al-Amiri designed the plan of the New Palace of Justice. The PACE secures this Kuwait project. This building of fairness and integrity is going to have an aspiring makeover. The office space is 131,000m2 and has a 25-story construction with 123 courtrooms. The main attraction of the complex is its structure and availability to the general public as well. Automated and manual parking can facilitate up to 2700 cars.
Source: twimg.com
This section has information about its structure and motive behind that.
The conceptual vision of the complex is to reflect the city's commitment to justice. The building's exterior features the set of floating cantilevered wings, and at heart is a golden space called 'Golden Geode.'
Source: wp.com
The set of cantilevered wings is inspired by the balance of justice, and the golden space between them represents – Justice has nothing to hide. The office space is allocated in the wings, and the central area leads to a plaza through the entryway, where the voices of people are heard. 
Source: roboticparking.com
Every feature of the building symbolizes the scale of justice, be it a solid plaza, golden geode, or floating cantilevered wings. On completion, the building will reflect and support the dual functionality for both government and citizens.
Source: roboticparking.com
Source: adsttc.com
Source: econstruct.ae
Source: roboticparking.com
Source: lightcollective.net
In wanawards.com, the project is excellently explained in two lines:
"In creating a structure that is as beautiful as it is unyielding, as complex as it is transparent, as efficient as it is welcoming, we believe that we have created a building that perfectly reflects Kuwait's enduring commitment to justice." 
For more information on new and inspiring constructions around the world, visit ArchitecturesStyle.
Related posts
Subscribe Now
* You will receive the latest news and updates on your favorite celebrities!
Cadillac House by Gensler: A Structure with a Bizarre Angled Steel Facade!
Cadillac House Source: archpaper.com Location: Jin Qiao, Pu Dong, Shanghai, China Architect: Gensler Type: Commercial Status: Built Year: 2019 Size:…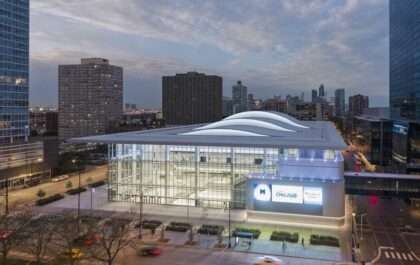 Wintrust Arena, Chicago: Get an Overview of This Amazing Structure
The Wintrust Arena is a multi-purpose event space famous for hosting wonderful basketball matches. Not only basketball matches but it…
Instagram
Instagram has returned invalid data.