Imagine drinking your favorite cocktail in the sunshine with the most breathtaking views of the water!! Interesting right? So, aren't you curious to know where you can find all those things? You can find all these wonderful things is on the rooftop Pier 17. 
Do you also wish to experience this pleasure, then pack your bags & visit the rooftop at pier 17. Yes!! With the summer season upon us, it is the perfect place for you to chill out! To find more interesting things about this place, read further in the blog. 
Pier 17
source: archdaily.com
PROJECT INFO:
Name:
Rooftop Pier 17
Architects:
SHoP Architects
Location:
New York, Unites States
Year:
2018
Size:
265,000 Sq. Feet
Type:
Mixed-use, Retail, Cultural
The Luxurious Location
source: prnewswire.com
The location of the architecture site is always the main concern especially when it comes to getting the best view that adds up more beauty to it. Talking about the sights, where you can find the best views other than Pier 17. Right? 
Actually, this is a seaport of New York City which is a part of Manhattan. This place has a historic significance, that's why it carries a lot of importance. It includes commercial buildings from the 19th century, renovated mercantile buildings and of course sailing ships. This place has the oldest architecture, which is not seen anywhere in the city. Other than that it also has the famous Fulton Fish Market and malls which has incredible food and shopping centers. 
The Rooftop at Pier 17
source: ny.curbed.com
If you're living in New York City, you already know which is the best place for concerts. Right? The answer is one and only Pier 17. Yes!! From passion pit to the Billie Eilish, every popular singer had performed here. In the hot summer, this is the hot place for concerts & entrainment nights. 
All the concerts are held at the roof of Pier 17, which is about 1.5 acres with a beautiful backdrop of Brooklyn bridge. Also, it has breathtaking views of the statue of liberty and the manhattan skyline. Did you know the capacity of this place? You'll be amazed to know that it can fit either 3400 or 2400 standing & seating respectively. 
Architects 
source: pinterest.com
First, this place was only a seaport, but in the year 2017 a contract was given to the SHoP Architects for constructing this space, and in the year 2018 it got completed. They redeveloped the south seaport and created a mix of boutiques, retail spaces, and a large restaurant that is worth more than $200 million.  
The new designs feature the typical New York streetscape with some structures like housing shops and eating places that are separated by a large open-air pedestrian. By taking two shops, a roof has been created of around 60000 square feet each. Besides this, this place also has enormous glass garage-style doors to protect it from the bad weather. 
Structure & Design
source: floornature.de
The grand Pier 17 is spread over around 265,000 Sq. Feet. Quite interesting? This space features malls, shopping centers, and restaurants that have the most fantastic food in the whole world. Not only this, but it also has spacious outdoor bars and concert space. 
So if you're a party lover and who loves to do explore the city at night then this place is for you!!
So this all about Pier 17, I hope you'll find it interesting. And if you do then don't forget to visit this awesome place this summer. Enjoy the late light concerts of your favorite singer and also the mouth-watering street food with your family & friends. For more information about this place you can visit its official website and if you're interested to know more about these kinda remarkable structures, visit Architecturesstyles. 
Related posts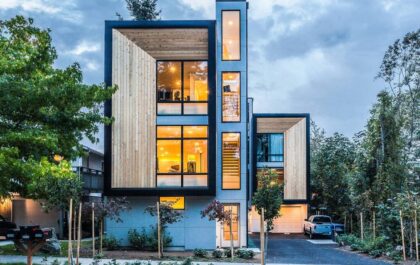 27+ Stylish & Modern Townhouse Designs for Urban Living.
The townhouse's first impression is normally too small, too compact, too narrower, and the list is endless. Well, let us…