A roof damage insurance claim is a process in which an insurance company will help you cover the cost of roof repair and replacement. But there are many cases in which insurance companies decline to pay the full claimed amount. If you ever felt that exploitation then you should hire an expert insurance adjuster to get the maximum claimed amount. But claiming an insurance amount consists of a proper process.
The process is straightforward, but there are plenty of steps (and paperwork) involved. In this article, we'll go over what to expect from the insurance company, how long it will take, and more!
What is Roof Damage Insurance?
Roof Damage Insurance is available to homeowners who have experienced some type of damage from a roof leak, storm, or hail. It is a special coverage to help pay for repairs and the clean-up of your roof. Roof Damage Insurance can help protect the value of your home and save you money on the cost of repairs.
It is a type of insurance that protects your roof from any damage. There are different types of insurance for roofs, but the most common is tile and shingle insurance. Roof damage claims are often submitted through your homeowners or renters policy, depending on if you rent or own your home.
How to File a Roof Damage Claim
Source: amfam.com
It is important to be able to get roof repair services, but it's also important for homeowners to know what their rights are in the event of a roofing damage claim. Roofing companies are sometimes reluctant to repair shingles that may have been damaged by hail or other outside sources. Knowing what you can do before filing your claims will help prevent improper action from being taken against you. The following is a step-by-step process for filing a roof damage claim:
Obtain a copy of your insurance policy to find the specific claims representative, their office location, and their contact information.
Complete a roof damage claim form with the information listed below.

Send the completed roof damage claim form to your insurance company to get started on your claim.
Tips for Filing a Roof Damage Claim
There are many things to consider when filing a roof damage claim. If your roof is damaged there are some important steps you should take:
1) Contact the insurance company you have for your home
2) Obtain the policy number from the company. This number will be on any check or slip your receive from them in the mail that mentions damage to your roof.
3) Make sure you know what claims process to use
4) Review and gather all of the required documents needed
5) File your claim with the insurance company
6) Request a check for damages
7) Return for repair work
Conclusions
The roof of your house needs protection from damage. Insurance companies recommend checking the roof every year, so that you know if there are any problems before they start. If your roof has been damaged, you should file an insurance claim with the insurance company for repairs as soon as possible.
Types of Insurance Claims
Source: nitrocdn.com
There are three types of insurance claims: property damage, liability, and casualty. The first type is for property damage to your home or car. Liability claims are when someone else causes an accident with a vehicle that you were driving.
Casualty claims are like most other insurance claims in the sense that you're paying for someone else's loss. Roof damage insurance claims are more common than one might think. When a roof is damaged and needs to be replaced, homeowners need to know about the different types of insurance claims that can happen for them.
One type of claim is called an "Actual Cash Value" claim, which means the insurance company will pay what it actually cost to fix or replace the roof because they don't want people to argue over prices. The other type of claim is called a "Replacement Cost" claim, where the homeowner can even ask for more than what it actually cost to replace the roof.
Coverage Options
The Roof Institute provides a two-tier insurance policy that covers roof damage. The first tier, which is included in the roof institute's policy, will cover up to $5,000 for claims made by the insured homeowner or authorized agent. If additional coverage is needed, part of the coverage can be purchased from Roof Claims Co.
This company works with a large network of roofing companies to make sure that homeowners are protected and receive the best price possible. If you've been injured by a roofing contractor, there are additional insurance options that can help heal your finances and prevent future damage. Obviously, you'll want to find the best option for your situation.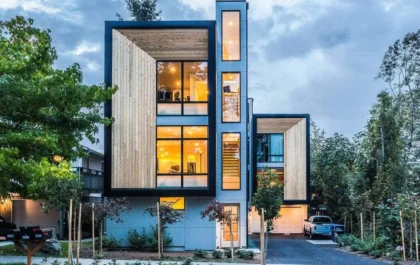 27+ Stylish & Modern Townhouse Designs for Urban Living.
The townhouse's first impression is normally too small, too compact, too narrower, and the list is endless. Well, let us…