When you hear the word " House," what comes to your mind? A house with sloping roofs, small windows, and a chimney. Gone are the days when houses look like that; nowadays, you can see structures in every bizarre shape possible.
You may have seen many modern houses such as black villa, house in Avanca, Roscommon house, and even structures like a guitar-shaped hotel, but have you ever seen a "Pipe House"? Yes, you've read it right, A PIPE HOUSE!
This is the latest project by architect Sergey Kuznetsov, and with this house, he proves that homes can be in any shape or form. Located deep in a Russian forest 200 km from Moscow, this steel structure has a lot to offer. Want to know more about this unique and interesting house? If yes, keep on reading.
Russian Quintessential
Official Project Name:

Russian Quintessential

Architects:

Sergey Kuznetsov

Location:

Nikola-Lenivets, Kaluzhskaya oblast, Russia

Year:

2021
This unusual structure which looks like a suspended pipe is known as "Russian Quintessential." Located in Nikola-Lenivets, Russia, it is designed by the Chief Architect of Moscow, Sergey Kuznetsov.
The Archstoyanie Festival
This project is a part of the Archstoyanie festival in Nikola Lenivets park. Located in the Kaluga region of Russia, Nikola Lenivets park is described as Europe's largest art park. It is 650 hectares of land that is open for creative experiments.
Every year around time in Russia, many architects, artists, and designers come together to create site-specific installations following a common theme. They display their inventions every summer in this beautiful and remote area. After the festival, these structures will remain in the park and will open to the public as rental homes.
After looking at the pictures, you might be wondering what the theme is? This year the theme is "Personal." That's why the architect Sergey Kuznetsov has come up with the idea of a studio apartment.
"This place is perfect for those who live alone. Here they can find a relationship with themselves and with nature."
Design & Concept
When it comes to construction, everyone knows about the amazing Russian architecture. From Saint Basil's Cathedral to Scarlet Sails, there are many more incredible structures in Russia.
The designer Sergey Kuznetsov in collaboration with KROST has designed a structure that literally suspends in mid-air or looks like "hanging in the air."
Russian Quintessential is a residential building with a full-fledged shape. This home is filled with all the modern equipment and conveniences where one can live inside, cook, shower, and sleep.
As a result of the unique engineering solutions and modern construction technologies, this structure has been made.
The architect, Sergey Kuznetsov, said, "Nikola-Lenivets is a place where nature, art, and talent create real magic. And I am grateful to the curators of the Archstoyanie for the opportunity to become part of this incredibly exciting process. It seemed interesting to me to make a statement on what is considered perfection in Russian architecture today and to show that high-quality things can be done in large quantities in our country."
He further added, "This is how the "Russian Quintessential" project was born, and I must say that colleagues helped to implement it exactly in the form it was conceived. I hope that this story will receive some kind of continuation and will be relevant for future generations."
Construction of Russian Quintessential
Let's talk about how it has been constructed and what are the main features of this structure. After looking at the pictures, you will know that the entire structure is made from steel sheets. This seamless cladding is made of a 4 mm stainless steel sheet.
This sheet was converted into a huge metal tube that is 12 meters long and has a diameter of 3 and a half meters. Another fascinating thing about this tube is that it has been positioned over a small rise in the ground. This means that only half of the structure is resting on the surface, and the other half is literally hanging in the air.
This is possible because of the adaptation of the shipbuilding method and the complicated and strong frame. It completely manages to support the entire weight of the cabin. How?
The frame is built from supporting ribs like the body of a ship, and most importantly, it has an extraordinary weight of about twelve tons. This is the main factor to keep the entire structure in balance and that too by only six bolts. Pretty shocking, right?
According to the General Director of KROST, "The basis of the metal frame is made up of transverse frames – load-bearing ribs installed at a pitch of 500 mm relative to each other and connected by means of stringers (horizontal guides). Due to the polyurethane foam insulation inside the pavilion, a comfortable temperature regime will be maintained throughout the year. This is a vivid example of when bold and original ideas are implemented by the capabilities of a modern industrial and technological complex."
Let's Peek Inside
At first glance, you might think that there is no way that this will be a normal house. However, that's not true. Yes, living in this house will be the same as living in any regular home but with a little bit more adventure.
When you look inside, you can find all the comforts and services of a normal home. Yes, the architect has designed this home in such a way that anyone who is living in this space will feel the comfortness and coziness. Plus, this structure can be given on rent. So if you want you can spend a few days in "Russian Quintessential."
Interiors are decorated with a modern style using wood and metal. The entire space is equipped with everything necessary, which ensures a comfortable stay. This home is a perfect example of modern architecture built with high-quality materials and extraordinary technologies.
Layout & Exteriors
The outer part of the building or shell is wrapped in stainless steel sheeting that provides a reflective and shiny appearance. The layout is arranged in such a way that it includes a bathroom with a shower and toilet as well as a balcony area.
A minimalist and simple kitchen is built in this pipe-looking house. The kitchen includes a microwave, cabinetry, and a sink for an easy cooking experience. This place also offers a decent storage area. There is a storage-integrated double bed and a desk.
On the end of this tunnel or pipe house, a cylindrical window offers a generous view of the landscape. At the same time, the exterior of the building acts as a mirror. Due to this, the house with avant-garde design can easily blend into its surroundings.
You can access the Russian Quintessential by the glass doors situated just opposite sides from the balcony.
The Bottom Line
So, this is all about the Russian Quintessential project designed by Sergey Kuznetsov. If you closely see, Sergey Kuznetsov's project is directly related to teh problems in quality and innovation in architecture.
Russia is a country where anything is possible in terms of architecture. Anything can be built with high accuracy, from massive structures to these types of small yet effective projects. The Russian Quintessential projects demonstrate it. Thanks to the team of professionals led by KROST, which helped to bring the author's idea to life.
If you want to know more about these types of unique and unusual houses or places located in various parts of the world, read our previous blogs such as Crazy Futuristic Houses, 5 Smallest Houses In The World, Casona Sforza Hotel, and many more.
I hope you liked this blog about the Russian Quintessential. Share this blog with your family and friends or with anyone who loves to read about the latest architecture around the globe.
Discover More
Himadri Shakya
Himadri Shakya is an enthusiastic Content Writer and Editor. She loves to create creative, engaging, and SEO-friendly content. Through her extensive research skills and practice, she has been generating high-quality and informative articles, and blog posts for over 4 years.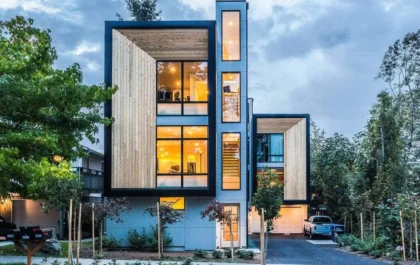 27+ Stylish & Modern Townhouse Designs for Urban Living.
The townhouse's first impression is normally too small, too compact, too narrower, and the list is endless. Well, let us…