Recently, Vietnamese architecture firm MIA Design Studio has created a unique structure with pieces of the straw pavilion. Yes, you have read it right…Straws! Located in a rural area of Vietnam, this structure is now a topic of talk nowadays. Let's know in detail what this structure is and why it has been constructed in a rural countryside area. 
The Straw Pavilion
Source: kienviet.net
Project: The Straw
Architects: MIA Design Studio
Location: Thu Duc, HCMC, Vietnam 
Area: 72 m²
Year: 2021
This structure is known as The Straw, which is located in Thu Duc, HCMC, Vietnam. Designed by MIA Design Studio, this building is unique in itself. 
Source: gavindesign.com
This architecture firm has won the WA Awards in the 36th and 33rd Cycles with Villa Tan Dinh and Sky House from Vietnam. So it's pretty obvious that their architecture is bizarre and unusual. 
The Straw Pavilion is a 72-square-meter structure that is entirely made from used pieces of straw. This place will act as a venue for various kinds of architectural events. 
Source: kienviet.net
On this project, the principal architect is Nguyen Hoang Manha, and his design team includes one of the best architects, including Truong Nguyen Quoc Trung and Le Thanh Thuong. 
Nguyen Hoang Manh and LLA have come together and designed this pretty calm, romantic, and evocative venue. It is fabricated from wood, metal, and straw as a special place for architectural events in Ho Chi Minh City.
Source: kienviet.net
Location & Materials
Source: adsttc.com
You might be wondering why architects have chosen only Thu Duc, HCMC in Vietnam, and the specific material straw. When you first enter the site, you'll feel the presence of nature of various plants and greenery. 
The serene atmosphere, tranquil oasis, and breathtaking views will keep you mesmerizing.  
Source: worldarchitecture.org
The architects said, "Every garden has its own character and presence. This presence can not be felt through images but only through experience. We want to approach design as a way to preserve and enhance what is present. Adding layers of characters and sensations without altering the true essence of the site."  
So architects decided to create architecture that makes a bond and blends well with nature and its surroundings. It has special features that mix lightness, hiding, and penetration.
Source: adsttc.com
It is design for China Overseas Grand Oceans Group Limited. The construction of this building started in December 2020, and just in one month; it got completed. 
The result is this incredible construction that appears to blur and dissipate outward. It will appear to you like "an organic condition of a mound of straw sitting among a garden."
Structure & Design
Source: gavindesign.com
From far, this structure may seem chaotic and unarranged, but when you go closer to it, you'll understand that all these straw-like timber elements followed a strict gridded organization. 
Source: adsttc.com
They all are arrange in such a beautiful way, still maintaining a perpendicular relationship with each other.
Source: adsttc.com
Architects specifically choose the straw as a building material because the pavilion was envisioned as a structure of memory. 
This specific and special memory belongs to the Vietnamese countryside. Whoever comes to see it, this architecture will connect to their consciousness, arouse memories, and ultimately touch the people's hearts.  
Source: adsttc.com
The pavilion stands in its place in such a way that it can completely and smoothly blend itself into nature. And that too without damaging the one already existing.
Source: worldarchitecture.org
The design team explains, "Not parading around shapes as well as materials, we hope it is able to appear and disappear with time slightly with no direct interaction to the garden itself. in the most perspicuous way, this is a structure which does not damage the one existing, it blends in smoothly."
Source: adsttc.com
Source: worldarchitecture.org
Also Read: Greek Revival Architecture – America's First Architectural Style!
The Bottom Line
So this is all about The Straw Pavilion by MIA Design Studio. Hope you like this blog, and if you do, please share it with your family and friends. 
If you want to know more about these types of unique and unusual houses, read our previous blogs such as POP-UP House by FIGR Architecture Studio, Little House Big Shed, and many more. 
For more information about the architectural styles and to know about the most significant structures around the globe, keep coming to Architecturesstyle.
Himadri Shakya
Himadri Shakya is an enthusiastic Content Writer and Editor. She loves to create creative, engaging, and SEO-friendly content. Through her extensive research skills and practice, she has been generating high-quality and informative articles, and blog posts for over 4 years.
Related posts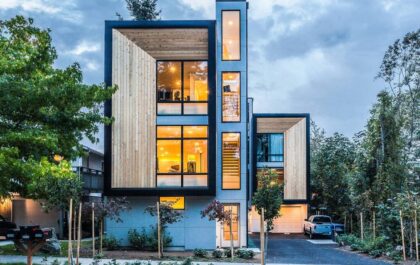 27+ Stylish & Modern Townhouse Designs for Urban Living.
The townhouse's first impression is normally too small, too compact, too narrower, and the list is endless. Well, let us…