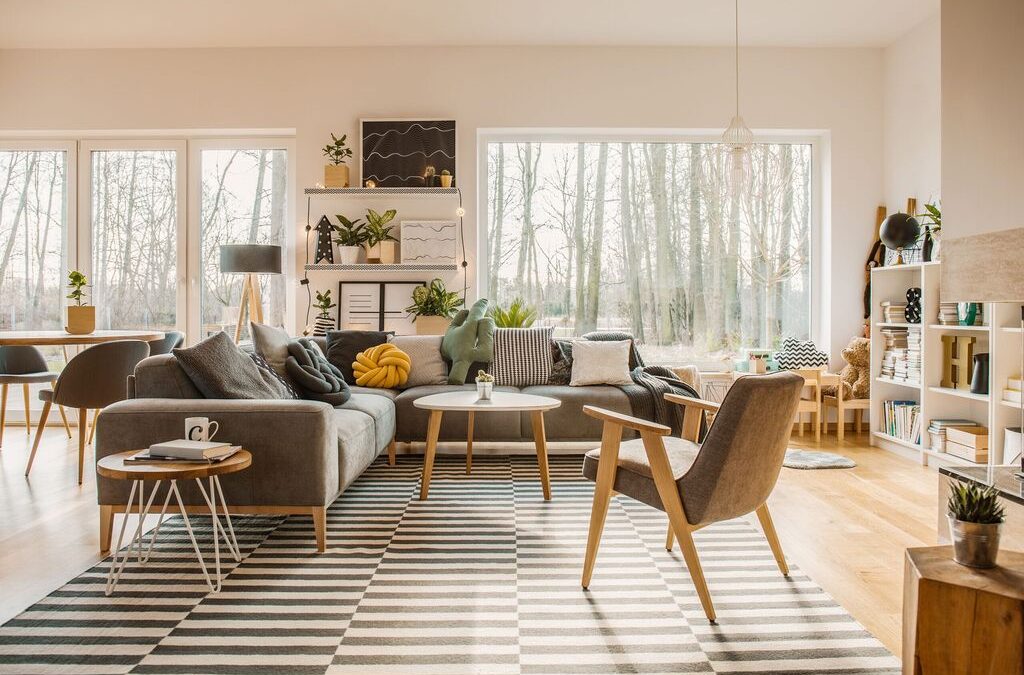 Everyone who enters your home takes note of the flooring. It's one of the best methods to give your house a contemporary, warm, and cozy atmosphere. It may, however, be outmoded or boring with time, much like other components of house décor.
These seven original suggestions can help you quickly and simply modify your home if you want to update your flooring but aren't sure where to begin.
Install Hallway Runner Rugs
Source: southernliving.com
Installing hallway runner rugs is a subtle yet effective method to update the appearance of your floors. The texture, color, and patterns may benefit any lengthy hallway in houses or flats. This kind of carpeting adds. It is also an excellent tool for bringing life to a typically drab environment while reducing the sound of footsteps. From modern patterns to classic Persian carpets, a rug type suits every preference.
What's more, hallway runner rugs require less upkeep and cleaning than full-wall carpeting, which is even more thrilling. Additionally, they may be relocated and rolled up for a change of scenery.
Incorporate Area Rugs
Source; ourcityofcolours.com
Including area rugs in your flooring is another approach to making it better. Area rugs, like runners, aid in defining spaces and injecting life into a space. Area rugs can be utilized on surfaces with hardwood floors, tile, or stone to complement wall-to-wall carpeting or as a stand-alone design element.
These adaptable floor coverings are made from various substances, including wool, cotton, jute, and synthetic fibers. Additionally, area rugs come in various sizes, styles, and patterns. Choose a tiny circular or square rug to give the appearance of a larger room if your home is small.
Use Vinyl Flooring
Source: parterreflooring.com
This one may come as a surprise, but vinyl flooring is becoming increasingly popular in modern homes. It's durable, waterproof, and comes with many design options. From wood-like planks to stone looks and mosaics, you can find a vinyl style that perfectly fits your interior design.
Due to its scratch resistance, vinyl flooring is also an excellent choice for high-traffic home areas, such as kitchens and entrances. It's easy to install and maintain with regular cleaning. Best of all, it's an affordable option that can add sophisticated style to any room. But it's not best for all areas, so consider the pros and cons before deciding.
Add Wood Accents.
Source: ctfassets.net
If you want more natural components in your home design, wood accents are a terrific way to warm up your flooring. Almost any style of flooring, from tile to hardwood, may be used with wood accents like parquet and herringbone patterns.
Due to its ageless appeal and traditional look, herringbone is particularly popular in modern homes. Use it by itself or with other materials to make your flooring look livelier and more inviting.
The great thing about wood accents is that they can be customized to match any space, from big rooms to little entryways. Additionally, you may choose varnishes and stains that complement the rest of your home's style.
Add Splashes of Color
Source: pcdn.co
Color splashes are the best option if you're looking for a way to stand out and shine. Any room may be made more lively by adding a colorful rug or a few touches of greenery. Consider using colors that contrast with the type of flooring. Consider a black rug, for instance, if your flooring is pale wood.
This design style allows you to experiment with various colors and textures without substantially changing your flooring. It also provides visual interest to the room. Additionally, it's the ideal technique to give your house a more lively and welcoming appearance.
Opt for Laminated Wood Floors
Source: futurecdn.net
Another great approach to updating your flooring is with laminated wood floors. Laminate flooring is ideal for every room since it gives off the warmth of natural wood without high maintenance costs. Laminate is more scratch and dent resistant than hardwood flooring. Additionally, it needs less maintenance and is simpler to install.
Laminated wood flooring in various hues and designs may give your house a luxurious appearance without breaking the budget. Laminate flooring offers any area a classy and elegant vibe, whether you like traditional oak or something exotic like cherry wood.
Also Read: 5 Best Flooring Ideas for a Luxury Interior in 2023
Add Wall-to-Wall Carpeting
Source: nobroker.in
For any home, wall-to-wall carpeting is a traditional and timeless design choice. Various colors, materials, and textures are offered to complement your furnishings, decorations, and other design components. No other type of flooring can match the warmth and comfort that carpeting provides.
Whether you want a little area rug or whole wall-to-wall carpeting, choosing the correct pattern may significantly change your house's appearance. Choose high-quality materials in exciting patterns and hues to give your home a more contemporary air. Any space may appear bigger and cozier with just one adjustment. Remember that routine vacuuming is necessary to keep your carpets appearing clean and new.
Final Thoughts
When upgrading your flooring, you must be creative and know what works best for your home. There's no need to break the bank to have a stylish and inviting interior. With these tips, you can quickly transform your flooring into something special and unique!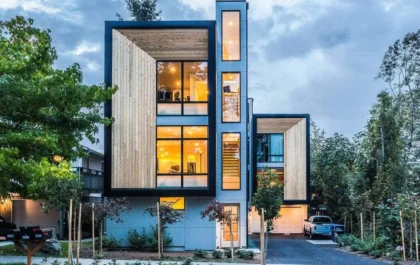 27+ Stylish & Modern Townhouse Designs for Urban Living.
The townhouse's first impression is normally too small, too compact, too narrower, and the list is endless. Well, let us…