The difference between residential and commercial property is commonly known but there are many technical details that should also be known. The terms residential and commercial come from residence and commerce, respectively. Therefore, their difference is obvious to all. Residence Refers to the residential space that is used for living purposes;
Commercial refers to a space that is used to gain benefits or to carry out activities that are different from the simple purpose of life. However, there are many more subtle differences that people are not aware of, and this discrimination is used by authorities for different tax assets, whether it is stamp duty, electricity rates, or any other utility bill.
This blog tries to highlight the difference between residential and commercial properties from the point of view of owners, who use people and occupants who see these properties differently.
Bank Policies & Interest Rates
It is worthwhile to note that even banks differentiate between them and the different rates of interest on the mortgages of these two types of properties. Therefore, think twice before deciding to buy a property.
The interest rate for purchasing a residential property is lower than the rate for commercial property. This is because banks realize that commercial property will earn for the owner, while the residential property will also earn on its own, but gradually, as the value of the property increases.
Living Conditions
The most spectacular difference between a residential and commercial property is that a residential property is one that is used solely for living such as bungalows, apartments, condos, and cooperatives. Thus, a property where a person lives is called a residential property. On the other hand, industries, shopping malls, office spaces, etc. are eligible under commercial properties. Thus, the person works in commercial property.
Government Policies & Tax Rates
For investment purposes, one must decide in advance whether he is buying a property to build a house or to develop a retail space. If the decision is to develop shops or offices, the property he buys must be commercial property because the authorities have developed the property as commercial or residential.
Once purchased, it is almost impossible to make any changes in its use. It is important to know the difference between the two types of properties before deciding to invest. The two assets are taxed separately; Officers charge the owner more for registration and stamp duty, as they feel that commercial property brings higher returns on investment.
For Availing Loan
Banks consider commercial properties to be riskier than residential properties, considering that the owner of a residential property can be made to easily spend the loan amount, which is not the case with commercial property buyers. Loans for commercial property are therefore short-term and bear higher rates of interest than residential properties that are often mortgaged at very low-interest rates for periods up to 30 years.
Cost & Resale Value
Residential property is cheaper than commercial property, although there are exceptions. You can buy a residential property at half rates as compared to the commercial property. Also, the resale value of the commercial property is higher than that of the residential property.
Design and Construction
Residential buildings – Residential construction or residential buildings are more often called houses, garages, and homes. The residential building is constructed by using residential building standards. There so many types of residential structures including:
Prefab buildings

Apartment buildings

Villas

Fourplex

Detached house

Semidetached house
Commercial buildings – Commercial construction is the place people can run their business called a business of building and selling or leasing manufacturer plants, medical centers, retails shopping, and standard space for offices. The business varies primarily in the size and scale of operations.
Almost all the construction is done by using trusses, metal because of less construction time easy to install, and requires a durable framework. Most of the commercial Quonset hut kits are constructed by the steel framing. Metal is strong, durable, resilient, and able to construct heavy and large buildings. There so many types of residential structures including:
Mini Storage Buildings

Quonset Buildings

Metal warehouses

Workshops

Retail shopping
Codes & Permitting
As you know, the commercial building permit application will be processed by a building officer. For the commercial building permit, process documents (Passed concluding site plan from development & permits engineering, State Contractor's license) are required, which help you to build the building.
Building permits are necessary to protect the health, safety, and welfare of residents. Failure to obtain the required permits is a violation of the law. Make sure that you have determined whether your project is considered commercial before proceeding.
Residential building permits are one of the essential parts of the remodeling or renovation of your residential buildings. All retaining side panels, although of height, supporting a surcharge (load, structure, etc.) require residential building permission.
The entire construction process can be constructed without proper building permits. Failure to obtain an appropriate license may not only lead to delays, but also substantial fines. You can find the step-by-step guide to getting a building permit for your next residential building project.
Building Project Deadlines
Whenever it comes to residential building, the time taken in it is valuable because time is money; Therefore, the builders should ensure that the project is completed as soon as possible. Residential buildings are quicker to build than other buildings because residential construction takes less time to build due to higher construction costs and more systematic workflow.
According to data, 70% of the commercial building owners claim that the biggest reason for poor project performance is under-construction and poor contractor performance. A schedule is created for a commercial building construction project with a timeline created by the project manager.
The project is used as a building plan for the construction of the building. A commercial building construction project's schedule is very important and useful because construction projects can make a big plan into smaller, more manageable stages. As we know, some construction project schedule goes through the Gantt chart.
Required Equipment
Most of the commercial building construction needs techno scientifically material and their equipment to perform most of the projects.
Large machines, including land moving tools and cranes, are required to build many commercial building designs, which are also available on rent, you just have to search online for crane rent near me and get the heavy machinery on rent at an affordable price.
Talk about residential buildings, then special skills are required for their construction. As is often seen, only the most extraordinary residential buildings demand large equipment to be constructed on an industrial scale.
Conclusion
I have written all the useful and necessary differences for residential and commercial buildings in this blog. If I miss something by mistake, I will write it in my next blog.
As we have seen, the buildings of both residential and commercial have their weaknesses and strengths. Typically, many investors, homeowners, or business owners prefer to invest in residential buildings before venturing into the commercial sector.
In conclusion, it is up to homeowners themselves to select which type of buildings suits them considerably based on their popular financial situations and individual goals.
Find Out More: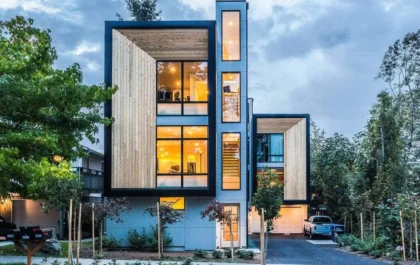 27+ Stylish & Modern Townhouse Designs for Urban Living.
The townhouse's first impression is normally too small, too compact, too narrower, and the list is endless. Well, let us…