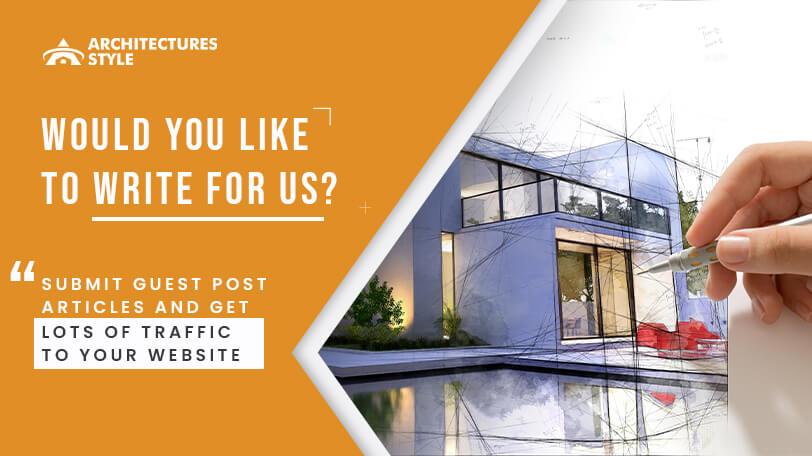 Hey Architects,
Welcome to Architecture Styles Write For Us page.
It looks like you are here with something on your mind. Want to share a piece of information from your treasure? You are at the right place. We are continually looking for writers that can add more value to the website with their qualitative articles.
We get the website traffic from around the globe, including everyone, from house owners to designers and even solution seekers. This is the foremost reason for our requirement for quality content.
What exactly is the quality content? – An article that can provide comprehensive knowledge and solves the seeker's problem without focusing on unnecessary information is Qualitative content. 
To help you draft the article our audience likes, we have mentioned a few guidelines. These guidelines won't only help you but will also save you time. However, before we move towards that, let's discuss our website and its main motive.
ArchitecturesStyle provides detailed information on every architectural style, be it thousands of years old for recently invented. In short, here you will find a guide on the architecture types entertainingly.
How will you benefit from writing for us? When you submit an article to post on our website, you build a healthy and trustable relationship. Along with that, you will also get a platform to show your inexplicable writing skills. 
Our expert content writer and editor will supervise your content. This way, you will get the proper feedback and a chance to improve yourself. Once you receive the feedback, make the changes recommended, and resubmit it to us (if there are any).

As said, we do have guidelines but stay relaxed, as they are lenient to follow. Have a look!
Guest Post Policy and Guidelines
Quality Requirements:
When you draft an outline for the content, the amount of research and hard work it takes is enormous. However, that reflects in your content. Read the quality requirements we expect in your content:
Write content with a word count of a minimum of 800 to 900. We would love to have an extensive blog on our website with 800+ or even 1000+ words. (The only requirement is quality.)

We want easy to read and engaging content that will make the audience enjoy reading time. When you are selecting the title, make sure it can draw everyone's attention and describe the article's primary motive.

The content should be structured appropriately with subheadings and bullet points. Also, try to make short paragraphs with 70 to 100 words to hold the reader till the end. Look at our Write For Us!

We want freshly brewed content with useful information and an engaging writing style. Don't even think of sending us a spin article, our content editors will catch the fault in a minute, and it will be rejected.

The English language is preferred, as our audience is comfortable with that only.
Preferred Topics and Subjects:
Even though the architectural style isn't a vast topic, it has complex subjects. From explaining its existence to present-day houses in those styles, you can select anyone in a particular style. So not to get you in confusion, we have mentioned topics on which we accept blogs regardless of the subject. Have a look!
Modern

Colonial

Classical

Bungalow

Contemporary

Vernacular
If this is still less, you can always check out our website to see the style of blogs we update. Also, you can send us a mail to discuss the topic for finalization. We will help you out!
Link Requirements and Policies:
To avoid getting spammy links in the content, we created a few link requirement policies. Please go through the guidelines before you place any link in the article.
You can place external links in the content as many as you want, but they should be relevant to the content and a high authority website.

Place at least one internal link in the article, which takes the reader to one of our topic-relevant blogs. This way, the audience will have a valuable content package.

You can only place one link that will take the reader to your website. (Make sure the landing page is relevant to the topic you have written.)

Author Bio! Send us a descriptive bio with the name and image for the author bio section. Don't forget to add the links to your social media accounts.

Content with affiliated links from the guest post author's side is not taken. The links will be removed from our end or changed (if found any).
Post Image Requirements:
We do accept images and videos with the article. If you want to add a specific type of image in the content, you can send us. However, we have guidelines for them too. (Very lenient ones!)
The dimension of images should be 1281*1098 pixels.

You should have the right to use the images to add to the blog or cite the source. You can also download free source images from Pexels.
P.S: You can use Canva to create header images. (We also do the same!)
Editorial Rights
We have all the rights to edit your content once you submit it to us. Our content editor will check the article for grammatical errors and writing style. So, don't mind if we ask for too many changes. Our main motive is to provide readers with qualitative and engaging blog posts to read.
Promotions
We can assure you one thing, that is the proper promotion of your article. How? We have a power-pack team of SEO and social media experts that will do the work. You should also promote it from your end.
Where to Submit?
Draft the article, do the proofreading, get it reviewed, and then submit it to us on [email protected].
Our content editors will review your article and suggest changes (if any). Make the changes and resubmit it. If your content is good to go, it will be on its way for the website posting. We will inform you via mail about its status.
After the article is updated on the website, you will receive a mail with its live link and acknowledgment.
Which are the Search Terms?
How did you reach our write for us page? Through typing "write for us architecture" on Google or from the website itself. If the first one is your answer, then you used the search term to reach us. 
You can discover more websites like us with the same niche through the following search terms:
architecture + write for us

write for us architecture

modern architecture + write for us

colonial architecture + writer for us 

classical architecture + write for us

bungalow architecture + write for us

contemporary architecture + write for us 

vernacular architecture + write for us

Architecture "write for us"

Architectures + "write for us"

Architectures blogs + "write for us"

Architectures blog + write for us

Architect Design "write for us"

Architectures Design blog "write for us"

Architectures write for us guest post
We are glad you are willing to post on our website. We will be waiting for your article or at least a query.
The Floating Pitch of FIFA World Cup 2026
The 2026 FIFA World Cup is set to be the largest and most ambitious tournament in the event's history, with…