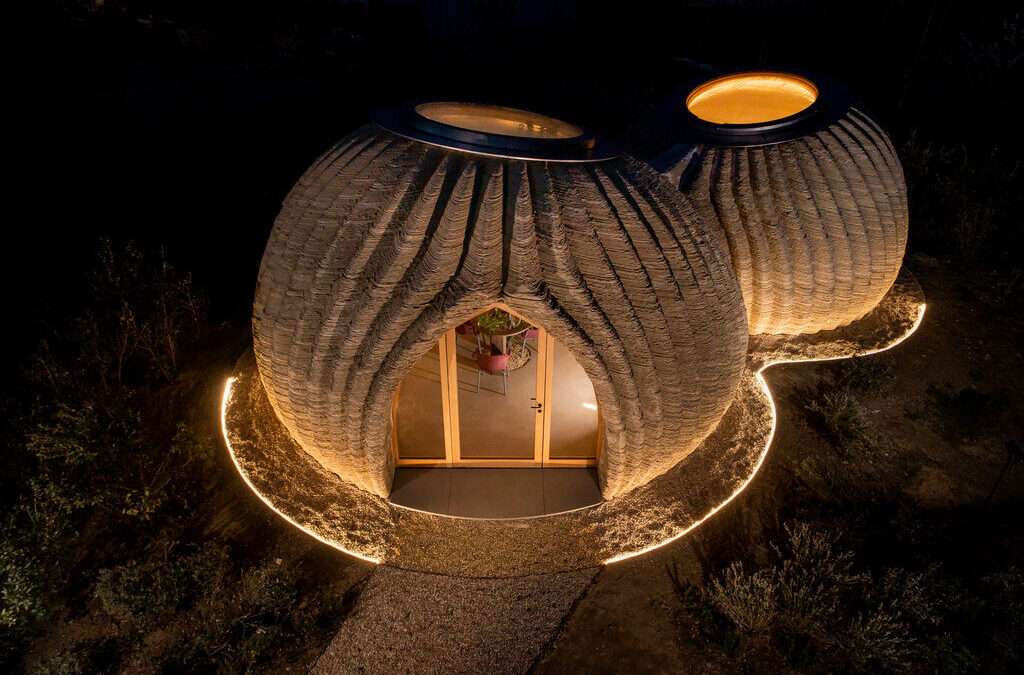 You may have seen 3D printed small models of various architectures but have you ever seen a real Clay 3D printed house? Yes, now this technology has become a reality. Recently, TECLA, an eco-habitat model, was unveiled in Italy. Let's know more about this advanced home. 
TECLA Clay 3D Printed House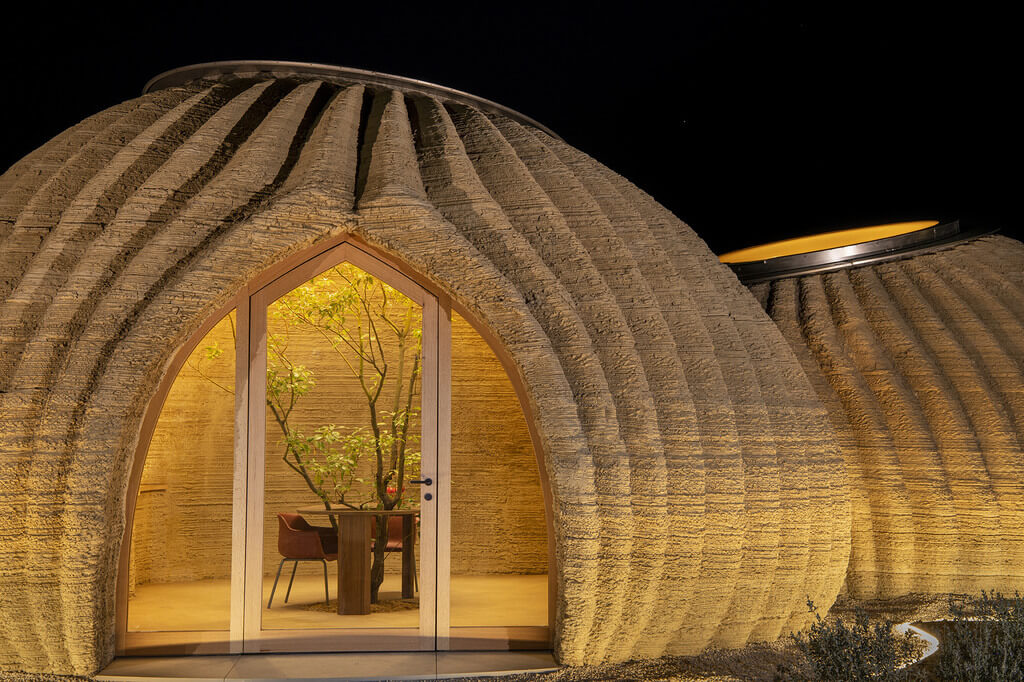 Source: thisiscolossal.com
Architects: Mario Cucinella Architects
Location: Massa Lombarda, Italy
Area: 60 m²
Year: 2021
The 3D-printing company WASP and Mario Cucinella Architects (MCA) had announced the concept of designing the first 3D-printed house made entirely from clay in 2019. And in 2021, this has come true. 
All this happened because of the eco-sustainability research of the SOS – School of Sustainability (training center founded by Mario Cucinella), and the brilliant collaboration of the pioneering research projects of Mario Cucinella Architects and the collaborative 3D printing technology of WASP.
Let's know more about this fascinating building made from local clay.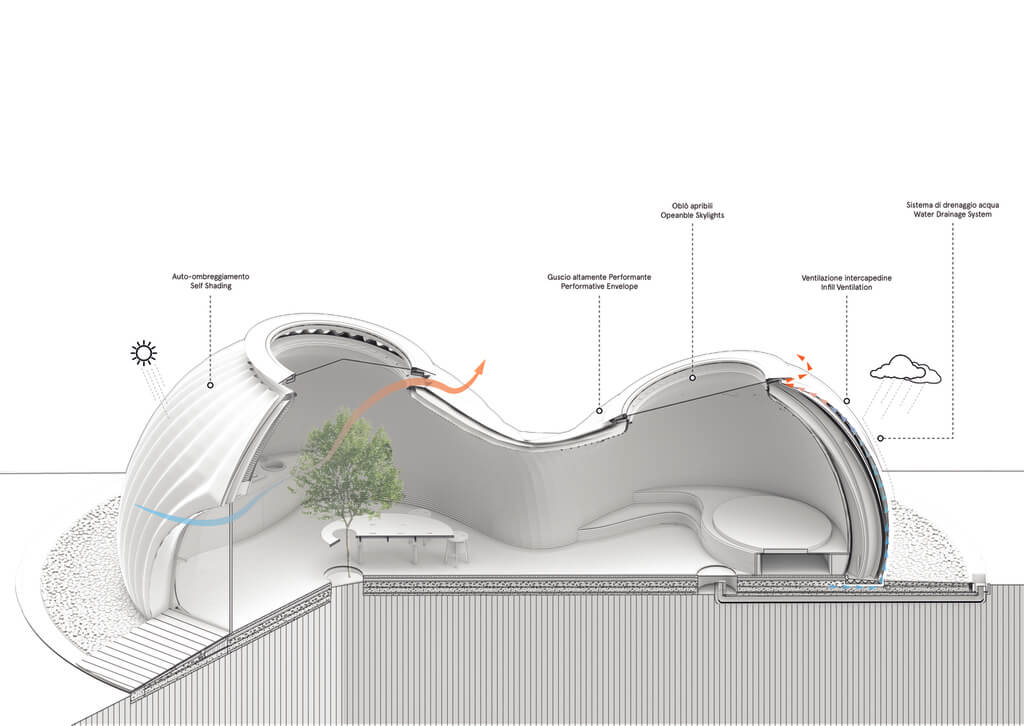 Source: adsttc.com
This collaborative project is known as TECLA (which takes its name from Technology and Clay). Located in a beautiful Massa Lombarda (Ravenna – Italy), this house is finally completed and open for display.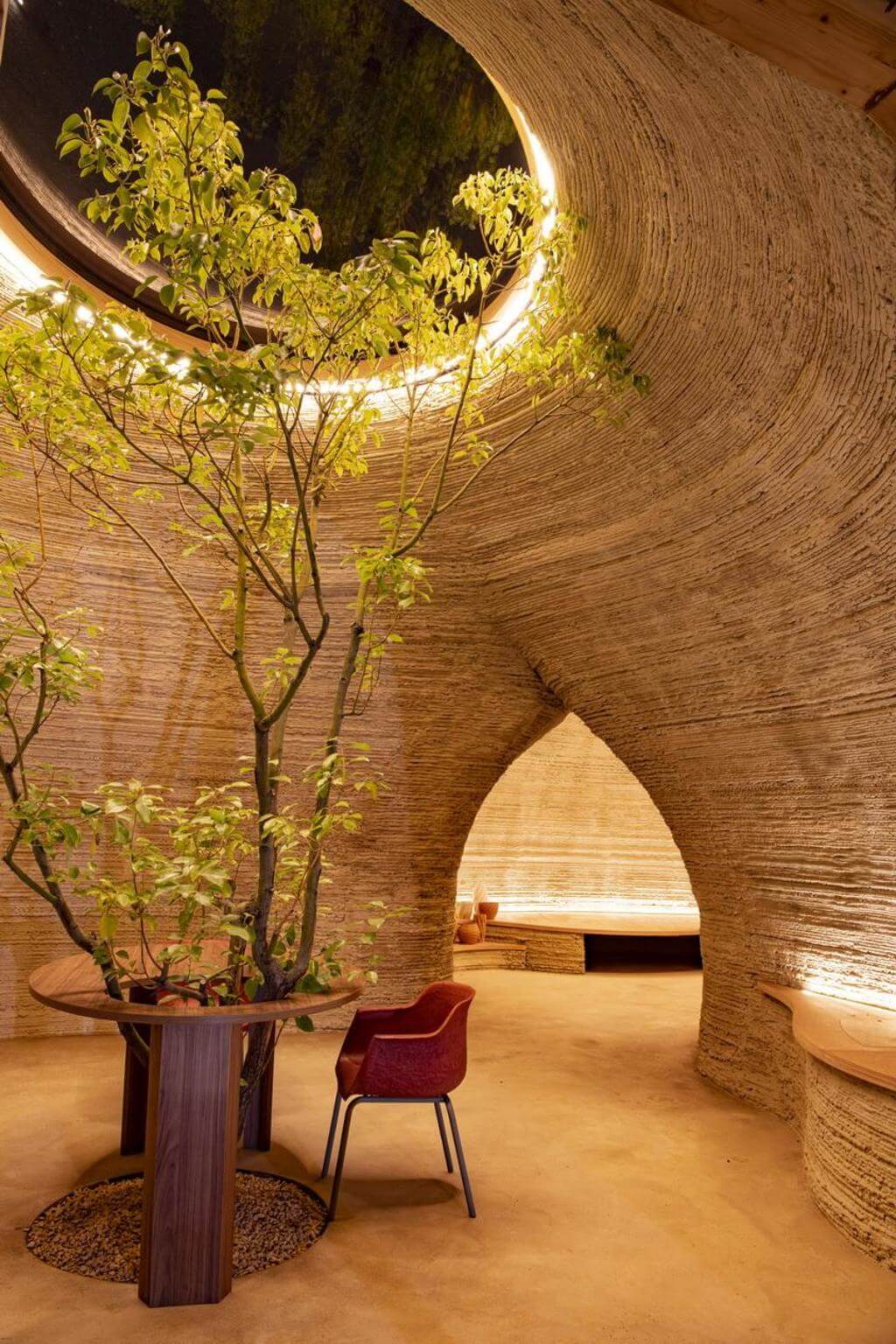 Source: hsmedia.ru
TECLA is the first eco-habitat and innovative circular housing model, which is entirely made from local materials. It brings together all the research on vernacular construction practices, the study of bioclimatic principles, and the use of natural and local materials. 
Concept & Design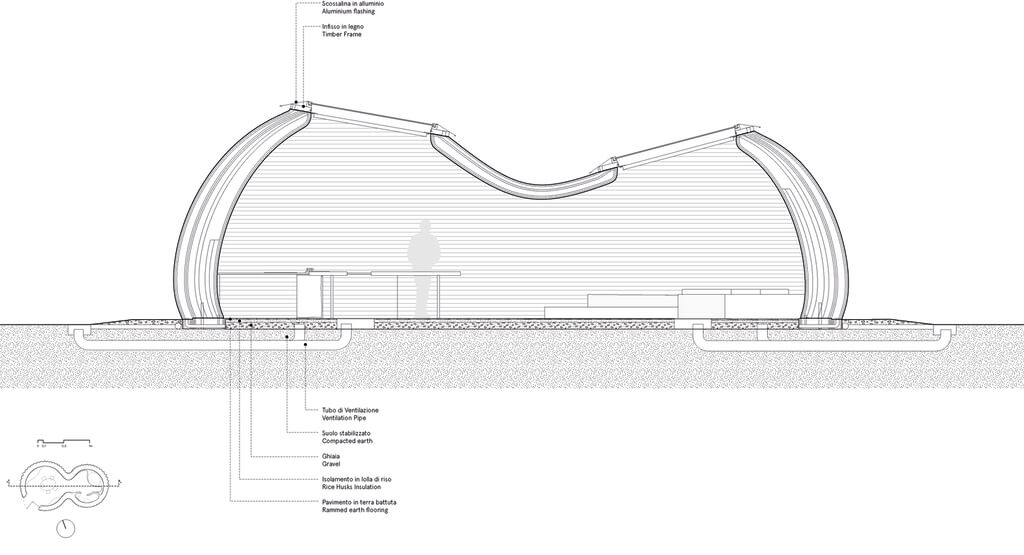 Source: adsttc.com
This is a nearly zero-emission project because it has used local materials, which further reduces waste and scraps. Now with the help of 3D technology, we are able to construct buildings. This will optimize the construction process and minimize the use of human and energy resources.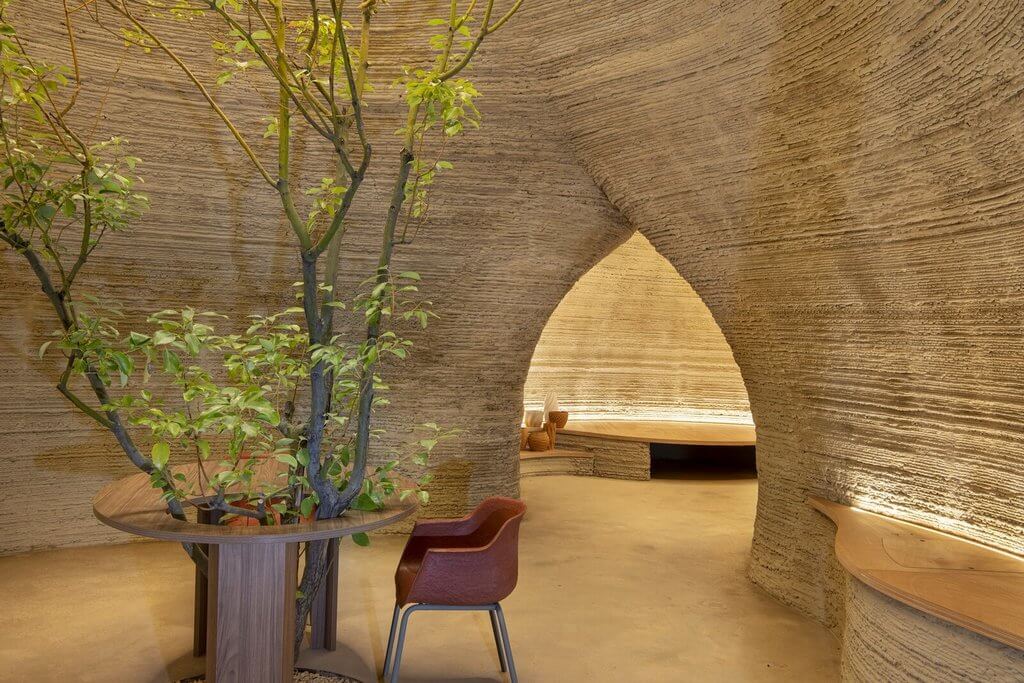 Source: redd.it
TECLA is a pioneering example of low-carbon housing because it has used raw earth. Cleverly design by Mario Cucinella Architects, this new circular housing model is completely create with reusable and recyclable materials. Most of them are source from local soil, and they're carbon-neutral and adaptable to any climate.
The Construction Process & Timing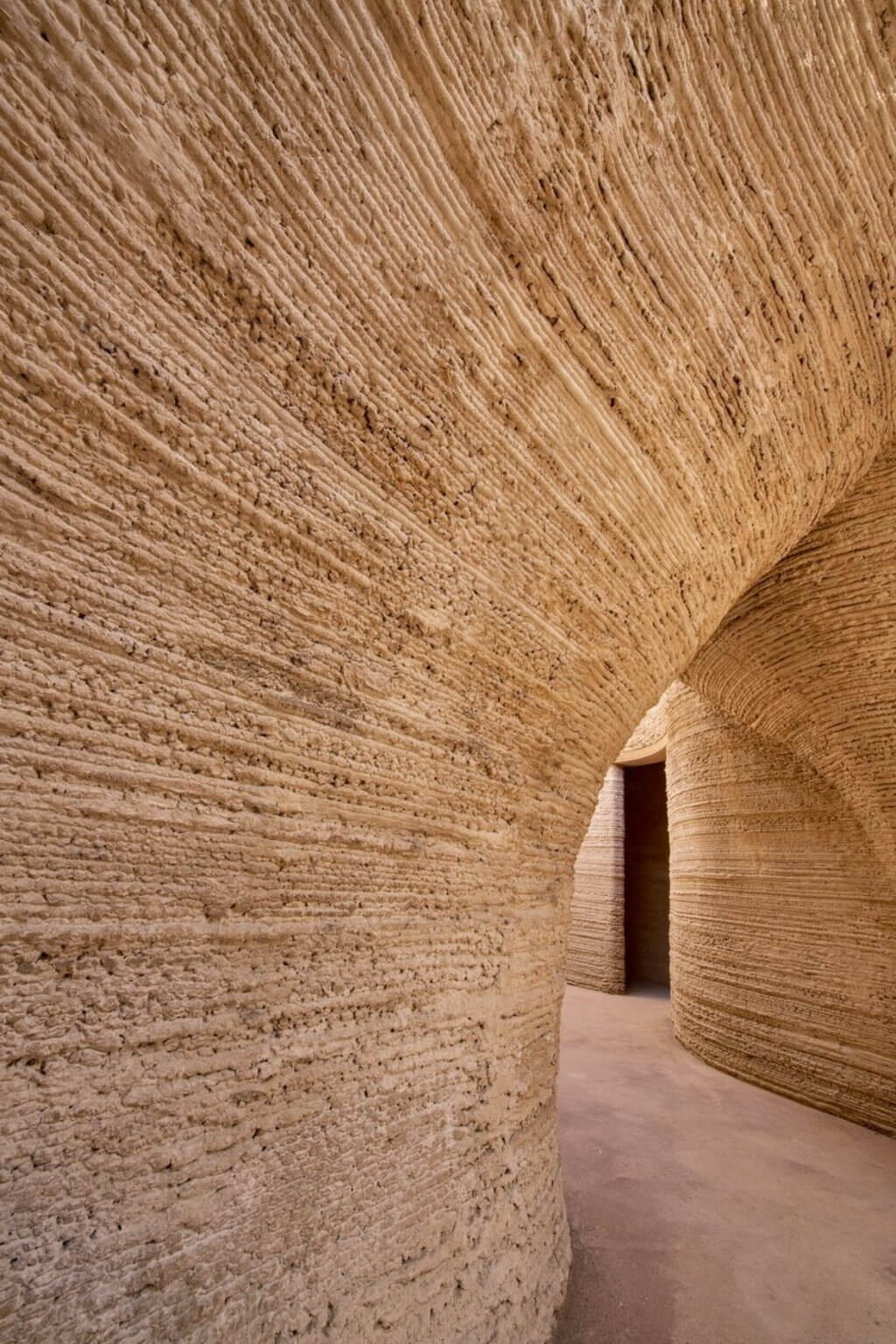 Source: dwell.com
Over the past few years, when it comes to housing, many 3D-print homes have been conceptualize, which promises quick build and low construction costs. For example, in 2017, a 400-square-foot home printed in only 24 hours in Russia, and just after two years, an entire neighborhood printed in Mexico. They all are brilliant constructions.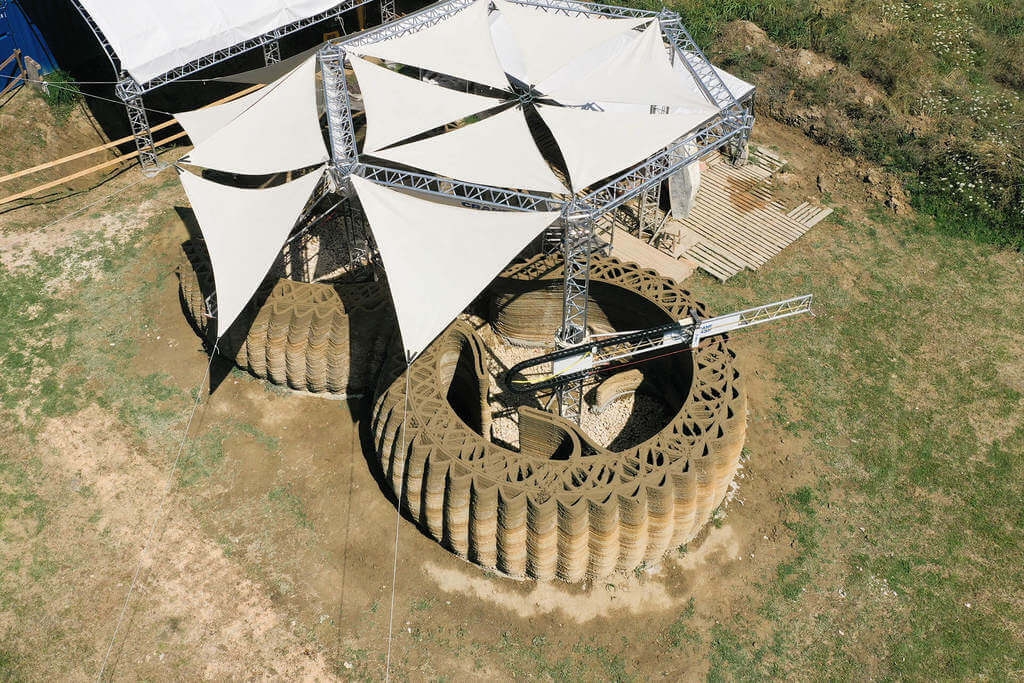 Source: stirworld.com
Now you may be wondering how long has it taken to complete TECLA?
There is a complicated process behind the construction of this ultimate house, from 200 hours of printing and 7000 machine codes (G-code) to 350 layers of 12 mm. The process also includes 150 km of extrusion and 60 cubic meters of natural materials for average consumption of less than 6 kW.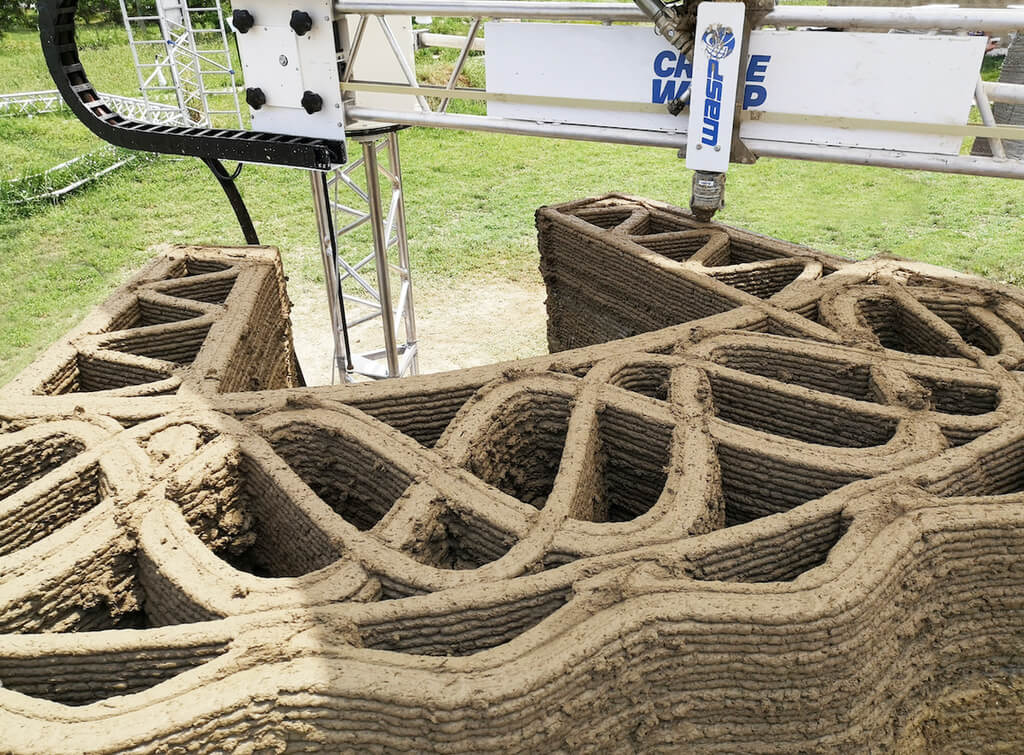 Source: epiteszforum.hu
Only for the project TECLA, Mario Cucinella ArchitectsMCA, and WASP also collaborated with the School of Sustainability (SOS). Mario Cucinella founded this postgraduate training center in 2015.                                                                                
"The aesthetics of this house are the result of a technical and material effort; it was not an aesthetic approach only," explains Cucinella.
Also Read: 9 Different Types Of Architecture: Quality, Characteristics, And Famous Buildings!!
Living Conditions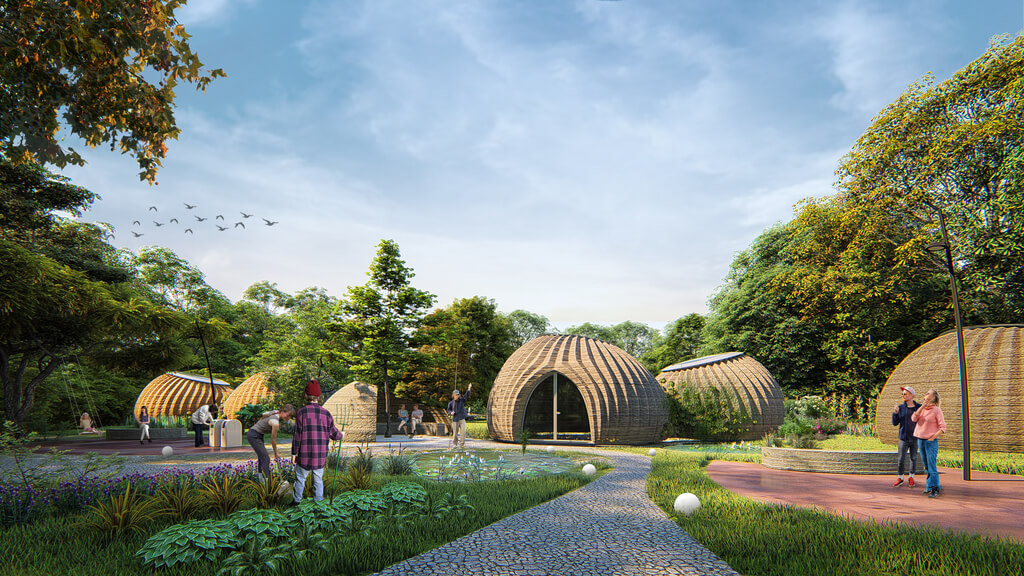 Source: cdn.cnn.com
The interior space of the TECLA house is around 650 square feet. The house features a "living zone" with a sun-lit kitchen and a "night zone" with a bedroom and bath. Two ocular skylights bring ample natural light inside the house.
The architect firm states, " The furnishings—partly printed with local earth and integrated into the raw-earth structure, and partly designed to be recycled or reused—reflect the philosophy of a circular house model."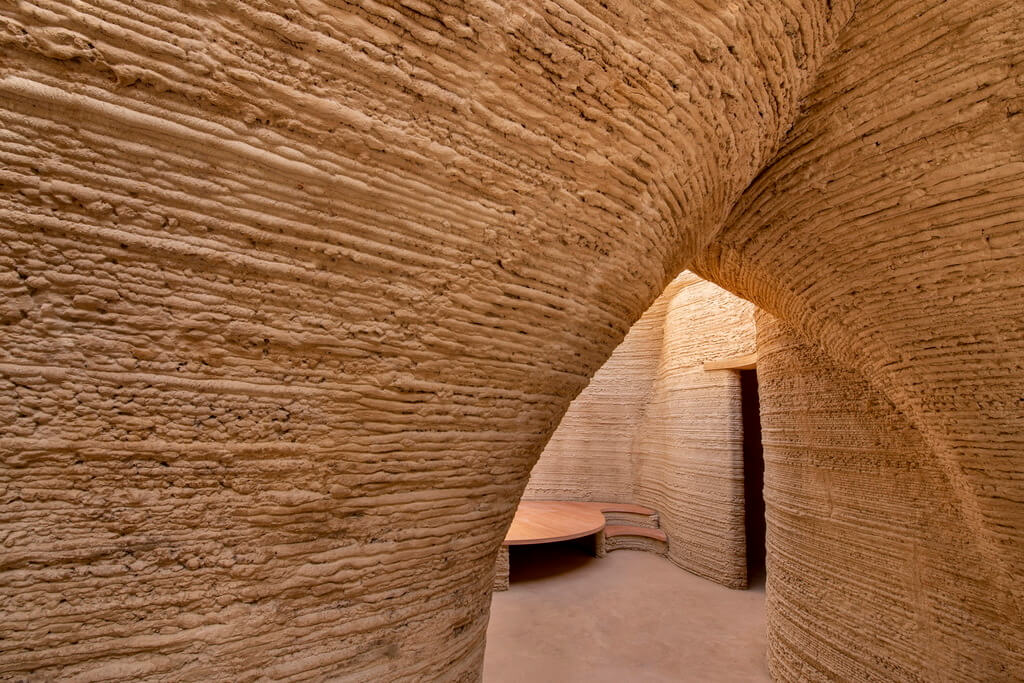 Source: adsttc.com
Abode has been made from earth, water, and organic materials, and these are not new building materials. In fact, they're one of the world's earliest construction materials. The reason behind their use is their durability, biodegradability, and natural insulation.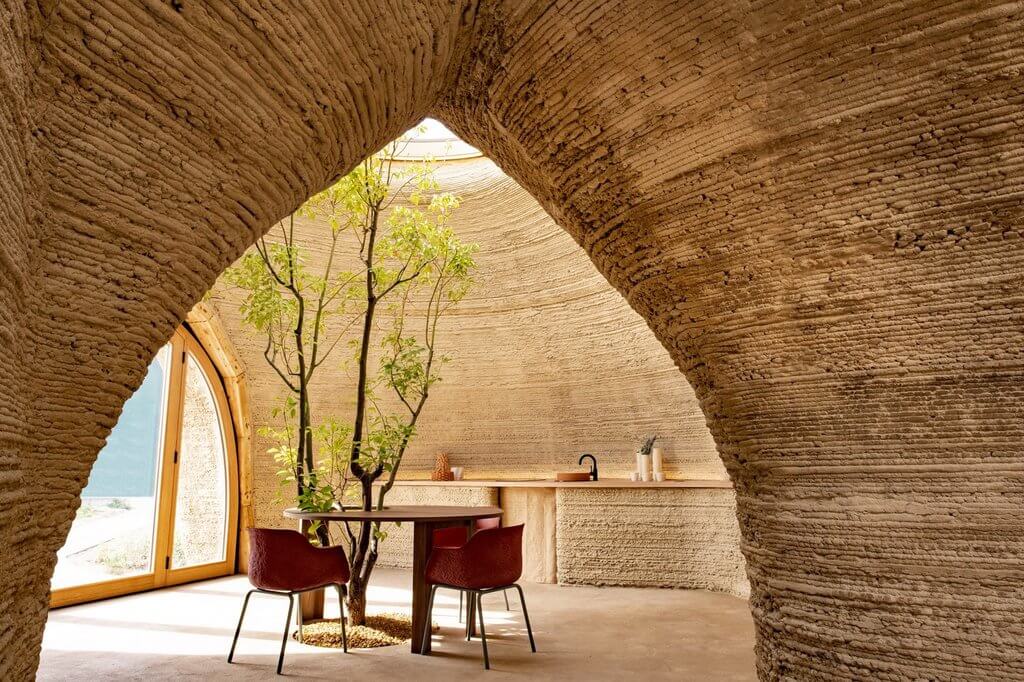 Source: itsnicethat.com
TECLA has built layer by layer, using an intricate latticework pattern. The overall structure is two circular spaces that are join together, with skylights in each. For furnishings, minimal things are there, such as tables and chairs. These can also be print using WASP's machinery except the components like doors and windows.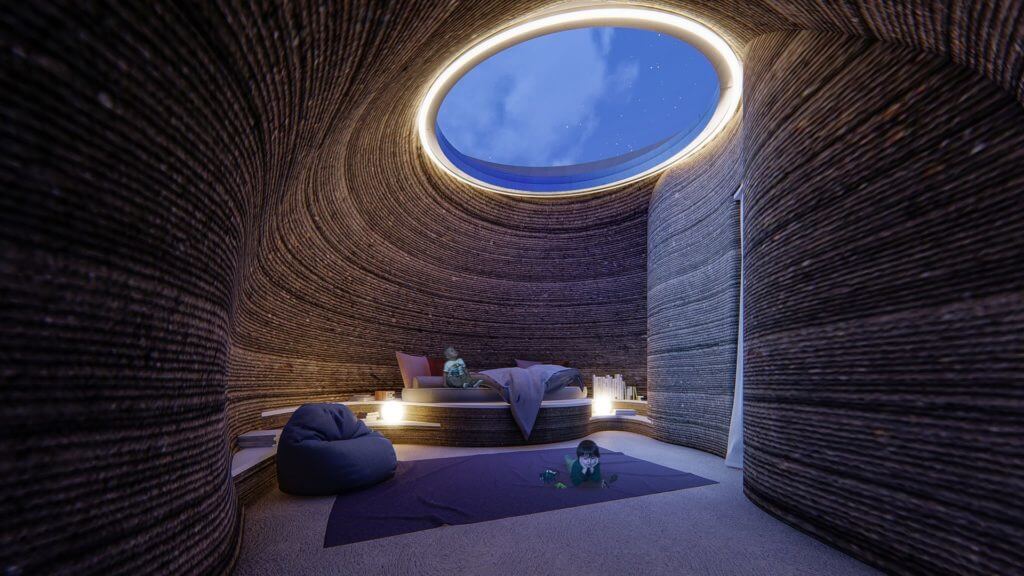 Source: impresedilinews.it
Cucinella wanted to create something by transforming ancient materials with modern technologies. He completely relied on local clay and created TECLA. This will reduce waste and material scraps and offer a low-carbon and affordable solution to homebuilding. 
He explained, "We are not producing one type of house that you can print and do it everywhere… Because, of course, it's different if you design a house in the north of Italy, or… in the middle of Africa, or in South America. We adapt the house to different climates."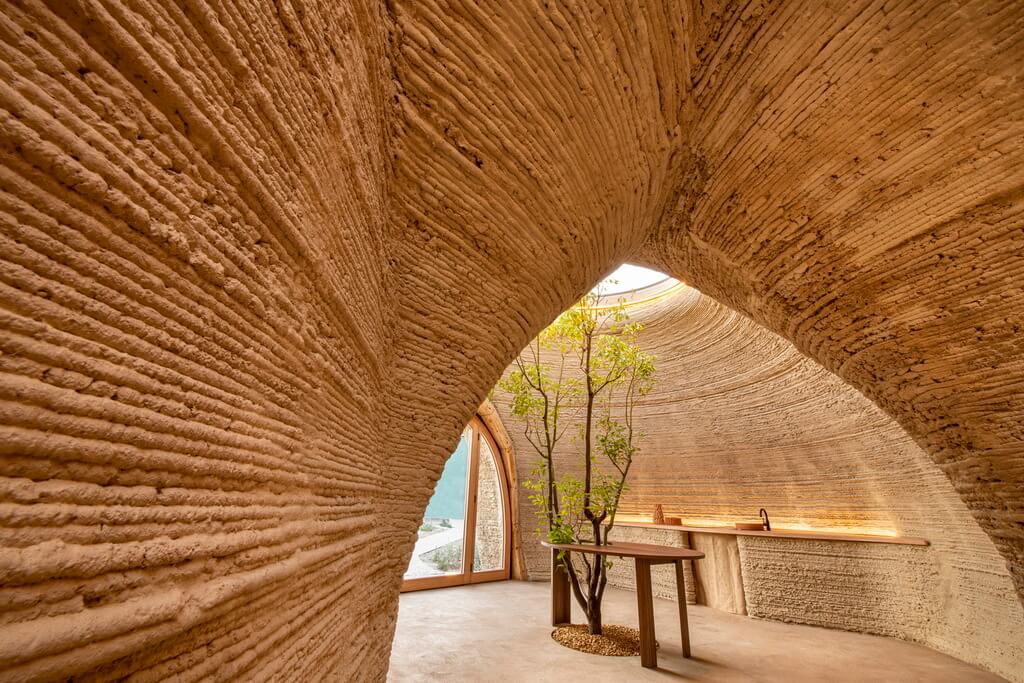 Source: adsttc.com
He further added, "I don't think we are in the position to say this will be the future of all houses on the planet. I think the revolution of 3D printing is to give people a degree of freedom in how to do things, without being connect to the big, professional industry."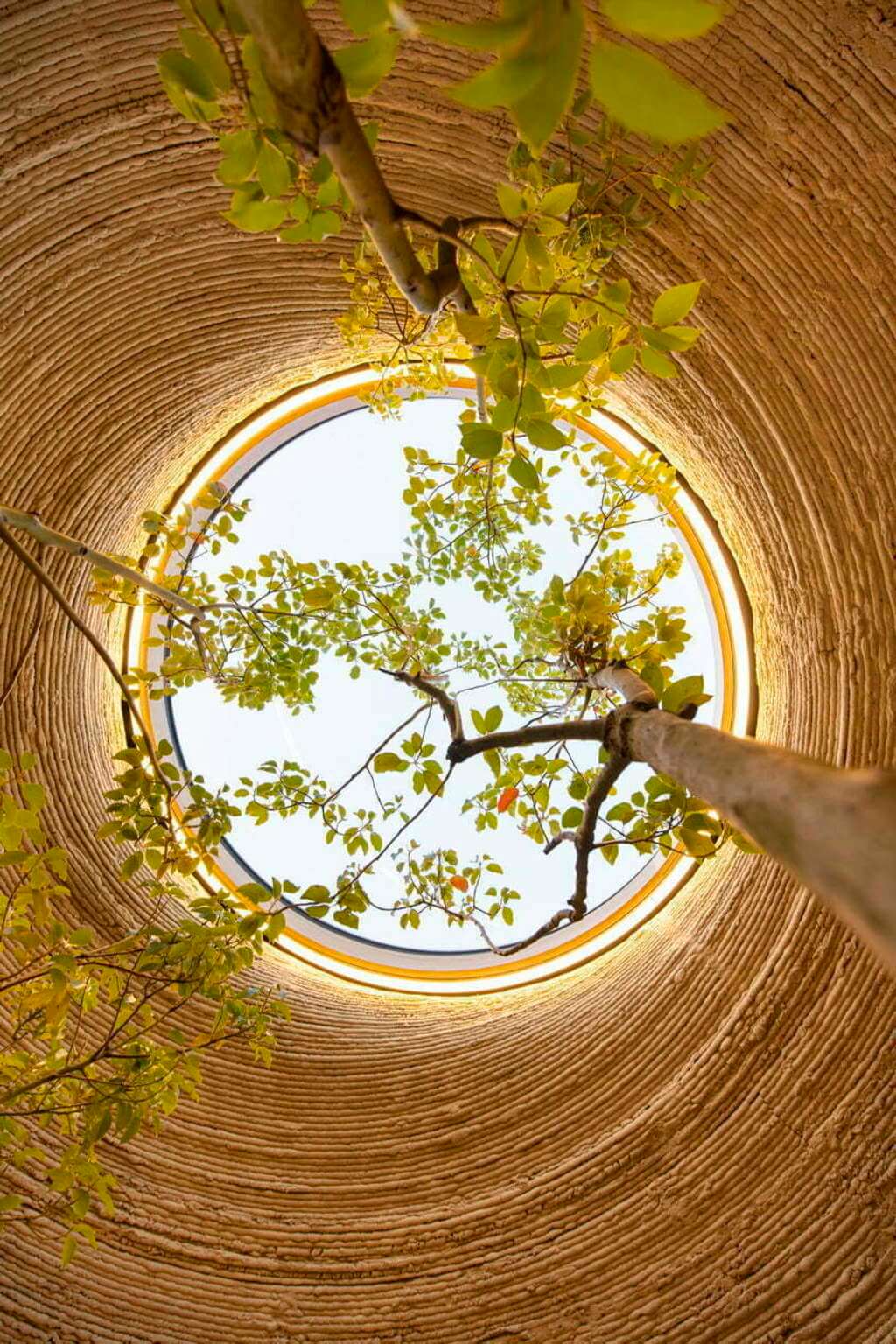 Source: bigumigu.com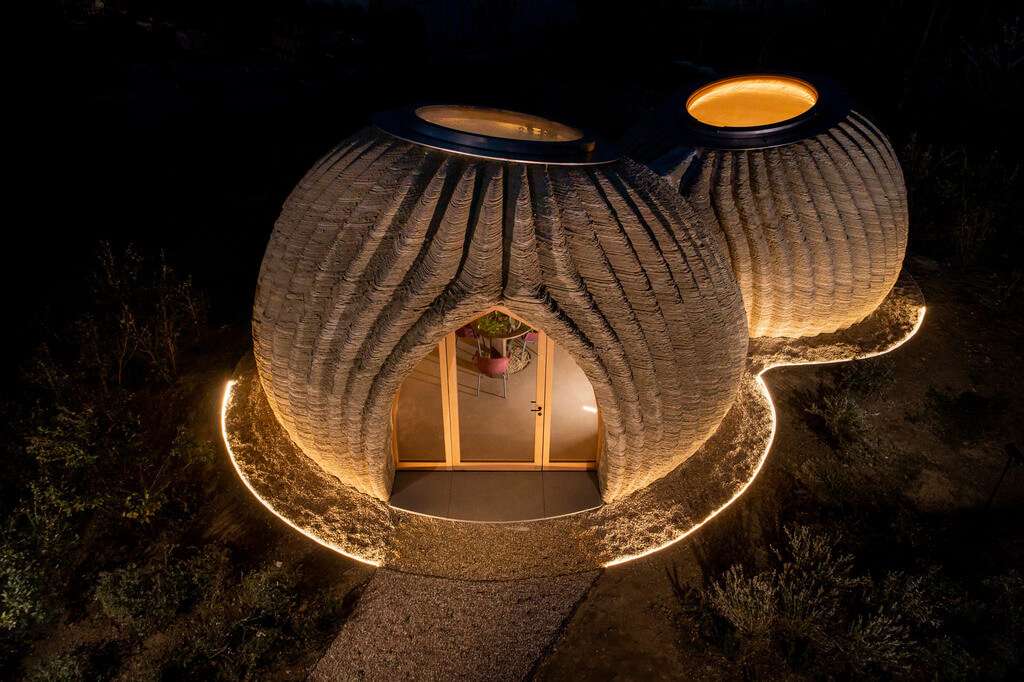 Source: dezeen.com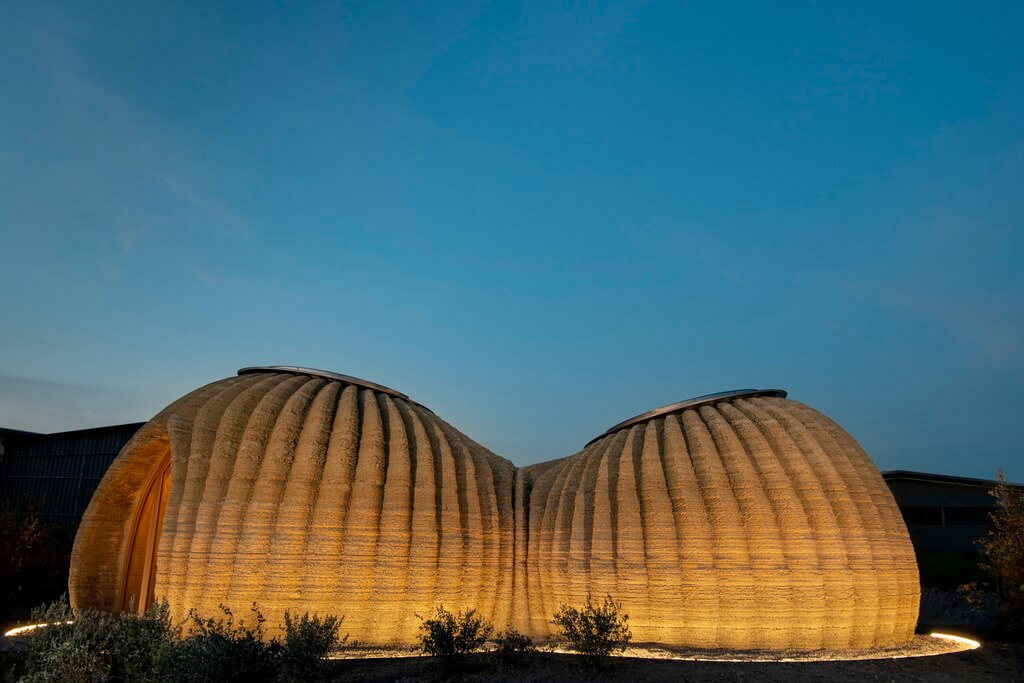 Source: adsttc.com
Final Verdict
Cucinella believes that if we try to learn from the pre-industrial architectural design, we could create buildings that won't harm the planet. He gives the example of ancient structures that are construct with no energy. 
The prototype of TECLA is currently under structural and thermal performance testing, which is an important step before the actual construction starts for the people. Cucinella said he would happily live there because the materials evoke a sense of home and history.
So this is all about the Clay 3D Printed House, TECLA by Mario Cucinella Architects. Hope you like this blog, and if you do, please share it with your family and friends. 
For more information about the latest structures around the world, keep coming to Architecturesstyle.
For daily updates about architectures, don't forget to follow us on our Instagram page, Architecturesstyleideas.
Himadri Shakya
Himadri Shakya is an enthusiastic Content Writer and Editor. She loves to create creative, engaging, and SEO-friendly content. Through her extensive research skills and practice, she has been generating high-quality and informative articles, and blog posts for over 4 years.
Related posts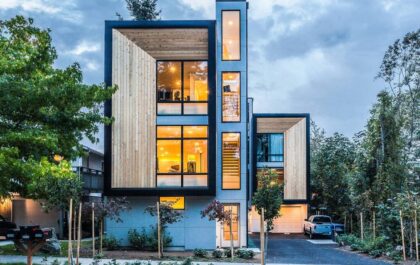 27+ Stylish & Modern Townhouse Designs for Urban Living.
The townhouse's first impression is normally too small, too compact, too narrower, and the list is endless. Well, let us…