Hello, all my Minecraft fans! Are you ready to construct a new structure? Today we've come up with a totally unique Minecraft house idea: Minecraft Mountain House! Say no to the old type of house construction; it's time to create your own house in the high mountains. Isn't it a cool home to live in? These days, these Minecraft houses with different types of construction are very popular in Minecraft.
These builds look really luxurious, modern, and they're also quite fascinating and simple to build. Today we'll be showing you how to build a mountain house in Minecraft within 10 minutes or less!
This structure isn't too demanding, and plus, you don't need too many resources; still, this house will look really ravishing and Captivating in the far mountains. If we talk about the overall theme, this Minecraft mountain house modern look has two floors with an open design concept, but it will also have more cool-looking features. Keep reading this step-by-step Minecraft mountain house tutorial to learn more. In this blog, we're going to tell you how you can make your dream mountain villa in just seven simple steps.
How to Build Simple Mountain House In Minecraft
This incredible Mountain house is created by a Youtuber, MAB JUNS (Channel name: JUNS MAB Architecture tutorial). This spectacular home is situated on a high mountain. This two-level mountain house has two bedrooms, and yes, it is a small mountain house, but it still looks aesthetically impressive. This Minecraft house is made inside of a giant mountain. Don't worry; this is super easy to create, and you'll have a lot of fun. We have also put the full tutorial link so that you can get detailed visual instructions. So are you ready to construct your small mountain house in Minecraft?
Let's get building,
Step 1: Layout and Materials Needed
First, let's talk about the basic materials you'll need to construct this Minecraft mountain base. Below is the complete layout or design in which we're going to build our house:
Talking about the materials, below is the complete list of materials, so gather all the required materials in a good amount if you build want to build this mountain base minecraft survival:
Spruce planks
Spruce Stairs
Grass Blocks
Stone Button
Ladder
Spruce door
Glass Pane
Oak Leaves
Dark Oak Sign
Oak Slab
Spruce Trapdoor
Oak Fence
For interiors and decorations you'll need:
Lantern
Bookshelf
Crafting Table
Chest
Black Bed
Painting
White Carpet
Step 2: Find a Right Mountain
After you have collected your materials, it's time to find the perfect location for your perfect minecraft house in mountain. Find a mountain, whichever you like the most, then start building.
So once you've discovered such a place, you can start the construction process.
Step 3: Build The Frame
After you found the right mountain, look at the layout, and start creating a circle or frame. You can use spruce planks and stairs to create two circles. Carefully finish the whole frame.
After this, extend the frame by one block. Just place another layer of blocks along with the frame. Now, free up some space in the frame. Start breaking stones or part of the mountain inside of your frame. Go for only five blocks deep.
Now we'll make the second floor of the house, and for that, you have to create the second frame. So, look at the layout carefully and start making one frame that overlaps the existing one, as shown in the photo.
Step 4: Add the Flooring & Ceiling
After you're done with both of the floors, it's time to replace all floors, ceilings, and walls with spruce planks. That's totally on you whether you want to do this while constructing the floors or do it after completing the whole structure.
Here we have used the spruce blocks, but you can always use any blocks of your choice. Enjoy a variety of architecture using various blocks such as oak and quartz.
Step 5: Build a Doorway + Add Windows & Doors
First, you have to make way for your main entrance. For that, you have to break some blocks in an L- shape on the first floor. Just make sure that you're building this slowly and accurately.
Now it's finally the time where you can put your doors and windows in your Minecraft mountain top house. Here I've used pretty simple doors, but obviously, you can put the fancy ones.
Here there are two windows, on the ground floor and the first floor. So for the ground level, fill the frame with glass panes from the floor to all the way up to the ceilings. But make sure that you block the inside from the outside.
Step 6: Design the Minecraft Mountain House Interiors
Now we'll do the interiors and make our home luxurious and incredible. So are you ready for it? First, we're doing the ground floor. So let's start with the lighting and bed, aka the basics.
Ground Floor Minecraft Bedroom:
Place some lanterns on various points of your living cum bedroom. After that, place a double bed on one of the sides of the room. You can also make side tables and put lanterns or oak leaves on them.
Place a bookshelf and a chest to the right side of your bed, and above them, put some fence for safety. After this, make a table with some slabs and trapdoors and put two chests on it.
Here in this house, we'll be adding some landscaping for pleasant interiors. Use oak blocks and sandstones or blocks near the bed area. They'll also act as a carpet and look really pleasing. You can also add Tv or paintings in your interiors.
Lastly, put a simple ladder to go up to the second floor. Also, don't forget to install the fence and lighting for safety.
First Floor Minecraft Bedroom:
Now let's create a second bedroom on the first floor. Here the entrance is in the open so that we can go out to the terrace.
Put a side table and a lantern on it. Right behind it, put a single bed, a bookshelf, and a chest. You can also put the oak leaves on the ceiling to bring some greenery to your house. Lastly, put some paintings and a few sandstone blocks on the side of the bed as a carpet.
Step 7: Finish the Outside
The last step is to decorate the outdoors. Just with some lighting and simple decorations outside the building, you'll see a lot of transformation in your outside area. Now your house will look more eye-pleasing and luxurious.
Here, the main lighting of the buildings are lanterns, but again you can change it according to your taste. We have tried to decorate the entire structure simply with trapdoors and buttons. And ta-da… Yourmountainside house minecraft is ready!
Minecraft Mountain House Ideas
1. Mountainside House
2. Mountain Starter House

3. Mountain Camo Base
4. Corner Cliff Base

5. Savanna Mountain Base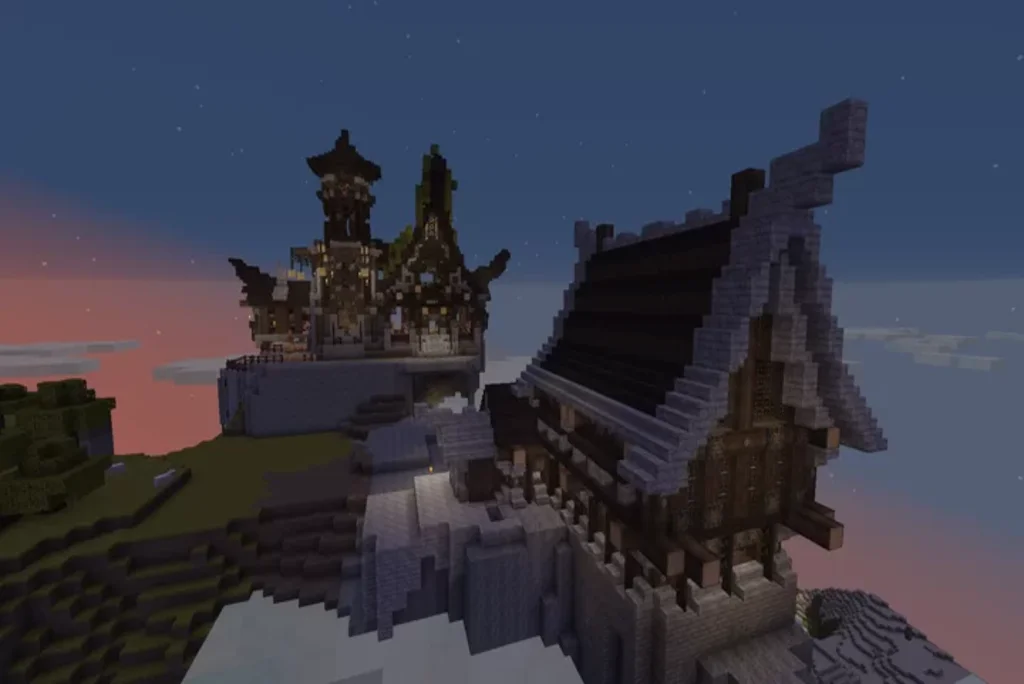 6. House at Base of Mountain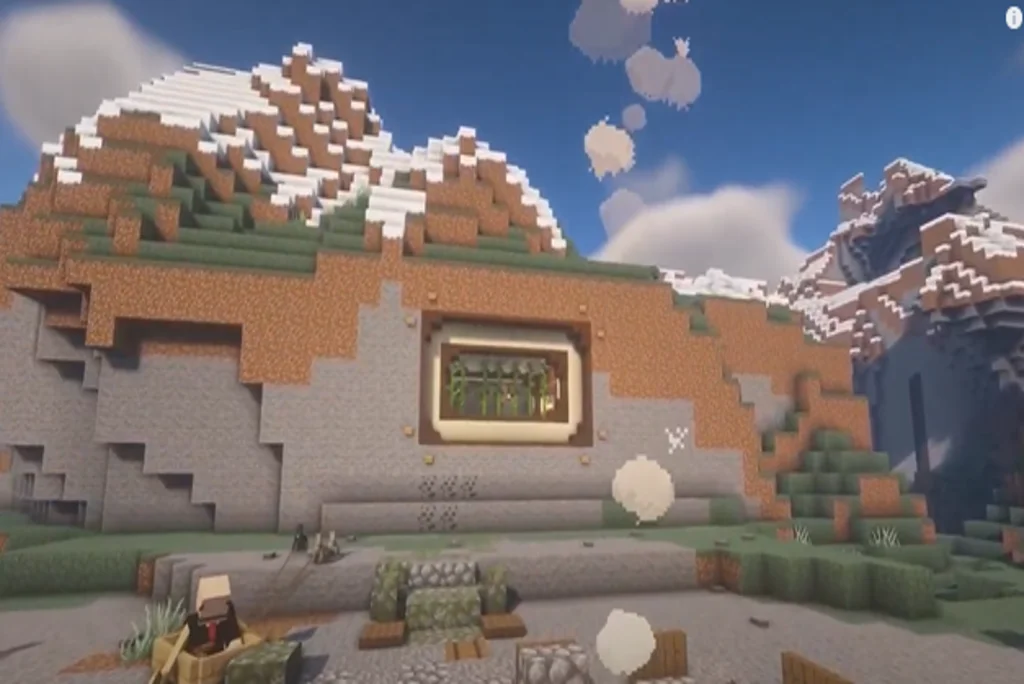 7. Modern Mountain Home
8. Internal Mountain House
9. Stilt House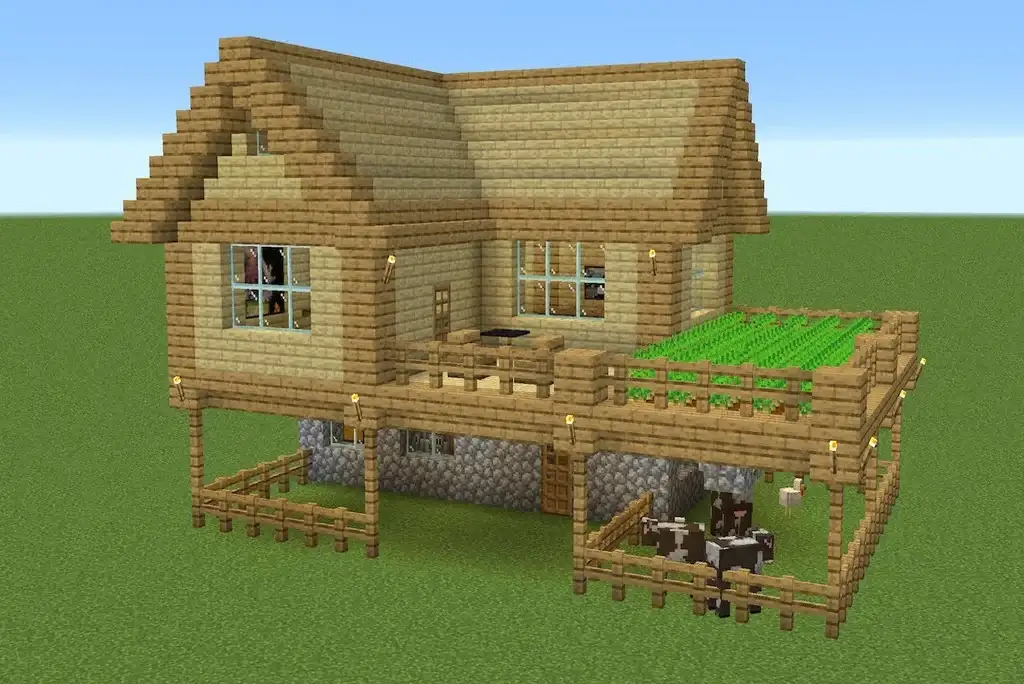 10. Mountain Peak House
11. Modular Mountain House
Keep Minecrafting!
Now you know how to make a small mountain house in Minecraft. You can literally create any type of hill house or structure with this procedure. First, start with the small structures like this small Minecraft Mountain house, don't go with the bigger ones as you can end up creating a mess. More importantly, your design should look realistic. It should look like a real house, not like an imaginary residence in any game, right?
I hope this step-by-step guide has given you some mountain house minecraft ideas and inspiration for your next Minecraft Construction. If you find this blog helpful, don't forget to share it with all the Minecraft fans so that they too can make a perfect minecraft mountainside house!
Discover More:
Himadri Shakya
Himadri Shakya is an enthusiastic Content Writer and Editor. She loves to create creative, engaging, and SEO-friendly content. Through her extensive research skills and practice, she has been generating high-quality and informative articles, and blog posts for over 4 years.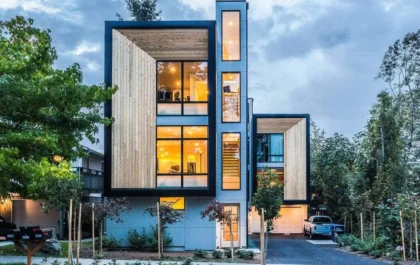 27+ Stylish & Modern Townhouse Designs for Urban Living.
The townhouse's first impression is normally too small, too compact, too narrower, and the list is endless. Well, let us…