A truly modern home needs to look and feel contemporary all around. It should highlight this theme not only inside your house but also outside. This means that your lawn needs to live up to your modern theme, as well. Modern landscape design is characterized by clean edges and an uncluttered, refined look.
It borrows elements from different styles and genres and complements your home architecture. Know the best landscaping services by Roseville arborists.
Modern landscaping design also emphasizes continuity, geometric shapes, and light or neutral colors of both natural and manmade elements.
Lastly, this type of design highlights the use of natural and local materials such as stone, wood, and native plants.
Key Components of Modern Landscapes
If you want to improve your outdoor space to complement your modern home and make it more appealing, providers of landscaping services in Creve Coeur, Missouri share below the vital elements you need to incorporate in your landscape design:
1. A sleek and unique garden
Modern landscape design needs a specific area that showcases different plants. A garden, therefore, should be the first element you work on in your outdoor space.
Your contemporary garden should have clean lines and tidy, clearly-defined spaces. Plant beds need to have straight, slightly softened edges. Additionally, choose plants that will not become unruly, easy to maintain, and keep a uniform appearance.
A grass lawn can be the biggest area of your modern landscape, or it can be used as an accent if you want to showcase paths and gravel-filled beds in the design. Regardless of which way you go, zoysia is a popular choice for your turf since it does not require frequent watering yet still maintain its appealingly fine texture.
For plants, opt for green and pale-colored ones since they work best in modern designs. However, try to avoid mixing too many varieties since they can make your landscape traditional, which defeats the purpose.
Landscaping experts recommend sticking with one to three types of plants for the entire landscape plan.
2. Contrasting textures
This particular architectural concept makes use of different textures to create eye-catching elements. You can also use this principle in your modern landscape design.
Using stone or gravel in pathways in your lawn is one way of incorporating contrasting textures in your landscape. Consider getting wooden planters with metal siding as well.
Another unique way you can incorporate this modern concept in your landscape is to add gravel gardens. Before planting, cover the beds with four to five inches of pea gravel. This helps native or drought-tolerant plants to grow and thrive in sharp drainage.
Autumn moor grass, bee balm, coral bells, juniper, portulaca, and whirling butterflies are some of the plant varieties that thrive and look great in gravel gardens.
3. Geometric shapes
Shapes play important roles in contemporary landscape designs. They give your outdoor space a clean-lined modern look, define areas, and even function as individual focal points.
As such, when planning your design, incorporate squares, circles, rectangles, triangles, and other simple shapes in it.
Include straight-lined stone paths to the garden and outdoor sitting area. Create circular enclosures around trees using brick, rocks, or rock mulch.
A trellis wall is also an excellent feature you can add to your landscape that highlights geometric shapes. Whether you use it for your hanging plants, climbers, or leave them bare, this element gives visitors that modern vibe immediately.
Lastly, look for plants that have interesting shapes to highlight in your landscape. Examples of these are boxwood, cedar, hydrangeas, and different varieties of succulents.
4. Stones and ground covers Modern Landscape Design
Aside from grass and other plants, ground covers and stones are essential features of modern landscape designs. They add texture to your lawn, segment it into areas, create paths, and lead the eye from one spot to another.
Ground cedars, creeping phlox, candytuft, and Japanese spurge are evergreen ground covers that can function as a border around a pond or garden pathway. You can also use them as edging for your sitting area.
There are also various ways to incorporate stones in modern landscape designs. You can use dark, round stones to create lines and edges for borders and as decorative features in and around your lawn.
You can also use stones as pathways, which add texture and contrast in your landscape.
Pebbles also work great as ground cover. They help the ground preserve water longer. White stones, in particular, highlight the plants' green hues and brighten up dark areas of your lawn.
Additionally, you can introduce more texture in your lawn by using pebbles to fill the gaps between pavers. You can also use these small stones to cover any unwanted area in your pathway and prevent grass and weeds from growing in places you don't want them to pop up.
Lastly, if you can't think of a unique centerpiece to put in your lawn, why not go for a large boulder? A large piece of rock with an unusual shape will function well as an eye-catching seeking focal point in your modern outdoor space.
5. Modern Landscape Design With Light and neutral colors
The most commonly used color in modern architectural structures and design is white. As such, you won't go wrong with incorporating this hue in your outdoor space.
Contemporary landscape designs usually come off as formal and, therefore, may look uninviting. Adding light colors can help dispel this vibe.
Light and neutral colors can brighten up the landscape, thus help give it off a warmer, friendlier, and comfier vibe.
A white fence, light brown wooden seating and table, and planters complete the look of your landscape since they provide contrast and visual interest in an otherwise green surrounding.
6. Zen elements Modern Landscape Design
Features that allow or remind people to relax and forget their worries are also staples in modern designs. Don't forget to incorporate them into your landscape design too.
Fountains, ponds, and other water features are the most common outdoor elements that highlight zen in your landscape. Using bamboo or hedges as privacy barriers are great for creating a zen-like outdoor space as well.
Other tips include incorporating pebbles, a seating area with wooden benches, pavers, and raked sand or stone for a mini-Japanese garden.
Finally, to emphasize a zen atmosphere in your lawn all year round, cultivate green perennials.
Creating and maintaining a contemporary landscape can be challenging. Whether you are still working on the design or want to make your outdoor space look more modern, you will do well to get help from landscaping and lawn care pros from Grover, Missouri.
For More Information: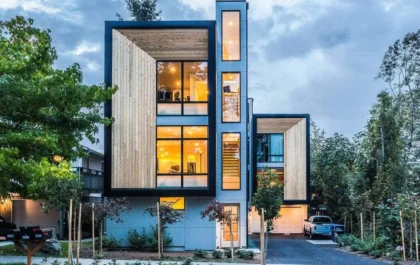 27+ Stylish & Modern Townhouse Designs for Urban Living.
The townhouse's first impression is normally too small, too compact, too narrower, and the list is endless. Well, let us…