China has been one of the most prolific countries in terms of innovative engineering and amazing architecture. Now, its booming constructions have become a focal point for cutting-edge architecture.

From a bright pink church, a guesthouse with an undulating roof to magnificent China's glass bridges, we all know about jaw-dropping Chinese architecture. But what about other remarkable examples of modern Chinese architecture?

Today in this blog, we have collected some of the most popular modern Chinese architecture houses. So get ready to be amaze by these unique and unusual structures:
Top 10 Modern Chinese Architecture Houses !
So, below is the list of ten incredible and modern projects by Chinese firms that are making a mark globally.
1. Alila Yangshou by Vector Architects

Location:

Guilin, China

Architects:

Vector Architects

Year:

2017

Area:

16000 m²
This gorgeous building is situated in a col near Li River in Yangshuo, Guangxi. Surrounded by beautiful natural scenes and picturesque landscape, this place is really breathtaking.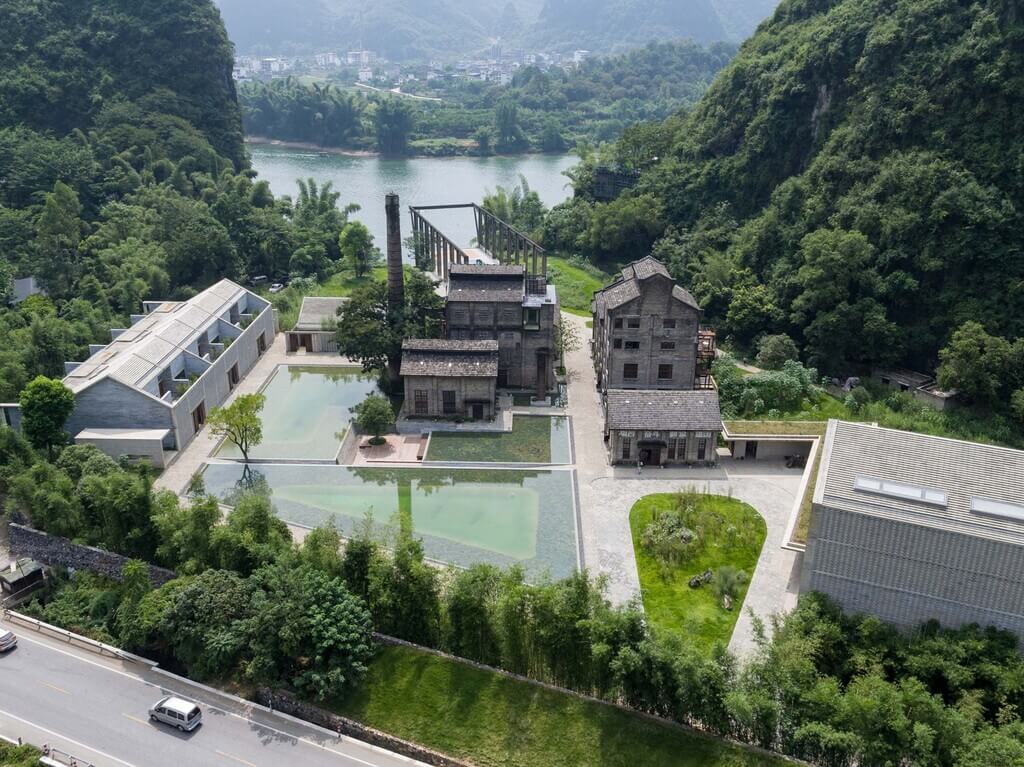 This actually was an old sugar mill that was transform by Vector Architects into a luxurious 177-room hotel " Alila Yangshuo."
2. Phoenix Mansion by Gad

Location:

Hangzhou, China

Architects:

Gad

Year:

2017

Area:

2127 m²
This is another grand house, which is located at the city gate of Hangzhou. This place consists of borders of ancient moats in the east, adjoins to antique temples in the west, and original buildings in the 1980s.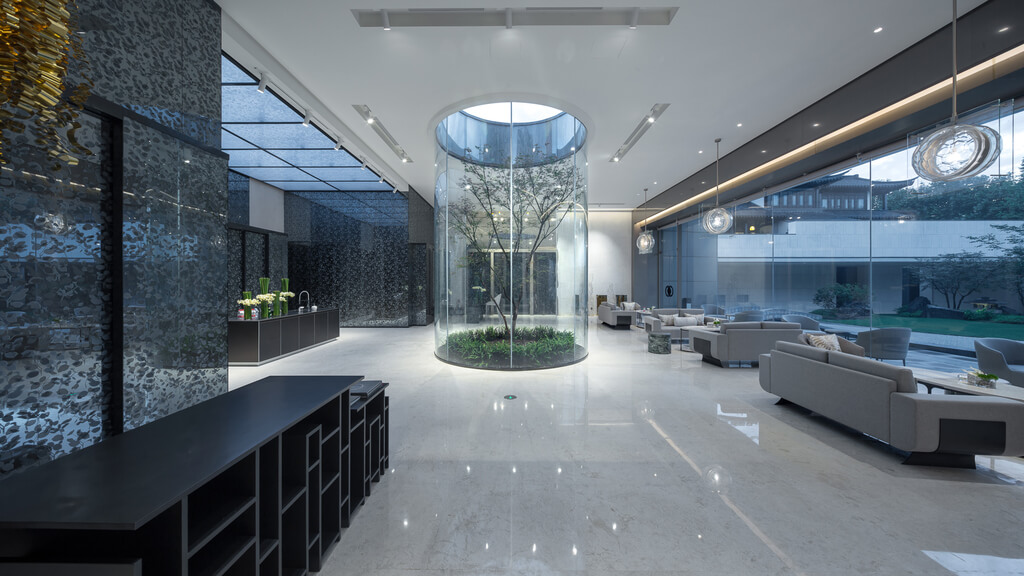 Designed and co-designed by designers from China, Japan, England, and Singapore, this house has both traditional and modern touches.
3. Baitasi House of the Future by Dot Architects

Location:

Beijing, China

Architects:

dot Architects

Area:

30 m²

Year:

2017
The Baitasi House of the Future is all about smart homes in tiny spaces. Constructed by Dot Architects in a historic hutong area of Beijing. This area is specifically known for its narrow alleys and traditional courtyard houses.
As per the owner's conditions, this house is made in such a way that it suits the lifestyles of young people. You'll be amazed to know that the entire furniture of this place is movable and has storage modules at almost every turn, enabling four different layouts! Pretty brilliant, right?
4. The Piano House By Hefei University of Technology

Location:

Huainan City, Anhui, China

Architect:

Hefei University of Technology

Year:

2007
Have you ever seen a house in a piano shape? If not, take a look. This beauty is made by architectural students from the Hefei University of Technology. Because of its unusual shape, it has become a famous tourist place, and many newlyweds and couples have their photos taken in front of this wonderful structure. People also called this "The most romantic building in China."
Another thing that attracts people is that it is built at a scale of 50:1. If you want, you can visit this place in the Shannan district in Huainan City, China. The magical transparent violin is made from clear glass panels, and it also contains escalators and a staircase for the main piano building.
5. The Sea Captain's House by Vector Architects

Location:

Fuzhou, China

Architects:

Vector Architects

Area:

470 m²

Year:

2017
How many of you dream of living in a sea-facing house? This is not new construction, but this is an old house, which is renovated by Vector Architects. They added a third level in this Captain's home in a very modern way. Situated in Huangqi Peninsula in Southeast China's Fujian Province, this residence is a gem. 
But this property is initially not as beautiful as it looks now. Over 20 years of use and The damp and erosive nature of the seaside caused the huge unsafety of the existing structure, and there is large-area water leakage in the house.
The architects tried to resolve the issue by waterproofing the leaking areas by adding a thick layer of concrete reinforcements. Besides this, a vaulted structure has been used for the third-floor extension to reduce the possibility of water seepage.
The new renovations include the shifting of the bathrooms from the first and second levels to the Sea-viewing side. Now the living room, dining room, and master bedroom have more natural light and fresh air with better sea views. 
6. The MaoHaus By AntiStatics Architecture

Location:

Beijing, China

Architects:

AntiStatics Architecture

Year:

2017

Area:

2000 m²
At the first look, you might be thinking that this house is damaged, but this curved facade is actually intentionally created by architects. It represents the historical context, material potentials, novel fabrication, and also has performative qualities within architecture.
Designers take a simple frame and an edge condition of the existing structure and design the facade for the space of the hutong as a flowing fabric. Ranging from 4 to 7 meters in height, 2 meters wide, and a mere 7 centimeters thick, the 6 individual panels span of the facade is standing strongly without the need for any substructure or support.
The beautiful light reflections can be seen in the day when the rays of sunlight enter the vestibule. Do you know that at night there are precisely tuned apertures that reveal a triptych of Chairman Mao's prototypical portrait? Isn't the idea super cool? Visit this fantastic piece of art at Hutong alley in central Beijing adjacent to The People's Art House Print Shop.
7. Shanghai Apartment With Rotating Boxes by TOWOdesign

Location:

Shanghai, China

Architects:

TOWOdesign

Area:

48 sqm
Recently a brilliant concept was build in downtown Shanghai by Chinese studio TOWOdesign. This 517-square-foot apartment has a very unique concept and has playful pops of color and rotating boxes to maximize space.
These 'function boxes' can be rotate by ten degrees to allow for a natural flow between the living zones without blocking off space or making the home feel small. The yellow kitchen cabinet is the center of attraction in the entire space.
8. Space Renovation of 69 Beishan St. By China Academy of Art

Location:

Hangzhou Shi, China

Architects:

The Design Institute of Landscape and Architecture China Academy of Art

Year:

2016

Area:

600 m²
It is known as 69 Beishan St because it is situated in No. 69 Beishan St. Hangzhou, China. The whole project covers an area of about 30 meters, both in length and width, including three houses built on the site.
One of the houses among the entire three homes was build in the 1930s with a 2-storied western style, and it was identify as a historical building of Hangzhou. Due to poor maintenance, it is now completely forgot by the public, which is sad. Back in the days, a famous writer Mang Shi had lived in the house and named it "Jiyi House."
9. Mountain House in Mist by Shulin Architectural Design

Location:

Jinhua, China

Architects:

Shulin Architectural Design

Year:

2018

Area:

156 m²
The Mountain House is located in an ancient mountain forest in Wuyi County, Jinhua, Zhejiang Province. Actually, this isn't a house, it is a public library, but we have been include in our list because of its modern Chinese architecture.
This book house is surrounded by conserved, rammed-earth, and well-preserved Chinese courtyard houses. There was also an old cowshed in the yard, but it was remove after its collapse.
10. Dream and Maze Suites by Studio 10

Location:

Guilin, China

Architects:

Studio 10

Year:

2018

Area:

140 m²
Inspired by the works of the surreal labyrinths of Dutch artist M.C. Escher, the architect has created this marvelous architecture. The designers of Studio 10 tried to create a mysterious, infinite, and impossible space with the seamless transformation amongst 2D and 3D as well as Optical Illusion elements.
Two new guest rooms have opened in The Other Place, and a 10-room boutique hotel in Pingle County, Guilin (a southeastern part of China famous for its majestic, otherworldly karst mountains formed from eroded stone).
Here the architect had to find a balance between the practical needs of a hotel suite and awe-inspiring, spatial effects, and after looking at the Maze and Dream, you'll know that it is everything that the architect had imagined.
The Bottom Line
Which house is your favorite from the above list? Every country has a unique architecture style and sense. Globally various materials and elements are used to create various types of structures. China has always been on the list of those countries that surprise the world with its modern and futuristic architecture.
More From Architecture Style: