We all have a dream of living in a luxurious home that would fulfill all our comforts, right! But have you ever thought about how our houses will be in the year 2050 or 3000? Living standards after 100 years from now will be completely different from what we are living right now. Leave the rest, just think about the architecture..how amazing will it be? Unlike Hollywood movies that show that we will live in spaces, the architecture will definitely be more advance and environmentally friendly.
Today we've collect some really cool house designs from all over the planet to give you a glimpse of our future so that you'll know how the structure of the home will look like. These houses have the most unusual concepts, designs, and sometimes outright crazy – which is what being futuristic is all about, right? So take a step away from traditional architecture and fantasize about what it would feel like to live in one of these futuristic residences.
7 Ultra Modern Futuristic House Designs on the Earth!
These houses are design by various brilliantly talent architects and located in the most unthinkable places on the planet, so let's know more about them:
1. Capital Hill Villa
Architect:

Zaha Hadid

Location:

Moscow, Russia

Year:

2011
This ultra-contemporary luxury futuristic house made from steel, concrete, and glass is situated in the slopes of Barvikha, Russia. The first glance at it, and you may think it's a spaceship, but it is actually a private residence. World-famous architect Zaha Hadid designs it, and this is the only private property that she designed during her lifetime.
The luxury project is designed in a way to give inhabitants a feeling of total freedom and wilderness. To feel this feeling, the home has been set above the trees. With an area of 2,650 square meters with four floors, this house is pretty spacious. From saunas to the fitness area, here you can find everything. The overall cost is around $140 million, making it one of the most expensive, luxurious, and unusual residences in the world.
2. Self-Sustaining Forest House Inspired By Trees
This futuristic house design is by Konrad Wojcik. This new concept for the new generations will be situated in the world's forests. It simply meant to leave zero long-term impact on the land it occupies. He wanted to replace the current building method and wished to form unique modern homes that will eventually replace the clear-cut cities.
At the ground, it is supported only by a single point, which gracefully supported the entire structure. House is perfect for two to four people, but it can be designed for a large number of residents. The outer design is ultramodern, but the inner structure has a traditional A-frame cabin. It will beautifully blend with nature, and its surroundings make it an ideal residence from traditional towns and city homes. It is fully equipped with advanced technology such as solar panels to provide electricity, power smart systems for water, heat, and other necessities.
3. Zero House
Architect:

Specht Harpman
The ZeroHouse is a self-sufficient, small prefabricated unit that can be easily shipped and quickly assembled. It may look tiny, but it has a full kitchen, bath, and all necessary things to support four people comfortably. It has two levels that feature four separate outdoor living areas and two bedrooms.
This residence is entirely solar-powered, and it also collects and stores rainwater. The Zero House can be used in various applications such as residential uses in remote or ecologically sensitive locations or as ecotourism resort units. It can also be used as an office module for remote employment such as mining and construction. You can order this eco-friendly, comfortable and self-sufficient house wherever you're living.
4. Futuristic Royal Villa in Miami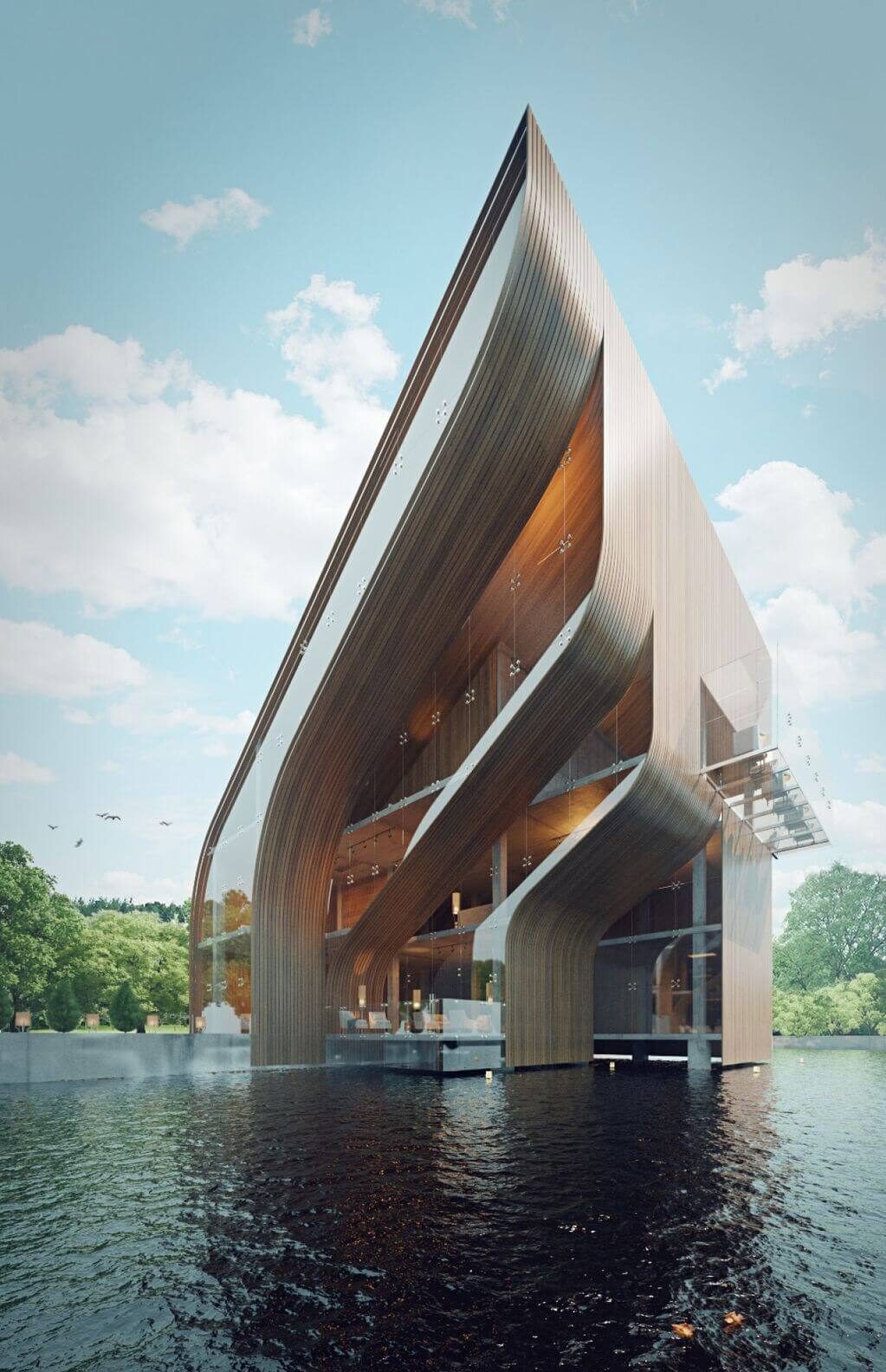 Architect:

Dmitriy Kuznetsov.

Location:

Miami, Florida
The futuristic project in Miami, Florida, has already amazed many people with its design and structure. The original name of the site is Royal Villa, Miami, and it was the vision of a really talented Ukrainian architect, Dmitriy Kuznetsov.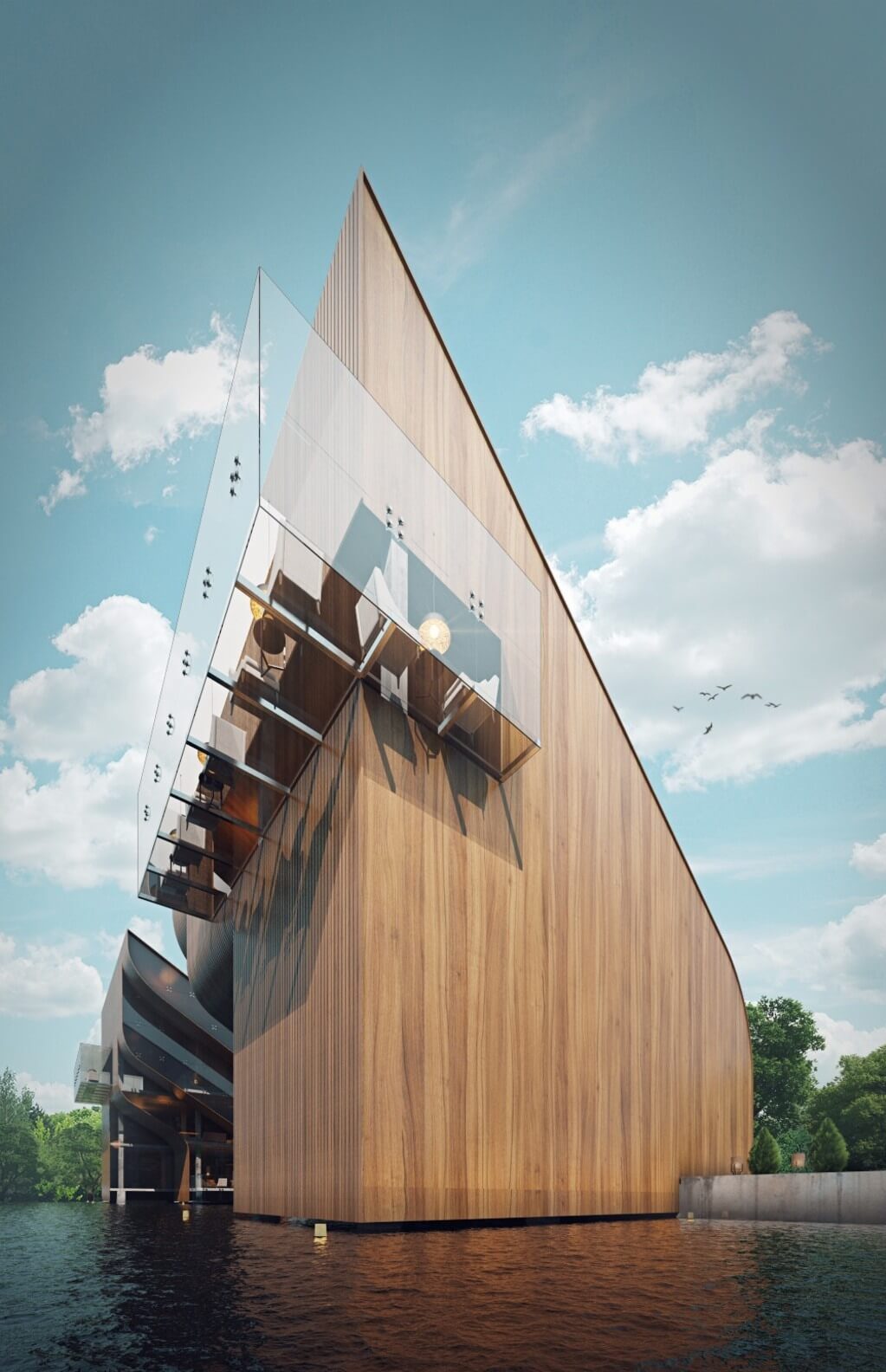 Just take a look at the glass structure; isn't it breathtaking? I know what you're thinking that its parts resemble the prow of a ship, right? The hanging glass room just above the seawater provides a mid-air deck. How creative is this? This design is modern, bold, and super futuristic.
5. House on the Flight of Birds
Architects:

Bernardo Rodrigues

Location:

St. Michael Island, Portugal

Year:

2010
House on the Flight of Birds is situated on the northside of St. Michael Island in Portugal, and you all know the harsh weather conditions of the region. Since this farmland experiences high wind and frequent showers, the architect had carefully designed the entire structure.
Bernardo Rodrigues carefully analyzed weather conditions and tried to block them with a wall, patios, and covered courtyards to protect against rain. These areas are also open to the natural green by glass walls, which receded from the exterior and also provided a safe shelter. The house's construction was completed in 2010, but still, it is way more futuristic design.
6. Energy Efficient Green House
Architects:

YANG DESIGN

Location:

Beijing, China

Area:

150 m²

Year:

2018
This home is at a whole new different level. The main concept behind the Green House is to tell people how to use energy more efficiently in the home, mainly with the help of the plants. Architect Yang Mingjie believes that plants are highly relatable to humans; that is why he had focuse more on this relation. Here the energy has been convert into light and water, which is store in plants.
He has develop a new type of pastoral home that may redefine the relationship between energy and home. In the Green House, all the innovative devices and appliances are install to showcase energy.
Architect of this fantastic house, Yang Mingjie, said, "The owner of the family is a busy white-collar worker. When she goes out, she can control the growth of plants through her mobile phone. Parents in another city can help her take care of the vegetable garden in Beijing by mobile phone far away overseas. Her boyfriend can also cultivate a flower for her in her home in Beijing through her mobile phone. On a special anniversary, the flowers bloom and send a blessing."
7. Amazing Calypso House or Glass Home
Architect:

SOMA architects

Location:

Lebanon

Year:

2014
After looking at the picture, you will say that amazing is such an understatement to describe this futuristic house. Nobody will have ever imagine living in a house like this (except the architect) even in their dreams. Design by the famous SOMA architects, Calypso house, aka glass home, is truly a masterpiece.
Built over the Mediterranean Sea on the Edge of Sea and Rock, this place has glass walls that will provide you the breathtaking unobstructed views of the ocean for miles and miles and miles. The Calypso house was built in 2014 on the coast of Lebanon. The primary materials to construct this structure are powder-coat aluminum and, of course, glass.
Spread around 10,000 square feet (1,000 square meters), this whole space has pretty modern interiors. Did I mention the open terraces? You'll forget everything after seeing the mesmerizing sea views from the open decks.
The Bottom Line
What do you think about these houses? Are these modern futuristic house designs brilliantly constructed or not? We're pretty sure that after looking at these futuristic houses your mind has got a little bit of an idea about how our future will be (in terms of architecture). Every day new technology comes, and it helps to build more significant and remarkable structures worldwide.
Find Out More: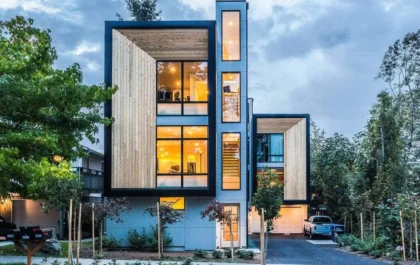 27+ Stylish & Modern Townhouse Designs for Urban Living.
The townhouse's first impression is normally too small, too compact, too narrower, and the list is endless. Well, let us…