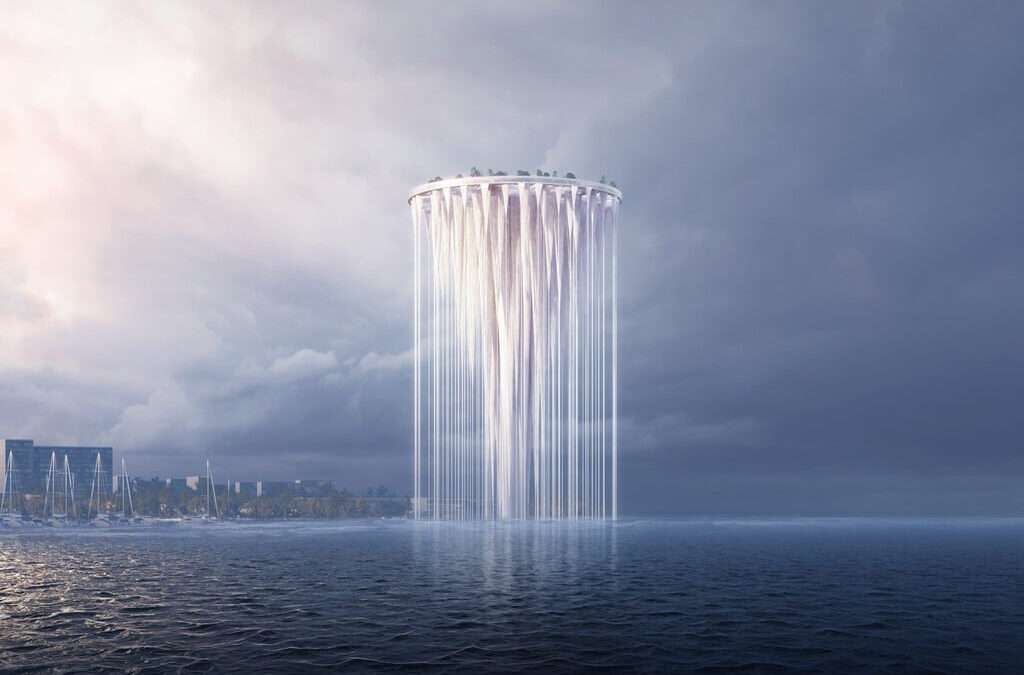 Qianhai City Center Landmark: A Tower That Resembles "A Cloud Of Spray"
archistyladmin, 6 months ago
0
7 min

read
2812
Have you ever seen a floating tower with islands? Your answer will surely be a NO! Recently, in the Qianhaiwan district of Shenzhen, China, a unique project was proposed by the Sou Fujimoto Architects. 
Want to know more about the floating tower? If yes, keep on reading to know amazing facts about this unusual architecture.           
Qianhai New City Center Landmark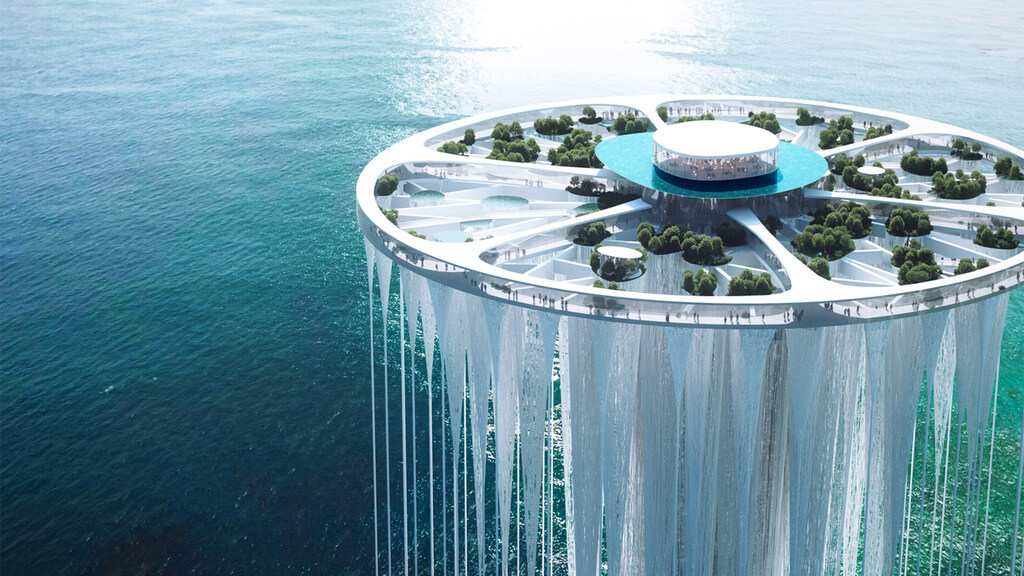 Source: dailyarchitecturenews.com
Project Title: Qianhai New City Center Landmark                                                
Architect: Sou Fujimoto Architects
Location: Shenzhen, China
Total Height: 268 m
Year: 2021
Site Area: 75,000 sqm
Sou Fujimoto Architects has unveiled designs for a large floating tower on the bay of Shenzhen's Qianhaiwan district in China. They have presented this proposal in an international contest to design a landmark tower within the area with recently skilled monumental city and architectural developments, per Yanko Design.
Among all the other designers and architects, Fujimoto design was awarded the top-ranking and earned the second prize. The design is all about the New City Center Landmark. The tower is 268 meters (879 feet) in height and also consists of 99 individual tower-like elements.
The most wonderful thing about this tower is that these 99 islands are connected to a strong horizontal plane in the upper part, and they appear gradually vanishing as they go down!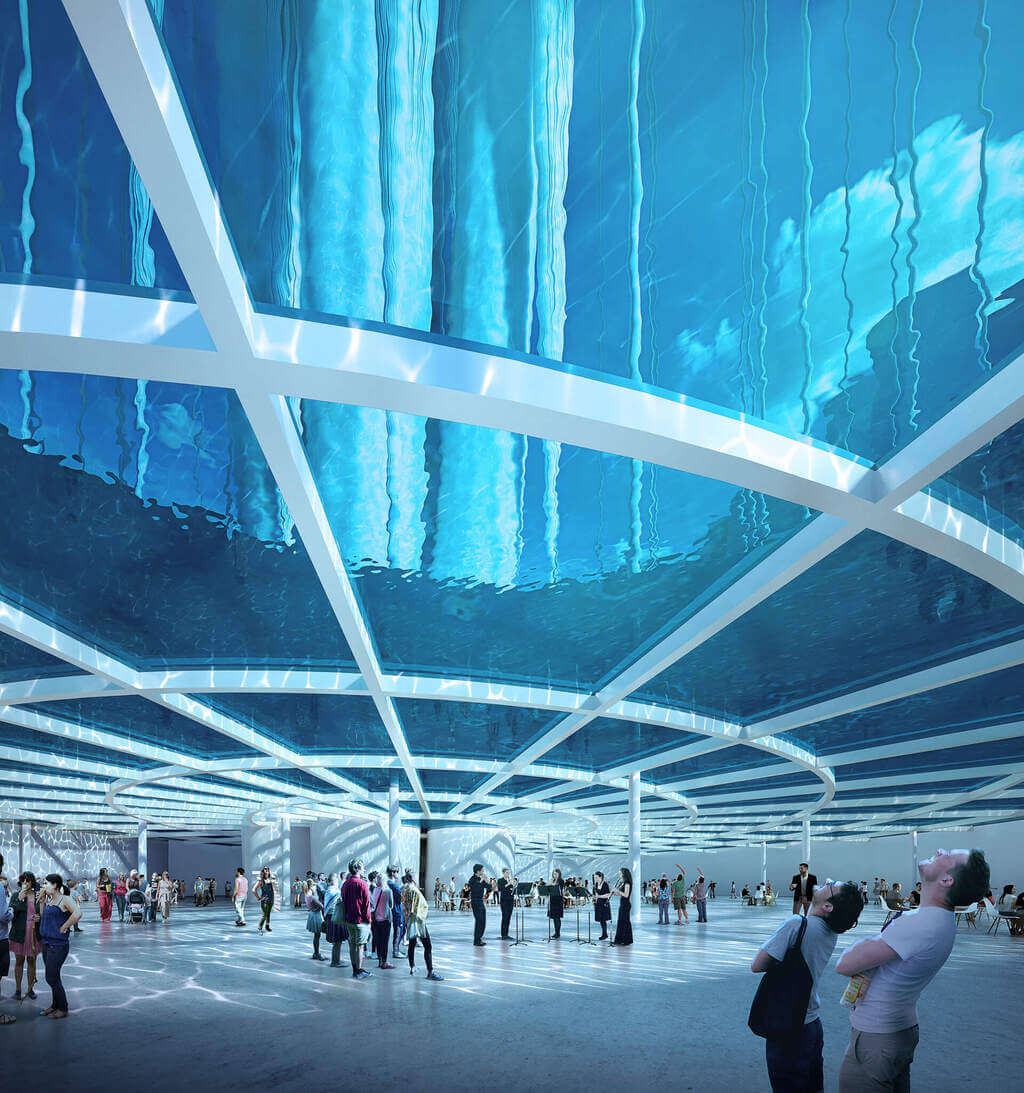 Source: stirworld.com
Isn't it bizarre that it is both one tower and a collection of towers all at once? Nowadays, there have been many urban developments in the Qianhaiwan district of Shenzhen, and this structure is one of the iconic developments in the city. This tower also symbolizes the future of societies in an age of diversity.
People also claim that the design of this tower resembles "a cloud of spray"  situated in the city. 
Sou Fujimoto Architects said, "Being one and many simultaneously, it symbolizes the future of societies in the age of diversity." 
About the Sou Fujimoto Architects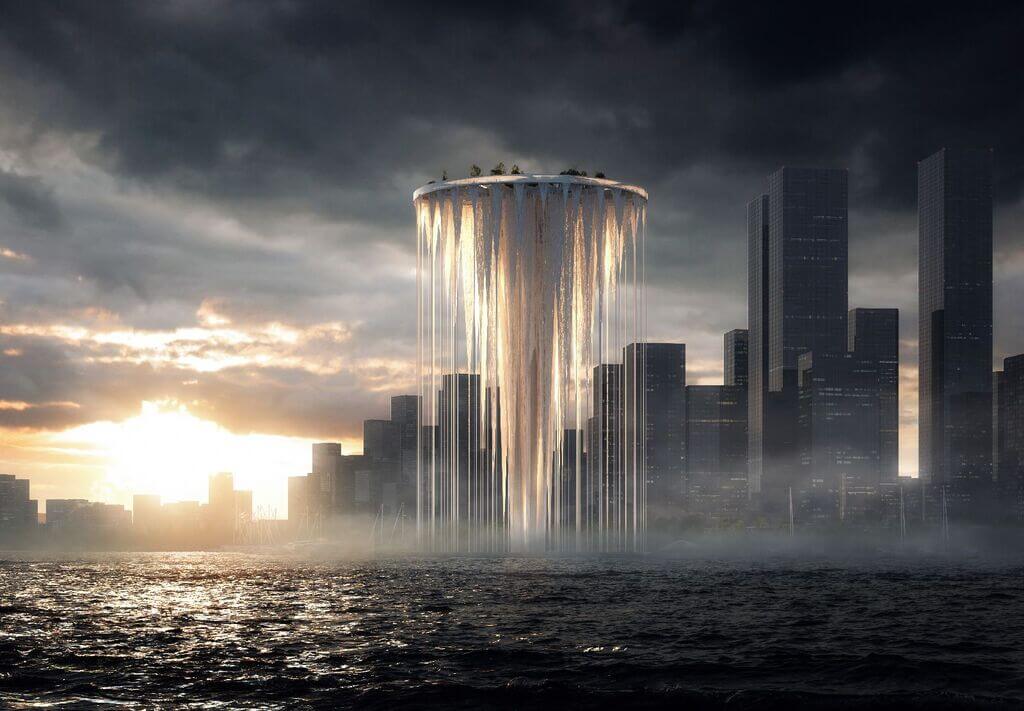 Source: aasarchitecture.com
For this project, the principal architect was Sou Fujimoto, who was accompanied by a fantastic team that includes Yibei Liu, Mircea Eni, Vikas Lokhande, Yeonsuk Kim, Haakon Heyerdahl-Larsen, Li Xiaolin, and Jeng-Ying Li.
Steel Truss System maintained the structural system with Kevlar Tension Cables with Guy Nordenson & Associates (Structural Engineer). Other consultants include Beijing Institute of Architectural Design Co., Ltd.
This project is designed for the client Authority of Qianhai Shenzhen-Hong Kong Modern Service Industry Cooperation Zone of Shenzhen and Shenzhen Bureau of Urban Planning and Natural Resources. The construction comes under the program of Observatory, Exhibition, and Landmark.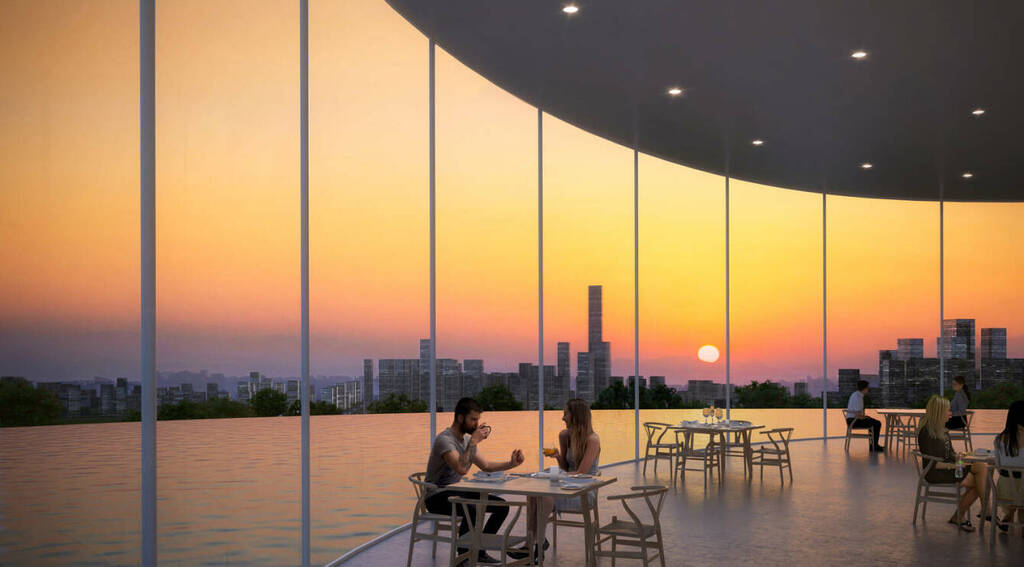 Source: ecestaticos.com
For this project and scheme, Sou Fujimoto Architects have also been joined by many high-profile architecture firms. The Qianhaiwan district of Shenzhen has many new constructions such as MVRDV's sustainable, mixed-use Shenzhen Terraces, SANAA's Shenzhen Maritime Museum, and Grimshaw also unveiled their mango tree-inspired design for Shenzhen's international airport and transport hub. With all these new constructions, in the upcoming months and weeks, we can see a lot of unusual and brilliant structures in the same area. 
In addition to that, recently, the world-famous architect Zaha Hadid has also unveiled two recent projects for the Chinese megacity. The projects are their competition-winning Tower C at the Shenzhen Bay Super Headquarters Base and their Shenzhen Science and Technology Museum. 
Concept Behind The Qianhai Tower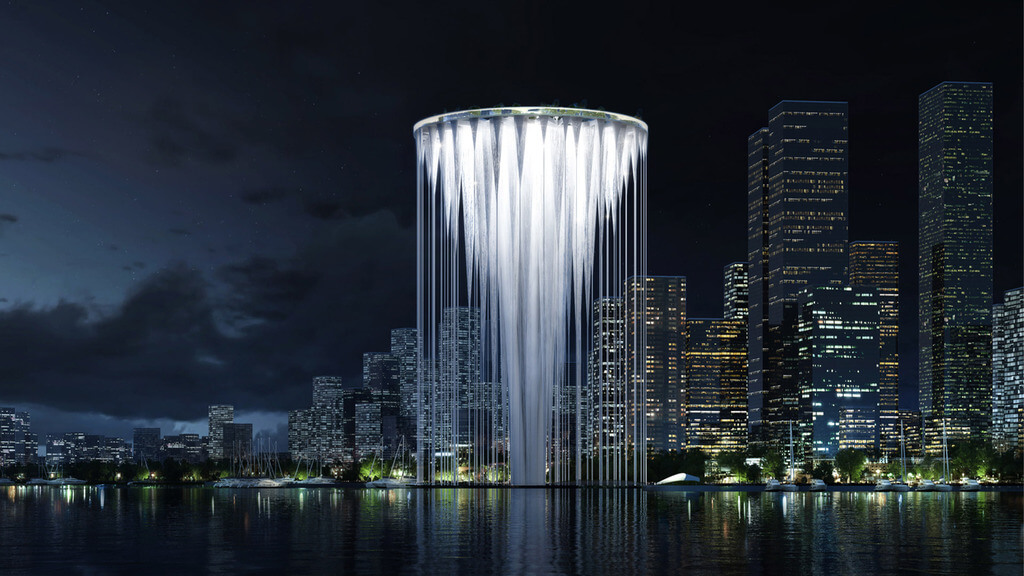 Source: dailyarchitecturenews.com
After looking at the pictures, you might wonder how these floating islands keep floating in the middle of the air? What's the secret behind this technology? 
The architects first imagine 99 incredible floating islands that soar about 880 feet above the water. 
According to designers, "A large central core supports the tower while massive tension cables transfer the rest of the load. This means that the structural elements add to the beautiful effect of water falling from the tower into the bay."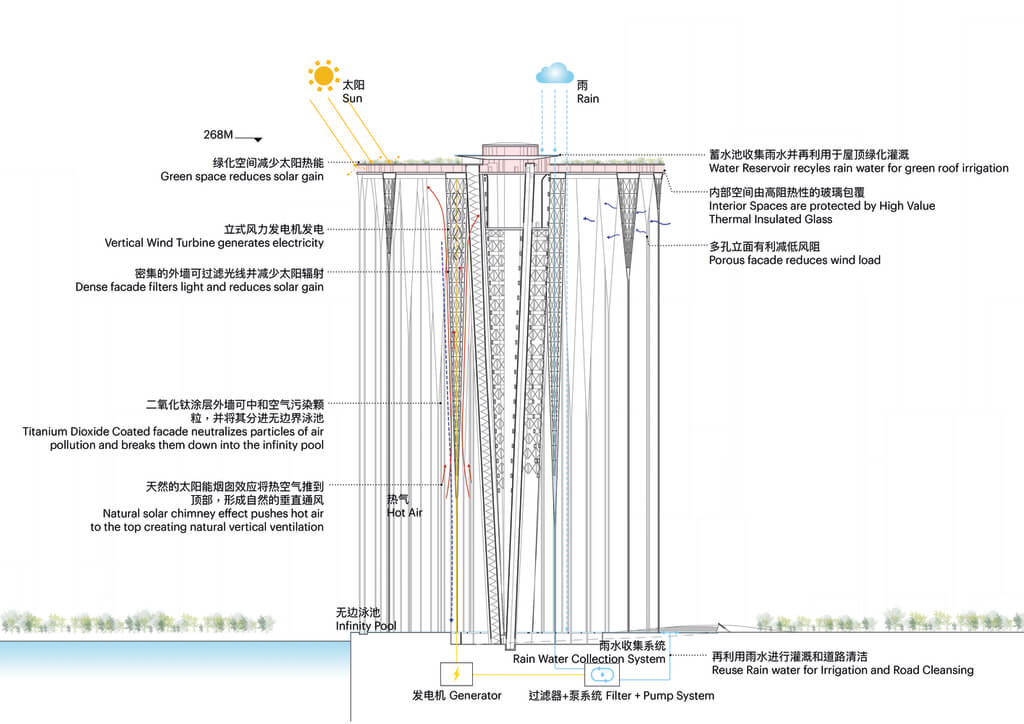 Source: adsttc.com
For the design and concept, architects thought questions like "What does a new 'tower' mean in the 21st Century? How can a tower evolve while continuing to attract attention, as the Eiffel Tower does? And which part would face towards the bay."
After getting all of their answers, and the current urban fabric of the district, the firm came up with an incredible idea. It later proposed a pendant-like structure that resembles a group of islands, an aerial city in the future, or even a water fountain suspended mid-air.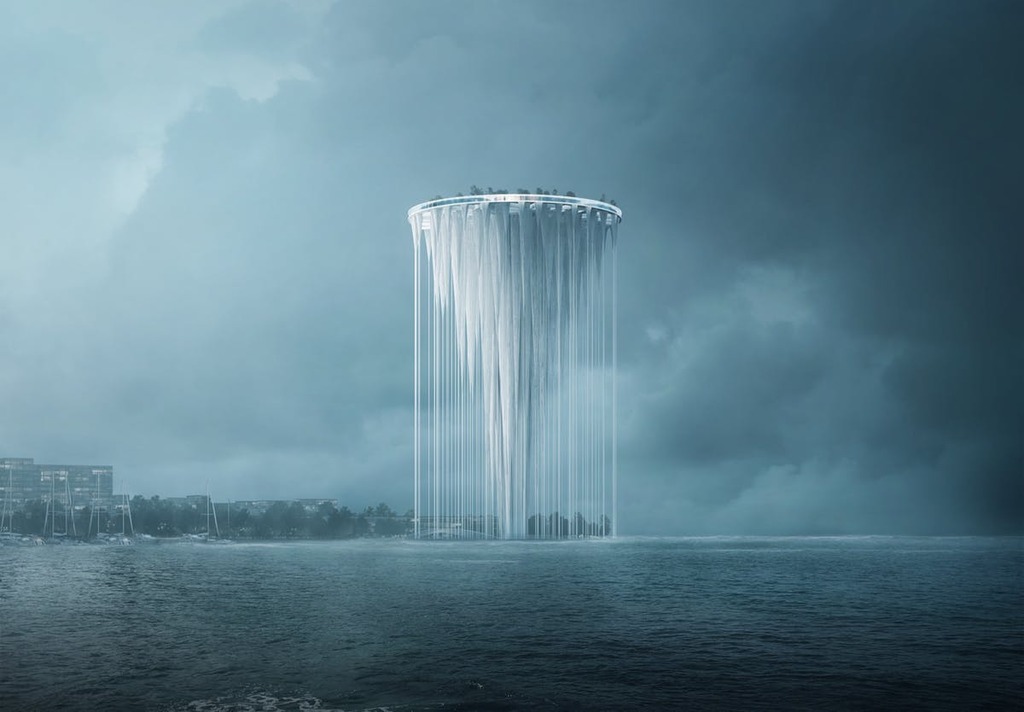 Source: imgix.net
After considering the effect of falling water, they have another major consideration: "How can a tower evolve while continuing to attract attention, as the Eiffel Tower does?"
That's why they also included an exhibition space, a restaurant, a cafe, and a viewing platform in the main landmark design. All of these additions to the design will surely attract the attention of the tourists. What do you think about this idea? 
Construction & Design of The Qianhai Tower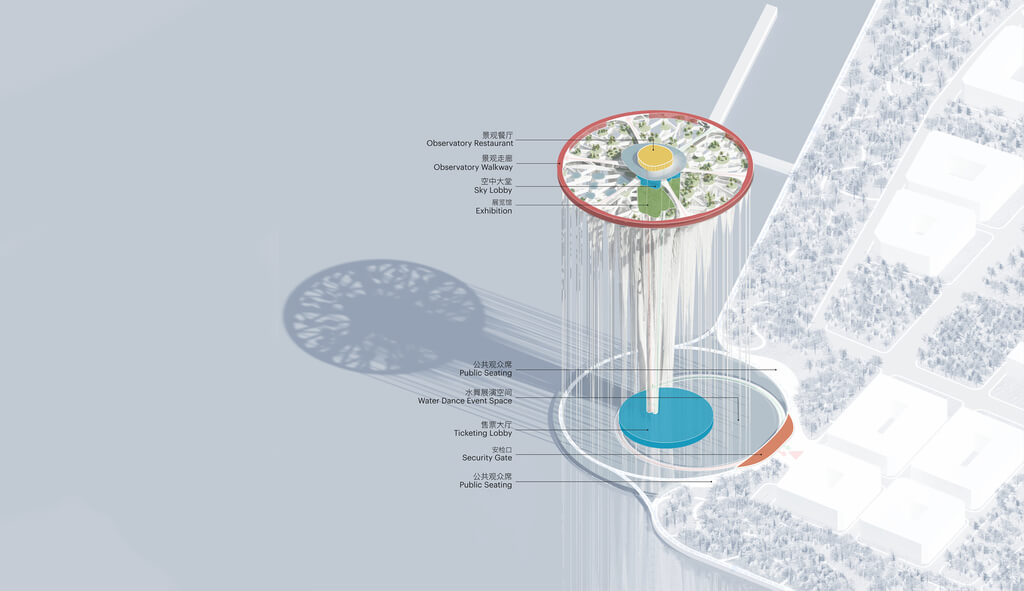 Source: rgb.vn
The site's total area is around 13,000 square meters, and the building area is only 900 square meters. Materials like Steel, Carbon Fiber, Kevlar Rope, and Concrete have been used to construct the tower and its other parts. 
The project also includes the Shenzhen Reform and Opening-Up Exhibition Hall. It was designed in collaboration with Donghua Chen Studio. The exhibition hall is imagined as a "garden within a box" with a village-like indoor space that is entirely cloaked underneath a multi-layered transparent facade.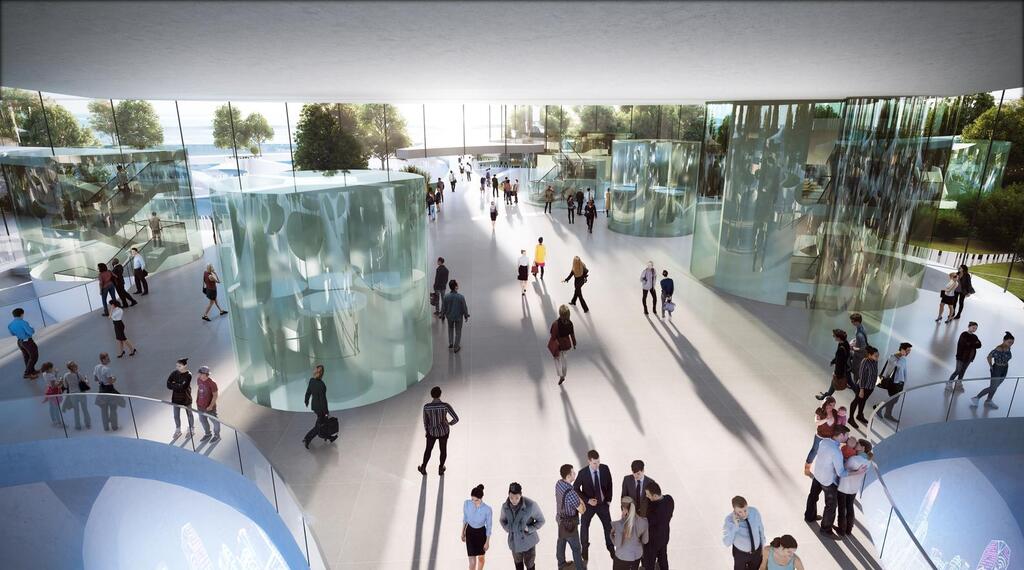 Source: jutarnji.hr
After the construction, the tower will appear almost like a freestanding, cylindrical water fountain. The 99 pillar-like support beams, which are more commonly known as "islands," are specifically designed to carry the tower's upper horizontal structure. 
The central part of the tower forms a core, with peripherally-located tension cables that give an excellent structural balance to the overall scheme. A peripherally-located steel truss system maintains the balance of the core with Kevlar tension cables.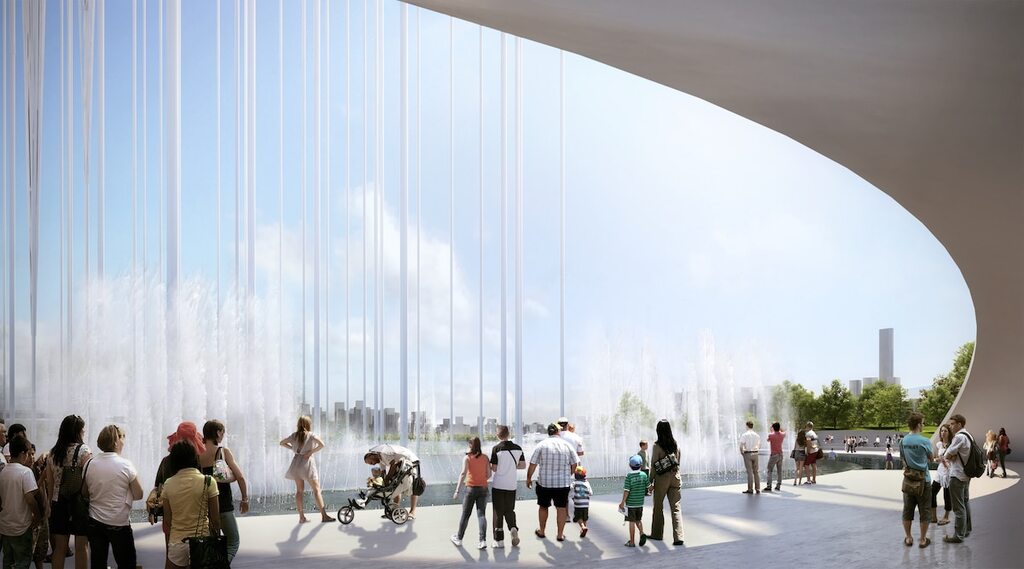 Source: zmescience.com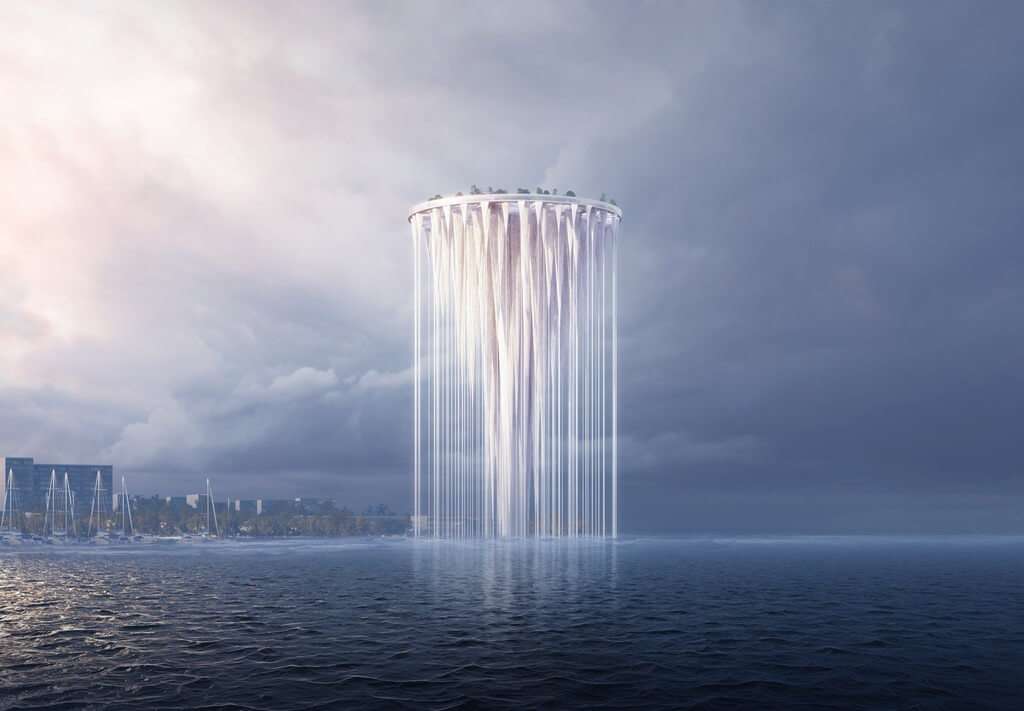 Source: zhupinhr.com
The tower also features a viewing platform that also functions as a three-dimensional exhibition space, with a restaurant and cafe. Other interesting places in the tower are:
On the rooftop platform, there is a restaurant, walkway, sky lobby, and exhibition space. 

Whereas at the base,

a landscape is designed

and integrated with water that also has public seating, a water dance event space, a ticketing lobby, and a public entrance.

From far, the new tower looks like a freestanding, cylindrical water fountain.

From inside of the tower, tourists can view the bay from below and rise to 268-meters above sea level.

A three-dimensional exhibition space offers a remarkable tourist space to enjoy all the amenities. 
Also Read: Craftsman Bungalow: A Classic Combo of Arts & Crafts
The Bottom Line
So, this is all about Qianhai New City Center Landmark designed by Sou Fujimoto Architects. After completion, this ethereal tower will be one of the best architecture in the city as well as in China. Another great architecture in the Qianhaiwan district of  China, the Morphosis-designed Hanking Center, sets a world record as the tallest detached-core building globally.
If you want to know more about these types of unique and unusual houses or places located in various parts of the world, read our previous blogs such as Crazy Futuristic Houses, 5 Smallest Houses In The World, Casona Sforza Hotel, and many more. 
I hope you liked this blog about the Qianhai New City Center Landmark. Don't forget to share this blog with your family and friends.
For more information about the various types of architectural techniques and styles or home improvement ideas, keep visiting Architecturesstyle.
For daily updates about architectures, don't forget to follow us on our Instagram page, Architecturesstyleideas. 
Related posts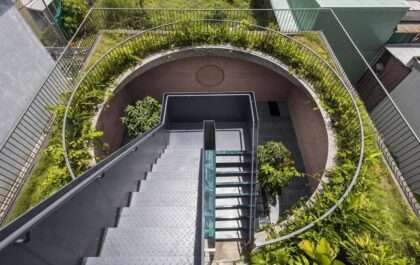 Pink House by 23o5Studio: Interaction with Nature and People
Project Specifications Project Name: Pink House Architect: 23o5Studio Project Location: Long Xuyen, Vietnam Project Year: 2019 Project Area: 290 sq.m…