Do you have an interest in architecture and like to explore various building structures? If yes, then you might have already heard about the Minecraft game. Yes, It is a great platform for architecture lovers. Do you know since its release in May 2009, it has amassed over 91 million monthly players? In simple words, "Minecraft gives us the ability to build and explore various structures that will be truly our own." Today we have gathered the nine best Minecraft house ideas.
The game is designed in such a way that players can build breathtaking structures. Besides, mining or exploring, or survival does not hinder your building spree in the creative mode. Isn't it great?
Are you a player of Minecraft and looking for some inspiration? So take inspiration from these incredible modern minecraft house ideas and build your dream home. 
Top 9 Minecraft Modern Houses
Every build is impressive and unique in itself, So check all of these and pick your favorite one:
1. Modern Beach Minecraft House
Usually, Minecraft blocks have a traditional and rustic look, that's why many people find it challenging to construct any modern-looking structures with these blocks. But with great imagination power, what can't be done! You can even build a real station on the moon, and here you just have to build a modern home.
KugioMC has built this modern beach house. You can also use a similar concept and create your dream house. One thing that you should keep in mind while building any modern structure is that try to prioritize very plain materials.
For example, Concrete is the basic but best material in Minecraft for such builds. You can easily pair it up with wooden planks of almost any color. Another material is glass, which can be used in many ways like glass railings and large windows. You can even grow plants like sugarcane to get those modern aesthetics.
2. Tuscan Minecraft House
When there are so many different blocks and color schemes are available, why not use most of them and create a fantastic house. But also, matching and mixing have their own rules. Use similar tones with various patterns to get surprisingly good results, just like this Tuscan-style home by AjaxIbrahim has used.
This structure is made from two different colors of clay, coarse dirt, brick, and granite. After this, different kinds of wood and some leaf blocks have been used to create various textures and characters. 
3. Abandoned Minecraft House At Sea
If you haven't reached the level where you can build underwater, try building a house floating on water. This is an abandoned house at sea by Tkapplez, which is quite popular in the game. Paired with really nice realistic shaders, this breathtaking house is great for even beginners.
By this structure, you can know the power of wood and stone and the importance of understanding the build's palette. Having a lot of multiple blocks and patterns still, this house has nothing that breaks from the color scheme. The only thing that creates variation is texture and shape. Give it a chance and try to build this house!
4. Ice Spike Mini Minecraft House
Another interesting thing that you'll see in Minecraft is the unique biomes. This aesthetically pleasing Ice Plains Spikes biome is very rare. It is filled with icy stalagmite-like structures that can go up to the skies. But the most amazing fact is that you can turn this into houses, just like DrillTrill has done in the game.
Ice melts because of the nearby torches, so use End Rods as lighting. No one in the game will ever know that this one ice spike is someone's house, and when they know, they'll be pretty impressed.
5. Mountain Hut
Looking for a perfect location to build your perfect house? What's better than the mountains! Gorgeous views with a modern home, there is no more ideal spot than the hills.
Player and builder Goldrobin proves that nothing is impossible and has created this incredible home. This is a tiny wooden hut that hugs the mountain's side, which is actually a perfect place for a starter survival home. You can also try something like this.
6. The Palo Alto Lantern Minecraft House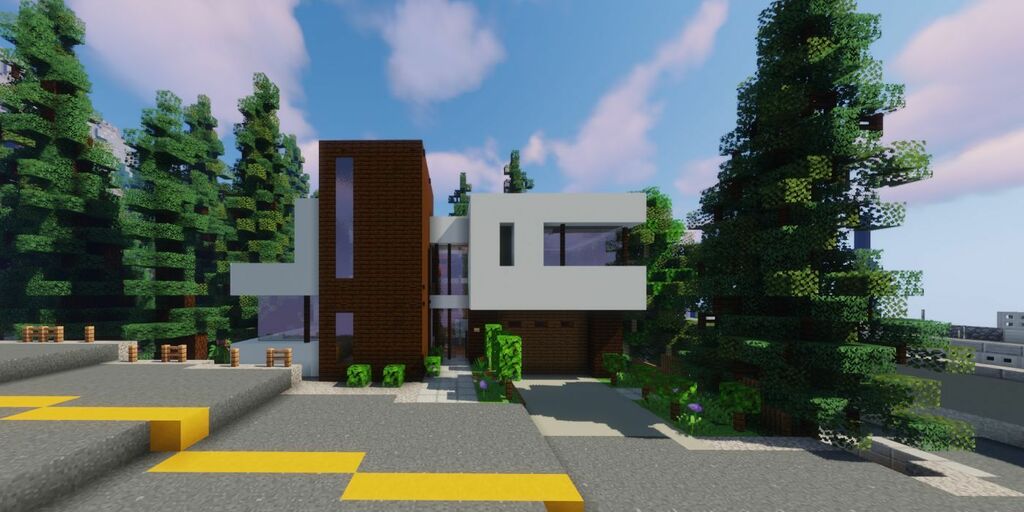 Constructing a modern house in the real-world is no joke, but with Minecraft, you can actually do it with a lot less difficulty. Take inspiration from this house, which is pretty close to its real-world version.
Inspired by the Palo Alto Lantern House located in real-world California, Doodlemerson created this gorgeous, luxurious modern house.
7. Wooden Minecraft Mansion
Whether it be in games or in real life, big houses are difficult projects. They take a lot of planning and decoration actually to look good, and sometimes they end up looking too boxy. But you can avoid this situation by creating the right shape and depth that'll also give the house a much more interesting look.
Take inspiration from this four-level wooden mansion, created by Zach4455. The shaped windows and the brilliant use of fences, gates, and lanterns make the residence look gorgeous and detailed.
8. Diagonal Modern Minecraft House
Building an old regular base and then expanding on it isn't the only way to make a fabulous house in the game. Many players find it easy to construct a home with a simple layout. But if you want to make your build different from the others, try to switch directions.
Here, Swordself_MC decided to go for a diagonal build instead of the regular straight ones. Just by doing this, there has been an unexpected depth to the build that looks absolutely amazing. All this shape and size look great with this classic cottage style.
9. Underwater Hideout
For builders who are looking for an ultimate challenge, this will be a magnificent build. There is no doubt that constructing underwater is very difficult in survival mode. The player can only do this if he has a Conduit nearby, tons of potions, proper enchanted gear, and a bucket load of sponges to drain any builds. Wouldn't this be a big challenge for you?
Don't worry; this modern house will look absolutely amazing. This will help you to hide a base and also allow you to experiment with different shapes and materials like Prismarine and Stained Glass.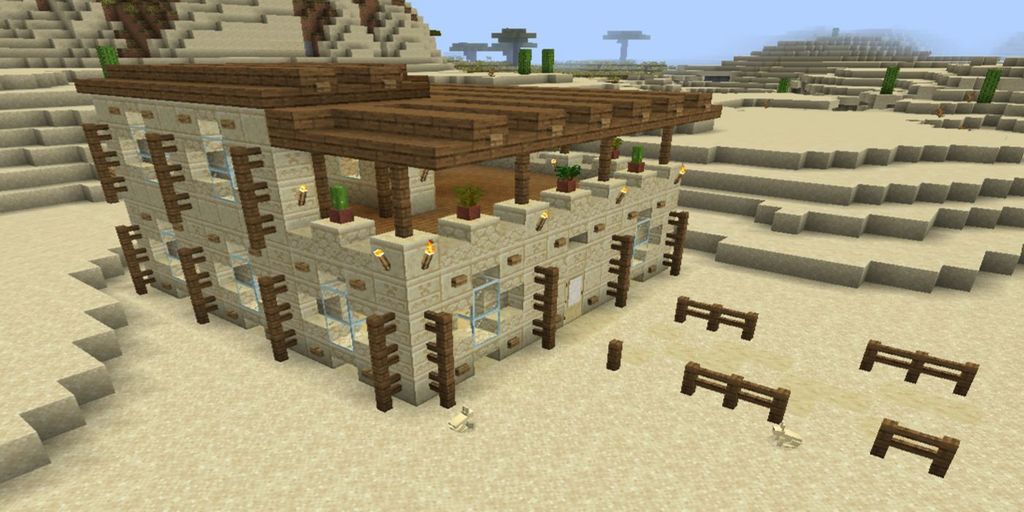 Final Verdict
So which build did you like the most? I know building in the game isn't always easy. It requires a lot of thinking and planning. Everyone has their own style; just use your imagination and creativity. You can surely take inspiration from other builders.
Read Furthur: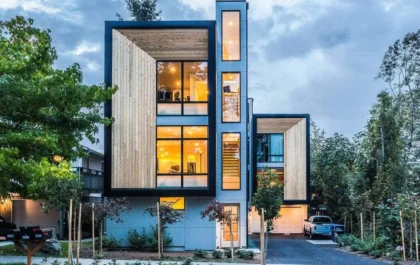 27+ Stylish & Modern Townhouse Designs for Urban Living.
The townhouse's first impression is normally too small, too compact, too narrower, and the list is endless. Well, let us…