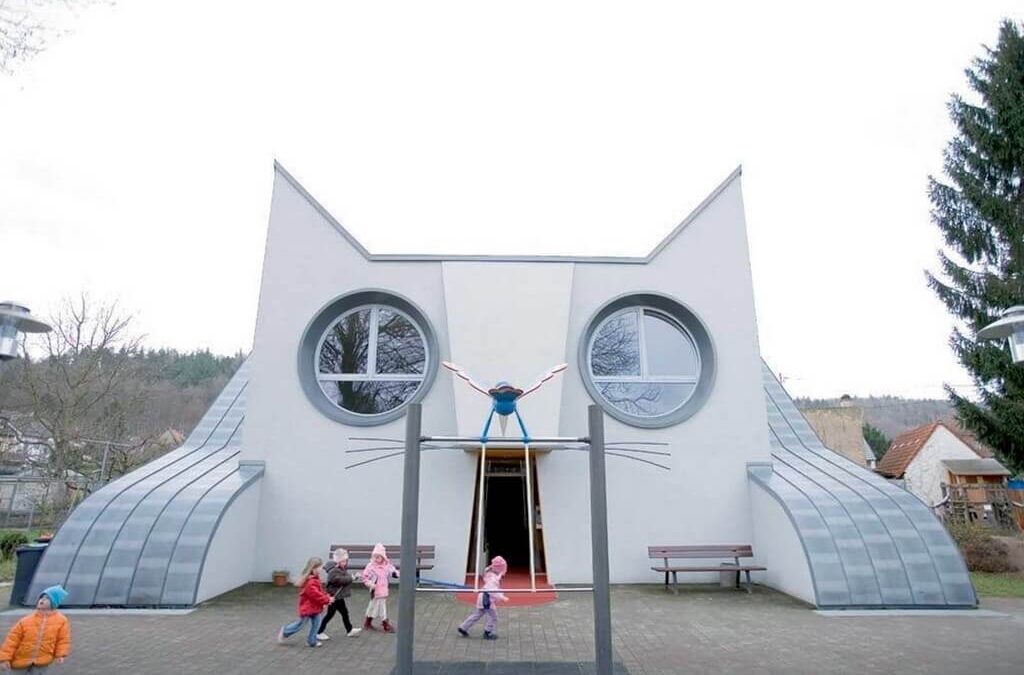 You may have seen animal statues in the park, but have you ever seen or heard about an animal building? Yes, many buildings around the world are shaped by various animals. Sounds interesting, right?   
Imagine you're walking into a huge tiger's mouth or sitting right beside a giant koala. Wouldn't it be fun and adventurous?
Architects have surprised us in many ways, like the tallest skyscraper, longest bridges, and now fun animal-shaped buildings. A kindergarten-shaped cat, an Indonesian chicken church, and an Australian crocodile hotel:  are just a few examples of animal architecture in the world.
If you think that these buildings will be only for kids, the answer is NO. From restaurants to tourist centers, these animal-shaped buildings have mesmerized everybody. Whether to reflect the role of the building or just for roadside attractions, all these buildings are functional and obviously not for just kitschy ornamentation. 
Today we've rounded up numerous examples of zoological-inspired architecture from around the globe. Whether you find them hilarious or mind-boggling, one thing is sure that they will make you smile. 
10 Best Animal Shaped Buildings in 2021!
Below are ten eccentric structures that will make you think that even these types of structures are present in the world. Some of them are truly mimetic, while others are symbolic. In short, they resemble everything from dogs to ducks. 
1. Kindergarten Wolfartsweier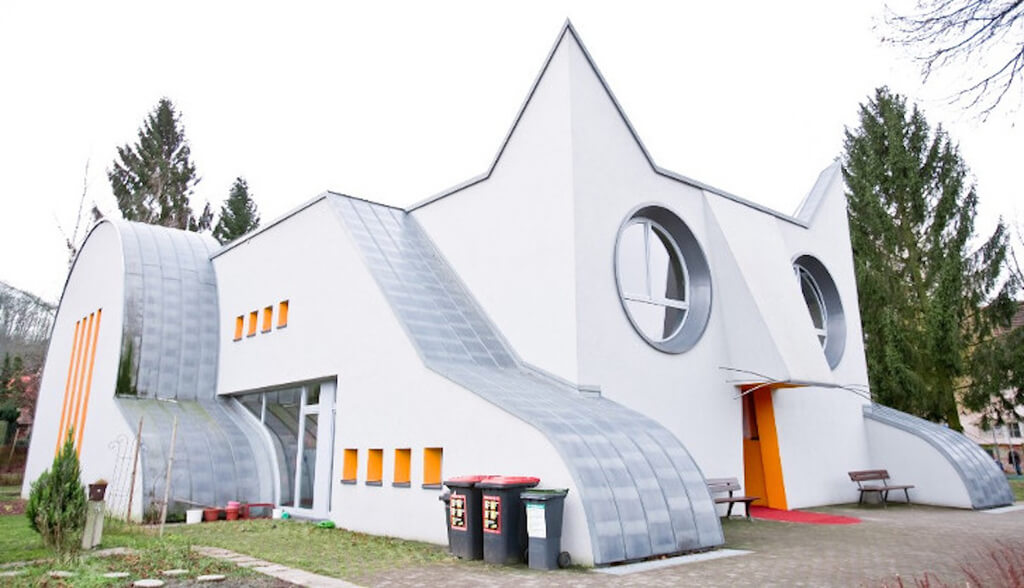 Source: wykop.pl
Where:  Karlsruhe, Germany 
Have you ever seen a school like this? This cute cat-shaped building is situated in Karlsruhe, Germany. This is actually a kindergarten. Designed by Tomi Ungerer and Ayla Suzan Yöndel, this schoolhouse is the definition of "the cat's meow."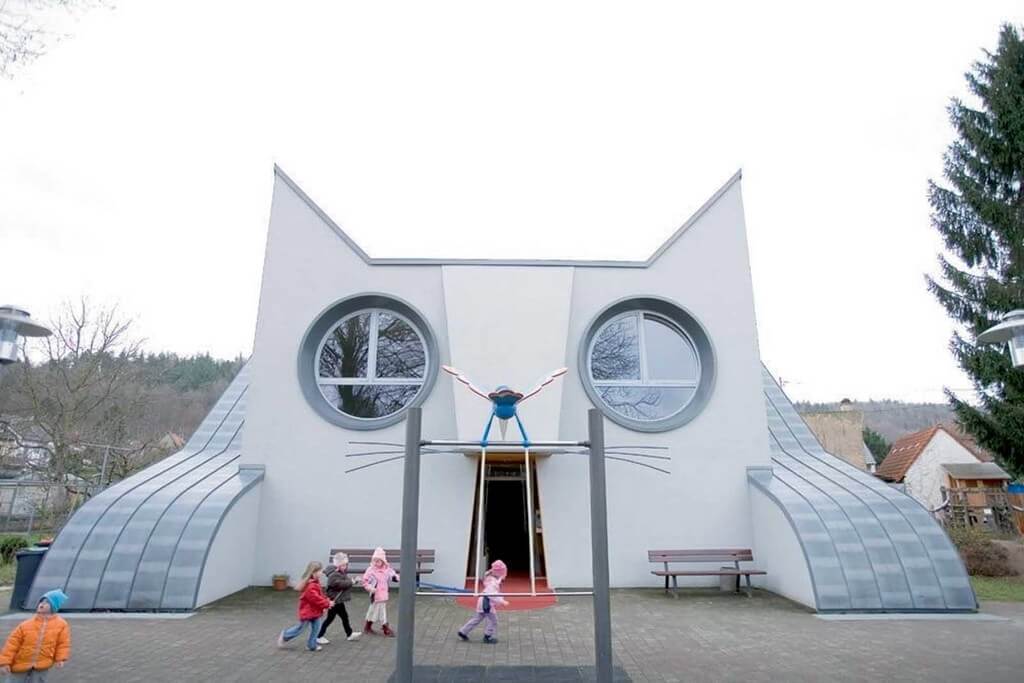 Source: lotok.kz
Here kids sing, play, and learn in a fun way inside this big kitty with pointed ears and whiskers. To enter this building, you have to go into the open mouth of "Die Katze" (The Cat). It will look like that a kitten has swallowed you.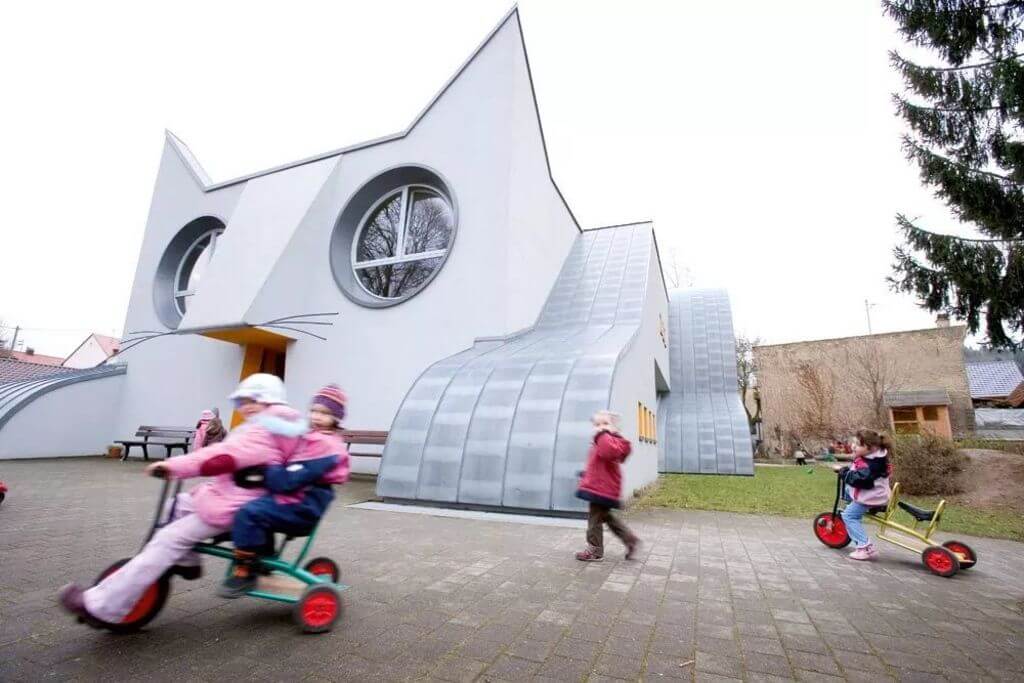 Source: sinaimg.cn
The building's main focal point is the two round windows, which are brilliantly transforming, and it's the cat's eyes. There are also additional play areas in the outstretch paws.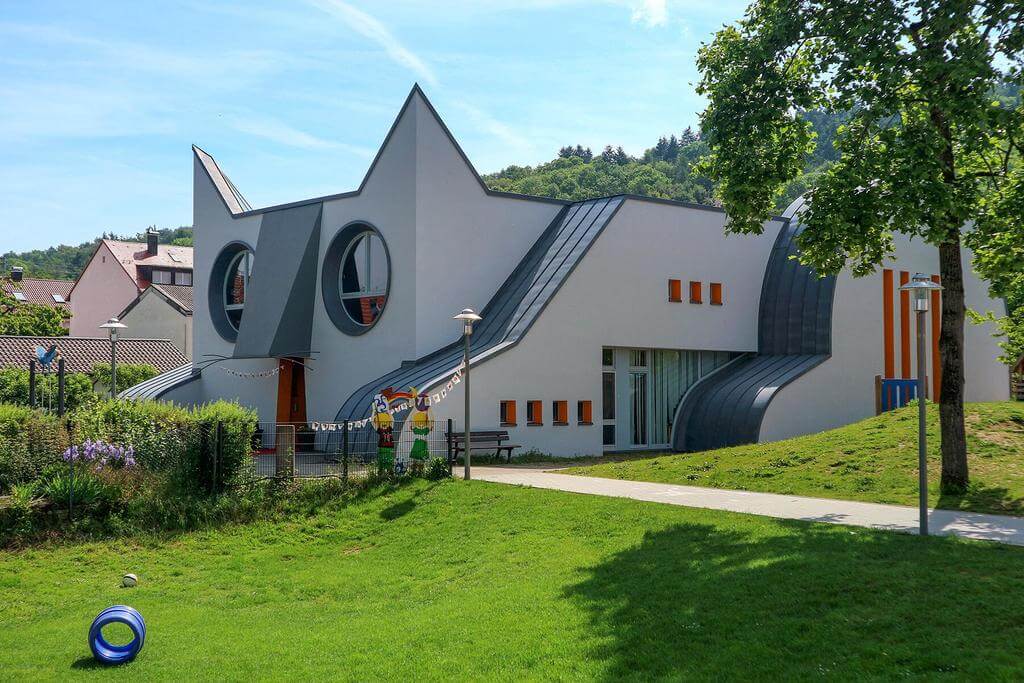 Source: fodors.com
There are two floors, and a slider connects them. Students can slide down from the steel tube (the cat's tail) to reach the playground in the back. Isn't it the cutest cat-shape kindergarten?
2. Dog Bark Park Inn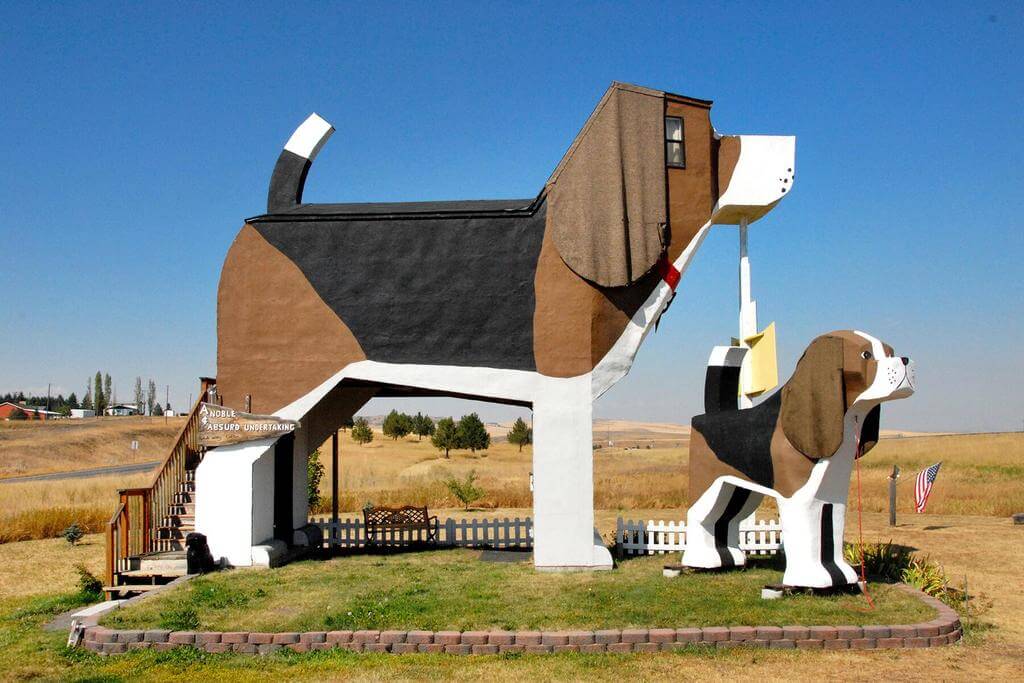 Source: fodors.com
Where: Cottonwood, Idaho. 
What do you think about sleeping in the (air-conditioned) belly of a 30-foot hound dog? Located right off Highway 95 in the sleepy Camas Prairie community of Cottonwood, the Dog Bark Park Inn is a luxurious hotel.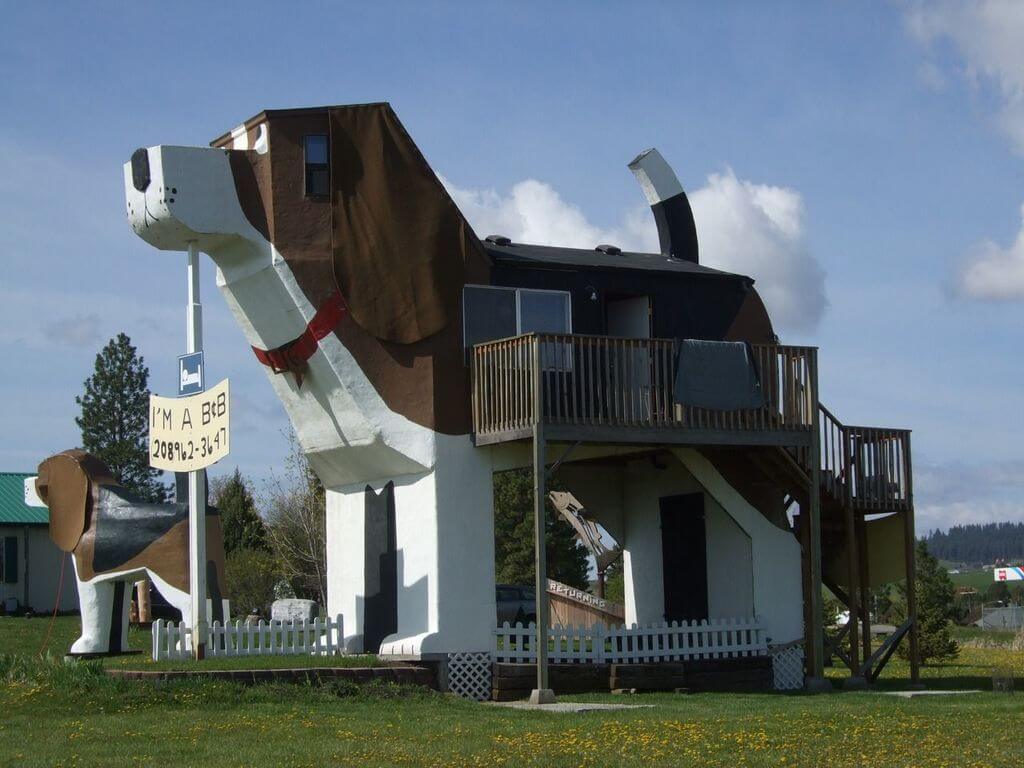 Source: pinimg.com
This biggest beagle, named Sweet Willy, has only one suite, and it is the world's biggest beagle! The whole building consists of two dogs: the first one is Sweet Willy, a 30-foot brown-and-white puppy with floppy ears, and a red bow-tie. The second one is Toby, a 12-foot-tall beagle.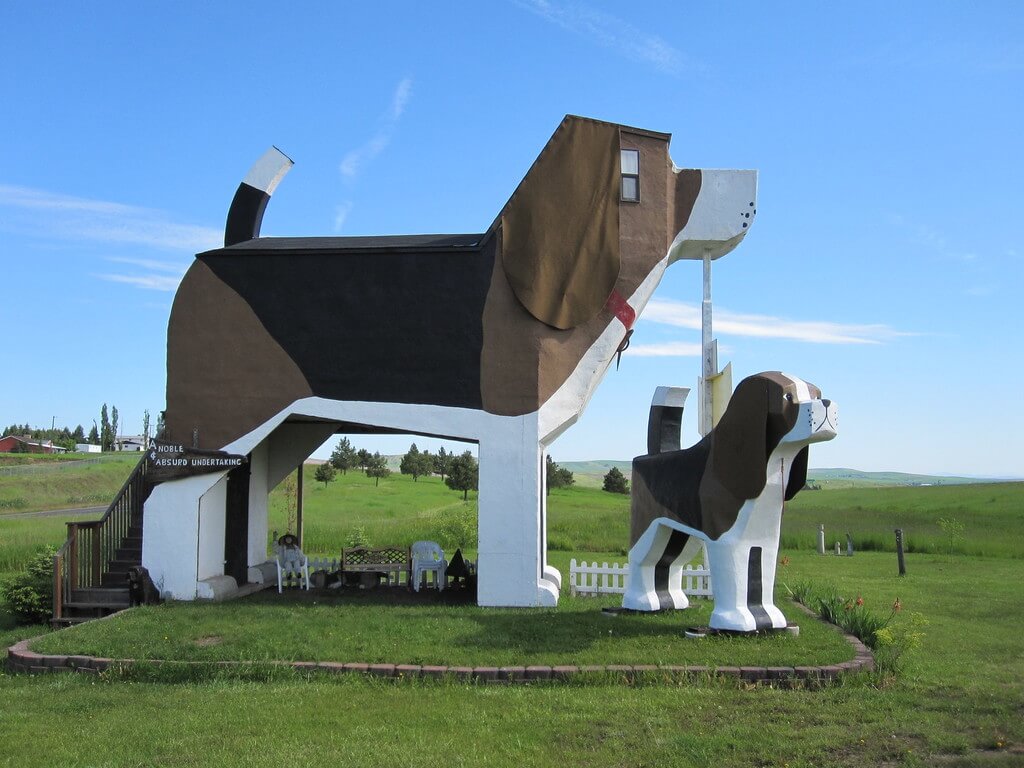 Source: staticflickr.com
It is built by Dennis J. Sullivan and Frances Conklin in 2003. Apart from canine carpets and unique dog bed frames, one of the popular amenities in this Dog shaped building is the "expansive continental self-serve breakfast." So, this summer, visit this fun place with your doggo. Yes, canine guests are welcome to stay at the inn. 
3. Lucy The Elephant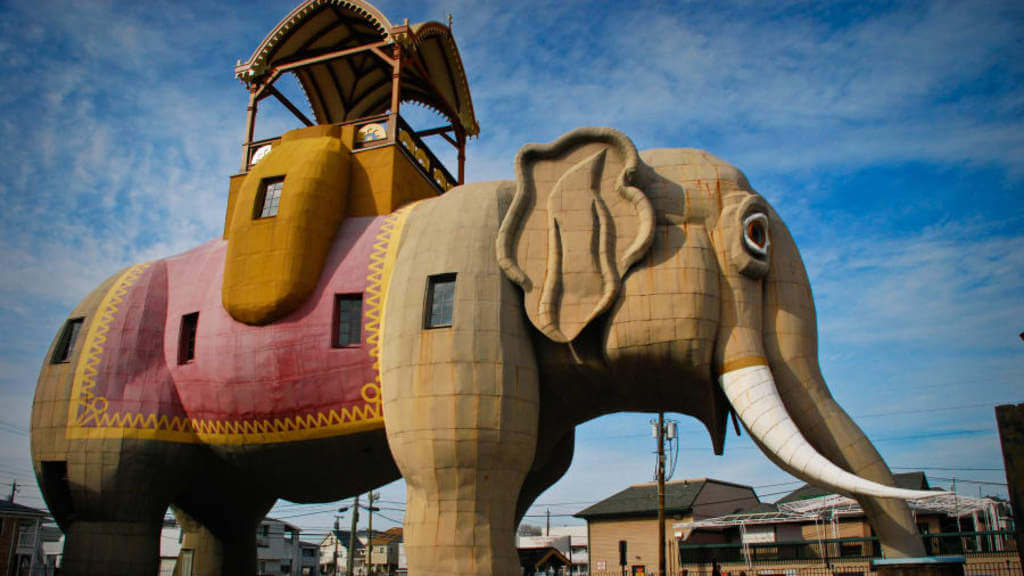 Source: dynaimage.cdn.cnn.com
Where: Margate City, New Jersey
Next on the list is this really pretty elephant-shaped building. Built from wood and clad in the tin, Lucy is a true survivor because she has been standing over the seaside resort town of Margate City (home to Marvin Gardens of Monopoly fame) since 1881. Irish-born animal-shaped building progenitor James Lafferty erected this unique building that has a 90-ton weight.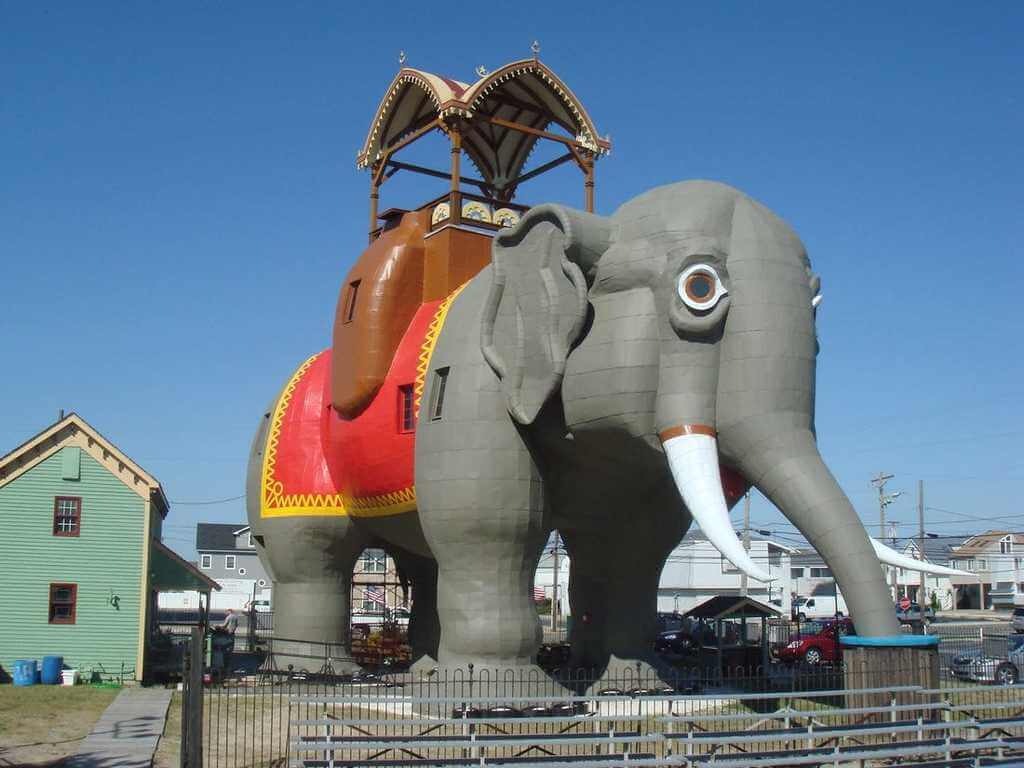 Source: insider.com
Lucy, the elephant, has been used in various ways: real estate office, café, summer cottage, and most notoriously, a tavern. She has been gone through decades of vandalism and violent weather. But in 1976, it is declared as a National Historic Landmark. Currently, this six-story building has a gift shop, which is still a tourist attraction. 
4. Nautilus House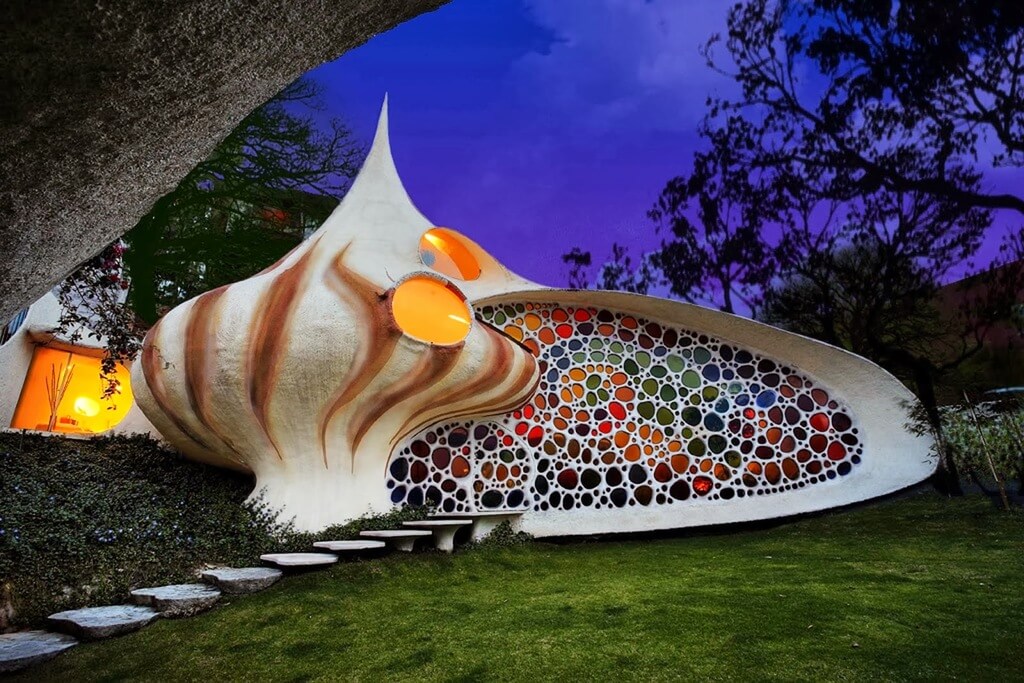 Source: blogspot.com
Where: Naucalpan de Juarez, Mexico
This unusual shell-shaped house is designed by Javier Senosiain (of Arquitectura Organica). This is a residential house built for a young couple with two children. The whole concept is highly inspired by the work of Antoni Gaudí and Frank Lloyd Wright.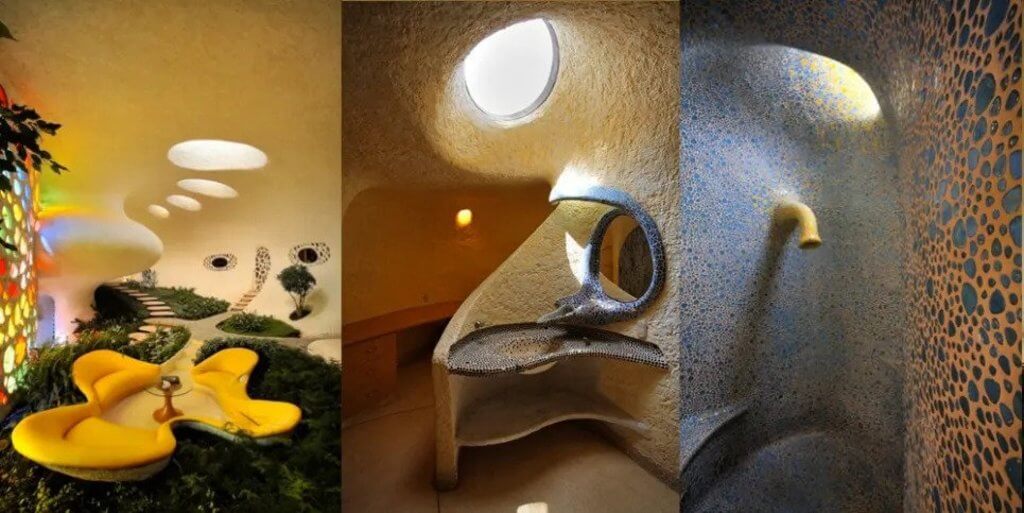 Source: kinja-img.com
The Nautilus House is a whimsical shell-shaped house named after the shells of the nautilus cephalopod. It is an extraordinary example of 'bio-architecture' because the structure was created using Ferro-cement, and it also consists of a frame of steel-enforced small-diameter chicken wire.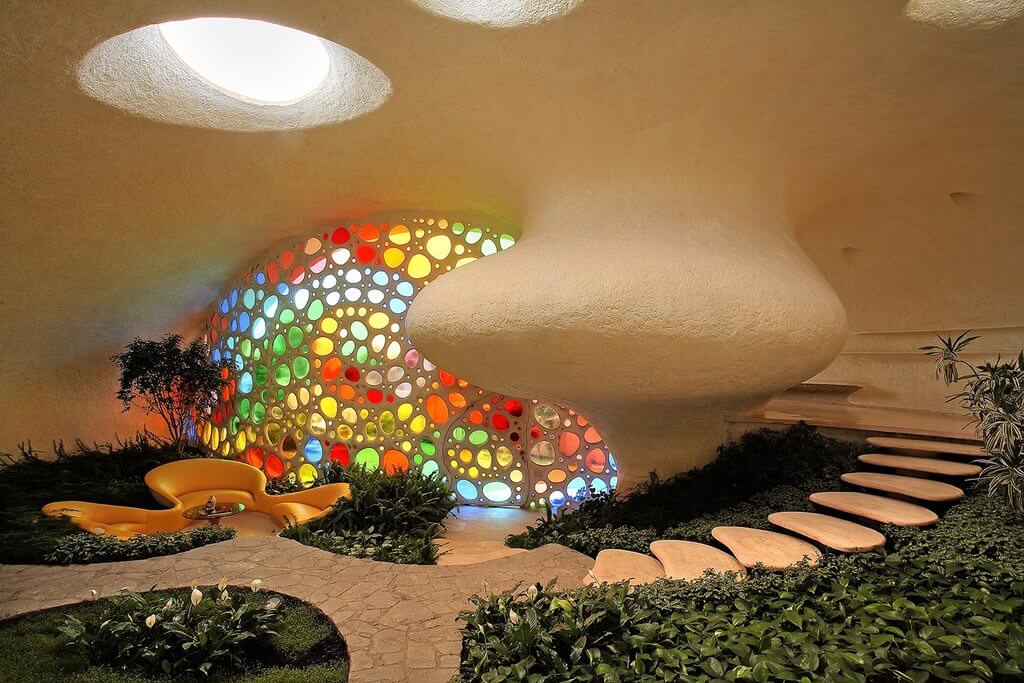 Source: arquitecturaorganica.com
This wire is later coated with a thin layer of concrete. The reason behind selecting these materials is that these specific building elements weigh less than brick and, most importantly, are earthquake resistant. 
5. Mercure Kakadu Crocodile Hotel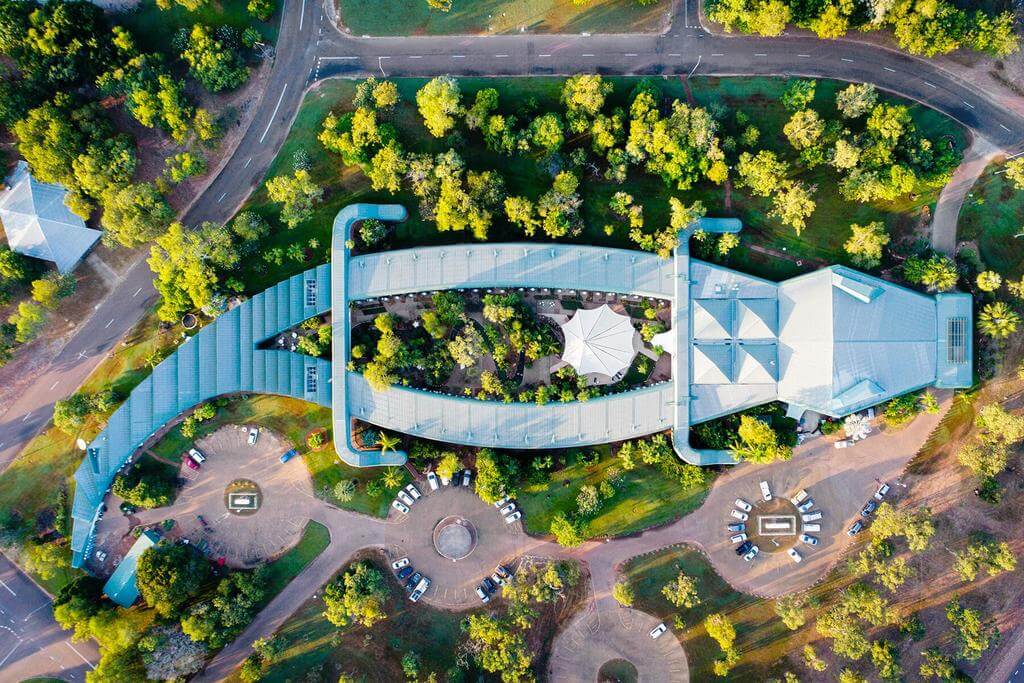 Source: fodors.com
Where: Jabiru, Australia
When you look carefully, then you can identify the animal. Did you recognize it? Yes, it is the CROCODILE. This is a hotel shaped like a saltwater crocodile, which is located in Jabiru, Australia.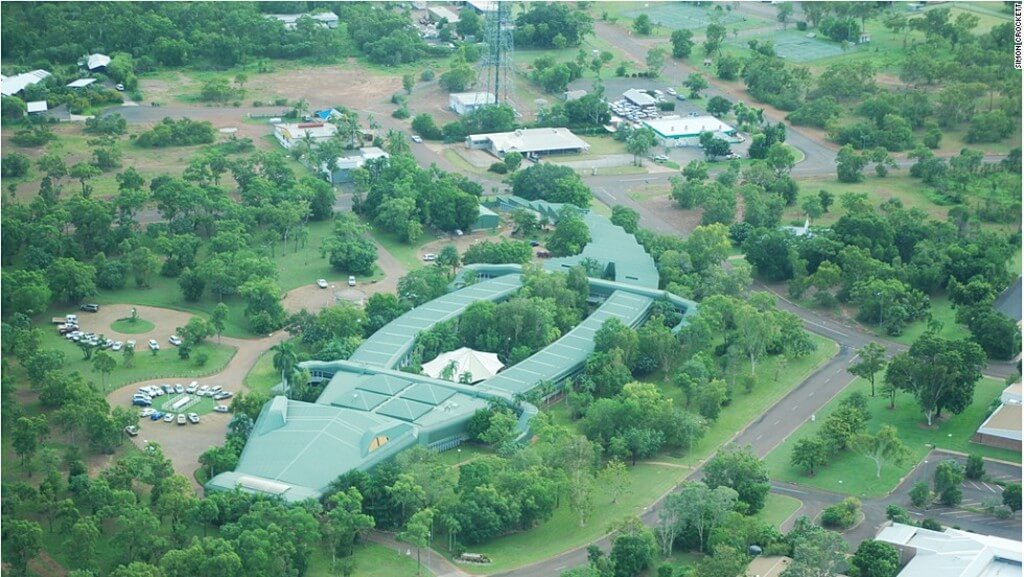 Source: cdn.cnn.com
The true shape and size can be identified from a bird's eye view or aerial view that it is the Mercure Kakadu Crocodile Hotel looks like an 820-foot-long reptile slithering across the landscape.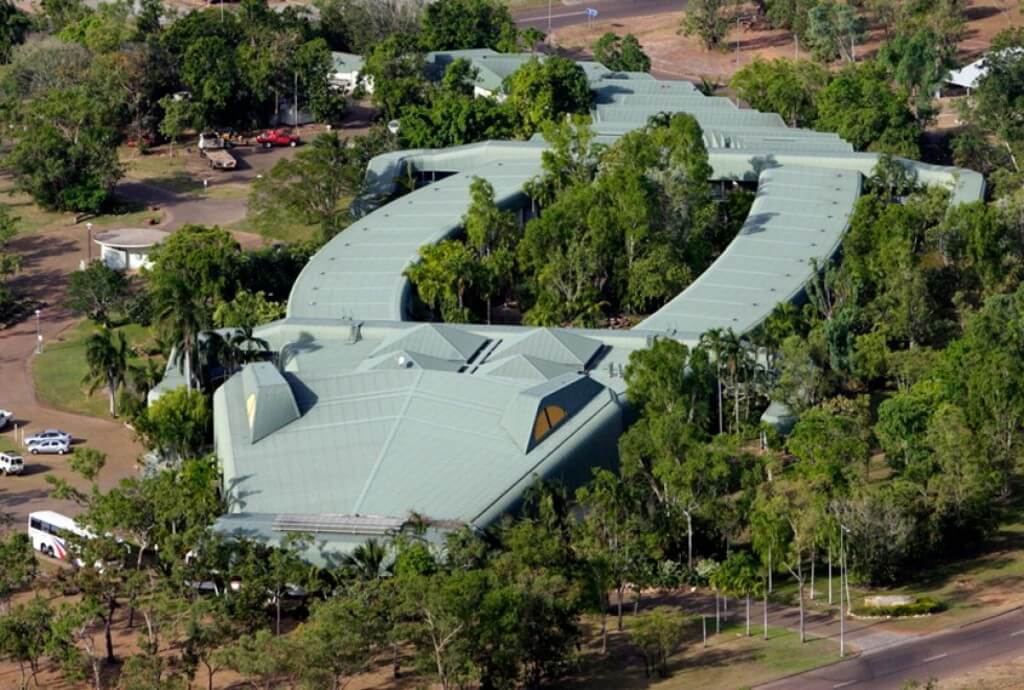 Source: repubblica.it
To get inside this building, you have to go through the spiky white teeth and huge jaw. After that, you'll be in the belly of a giant crocodile. There are many luxury hotel rooms and a serene courtyard inside of it.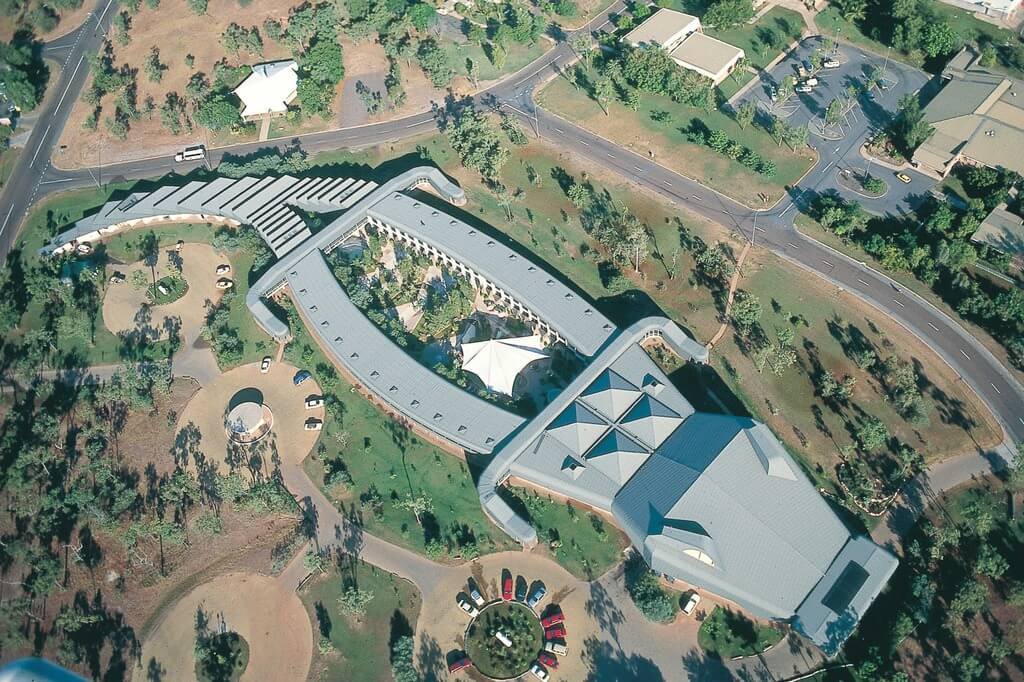 Source: quebecscope.com
This interesting hotel was opened in 1988, and it is inspired by the popularity of the Crocodile Dundee movie. Some people also believed that this hotel pays tribute to the native Gagudju people because they consider the crocodile to be their spiritual ancestor. 
6. Giant Koala Tourist Complex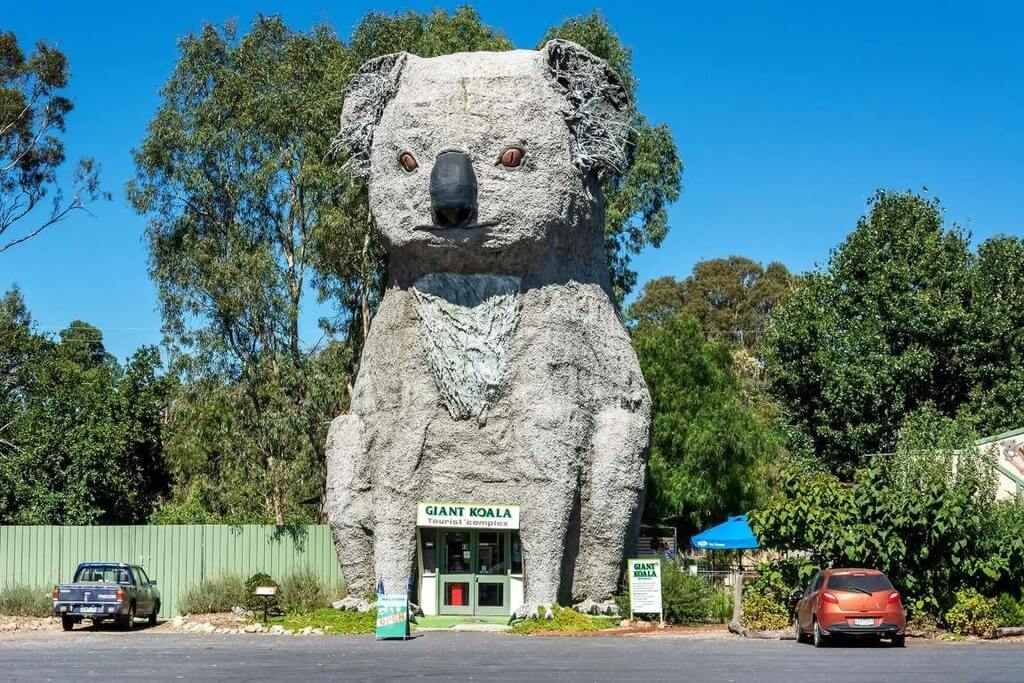 Source: znews-photo.zadn.vn
Where: Dadswells Bridge, Victoria, Australia
What… a giant Koala??? Yes, we all know that Australia's Grampians National Park is know for its exotic wildlife such as dingoes and kangaroos. But this animal is something strange and so popular. Yes, we're talking about the giant koala, who is sitting at the Dadswells Bridge.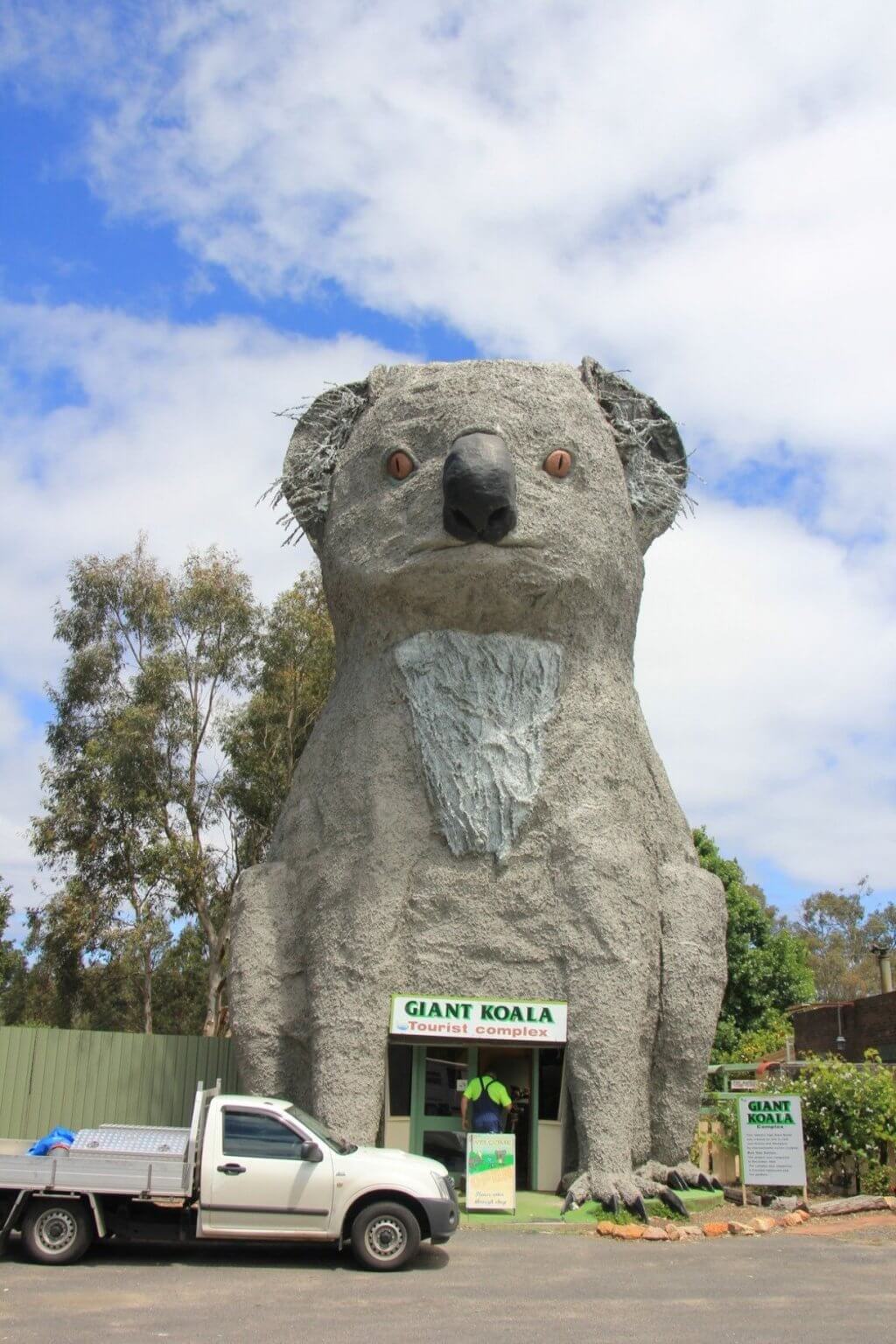 Source: tportal.hr
Sculptor Ben Van Zetten built this iconic and cuddling structure out of bronze and steel, and it was complete in 1989. It immediately becomes a kitschy tourist attraction, and Later in 2009, people affectionately give it the name "Sam." Because in remembrance of a female koala that was rescue during the catastrophic Black Saturday bushfires of 2009.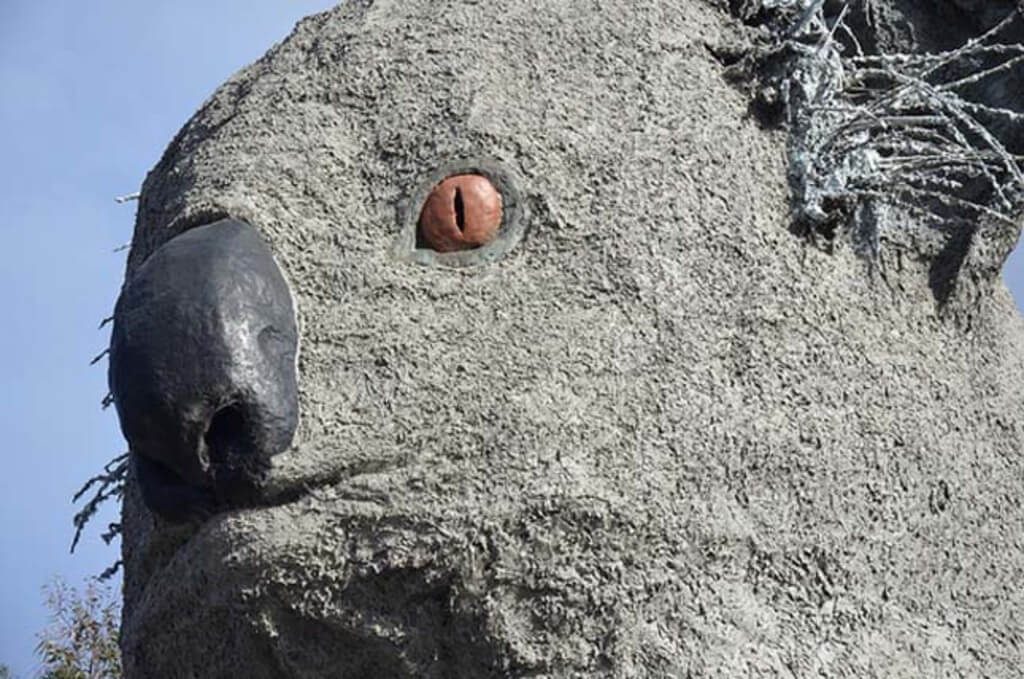 Source: erdekesvilag.hu
This koala structure is about 50 feet tall with a grim smile, bulging coffee bean eyes, and hair sticking out of its ears. It is situate just opposite many food places such as restaurants, ice cream, lollipop shops, an outdoor BBQ area, and a small zoo that's home to two real-life arboreal marsupials name Karla and Cuddles.
7. Crab Building (Alimango Restaurant)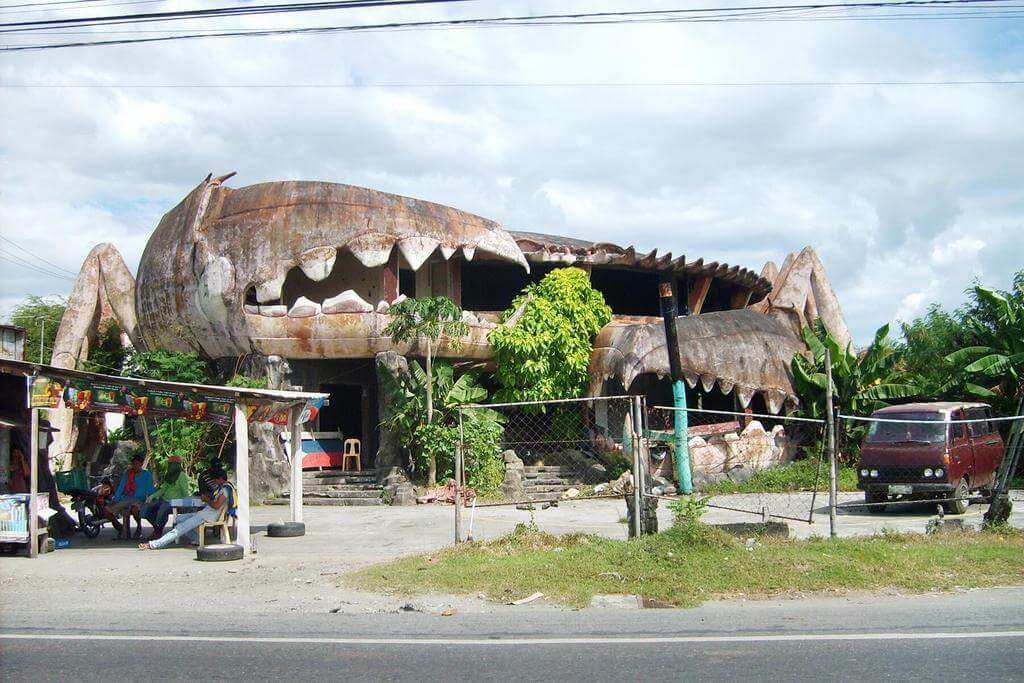 Source: fodors.com
Where: Dagupan, Philippines.
Do you love eating seafood? If yes, then there is absolutely no place better than this. It is a restaurant that is shape like a crab. Wow, that's bizarre! Once, this was a famous seafood restaurant name after a cannibalistic — the alimango or mud crab, but nowadays, there is not much around it. 
It was quite a famous building in the Philippines and Southeast Asia. It looks like it is crawl straight out of the ocean and into our nightmares.
8. National Fisheries Development Board Building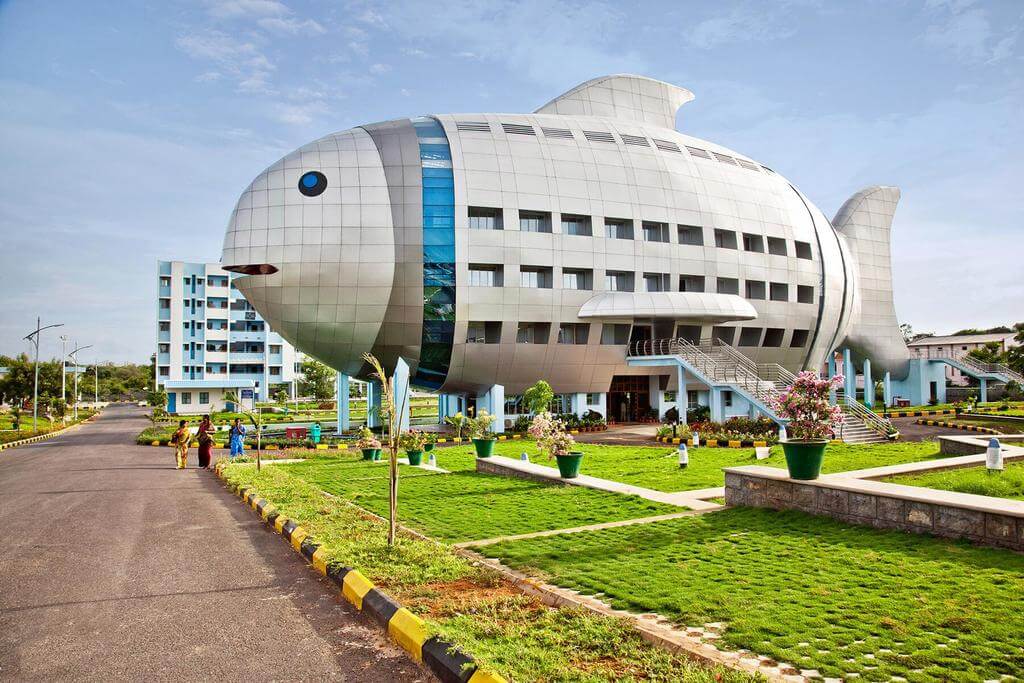 Source: fodors.com
Where: Hyderabad, India
This fish-shaped building is neither a school nor a restaurant, but it is the headquarters of the National Fisheries Development Board (NFDB). Located in a commercial district of Hyderabad, India, this four-story building is a point of attraction for many people. 

Source: wykop.pl
This impressive government low-rise structure is locally know as Matsya Bhavan, and it was open in 2012. Seriously it looks like a "fish out of the water," which is also well suit to Hyderabad's wealth of traditional architecture. The whole building is shape like a silver carp paint in a shiny silver color with three fins, a tail, a gaping mouth, and two round blue eyes, which double as windows. 
9. Giraffe Childcare Center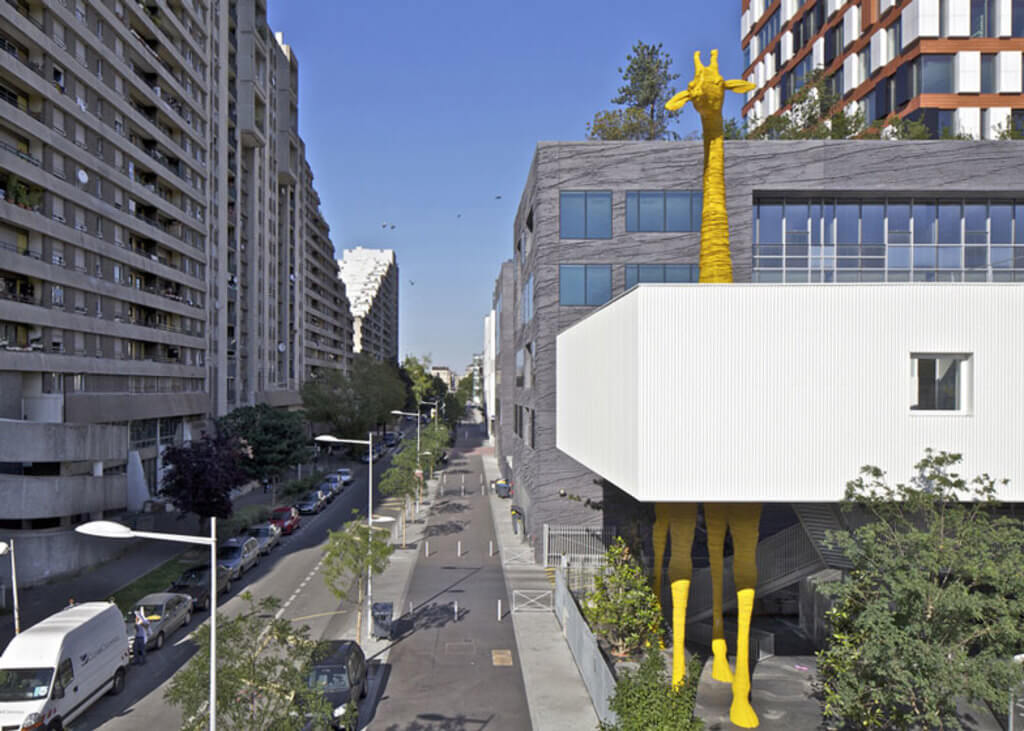 Source: dezeen.com
Where: Paris, France
Designed by Hondelatte Laporte Architects, this building is a Giraffe Childcare Center. Located in Paris, France, this is one of the most famous animal buildings in France. The whole structure is build around a giraffe, and from far, it is quite noticeable because it looks like a huge yellow giraffe is stuck inside a protruding silver slab.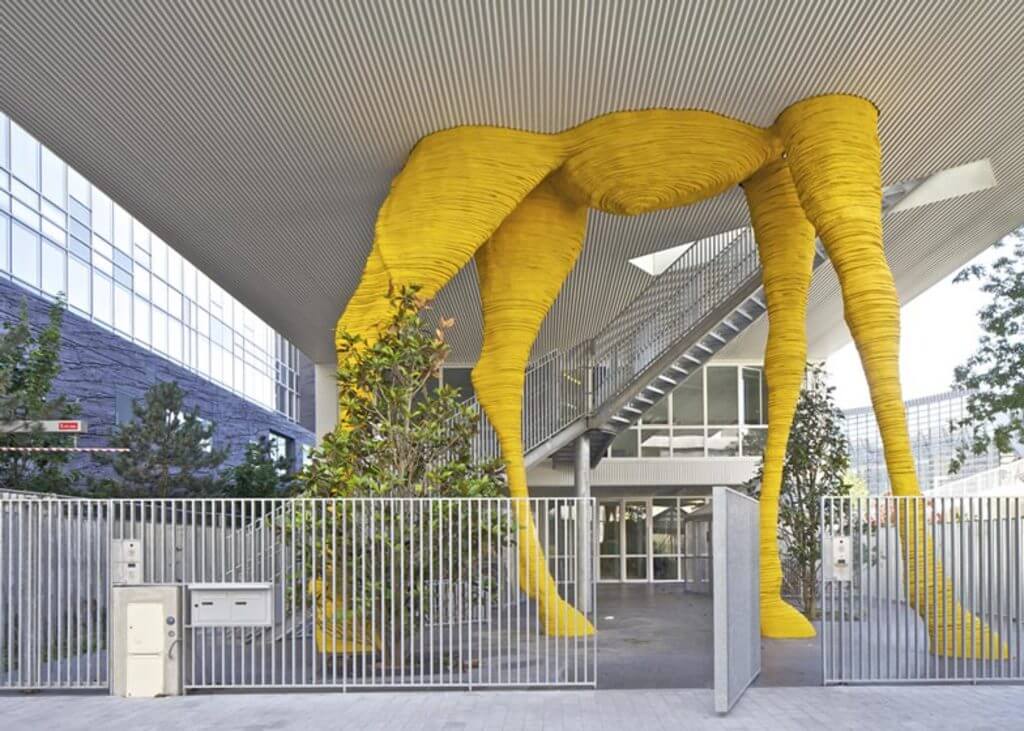 Source: imgur.com
The giraffe's strong legs appear to provide support to the building's cantilevered roof, which is an extraordinary example of "form follows function." At the same time, it is creating visual interest for students and staff.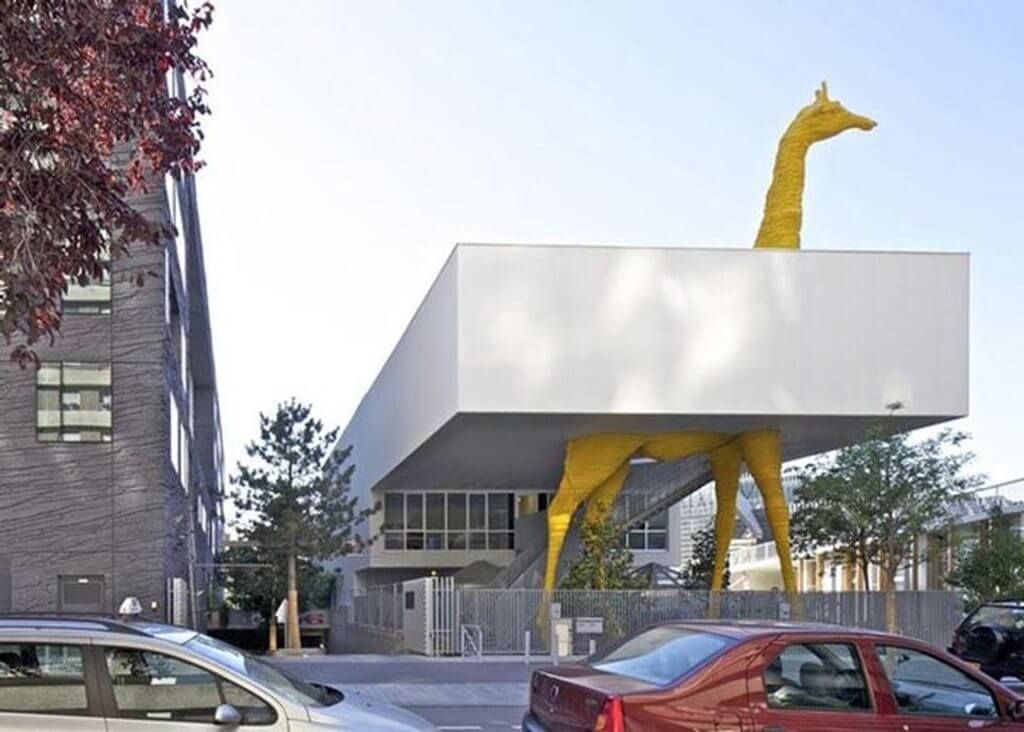 Source: patrasevents.gr
From the rooftop, you can clamor on its back and pet the long neck. Don't you think that this Giraffe Childcare Center in southwestern Paris' Boulogne-Billancourt district certainly stands out among all the French capital's classic architecture?
10. The Elephant Tower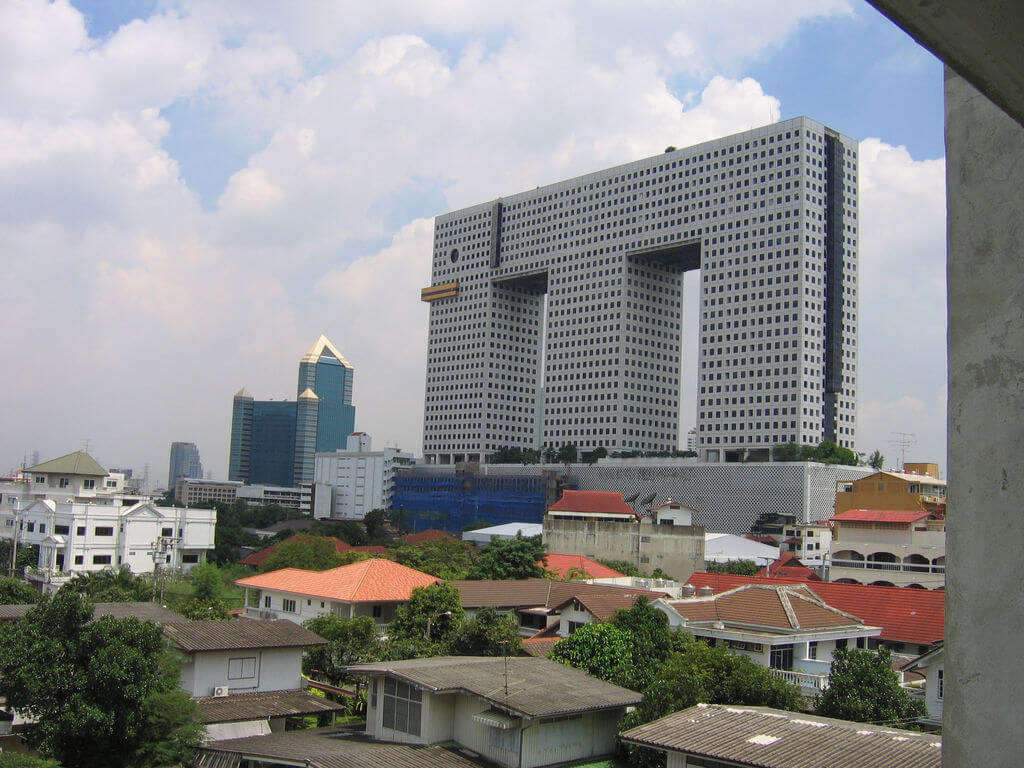 Source: gtimg.com
Where: Bangkok, Thailand
Last but not least on our list is this incredible elephant tower. Situate in Bangkok, Thailand, this building is commonly know as the Elephant tower, but the real name is Chang Building.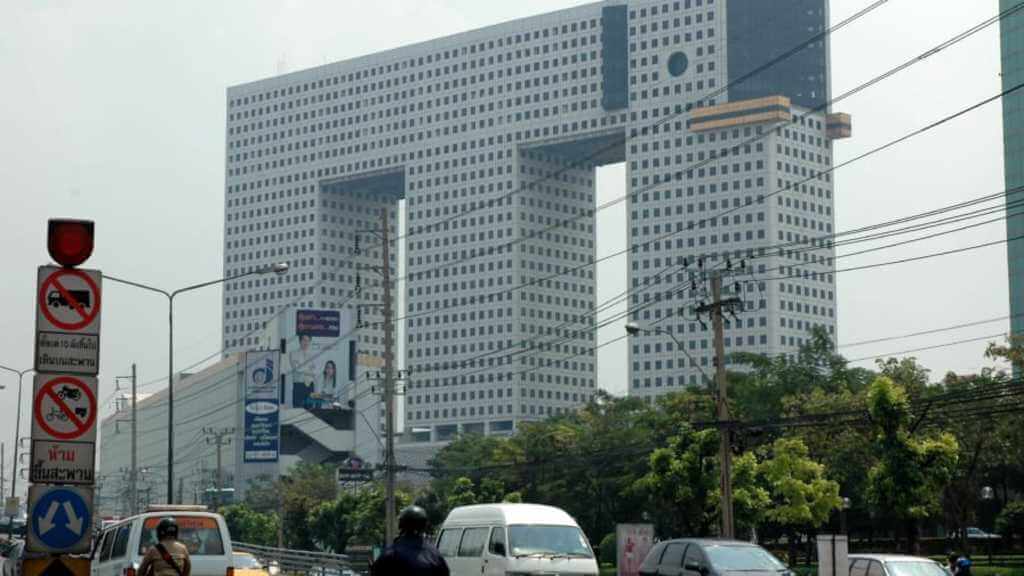 Source: dynaimage.cdn.cnn.com
This is a gigantic building with 32 floors where you'll find luxury housing, commercial space, retail, and much more! Design by architect Sumset Jumsai, the structure is construct to resemble Thailand's national animal. Pretty fascinating, right! So, this summer if you're planning to visit Thailand, don't forget to visit this place.
11. DUCK OF FLANDERS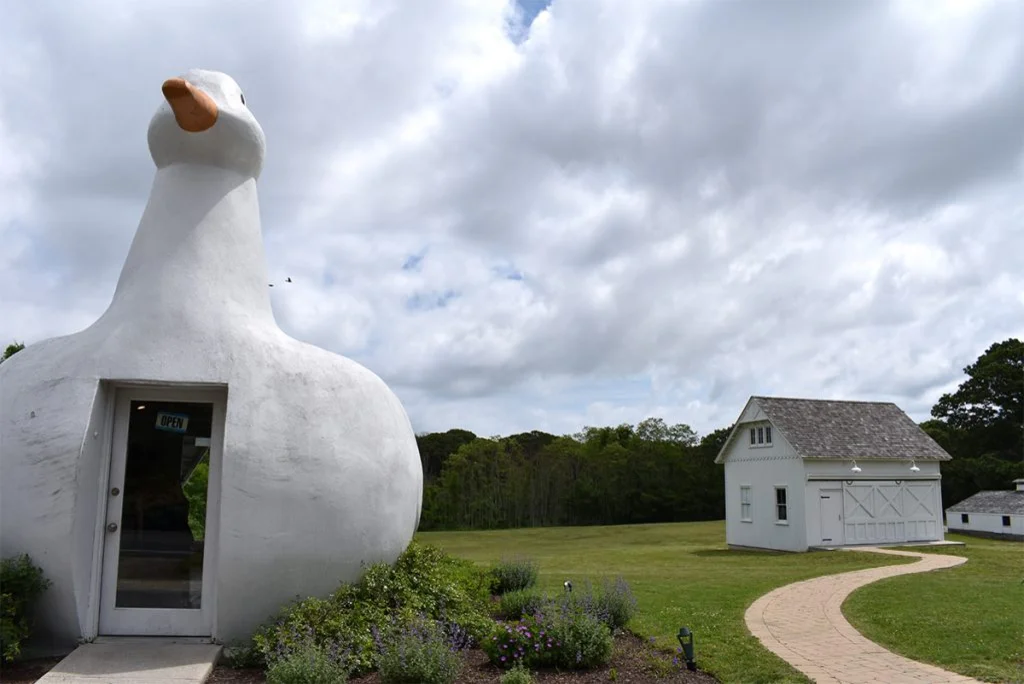 Source: outeast.com
Where: Flanders, New York
11. FRESHWATER FISHING HALL OF FAME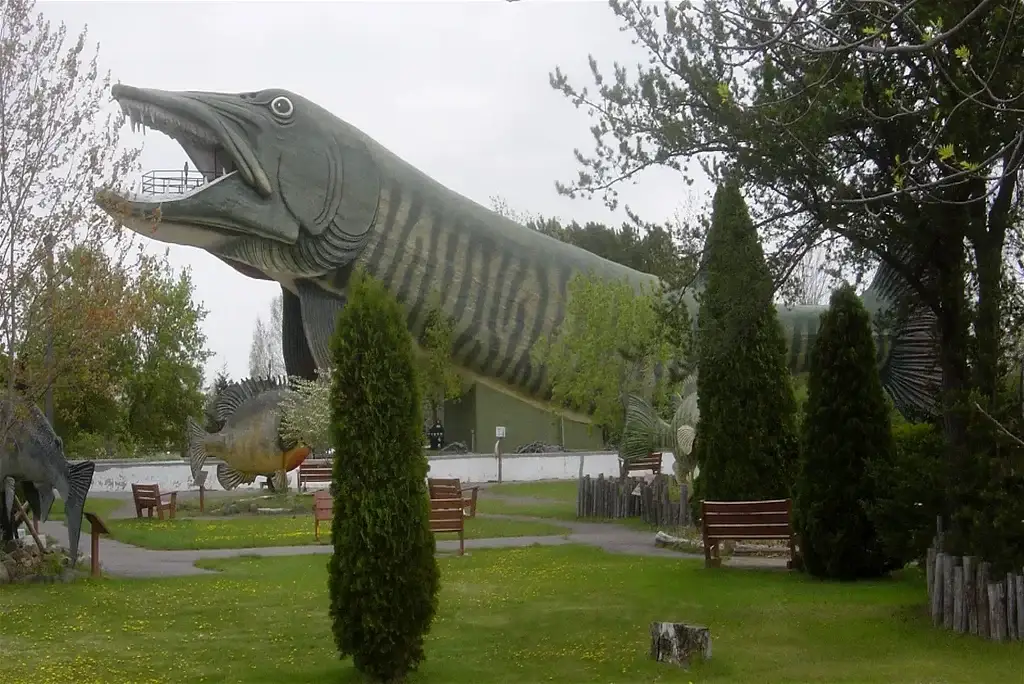 Source: image.wmsm.co
Where: Haywadrd, Wisconsin
12. MACAU PAVILION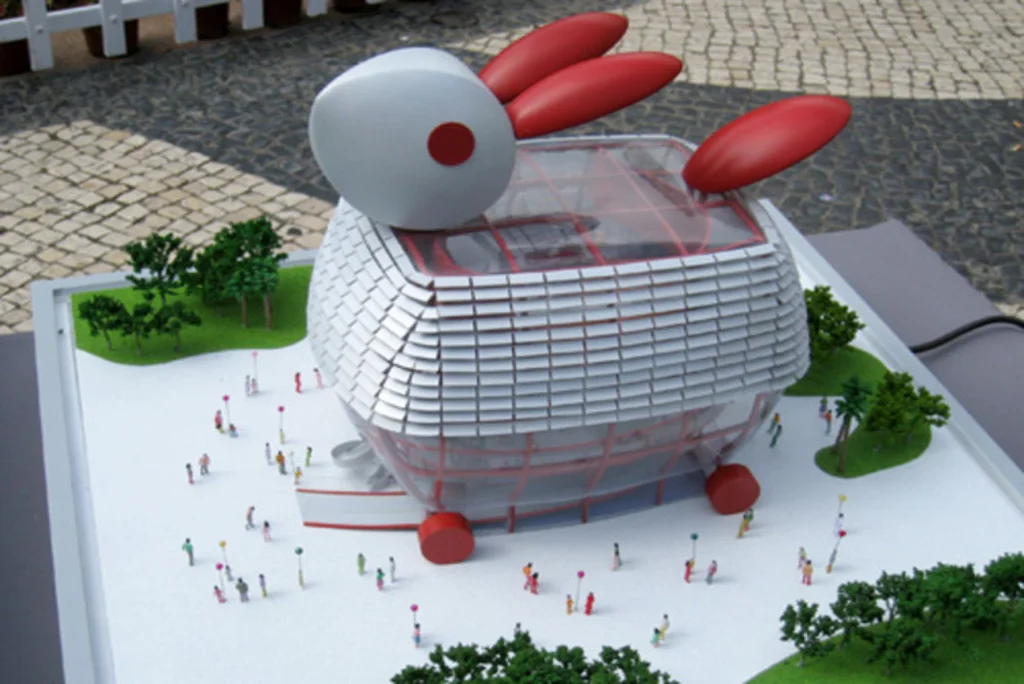 Source: images.adsttc.com
Where: Shanghai, China
13. WHALE BUILDING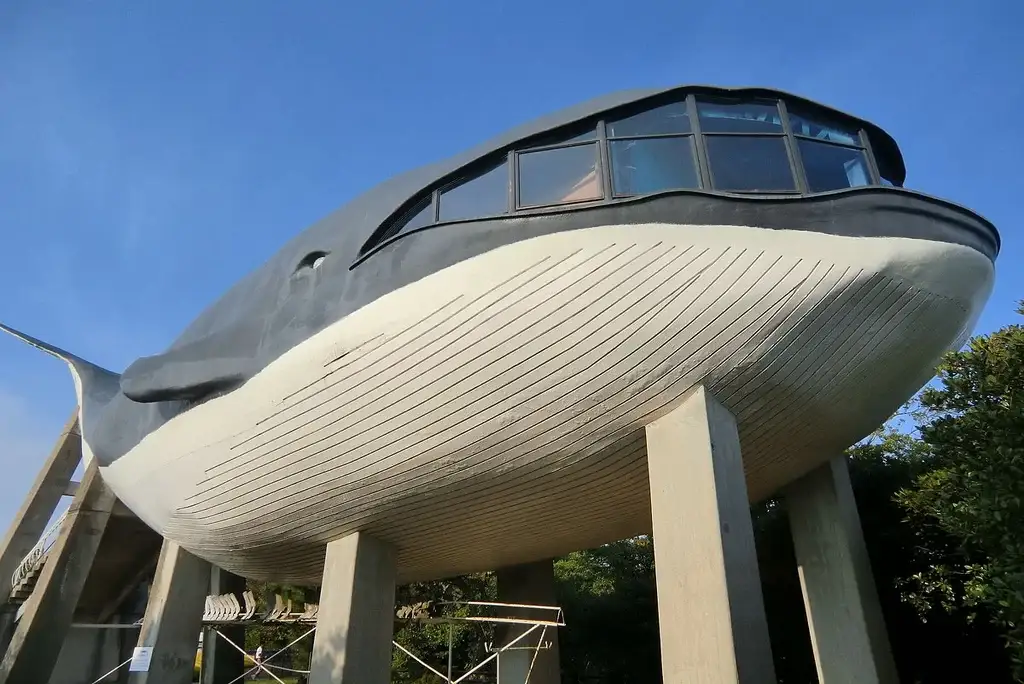 Source: upload.wikimedia.org
Where: Simonoseki, Japan
14. BALADE DES GNOMES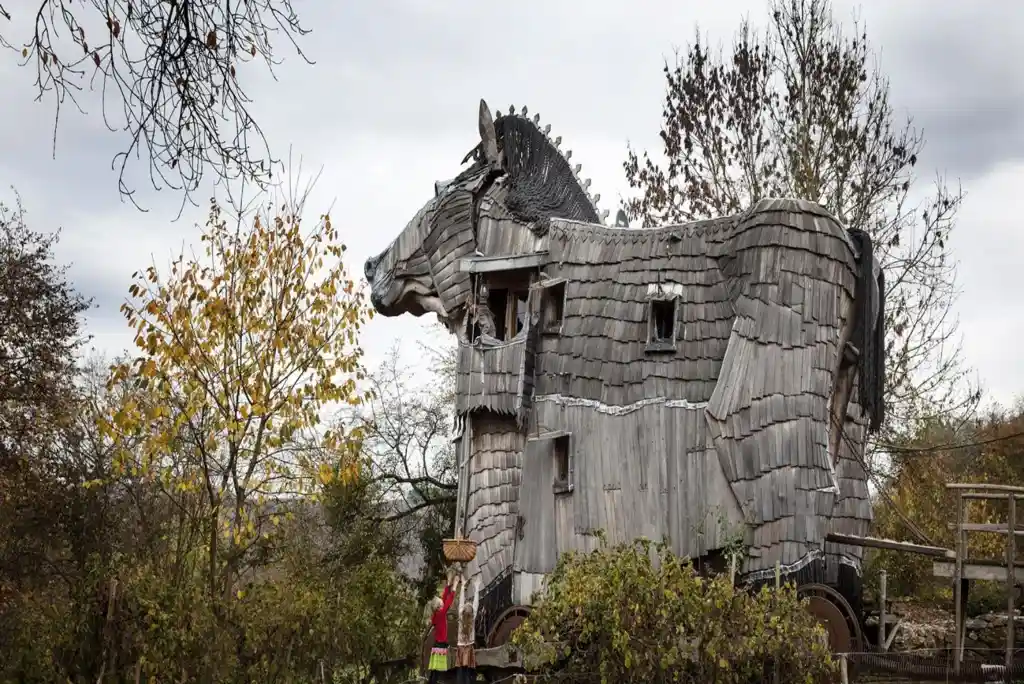 Source: checkhotels.com.br
Where: Durbuy, Belgium
15. TURTLE BUILDING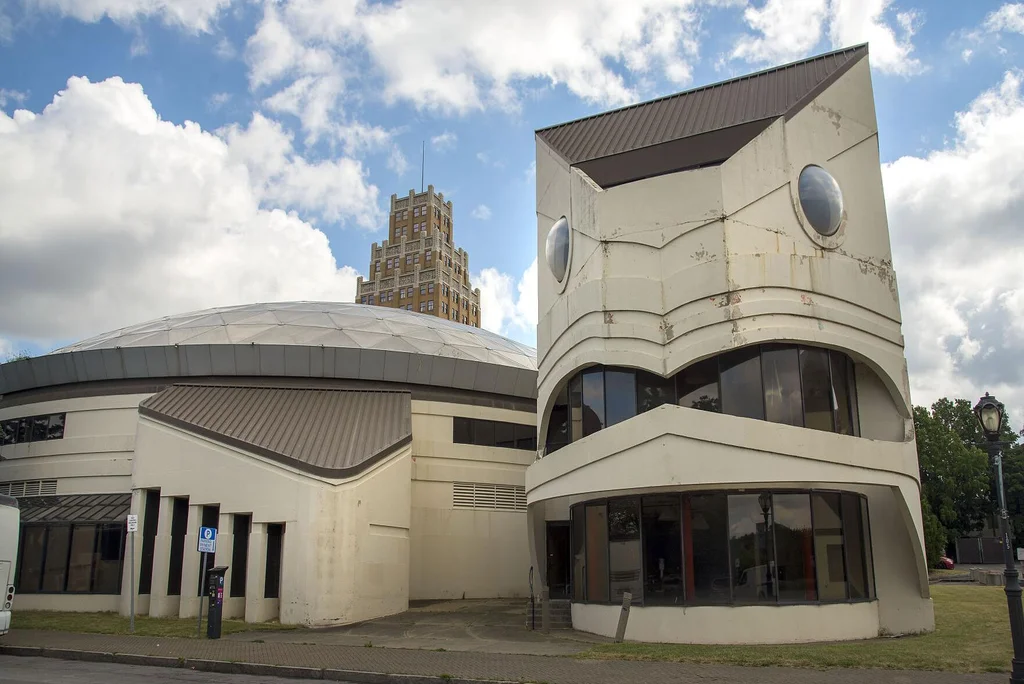 Source: bloximages.chicago2.vip.townnews.com
Where: Niagara Falls, New York
Also Read: 11 Magnificent Tallest Buildings Under Construction In The World
The Bottom Line 
So which building fascinates you more: Lucy the elephant or the crocodile hotel or any other building? Whatever structure makes you happy or surprised, one thing is sure that you'll have a lot of fun while visiting these places. 
From the tallest bridges in the world where people are scare to climb to luxurious mansions, there are actually a ton of bizarre things in the world. If you want to know more about unusual and futuristic structures, keep coming to Architecturesstyle. If you like this blog on animal-shaped buildings, do share it with others so that they'll also know about these remarkable constructions. 
Himadri Shakya
Himadri Shakya is an enthusiastic Content Writer and Editor. She loves to create creative, engaging, and SEO-friendly content. Through her extensive research skills and practice, she has been generating high-quality and informative articles, and blog posts for over 4 years.
Related posts
The Floating Pitch of FIFA World Cup 2026
The 2026 FIFA World Cup is set to be the largest and most ambitious tournament in the event's history, with…