Do you want a place to call your own or create a masculine space for men? Or do you want a quiet space away from the frenzy and commotion of the house? A properly designed man cave may include a space for me-time or hobby pursuits. You can unwind there, away from everything. Read along to know more about man cave ideas to build for yourself!
Man Cave: What is it?
A man cave (also known as "manland," "man space," or "mantuary") is a male sanctuary or retreat in the home. They are also designed as specially equipped garages, media rooms, spare bedrooms, basements, dens, or tree houses.
Technically, the word "man cave" is used as a metaphor for describing a room where one or more male family members, and sometimes their acquaintances, gather. They are expected to be free to do as they like. There is no need to worry that their interior design choices may offend any female members of the household.
Why Build a Man Cave?
A man needs to have a place to call his own or a place to go when he needs to be alone, suggests author and psychiatrist Scott Haltzman. So, a man cave is built to serve many purposes –
The place to be in solitude

Space for hobby

Hang out zone for the boys

Retreat zone for watching sports and playing video games

As a workspace
How to Build a Man Cave?: 5 Tips To Help You Out!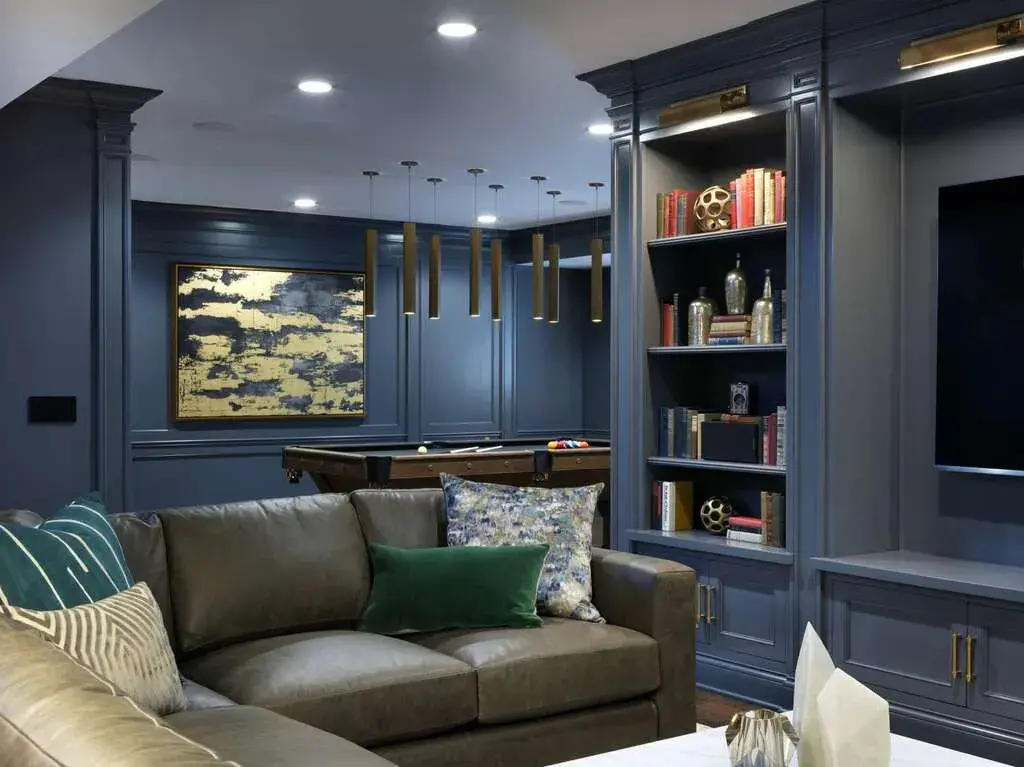 You need not have a headache designing a man cave. Any size can prove to be good for a man cave; it's just that you need to be specific. The following steps will help you design your man cave
1. Find Your Favorite Spot
Select a place that offers at least some privacy and isn't used as a passageway from one place to another.
2. Choose a Theme
Consider your interests, hobbies, and passions while choosing the theme for the man cave.
3. Add a Few Decor Elements to Enhance the Theme
According to your budget, add your favorite decor items to your man cave that will complement the theme.
4. Painting the Man Cave
Based on your needs and budget, you can also consider painting your man cave.
5. Furnishing the Man Cave
You can either purchase new furnishings to fit your space or repurpose existing ones.
Man Cave: Do's and Don't
Before you get into the man cave decor ideas, let's understand the dos and don'ts first.
Do's for Your Man Cave 1. Layer Lighting
Do layer lighting and include accent, task, and general lighting in your man cave.
2. Soft Furnishing
Incorporating soft furnishings will enhance the elegance of your man cave.
3. Source of Entertainment
To make the man cave more alive, add some sources of entertainment like pool, darts, poker table, games, etc.
Don'ts for Your Man Cave 1. Too Hard
As the man cave is for relaxing, don't try to be too hard on the space. Keep the room casual and light.
2. Theme Selection
Go into exploration mode while selecting the theme for the man cave. Don't just stick to the gaming, sports, or garage themes.
3. The Function of Room
Don't just focus on the function, as aesthetics plays an important role in the man cave.
These is Man Cave Ideas Will Blow Your Mind!
1. Rustic Brick Man Cave
The exposed brick conjures up the warmth of a cozy log cabin with a fireplace. You can create a rustic feel in your man cave by including exposed brick in your DIY mancave ideas.
2. Masculine and Rustic Man Cave
Focus on combining robust materials like stone and wood to give the space a masculine feel if you want to keep things simple. For a formal look, neutral colors are also advised.
3. Man Cave with Sports Bar and Mini Fridge
The fact that you don't have to leave your man cave to get a cool beer inside makes it unique. A full-size refrigerator or even a small one is a great addition.
4. Classic Style Man Cave
You can find a bar with a large TV, games, and a comfortable couch in this man cave. It is a tranquil man cave idea with a brown sofa sectional and an accent wall made of exposed brick for artwork and dartboards, making it even more unique.
5. Hobby Zone with Man Cave
While designing your man cave, keep it simple and emphasize only one hobby. This will help you have the space you need—just enough to do your chores. An under-stairs space or corner will be an addition.
6. Themed Delight Man Cave
By structuring your ideas into a theme, you can make your man cave design simpler. By merely including what you want and that fits your theme, you will save space in this manner.
7. Comfortable Man Cave
Your man cave must be visually appealing while you're having guests over. While it is also necessary to keep in mind that your man cave is still your home, even if it is a welcoming and comfortable space.
8. Luxurious Man Cave
Adding a few blind tiger accents, like imposing chairs, vintage glassware, and striking wall art will help you recreate some of the era's rough elegance in your man cave.
9. Man Cave with Pool Table
Regardless of the game, gaming tables are a must for every mancave. Invest in a nice felt pool table for a large area and a poker table for a small space.
10. Man Cave with Large Screen TV
As chilling is the main idea of a man cave, an entertainment center becomes its focal point. Having a large-screen TV unit with a huge coffee table will also help you relax.
11. Marvelous Me-Wall Man Cave
The use of multipurpose spaces in interior design is on the rise. All you need is a portion of the wall and some floor space. Choose a peaceful spot, preferably away from the hubbub of the home, and claim it as your man cave.
12. Man Cave with Lounging at the Arcade
This seamless transition from the bar to the arcade in the man cave ensures that the user doesn't have to wait for his beer to get cold. A couch can be an addition for entertainment in this man cave idea.
13. Cool Sports Decor For Man Cave
If you have sports memorabilia in your man cave, it will act as the perfect space for playing games with your guys. A T-shirt and poster display of your favorite team will be a nice touch.
14. Gaming Room Man Cave
Add a large-screen TV and other gaming accessories to your man cave for added gaming appeal. Having insulation, built-in shelving, and soundproofing will enhance your man cave experience.
15. Open Space in the Man Cave
This basement remodeling by Inhouse Architects provides extra open space for your man cave. The primary objective of this project was to provide space for a teenager to relax and hang out with friends.
16. Spa Inside Man Cave
One of the coolest ways to design a man cave is to transform your spa. Make the space more appealing and relaxing by installing a large-screen TV and a bar.
17. Basement Man Cave
Turning a basement into a man cave is a tough job with a low ceiling and no windows. But a basement presents one of the best spots for man cave designs.
18. Man Cave with Private Bar
The basement man cave provides a secluded feeling from the rest of the house, thus providing privacy. And if you have a private bar in it, it will get a boost of chill.
19. Unique Design of Man Cave
The unusual window angles and unique ceiling design provide depth and aura to this man cave. With a cool steel gray ceiling and black walls, the man cave gets a modern look.
20. Rugged Garage Man Cave
A rough and rugged finish will give your man cave an intriguing look. And if your man cave is in the garage, you can always decorate one corner while leaving the rest untouched.
21. Man Cave with Modern Cave Furniture
This apartment is located in Bucha, Ukraine. Its unconventional shape has an impact on its very unusual floor plan. The opaque sliding glass between the living room and bedroom provides privacy for your man cave. It is the best man cave essential.
22. Bibliophile's Den Style Man Cave
You can have your man cave designed with a reading theme. Add a personal library to augment your space. A comfortable seating area, adequate lighting, and shelving will prove to be excellent additions.
23. Light Layers in Man Cave
Proper lighting can have an impact on the design of your man cave. Make sure your basement has layers of lighting and intensities so you can create the right ambiance.
24. Sports Bar Man Cave
This man cave design will fit into your budget and provide an extraordinary entertainment and sports zone. Soft lighting and defining decor will make the space intimate and relaxed.
25. Brown Man Cave
Brown can be used to create a modern man cave look.Here, the fireplace on the opposite side makes for an intriguing visual contrast with the jerseys the left wall. It is the best mancave decor.
26. The Audiophile's Lair Man Cave
The most daunting part of man cave design is the thoughtful use of lighting. In this design, a clear focus is on the audio workshop. An ambiance that is conducive to inspiration is created by the dark DJ equipment and the smoky burnt sienna walls.
27. Rustic Old Western Saloon Style Man Cave
Several DIY man cave design ideas are available that will save you money and provide a design with unique decor elements. Here, the sink made out of an old whiskey barrel is an attraction.
28. Lavish Entrance in the Man Cave
Choose a double doorway with sliding front doors or an archway that contrasts with the rest of the interior. This impressive element in the man cave is like a secret entrance to the gentlemen's club. These are the best man cave ideas.
29. Light and Gray Shed Man Cave
Even little details can add depth to your man cave. The walls' distinctive geometric pattern is reminiscent of sheet metal, which fits perfectly with the bar's masculine vibe.
30. Rock 'n' Relax Man Cave
Not every man cave has to be built around a home theater or sports studio. In this man cave design, famous rock and roll bands from the 1970s are celebrated on the walls.
31. Upscale Decor Man Cave
Your best bet is to keep things basic when you don't want to go overboard with the decor but yet need a stylish space to unwind in.
32. Black Man Cave with Edgy Look
Dim lighting is ideal for a space that will be used largely for gaming and entertainment. Look around for lighting fixtures with striking designs, such as these chic hanging lamps that draw attention to the pool table. Let's see the design of man cave ideas.
33. Home Office Style Man Cave
You can even turn your man cave into your home office space. Patterned or textured wallpaper will help you add some character to your space.
34. Collapsible Ping Pong Man Cave
Ping pong is always fun, whether it's a friendly or competitive match. Choosing a table that can be folded up and stored until you're ready for another game is one way to add it to your man cave.
35. Two-in-One Table in Man Cave
A two-in-one games table is another ingenious solution to the space constraint in your man cave. You and your friends may quickly transition from a game of poker to a game of pool.
36. Man Cave with Masculine Energy
Put your collections and memorabilia on shelves. This is a fairly easy way to decorate the man cave and show off the things that bring you joy. You can see man cave furniture.
37. Charming Chandeliers Inside Man Cave
A sensible idea to provide warmth and coziness to a large man cave is to use a chandelier. Chandeliers are a useful design element in a space like this one because they direct your attention downward.
38. High-End Man Cave Decorations
People who can afford to create a high-end man cave can choose to buy expensive decor items. Lavish chandeliers, leather couches, and exquisite wine racks will be an addition.
39. Hunting Theme for Man Cave
Trophies can be displayed on one of the walls if you love hunting as a hobby or sport. To give the collection a dramatic look, add some accent lighting.
40. Man Cave Under the Night Sky
Designing a man cave can be challenging, especially when you are working with a theme. Shades of blue used for the furnishings and ceiling in the example image give the room an intriguing "starry night" feel.
41. Cabin Style Man Cave
To design a lodge-style man cave, you don't need to put in much effort. Keep things simple and rustic to get a cabin-style man cave.
42. Rustic and Wood Style Man Cave
Decorate the walls of your man cave to give it personality. Wood can help create a cabin-in-the-woods vibe.
43. Outdoor Man Cave Bar
The bar doesn't need to be an inside feature. The distinctive bar stools and wood planks go well with the outdoor color palettes of neutral hues.
44. Man Cave DIY Garage with A Private Bar
If you want to keep things simple, designate a small space in your garage as a welcoming bar where you can host friends. A mini-fridge, wood panel, and neon sign will be a great addition.
45. Luxury Modern Garage with Motorcycle in Man Cave
Here, a light gray floor and dark gray furniture will give the room a luxurious look. For a more aesthetically pleasing outcome, make sure all decor elements are in the same color scheme.
46. Ultimate Man Cave
When designing a man cave, think about all the different ways you'll utilize it and base your design on that. Consider how, in this instance, the exercise equipment perfectly complements the man cave d.
47. Man Cave with Unusual Ceilings
In this case, a unique design decision cleverly incorporated the unusual ceiling design into its decor. The poker table and the home theater are nicely divided by the ceiling.
48. Man Cave Garage Ideas with Biker Bar
It's a fun DIY project to convert your garage into a home bar. Biker bars may be a great source of design inspiration, especially if you're going for a more badass look in your man cave.
Build a Man Cave For Yourself!
Our man caves serve as our private sanctuaries where we may celebrate the variety of memories we've amassed throughout the years. A man cave is analogous to your closet. You have the chance to showcase your distinctive sense of style and personality. So go wild while building your man cave!
FAQs:
Why Should We Build a Man Cave?
You can build your man cave to get your own space for hobbies, relaxing, indulging in sports, or hanging out with friends. 
What Is the Cost of a Man Cave?
Depending on what you can afford, what you want to create, and how you create the man cave, the cost might range from $350 to $23,000. A typical price, including appliances and decoration, is $5500.
Which Room Is Best Suited to Be Converted into a Man Cave?
The garage or basement is the most suitable space for turning into a man cave. A bedroom, attic, or any other separate area of the house can also be used for this purpose. 
What Should Be the Size of the Man Cave?
The size of the man cave depends on the person and the type of activity he wants to do there. The following sizes are just for reference – 
PC gaming: 4.5′ x 4.75′
Poker/ Card games: 9′ x 9′
Pool Table: 13'4" x 17'
Foosball: 12′ x 5.5′
Darts (from the board): 7′ 9 1/4″ 
Bar area (for 4 people): 112″ x 105″
Who Should Own a Man Cave?
A man cave can be owned by any man who wants his own space to spend time alone, pursue hobbies, or relax. However, these are not the only reasons to own a man cave.
In case you missed it!