Determining whether it is cheaper to buy or build a house in 2023 depends on various factors, including location, local market conditions, construction costs, and personal preferences. Here are some considerations to help you make a decision:
Buying a House:
Existing housing Inventory which is defined as the availability of pre-built houses in the market can affect prices positively or negatively. If there is a surplus of homes, it may lead to more competitive prices.

Cost Comparing is essential: You should compare the prices of existing houses with the estimated cost of constructing a similar house in a similar or the same area. One should consider factors such as the size, location, condition, and amenities of the properties you are comparing.

Immediate Occupancy is a plus when buying a home verse building a home. With a pre-built house, you can move in quickly without waiting for your new home construction to be completed.

Negotiation opportunities are more frequent when dealing with sellers over builders. There may be opportunities to negotiate the price with the seller, potentially leading to a better deal.
Building a House:
Source: checkatrade.com
Being able to customize your home is an enormous benefit. Building a house allows you to customize it according to your preferences, which may increase satisfaction in the long term.

Construction costs go up and down based on market conditions. You should assess the current cost of construction materials and labor in your area. These costs can vary over time and across regions.

Is land available and is there a good supply in the area you want to build? You should consider the availability and cost of suitable land for construction in your desired location. Land prices can significantly impact the overall cost of building a house and land prices are higher in urban markets than rural areas.

You might even save money building a house. Building a house gives you the freedom to make choices that can save money in the long run, such as energy-efficient features or sustainable building practices.
How Long Do You Plan to Live There?
Whether you buy an existing house or build a new one it's important to know how long you want to live there. When building a home you're making an even bigger commitment because it's more time-consuming.
Costs of Building a New Home in 2023 Vs 2022
Source: investopedia.com
Prices continue to be elevated but most products are down from their peaks in 2022. The cost to build is still at an all-time high in most areas. The average cost to build a home can vary significantly depending on factors such as location, size, materials, design, and labor costs. It's challenging to provide an exact average cost since it can vary significantly across different regions and countries.
In the United States, as of 2022, the average cost to build a single-family home was around $300 per square foot according to some sources. Verifying that data is almost impossible because different regions had different prices. Depending on the type of home you build, there can be ranges from $150-$500 a foot according to Garrett Puckett CEO of Security America Mortgage. This cost includes construction materials, labor, permits, and site preparation but excludes the cost of land. Using this range, a 2,000-square-foot home could cost anywhere between $300,000 and $600,000.
To get a more accurate estimate, it's advisable to consult with local contractors or builders who can provide detailed cost breakdowns based on your specific requirements and location.
According to Forbes, the average cost in 2023 to build a home was 300K without the land. According to Jason Noble, COO of Security America Mortgage, it cost about 400K to build a home and Jason is actually doing one-time close construction loans on a daily basis. He loves helping Veterans with the VA one time close construction loan.
Buying an Existing Home, at a Glance
In 2022 there was much more competition in the housing market. Buyers were submitting multiple offers and often competing for homes in bidding wars. Although, that's still the case in some markets, for the most part, those bidding wars have cooled down. Higher interest rates and a slower economy have made it a little easier to buy.
Is It Cheaper to Buy or Build a House in Today's Market?
Source: nerdwallet.com
Is the cost to buy still at an all-time high in most areas too? That's a question Lenders often get in 2023. Although prices are still elevated in most markets there are signs of softening. It's essential to research the local real estate market, consult with professionals such as real estate agents, architects, and builders, and compare the costs and benefits specific to your circumstances. By doing thorough research and analysis, you can make an informed decision on whether it is cheaper to buy or build a house in 2023.
Should You Build or Buy a Home?
That all depends on the consumer and what's available in your market. Some consumers were on the sidelines in 2022 deciding if they should build or buy and now in 2023, they are revisiting both options.
What Are the Main Reasons in 2023 That You See People Choose to Build Vs Buy?
Source: kootenaybiz.com
The cost to buy homes is still very high so you can build your own home on your own land where you want and build what you want for a similar or cheaper price of an existing home. Many homes are 20+ years old and selling for more than new homes.
Is It Easier to Build a Home When You Already Own Land?
Most definitely yes! Getting a traditional construction loan or a one-time close construction loan is easier when you own land already. Here is a list of reasons you might want to buy the land first and then build:
Land equity reduces your loan risk and can benefit you on loan terms.

Having land already makes it easier to find a builder and get plans.

When you own your own land already the process can be expedited.

There isn't a time crunch to try to close on the land at the same time as your construction loan.
What Is the Most Expensive Part of Building a House?

Source: staticmb.com
The cost of building a house can vary depending on various factors such as location, size, materials used, and customization options. However, some components generally tend to be more expensive than others. The most expensive part of building a house is typically the construction itself, including labor and materials. Other significant costs include:
The foundation of most homes is usually concrete. In the past builders used piers and beams. The cost of laying the foundation includes excavation, concrete, and reinforcement. Those costs can be substantial and are dependent on concrete and labor prices.

Framing a home is more traditional but sometimes a concrete block is used. The construction of the structural frame, including walls, floors, and roof systems, can be costly, especially if using high-quality materials.

Roofing can range from solar roofs, metal roofs, tile roofs, or traditional shingles. A high-quality roofing system can be expensive depending on the chosen design and materials.

Windows and Doors range in quality and cost too. Energy-efficient windows and high-quality doors can significantly contribute to the overall cost of a house but can save you money in the long run. Sometimes there are tax credits for building a home that's energy efficient and environmentally friendly.

Plumbing and Electrical Systems are essential and can range in price. Installing plumbing and electrical systems throughout the house, including fixtures, wiring, and outlets, requires skilled labor and can be a significant expense.

Interior Finishes such as flooring, cabinetry, countertops, and tiling can add up quickly. Premium materials such as marble, granite, and slate will cost more than basic ceramic tile or basic laminate flooring.

HVAC System stands for heating, ventilation, and air conditioning. (HVAC) systems can be a significant investment, especially if incorporating advanced energy-efficient technologies that will help you recoup your investment over the long run.
The cost of land, permits, architectural design, and professional fees should also be considered when determining the total cost of building a house. Additionally, regional variations, market conditions, and individual preferences can greatly influence the overall expense.
Cons of Buying an Existing House
While buying an existing house can have its advantages, there are also several potential drawbacks to consider. Here are some common cons of buying an existing house:
Maintenance and Repairs on older homes often require more maintenance and repairs compared to newly constructed houses. Plumbing, electrical systems, roofing, and HVAC systems may need updates or replacements, and those costs can add up!

Limited Customizing options are possible with an existing house and depend on the layout and lot size. The layout, design, and features of the house may not perfectly align with your preferences or needs and that could require additional renovation or compromise.

Outdated Features like

popcorn ceilings

,

terrazzo floors, and single-pane windows could create a burden for you in the long run. Older houses are more likely to have outdated features. Amenities from the 1980s aren't the same as amenities in 2023. This could include older appliances, inefficient insulation, outdated wiring, or inadequate energy efficiency, leading to higher utility costs. Home warranty protection could help you mitigate old compliance issues.
Hidden Issues on existing houses may not be immediately apparent. These could include structural issues, water damage, pest infestations, or hazardous materials like asbestos or lead paint. Asbestos and lead paint issues should be disclosed by the seller and this is highly regulated in the real estate industry. Conducting a thorough inspection with a licensed inspector is crucial. Although, some issues may only become apparent after you move in and live in the home for ample time.

Lower Energy Efficiency is a problem with older houses. Older houses may not be as energy-efficient as newer constructions. Inefficient insulation, outdated windows, or older appliances can lead to higher energy bills.

Renovation Costs can include getting a renovation loan to help cover the cost of making your home more desirable. Often consumers will consider a renovation home loan or home equity loan. f you plan to renovate or remodel an existing house, the costs can add up quickly. Updating the kitchen, bathrooms, or other areas requires budgeting for renovations. One should be considered these costs alongside the purchase price.

A limited Warranty is normal for existing homes but a home warranty policy can be bought. Unlike newly constructed houses that often come with warranties on appliances, systems, and structural elements, buying an existing house typically means assuming any potential repair costs yourself or paying for a home warranty policy. Often times you can negotiate with the seller to pay for this policy.

Emotional attachment is often seen when dealing with a seller who has occupied a home for many years. It can take time and effort to make a used home feel like your home.
It's important to weigh these potential cons against the advantages of buying an existing house. Conducting a thorough inspection, considering renovation costs, and assessing your long-term goals can help you make an informed decision.
Financing a New Construction Home
There are several types of construction loans and the type that you choose will depend upon your situation. Security America Mortgage specializes in all home loans but they have a department dedicated to construction loans. They specialize in the one-time close construction loan. They are also a reputable lender that loves helping Military Veterans and service members of the United States Armed Forces. They offer a range of one-time close construction loans such as the VA Construction Loan, FHA Construction Loan, Conventional Construction Loan, and USDA Construction Loan.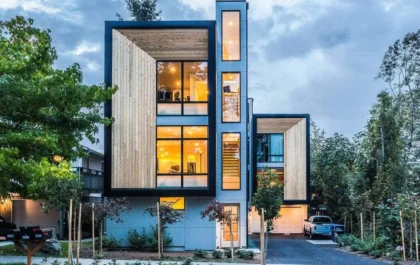 27+ Stylish & Modern Townhouse Designs for Urban Living.
The townhouse's first impression is normally too small, too compact, too narrower, and the list is endless. Well, let us…