Your roofing system is critical in protecting your property's interior and exterior areas. Due to their role in overall safety, you must choose a dependable, long-lasting, and durable roofing system, such as metal roofs. The demand for metal roofing has significantly increased in the commercial and residential sectors in the last decade.
The benefits it can provide for your business outweigh the minimal disadvantages of choosing metal. If you think metal roofing is suitable for you, here is a comprehensive buying and installation guide to ensure that you will make the right roofing choice:
Metal Roofing Styles
No matter what style, color, or finish you are after, you will find a type of metal roofing to match your needs. From the appeal of cedar shakes to the simplicity of asphalt, modern metal roofs collectively offer beauty and functionality as they effortlessly imitate the look of these traditional roofing materials. If you're unsure of which roof will suit your home the best, don't worry; you can check with a professional, like those at APEX Roofing, and learn more about the many options.
Metal Shingles:
Source: mcelroymetal.com
Pre-formed metal shingles are available for property owners who are after the classic look of asphalt. However, metal roofs are stronger and have three to four times the lifespan of standard asphalt shingles.
Metal Tile:
Source: safeharborexteriors.com
Standard tile roofs are heavy, yet they are oddly fragile and expensive to maintain. On the other hand, metal tiles perfectly capture the look of tile shingles but with the lightness and strength of steel.
Metal Shake:
Source: keithgreenconstruction.com
The metal shake is a premium substitute for the classic wooden shake. It has the authentic look of wood and various color choices. It is a lightweight and easy-to-install roofing material that can withstand severe winds.
Metal Slate:
Source: ontariometalroofingsales.ca
Pre-formed metal that mimics stone slate offers a distinctive look of slate tiles without a genuine slate's high cost and heaviness.
Standing Seam Panel:
Source: img.com
This type of metal roofing is also known as a vertical seam, this type of roofing available in multiple colors that provide a modern twist to the traditional look of metal roofs. It is also one of the most durable and weather-resistant roofs in the construction industry.
Stone-coated:
Source: windows.net
This metal roof style is at the high end of the cost range due to its long lifespan and practically nonexistent maintenance costs. Stone-coated roofing comes in various colors and textures that can complement any style.
Each of these metal roofing styles has its advantages and weak points. Choosing the right type for your property should also depend on the location of your build, ease of maintenance, and installation costs.
Metal Roofing Colors
Due to the placement and size of your roofing system, the color of your metal roof can affect the general aesthetic of your property. Luckily, the color choices available in metal roofing are virtually endless, giving you several color variations. Here are some dynamics to consider when selecting your roof color:
Contrast:
Selecting a roof color that perfectly blends with the existing color of your exterior walls can help raise property value and curb appeal. If you own a business and need to stand out, opt for a bright red color for your metal roof.
Dark-Colored Roof:
Source: westernstatesmetalroofing.com
Choosing a darker color for your metal roofing is highly beneficial if your property's location often has a cold climate and snowfall. Darker metal shingles can absorb heat faster, which helps melt the ice more efficiently.
Light-colored Roof:
Source: ii-img.com
If you need to add visual height to your commercial space or home, try having a metal roof in a lighter color to make your property appear taller. For instance, homes with a low-slope roof will appear higher if you apply a light-color shade.
You may also need to consider blending with your immediate environmental surroundings. In addition, be particular with the protective coating that you will apply to your metal roofing after installation. Think about your need for sustainability, durability, or cost-effectiveness to help you decide.
Also Read: When to Replace Your Roof: 8 Warning Signs to Look For
Metal Roofing Performance
Combined with roof hatches, the metal roofing's ability to perform in even the most challenging circumstances makes it the most ideal and reliable roofing system available today. If you're still not too keen on installing a metal roof for your business, here is a quick look at a metal roof's performance in various situations:
Noise:
Contrary to belief, it is no louder with rain or adverse weather than other roofing materials. This is due to the solid sheathing attached to the roof underlayment that helps insulate external noise.
Efficiency:
Metal roofing comes with a coating that has a cooling feature that helps repel heat. This also translates to reduced heating and cooling loads which means more energy savings for your business.
Lightning:
Another common misconception about metal roofs is that it attracts lightning. If lightning struck your metal roof, the electricity would spread across a larger space.
Solar Panel:
Due to their impressive durability and long lifespan, metal roofs are the ideal platform for solar panels. These roofs can even outlast solar panels, which prevent the panel's warranty from becoming invalid even if you replace the roof underneath. In addition, when installed on metal roofs, solar panel mounts will not put a hole in your roof, which means less opportunity for water penetration.
Sustainability:
One of the best things about this, it's the imost environmentally friendly roofing materials. Metal roofs are from 100% recycled material and are also 100% recyclable for most of their life.
Wildfires:
When used with the correct roofing components, metal roofing can meet a Class A fire rating. The rating requires roofing systems to meet or exceed various testing criteria outlined by UL 790 (ASTM E 108).
Snow and Ice:
Most metal roofs can carry heavy weight loads, such as snow and ice. In addition, many roofing styles encourage snow shedding and reduce ice damming due to their smooth surface.
Hurricanes:
In areas prone to storms, trust that your metal roof can withstand winds more than 140 mph (equal to an F2 tornado) and provide additional protection against flying debris.
In comparison to other roofing products, metal roofs are at the height of their game as it consistently demonstrates superior performance in a wide range of harsh weather conditions. Without a doubt, metal roofing easily outperforms other roofs in longevity, strength, resilience, and sustainability.
Do Your Research
Before you switch to metal roofing, it would be helpful to do your research. Although the choice of material is critical to your selection process, it is also essential for you to choose a quality metal roofing installer. Here are some useful pointers when seeking a roofer:
Before reaching out to your chosen roofer, it would be best to determine the type of roofing you want, including the color and style of roofing material.

Ensure that the roofing installer you hire has prior experience with metal roofing, is trained, and understands your needs.

Get reputable referrals from your contractor or trade alliances. Asking for referrals is crucial in the selection process and makes it easier to find a good roofer.

You must require proof of insurance, license, training certifications, and coverage before signing a contract. Verify all documentation if necessary.

Choose a payment scheme that does not require you to pay 100% of the roof estimate upfront. Discuss a suitable payment amount based on targeted points in the project. A professional and trustworthy roofer will understand that full payment is dependent on the success of the project.

Perform a complete assessment of the roof before handing over the final payment. Do not be afraid to ask questions for clarity and confirmation.

Properly document the roof manufacturer, installer information or contact details, and warranty details for future reference. Get the signed, final versions of all applicable warranties.
Remember that the extra effort you put in for your roofing system will eventually pay off in the years to come. Investing your time upfront gives you peace of mind knowing that your metal roofing is installed correctly and will perform as expected.
The Bottomline
North American manufactured metal roofs meet the highest industry standards for a commercial roof. During production, they are subject to rigorous performance tests to help ensure that your roofing investment will meet performance expectations and comply with necessary building codes.
Metal roofing is a valuable asset for your business as you can trust the material to protect and take care of your livelihood in the long run. It is an exceptional roofing choice as it is sustainable, impervious to fire and harsh weather conditions, and aesthetically pleasing. You can never go wrong with a metal roofing system despite higher upfront costs.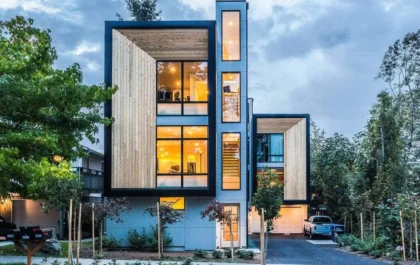 27+ Stylish & Modern Townhouse Designs for Urban Living.
The townhouse's first impression is normally too small, too compact, too narrower, and the list is endless. Well, let us…