Project Specifications:-
Architects – waa

Total Area – 2657 m2

Year – 2021

Principal Architect – Di Zhang & Jack Young

Structural Consultants – LAVA Structure

Location – Beijing, China
"In Play, you don't foresee an end product. It allows you to suspend judgment. Often the solution to one problem sparks a possibility for another set of problems… In the actual building of something, you see connections you could not possibly have foreseen on that scale unless you were physically there" says The American Artist Richard Serra. Let's see children's community centre.
Source: forgemind.net
The quote is relevant to the Playscape, a refurbishment project inside an industrial complex in Beijing, China. Designed by waa with the principal architects, Di Zhang and Jack Young, aims to enhance children's development by creating spaces that invite play and learning. 
The warehouse complex goes back to the 1970s where it was used as grain storage supported by other transport facilities. The clientele for this project was from the healthcare sector supporting the need to enhance children's development from a broad range of age groups through a sense of play and movement. 
The ideation for the design revolved around the concept of recreating a functioning neighborhood which was seen missing in modern Chinese cities. The experience of hustling streets, hawkers, and natural working of a city decades ago was an ideal development for children.
The entire concept revolved around creating experiences of streets with a sense of play. The learning here was envisioned to be catered through outdoors rather than through gizmos or screen times. To create this new neighborhood, inspiration was taken from the popular culture in the past to abstract its identity to create something new, altogether. 
Source: gavindesign.com
Here Are a Few Traits That the Playscape Was Focused On:-
The Adventure Playground –

A space inculcating balance in the form of risk-taking experiences through architecture. 

Hide & Seek –

A space dedicated to group interactions through free will and spatial freedom. 

Nook and Cranny –

Spaces designed for children with nooks and corners to explore and understand the various facets of ergonomics in architecture. This in turn enhances their cognitive skills. 

Maze Play –

Spaces that are a mystery where instead of a direct route, you are taken through an indirect way to navigate your path. These structures enhance the children's intuitive skills while making them enjoyable. 

Fantasy –

This space is restricted towards

landscape design

in the form of abstraction by removing all types of iconography. It also allows flexibility of movement. 
The concept of a playscape through these spaces is to promote an interactive form of learning by developing every sense. It is targeted towards creating balance and awareness through design.
The playscape is also centric towards nurturing emotional responses through a built environment where there is a range of various perspectives. All the play areas are centric towards enhancing the coordinative aspect of the children's development on a personal and social level. 
Architectural Elements
Source: pinimg.com
Over the entire structure, there are three main architectural interventions in the form of themes of the play. 
The Pipe 
Source: aliyuncs.com
This section focuses on smaller nooks to test the body awareness of a children's development. These elements are arrange in the form of series through connecting bridges and staircases. There is also a stable scale use all around the playscape. With walkways of 2.3 m, 1.7 m of staircases, 1.3 m of balustrades, and 0.4 m of external lighting,  the proportion of scale is relative to each other. 
Roof Elements
Source: forgemind.net
The roof explores unorthodox routes by creating a full loop from the terrace towards the mounds with the help of slides. This blurs the lines between accessible spaces and inaccessible spaces. The height variance of these spaces ranges from 7. To 4.3 m. With short and long routes, there is diversity in play. 
Mounds
Source: adsttc.com
To enhance the senses relate to balance and freedom in decision making, mounds are create. Mounds are architectural pieces that allow the children to explore as per their comfort. The harnessing area also adds a sense of creativity within the topography. The access for it is create through various stairs and nooks from the terrace level to allow innovative ways of using a single space. 
Program
Source: aisoutu.com
The program includes a cluster of existing warehouses that all encircle a courtyard. A public street is a part that gets disconnect from the south building which is again reconnect with the help of aerial bridges. These bridges link the roof terraces with each other and allow access in an innovative format. There are also private routes to access the adjoining kindergarten.
Playscape 1
There are two internal playscapes as per the age groups. The first one is a single level low pitch volume of 6 meters. This is mainly use by the age group of 2 – 4 years olds as a crawl space with various hanging fabrics. There is also a soft space topography for babies with an adjoining restaurant and library. 
Source: aisoutu.com
Playscape 2
This playscape is divide vertically into three levels in a tiere environment. This is for the age group of over 4 which includes a subterranean interactive environment with a steep climbing topography. It also has a suspended tensile net that connects with all the slides. 
Source: forgemind.net
Multifunctional classrooms are on the level 2 and 3 with a total capacity of 6 classrooms that can function at one go. The slide connects vertically over 7 meters from the classroom placed at level 1, inculcating play in the most basic learning practices. 
All the buildings on the site have terrace access for parents to observe their children while being able to access parents-related amenities like a terraced bar. This creates social inclusivity for all age groups. 
Source: aisoutu.com
What Do We Need Innovation In Learning?
Source: aliyuncs.com
Researchers have said that the initial years of children's development from the age of 4 to 8 is important to increase the kid's cognitive responses and shaping their overall physical and mental development. Children are observational, they observe and adapt from their surroundings.
Childhood is therefore an impactful journey that has an imprint on an individual's brain and mindset for a lifetime. With such a big responsibility, designing spaces that nurture positivity and learning becomes an important aspect when it comes to designing children-centric spaces. 
Playscape is one such phenomenon where play becomes a vital part of learning rather than a sidelined sphere. In schools, play areas are always time-bound and lack a sense of freedom, this misconception is change through the inclusivity of play as an integral part of The Playscape. 
Source: aliyuncs.com
Children are often bound to making a passive decision depending on the overall surroundings they are place in.t That's why it is important to make sure that this aspect is nurtured from an early stage. Here, the design focus was to address the missing elements of an inner-city dwelling.
Source: adsttc.com
The idea was to distort these scales and manipulate movement that inculcates sensory learning as a primary element through an interactive format. This Community Centre, The Playscape by waa thus, imagines nurturing children's development by encouraging it through adventure, play, and communal interactions. 
A futuristic yet humane community center in its own way, the Playscape, has initiated a global interest in innovative children-centric spaces through the eyes of kids themselves.
For more information about the latest architectural development, keep coming to Architecturesstyle.
Also, do follow us on our Instagram page, Architecturesstyleideas, to get daily updates.
Related posts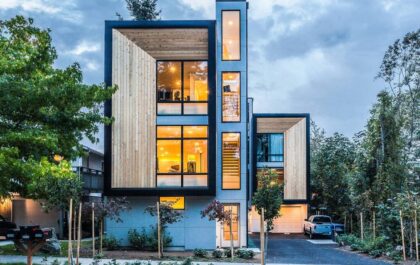 27+ Stylish & Modern Townhouse Designs for Urban Living.
The townhouse's first impression is normally too small, too compact, too narrower, and the list is endless. Well, let us…