Concrete Driveway designs are an impactful architectural touch that enhances the overall ambiance of your outdoor facade, even if it's the last thing you might notice. If you want the most bounce to the ounce in designing, check out these five ideas for your driveway.
You can DIY to spruce up your driveway only if you have the needed tools and skills. Your driveway will surely be in its most durable and beautiful state if you hire Los Angeles Decorative Concrete, professionals.
Decorative Concrete Overlays
1. Stamped Concrete
Source: eandjconcrete.com
Stamped Concrete is the top choice for outdoor areas like patios, courtyards, pool decks, and driveways. It can be put up quickly and easily, stand up to bad weather, and last longer than real bricks.
It also adds a high-end look to any driveway since you can add coloring agents to replicate the natural textures of stones and bricks.
The method for this design only news a new layer of newly poured wet concrete and a stamp with any of the following trendy design options:
Running Bond New Brick

Herringbone New Brick

European Fan

London Cobble

Ashlar Cut Slate

Stones of Athens

Wood Pattern
2. Scoring Concrete
Source: decorativeconcretewa.com.au
If you don't have stamping tools and the concrete has just dried and hardened, you can score it—also known as saw cutting. Clearly, for this job, you need a circular-bladed saw cutter.
But you should know that if you cut concrete too soon after it has dried, the cut edge will fray and look bad. While cutting expansion joints too late can cause more random cracking than would have happened.
Keep everything well placed, like your markings and the concrete itself, since it can be prone to error if handled without experience. Although this is one of the most heavy-duty concrete design works, it's still a satisfying way to add a bit of detail to your driveway.
3. Engraved Concrete
Source: angieslist.com
By cutting patterns and textures into cured or dried concrete, you can also change how it looks. Straight, curved, or serpentine lines are cut into the surface of the concrete to make unique designs and geometric patterns.
Because of the general description, it's easy to think it's the same as scoring, but it's not. For scoring, you only need a saw cutter or diamond blades. While for engraving, you need pneumatic tools and templates, which give you more design options.
It can use traditional patterns like brick, tile, stone, pavers, and other building materials, just like stamping. Also, it separates colors and gives the layout more depth.
Whether you want to make unique images or classic patterns, these are the ways to engrave concrete:
Diamond blades abrasion

Sandblasting

Shotblasting

Micro-rod impaction

Reciprocating stylus.
4. Stenciled Concrete
Source: hzcdn.com
You can change the look of your driveway with a concrete overlay or a sticky stencil. Concrete floors with stencils are popular both indoors and outdoors. Using these stencils, you can make many patterns that look like carpet or fabric.
Simple geometric illusions or patterns of flowers can look like carpets. The driveway needs to look nice, of course. But it's all up to you if you want to put extraordinary, flowing patterns on even your driveway.
Also Read: Outdoor Living: Take the Inside Comfort Outside with Garden Furniture
5. Exposed Aggregate
Source: panoramaconcrete.com.au
Exposed aggregate is a traditional and easy way to design your driveway since all you have to do to show off the beauty of the concrete is sand off the top layer.
It is a true classic because it was the first method ever used, long before any other ones on this list. It's subtle but noticeable because the coarse decorative aggregate mixed into the concrete or sprinkled on top gives it more than just a look—it also gives it a feel.
The colors on an exposed aggregate surface depend significantly on the type of decorative stone used. Also, it's worth it because you don't have to use expensive aggregates to get great results.
Top-Notch Driveway
Pick something that matches the style of your house. If you can't choose, you can combine the above options.
For example, you can cut a pattern into exposed aggregate concrete or carve an icon in the middle of a stamped brick walkway.
Just make sure that this is taken care of by professionals so that mistakes don't cost you a lot of money.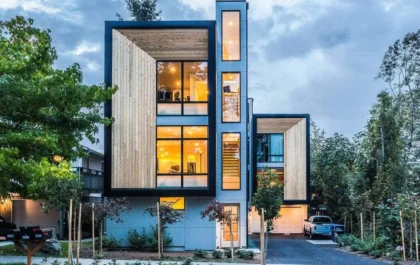 27+ Stylish & Modern Townhouse Designs for Urban Living.
The townhouse's first impression is normally too small, too compact, too narrower, and the list is endless. Well, let us…