Modern Pool Decks should be beautiful, environment-friendly, and visually interesting, which will attract the owner and his guests.
The Pool Decks are considered technically complex, and therefore, their installation and maintenance should be carried out by people with extensive practical experience. During the construction work, even a slight technical deviation from the norms, any violation, is not allowed, as this can lead to another failure of the pool.
Eco-friendly Pool Decks are important in today's world; their installation must be carried out following modern building codes. The foundation of the pool must comply with current regulations and a high-quality filtration system. At Safestep, you can explore a variety of affordable, eco-friendly Pool Decks, purchasing which gives you a pool that is characterized by quality, durability, and ease of maintenance.
Environmentally friendly Pool Decks meet modern environmental safety standards and are characterized by modern production technologies. High-quality materials and proven technologies guarantee durability, ease of maintenance, and an appropriate level of comfort.
How Rubber Pool Deck Surfaces Differ from Conventional Materials
Pool Deck Rubber, aside from the usual benefits of adding value and enhancing appearance, also has many other key benefits, especially when it comes to durability and comfort.
The rubber surface for the Pool Deck is elastic. Unlike conventional Pool Deck surface materials, rubber surfaces can be stretched without breaking. This means that regular maintenance of these types of surfaces extends the service life.
The rubber surface stays cooler during hot weather; the rubber remains much cooler under direct sunlight and high ambient temperatures. Ordinary surfaces can heat up to high temperatures that can cause second and third-degree burns. The rubber surface for the Pool Deck does not heat up too much in the sun, so you will not get burned.
Compare the current prices of Pool Deck surfaces: the difference in the price of ordinary materials and rubber Pool Deck surfaces per square meter is quite large. Before you confirm the final price, think about what you are getting for your money.
Conventional materials for Pool Deck surfaces require sealing every 2-3 years. Conventional materials are very slippery when wet, and the temperature of conventional materials can be very high in direct sunlight. Pool Deck rubber surfaces require sealing every 5 years. Rubber surfaces provide an excellent anti-slip effect; such surfaces remain quite cool even under direct sunlight, and they are quite smooth and flexible.
Environmental Benefits of Using Rubber for Pool Decks
Pool Deck Rubber Flooring is a type of surface covering made primarily of rubber. It is designed to provide many benefits, such as safety, durability, comfort, and versatility.
Pool Deck Rubber Surfaces can be used in a variety of indoor and outdoor environments and provide several environmental benefits from their use. One of the main advantages of rubber surfaces for Pool Deck is their high safety.
The rubber material used on these surfaces provides excellent shock absorption and reduces the risk of injury in the event of a fall. The rubber surface provides a cushioning effect, reduces the load on the joints, and reduces the risk of serious injuries.
Regular cleaning is sufficient for keeping the rubber surfaces of the Pool Deck clean. Also, the smooth structure of the surface of the pool deck gives a good environment, as there are no joints or seams where dirt and bacteria can gather.
If you want to reduce waste and conserve natural resources, many rubber surfaces are made from recycled materials, such as recycled tires.
In addition, the durability and service life of the Pool Deck rubber surface reduces the need for frequent replacement, further reducing waste generation. In addition to the key environmental benefits of the Pool Deck rubber surface listed above, other environmental factors should be considered. Some rubber surfaces may emit volatile organic compounds or have a strong odor.
Look for environmentally friendly products that have low emissions and are certified for safe indoor air quality.
The Life Cycle of Rubber Pool Deck Surfaces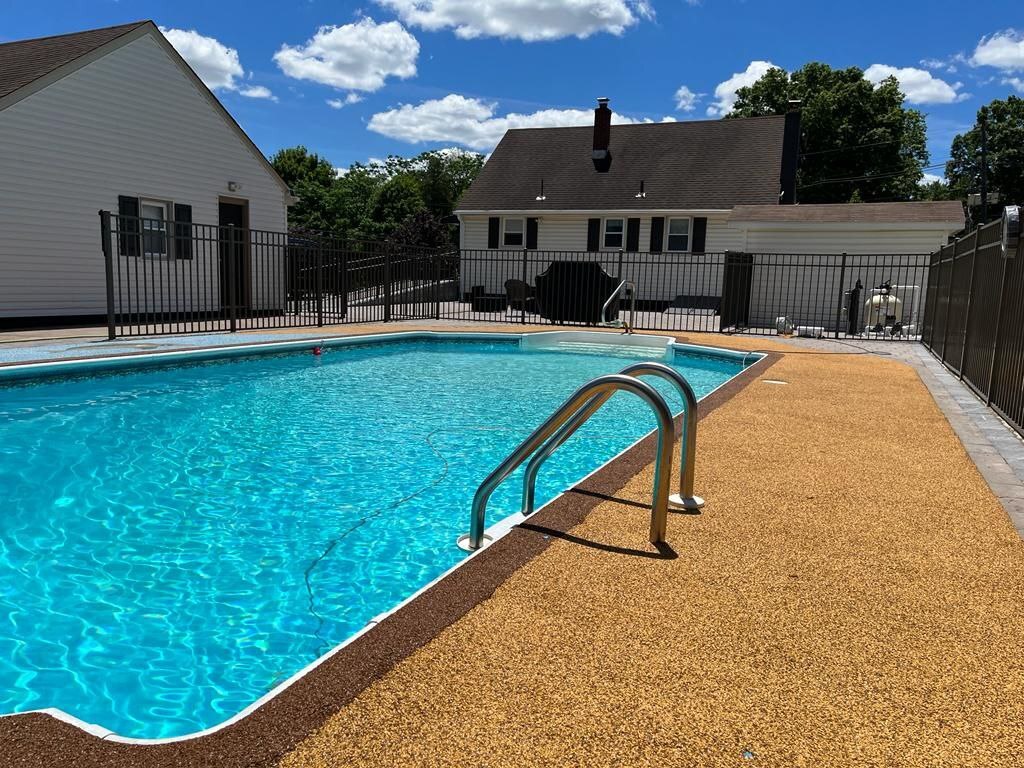 Nowadays, there are many different covering options available for Pool Decks. The life cycle of rubber surfaces for Pool Decks exceeds all hard surface options.
When you put a hard, brittle surface on top of concrete, it's doomed from the start. As you know, concrete expands and contracts under the influence of moisture and environmental temperature changes. So, when the hard, brittle surface of Pool Decks is placed over the concrete, it is only a matter of time before it cracks. When this happens, the process of erosion begins.
The premium rubber surface for Pool Decks and its life cycle is long because it expands and contracts with the concrete, which prevents the appearance of cracks and various damages, and the maintenance process of this surface is as simple and easy as possible.
The Biodegradability and Recyclability of Rubber Pool Deck Surfaces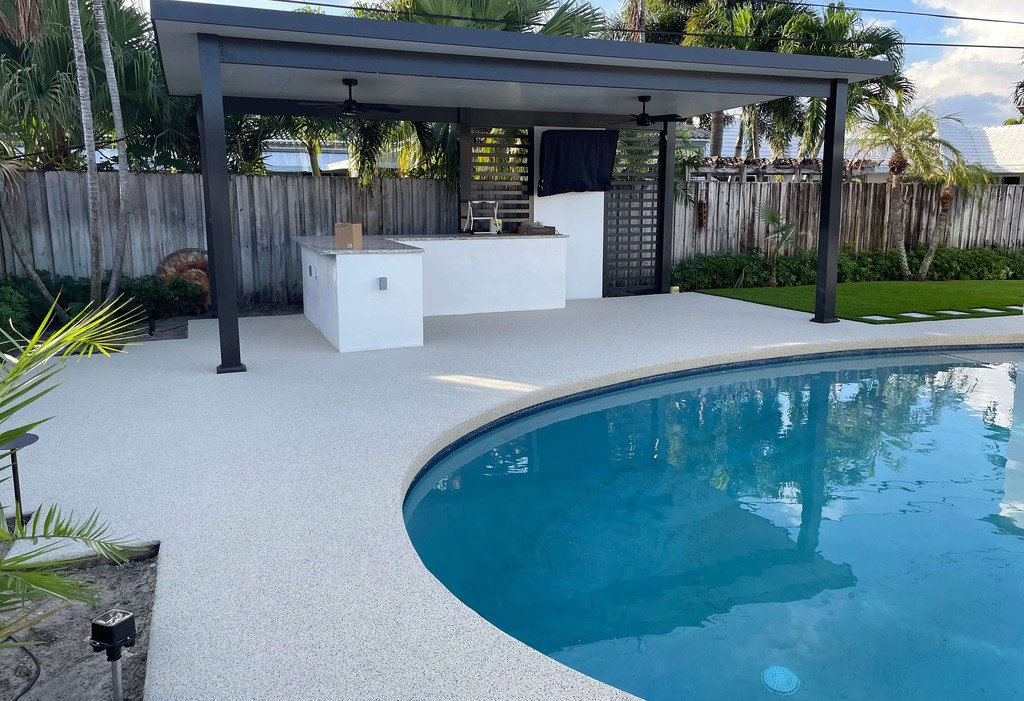 The rubber surface for Pool Decks is a win-win in all respects, as it has high biodegradability and recyclability. If you are serious about high-quality and environmentally friendly products, Recycled Rubber for Pool Decks is your choice.
The use of recycled rubber material not only provides a solution to a huge environmental problem, but it is the recycled rubber material that allows the surfaces for Pool Decks to maintain the highest quality. Plus, with rubber for Pool Decks, you stay environmentally and financially conscious.
The Minimal Maintenance Requirements of Rubber Pool Deck Surfaces
The minimum requirements for the maintenance of the rubber coating for Pool Decks are quite clear because this type of surface is relatively easy to care for; the very process of maintaining the rubber coating for Pool Decks requires minimal effort and minimal labor resources from the owner. This type of coating is non-porous, which makes it resistant to stains and spills.
Regular wet cleaning of the rubber surface is usually more than enough to keep the surface clean and in good condition.
Conclusion
In conclusion, we would say that eco-friendly pool decks are very important. Environmentally friendly Pool Decks meet modern environmental safety standards and are characterized by modern production technologies. Eco-friendly pool decks easily adapt to any decor and make your pool unforgettable for you and your guests.
In Case You Missed It