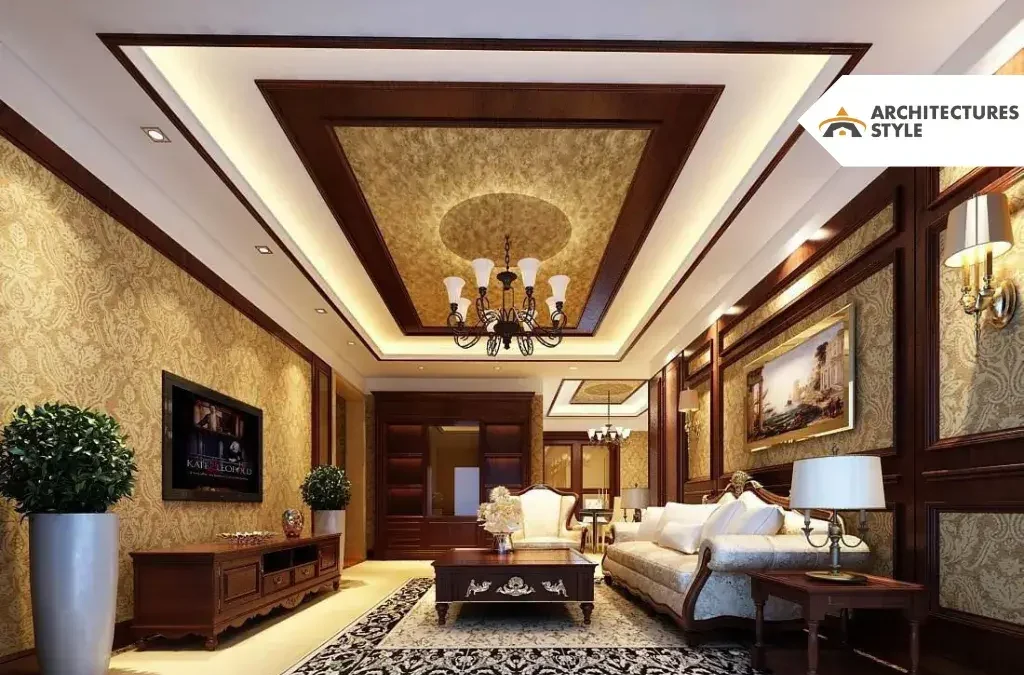 False ceilings have become one of the top choices of interior designers and architects when it comes to the interior design of residential and commercial spaces. From improving the aesthetics to adding more functionality to the space, false ceilings are the best ways to transform a home, and that too without spending a fortune!

False ceilings, also known as dropped ceilings or suspended ceilings, are secondary ceilings that are installed under the main ceiling. From the living room to the bedroom, you can install a false ceiling design in any room of your home and elevate the ambience.

So, if you want to know more about false ceilings or have already made a decision to get one but have yet to decide which one, this blog is for you! Today, I will be explaining everything about false ceiling designs. From types of false ceilings to areas to get false ceilings, I've tried to cover all the important information along with the latest false ceiling ideas to inspire your next home design project.
What is a False Ceiling Design?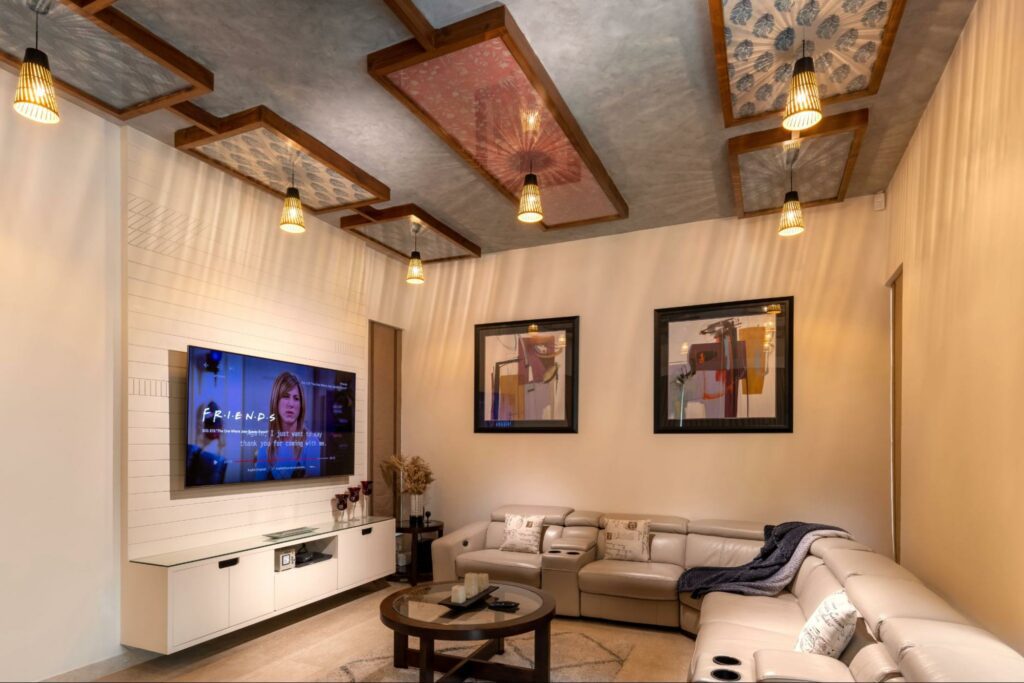 A false ceiling is an artificial ceiling that hangs just below the main structural ceiling of a room. It is usually made from gypsum, plaster of paris (POP), wood, PVC, glass, or metal. These ceilings are versatile and customisable, so you can get them in any shape, size, and material as per your requirements for a specific space and budget.
Let's take a closer look at some of the best false ceiling design ideas for different spaces.
False Ceiling Ideas For Different Rooms
1. Simple False Ceiling Designs for Hall
Simple and elegant false ceilings also make quite a statement in areas like the hall. Specifically, this area is one of the places in the house where we mostly hang out with our family and friends, so it's important to make it comfortable and inviting.
You can either go with a basic box-shaped design with recessed lighting or try a minimalistic look with a POP false ceiling. You can also add different types of lighting to create a vibrant yet sophisticated appearance.
2. Modern False Ceiling Designs for Living Room
Modern false ceilings are all about creating spaces that are functional as well as aesthetically pleasing. Choose a false ceiling design for living room with unique geometric shapes or intricate latticework, as they look stunning. To make your ceiling stand out, add a large glass chandelier or structural pendant light over the seating area.
3. Basic False Ceiling for kitchen
The kitchen is another part of our homes that can't be overlooked! If you're someone who doesn't want anything extravagant or over the top in their cooking space, try false ceilings with simple designs like the above one. Another great option is the PVC (Poly Vinyl Chloride) false ceiling because it's resistant to moisture and grease. Additionally, they can also conceal wiring and ventilation systems, giving a clean and sleek overall look.
4. Latest False Ceiling for Bedroom
Uplift your bedroom ambience with fancy mood lighting and the latest false ceiling designs. These two things can instantly turn your boring room into a space of ultimate comfort. From sleek rectangle false ceilings to contemporary split false ceilings, there are numerous options for roof design ideas.
5. Modern False Ceiling for Bedroom
Classy and elegant—these two words immediately come to mind after seeing the above bedroom picture.
This is a perfect false ceiling idea for people who don't want anything bright but want to add a fun element. Here, only three neutral colours have been used: white, beige, and brown. Try this false ceiling design for your bedroom and elevate the entire environment.
6. False Ceiling for Office
Whether you're working from home or in a regular office building, aesthetics do matter a lot! So, select the best office roof designs to boost the ambience as well as productivity. You can either select the design based on your brand (colours) to increase your brand awareness among visitors or something completely unique and innovative.
7. False Ceiling for Kitchen
While selecting a ceiling design for your cooking place, select false ceiling materials carefully. Why is that so? The kitchen means cooking, which means heat and moisture! Some materials can easily burn or get damaged in the kitchen conditions of Indian homes.
8. False Ceiling for Bathroom
Some great false ceiling materials to spruce up your bathroom are acrylic, gypsum, wood, and glass.
Look at this bath space, where wooden panels along with marble floors have been used. This combo gives the space a luxurious and relaxing environment. The heaviness of the marble is well-balanced by the wooden ceilings and bright lighting.
9. False Ceiling for Balcony
When building or renovating our homes, we shouldn't neglect the balcony or outdoor spaces. These are extensions of our homes that deserve just as much love and attention. From simple plywood false ceiling designs to curved roof designs, there are several creative ways to decorate this space.
10. False Ceiling for Dining Room
Try this trendy false ceiling idea for your dining room! These days, adding a small wooden or plywood to the base of the island-style false ceiling is becoming a big trend. Try these ideas in other materials, such as PVC, metal, or glass, and add some fancy recessed lighting to decorate your dining hall. A fan or chandelier can also be installed to give the space a modern and lavish look.
Types of False Ceiling Designs
So, how to design false ceiling?
Keep reading to learn how to select the best false ceiling design for your home!
Based of Materials:
One of the significant factors that you should consider while selecting roof designs for your space is material. You can choose the materials based on the style and place where you want to install your false ceiling.
Here is a list of popular false ceiling materials available on the market:
1. Gypsum False Ceiling
Cost: ₹50–₹150 (Per Sq Ft)
Many homeowners in India prefer to have gypsum false ceiling designs because they are versatile and affordable. As we all know, gypsum comes from calcium, and this is why it is extremely lightweight, which is helpful in creating various designs. Available in a wide range of designs and styles, gypsum false ceilings are also easy to install.
2. Plaster of Paris (POP) False Ceiling
Cost: ₹50–₹150 (Per Sq Ft)
This is another one of the most popular types of ceilings in India. You might have these types of ceilings in your neighbourhood, as this material gives a smooth finish and flexibility to create various intricate designs. It also has good insulating and sound absorption properties, making it perfect for both residential and commercial use. However, POP false ceilings are costlier than gypsum false ceiling designs. So, if you want to add a touch of elegance and luxury to your apartment, POP false ceilings will be a great option to consider.
3. Wooden False Ceiling
Cost: ₹80–₹650 (Per Sq Ft)
Do you want to add a warm and inviting touch to your space? If yes, then think only about wooden false ceilings and nothing else!
As their name suggests, wooden ceilings are made of timber or plywood and are widely used in various types of buildings. These false ceilings have a beautiful and natural grain and texture, which make every ceiling unique. Wooden ceilings are usually attached to metal frames, and they offer a rustic or traditional ambience. However, this roof option is expensive, which is why it is more commonly found in homes than in big commercial projects.
4. PVC False Ceiling Panels
Cost: ₹50 – ₹80 (Per Sq Ft)
PVC, or Poly Vinyl Chloride Planks, is a type of plastic false ceiling that can be used for both domestic and commercial spaces. They're lightweight, easy to install, and moisture-resistant, making them perfect for areas like kitchens and bathrooms.
They're available in a variety of different colours, styles, and textures, so you can install them anywhere in your house. You can also install these plants horizontally, vertically, diagonally, or create any design of your choice. So, this time, try this cost-effective false ceiling design option and make your space look amazing!
5. Glass False Ceiling
Cost: ₹40 – ₹120 (Per Sq Ft)
Bring modernity and elegance to your space with the trendy glass ceilings. These types of false ceilings have transparent, tempered glass panels (don't worry, they're safe). Glass ceilings allow natural light into the room, making your space appear bigger and brighter. The best part about these false ceiling design ideas is that they're super easy to clean and maintain while looking stylish. So, if you want to give your home a sleek and contemporary look, go with glass false ceilings.
6. Metal False Ceiling Tiles
Cost: ₹200 – ₹400 (Per Sq Ft)
Metal ceilings are generally made from steel or aluminium. You can already guess from these materials that this false ceiling is extremely durable and long-lasting. Metal false ceilings are available in panels and various sizes. You can easily install them, and they also need less maintenance. If your home has visible AC ducts, electric wires, or water pipes, metal false ceilings are a wonderful way to hide all these things. You can even customise them as per your interiors to increase the overall aesthetic appeal of your room.
Based of Design:
Now that you know the major materials of false ceilings, it's finally time to look at the latest roof designs in 2023. You can select any false ceiling idea according to your budget, style, and design of choice.
So, let's take a look at the top false ceiling designs available to homeowners:
1. Single & Multi-Layered False Ceilings
Single-layered ceilings are probably the simplest type of false ceiling, as they only contain one layer of gypsum board or PVC panels. On the other hand, multi-layered false ceilings have two or more layers of material.
If you're looking for a basic and cost-effective roof design, a single-layer false ceiling will be good. On the other side, the multi-layered ceiling designs have expensive materials and bright colours to create a bold and striking visual impact. Now, it's up to you to decide which one to choose.
2. Coffered False Ceiling
Coffered ceilings have been used for ages to add architectural details to buildings. These types of false ceiling designs can be used in both traditional and modern settings. From simple geometric shapes like rectangles and squares to unusual octagonal grids, these ceilings can be installed in several ways or styles. Don't think they're only for dining rooms; coffered ceilings also look great in living spaces and family rooms.
3. Boxes in False Ceiling
Box-shaped designs involve creating rectangular or square sections in the ceiling, often with varying levels, to add depth and visual interest. These can be combined with different materials and lighting options to create a unique look.
If you feel your room lacks fun and drama, add box-shaped ceilings and transform the entire vibe! These false ceilings will surely add wonderful visual interest and become the focal point of the space. Not only do they look great, but they are also quite practical, as they can cover up all the unwanted electrical wires, pipes, and ducts. For inspiration, take a look at the above pictures!
4. Peripheral False Ceiling Design
The next ceiling design for you is the peripheral false ceiling, which is usually installed along the corners of the room. This is a great addition to houses with low-ceiling. You can also add recessed lighting, chandeliers, or pendant lights to create an intimate and stunning environment.
5. Geometric False Ceiling Design
For a modern and artistic look, go for a ceiling with geometric patterns! Try hexagons, triangles, or something completely personalized. These ceilings will effortlessly convert a boring room into a stylish designer place.
6. Intricate Latticework Roof Designs
Glam up any room of your home with the most beautiful false ceiling designs on the list. Yes, we're talking about the intricate latticework false ceilings!
7. Wooden Slats Ceiling Design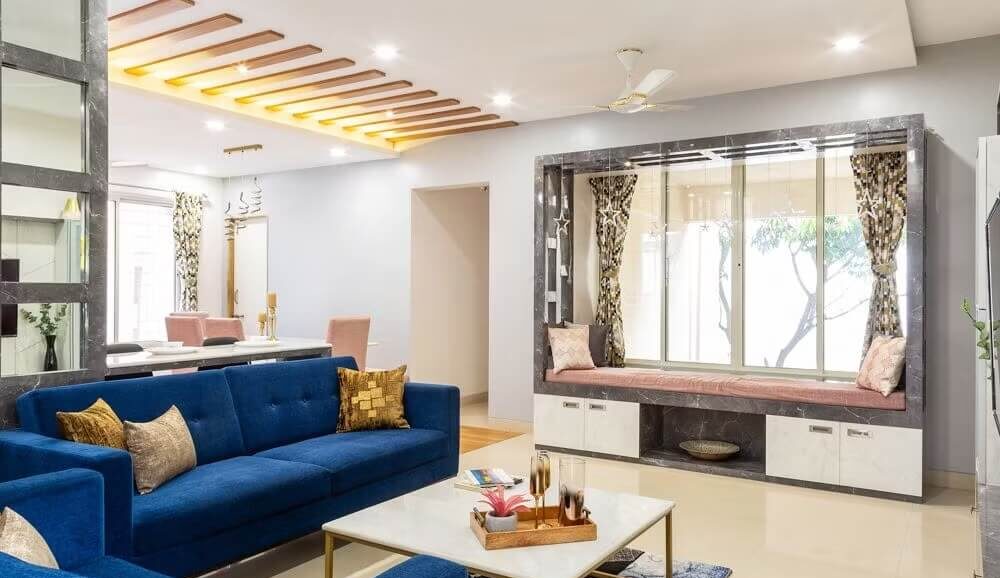 Wooden slats are the best way to make simple-looking ceilings look modern and trendy instantly. Add a few wooden slats to bring warmth and texture to any space, whether it's your office or bedroom!
8. Inverted Cove False Ceiling Design
Do you have extremely high ceilings? Here's the best you can do: add inverted cove ceilings! These roofs are installed inverted or upside down to cover the extra height of the room. This is why you'll get both depth and dimension without spending too much on the interiors!
9. False Ceiling Design For Kids' Room
While designing your little one's room, try to be creative and experiment with playful designs. Look at the above room to get ideas and inspiration! Here, cloud-shaped designs have been used to make the ceiling entertaining and interesting for children. Similarly, you can also add asymmetrical shapes or patterns, various materials, and colorful elements to your creative false ceiling design ideas.
10. Fibre False Ceiling Design
You may have already guessed that these types of false ceilings are made of natural and synthetic materials. These ceiling tiles are an excellent choice for commercial spaces like home theatre, shopping malls, retail showrooms, or offices where sound insulation is required. These false ceiling designs look pretty, are lightweight, and they're also quite easy to install.
FAQs
What Is the Commonly Used False Ceiling?
Some of the most popular false ceiling materials are POP, gypsum, and wood. The most commonly used false ceiling designs are layered and recessed ceilings. 
Are false ceilings only for decorative purposes?
False ceilings have both decorative and functional purposes. For example, unique false ceiling designs are used to enhance the overall aesthetics of a room and, at the same time, can be installed to conceal water pipes and wires. 
Which false ceiling design is best for a small room?
For small spaces, false ceiling designs like boxed ceilings, coffered ceilings, and multi-layered designs work the best. These ceiling designs will create the illusion of height while adding visual interest to the room. 
Can I install a false ceiling in an existing room?
Yes, false ceilings can easily be installed in your current room without making any major structural changes. However, it's always best to consult a professional to make the installation process smooth and hassle-free. 
What type of lighting works best with false ceilings?
The lighting is based mainly on your false ceiling design and the purpose of the space. You can select anything from recessed lighting and pendant lights to LED strips and chandeliers to create the perfect ambience. 
Get a Stylish Space With False Ceiling Designs!
Today, false ceilings are one of the best ways to add style and functionality to any space in your home. From expensive wooden false ceilings for a bold look to POP ceilings for a minimalist look, you can choose the roof design as per your room's size, style preferences, and budget. Take inspiration from the latest and modern false ceiling designs mentioned above and transform your living spaces to reflect your personality.
Explore Further
10 Interior Design Tips and Tricks to Make Your Home Look Bigger
How Much Window Replacement Cost? A Complete Guide