Windows are a crucial part of our home as they help with ventilation and light. They also serve an aesthetic purpose by offering scenic views. Most homeowners use windows to improve the functionality as well as the interior design of the house. However, windows don't last forever and may need repair or replacement from time to time. If you are planning to install new windows at your house, this guide will help you set a budget. In this article, we are going to discuss window replacement costs in detail.
Average Window Replacement Cost
The average cost to replace windows depends on a bunch of things. The kind of windows, how many you need, the style and materials you pick, the condition of your home, and the cost of labor are all factors.
The price can vary a lot based on these alternatives. Here's an estimate of the window replacement cost to give you a rough idea of the total cost. But remember, the actual cost can change a lot based on the products you choose and how you wish to install the window.
| | |
| --- | --- |
| Average cost | $300 to $800 |
| Highest cost | $800 to $2,000+ |
| Lowest cost | $200 to $300 |
How Much Do New Windows Cost?
Installing new windows can be very costly, and it is important to figure out the cost beforehand. A variety of facets can affect how much it'll cost.
Major cost factors include the sort of windows you want and the materials they're made of. You'll also need to consider making your windows energy-efficient, the brand, the place you want to install the windows, and the cost of labor.
Here are the cost details:
| | |
| --- | --- |
| Window cost (Regular-sized double-hung vinyl window) | $200 to $500 |
| Labor cost (Per window installation) | $100 to $300 |
| Labor cost (Per hour, per worker) | About $40 |
It ideally takes a crew of a minimum of two professionals around an hour to put in one window on the ground floor. If the windows are hard to get to or are really big, the labor costs might be higher.
Even though replacing windows can be expensive, they tend to last for 15 to 25 years. Plus, window replacements can make your home more valuable. When you sell your house, you can usually get back most of what you spent because your home will be worth more.
Double Pane Window Cost Breakdown
One of the most common types of windows people install is the double-pane window. This type of window is great because it keeps your home warmer and helps save energy. They also help to reduce outside noise much better than windows with just one layer of glass.
On average, double-pane windows usually cost about $900. However, the actual price can range from $280 to $1,500 per window. Here's the pane window cost breakdown:
| | |
| --- | --- |
| Window material cost | $200 to $800 |
| Labor cost | $100 to $300 |
| Additional features | $50 to $200 |
| Frame type | $50 to $200 |
| Window size and style | $100 to $500 |
| Location of installation | $50 to $200 |
| Energy efficiency upgrades | $50 to $200 |
| Warranty and brand | $100 to $500 |
These are approximate cost ranges and can vary depending on various factors. For precise cost estimates, request quotes from local window suppliers or contractors.
Window Replacement Cost by Material
Windows are available in different materials. The type of material used for window frames affects the cost. Here's the window replacement cost on the basis of material:
| | | |
| --- | --- | --- |
| Window Frame Type | Average Cost per Window | Cost Range per Window |
| Aluminum | $290 | $80 to $500 |
| Wood | $525 | $250 to $800 |
| Vinyl | $375 | $150 to $600 |
| Fiberglass | $1,050 | $700 to $1,400 |
| Composite | $850 | $400 to $1,300 |
1. Aluminum
Cost range per window: $80 to $500
Average cost per window: $290
Most of the time, aluminum frames are the least expensive choice. But they might not be the most energy-efficient if they don't have any padding to keep the heat in. They last a long time and don't need much care, but they may need regular upkeep.
2. Vinyl
Cost range per window: $150 to $600
Average cost per window: $375
Vinyl frames strike a good balance between energy efficiency and durability. They require little maintenance and have a long lifespan. Some vinyl frames can be customized to look like classic wood windows at a lower cost.
3. Wood
Cost range per window: $250 to $800
Average cost per window: $525
Wood frames offer a timeless style with various customization options. You can paint or stain them in different colors to match the theme of your home. But they need the most maintenance and care.
4. Composite
Cost range per window: $400 to $1,300
Average cost per window: $850
Composite frames combine wood with materials like aluminum or PVC polymers. They are more durable than vinyl or wood frames.
5. Fiberglass
Cost range per window: $700 to $1,400
Average cost per window: $1,050
Not many people have fiberglass windows, but they last a long time. The best thing about them is that they don't need much care. They can stand up to the weather and keep out cold temperatures very well.
Cost by Window Type and Size
Windows have the power to make a room feel very different. You can choose from a wide range of window types, from simple ones like casement and single-hung to more fancy ones that will add a touch of charm.
We made a table with the prices of the most common window types to make things easier for you.
| | | |
| --- | --- | --- |
| Window Type | Average | Cost Range |
| Picture | $300 to $800 | $65 to $1,200 |
| Casement | $300 to $600 | $150 to $1,200 |
| Single hung | $200 to $600 | $150 to $800 |
| Double hung | $300 to $650 | $150 to $800 |
| Skylight | $1,000 to $2,000 | $900 to $2,500 |
| Sliding | $300 to $800 | $150 to $2,000 |
| Storm | $150 to $300 | $90 to $450 |
| Hopper | $170 to $600 | $150 to $650 |
| Jalousie | $180 to $370 | $170 to $380 |
| Egress | $170 to $750 | $100 to $1,000 |
| Bay | $1,700 to $3,500 | $500 to $7,000 |
1. Picture
Fixed windows are known for their larger sizes and custom designs. They can cost anywhere from $65 to over $1,200. A traditional replacement picture window typically falls in the range of $300 to $800. This includes the installation.
2. Casement
Casement windows open with a hand crank and typically swing outward. Their average cost is around $300 to $600 per window. It includes the labor cost as well. But the price can range from $150 to $1,200 or more depending on the specific window and size.
3. Single-hung
Single-hung windows have a fixed upper part and a lower part that opens vertically. Prices for single-hung windows range from about $150 to over $800. The cost of work is usually between $200 and $600 per window.
4. Double-hung
A lot of people choose double-hung windows for their homes. There are openable sashes on both the top and bottom of these windows. Double-hung windows cost about the same as single-hung windows. It can be anywhere from $150 to more than $800. You can expect to pay between $300 and $650 per window.
5. Sliding
Sliding windows are also known as gliders. There is one fixed sash and one moving sash in these windows. They are usually low to the ground, so they are easy to clean. Prices range from $150 to more than $2,000, with $300 to $800 being the middle price.
6. Storm
Storm windows keep out the cold and protect you even more. They cost between $90 and $450 per window and can be put on permanently or taken off. Most of the time, a storm window costs between $150 and $300.
7. Skylight
You can put a skylight in the ceiling or the top, and it can be open or closed. Because they can be hard to get to, they can be pretty pricey, ranging from $900 to $2,500 per window. A new roof can cost anywhere from $1,000 to $2,000 on average.
8. Egress
Most of the time, you can find egress windows in basements and attics. They are available as emergency exits. Their costs range from about $100 to $1,000 or more. Most escape windows cost between $200 and $500 each.
9. Bay
Bay windows stick out from the wall and are usually bigger with more than one opening. Because they are more complicated, they cost more. Prices range from $500 to over $7,000. Most of the time, changing bay windows costs between $1,700 and $3,500.
10. Hopper
Hopper windows open inward and are similar to awning windows. Most of the time, they cost $150 to $650 or more.
11. Jalousie
Also called louvered windows, these work like blinds that you can easily open and close. They are widespread in tropical areas and typically cost between $170 and $380.
Whole House Window Replacement Cost
There are a lot of things that affect how much it costs to substitute all of your windows. You need to think about how many windows you need, how much the work will cost, and what kind of windows you want.
The table below shows some rough figures to give you a sense of window replacement cost.
These figures are based on the fact that windows usually cost $600 each, and labor costs $40 an hour, so replacing each window would take an hour.
| | |
| --- | --- |
| Number Of Windows | Average Cost |
| 6 to 8 | $3,500 to $5,000 or more |
| 8 to 12 | $5,000 to $7,500 or more |
| 12 to 16 | $7,500 to $10,000 or more |
| 16 to 20 | $10,000 to $12,800 or more |
| 20 to 24 | $12,800 to $15,500 or more |
| 25 | $16,000 or more |
Remember that these are just rough estimates. The exact amount of window replacement cost will depend on the windows you choose and the cost of labor in your area.
Window Replacement Cost Factors
Five main things determine the cost of window replacement. Most of the time, the job will cost more if the window is bigger or harder to replace.
1. Cost of Window Frame Materials
There are different types of window frames that you can choose from when you buy new windows for your home. Vinyl, wood, fiberglass, and metal are all common choices.
Every material has its own price, quality, and how long it lasts. Vinyl windows, for example, are known for being cheap; each window costs about $400. Clad wood composite windows, on the other hand, last longer but cost more—up to $1,800 per window.
2. Cost of Window Types
The total cost can also change based on the window style and type you pick. A standard double-hung window is one of the more affordable choices; it costs about $608 per window to install.
On the other hand, installing a big-picture window can cost as much as $889 or even more per window. Remember that window types that need more skill to install may also need more time to do the work.
3. Cost of Glazing Options and Energy Efficiency
The number of panes in your windows affects how well they insulate and block out noise. Single-pane windows cost between $200 and $400 per window and offer the least amount of protection.
Double-pane windows cost between $500 and $1,000 each, but they keep your home warmer. Triple-pane windows offer the best insulation and range in price from $500 to $2,500 per window. They are the best choice for safety and value.
By changing your windows, you can make your home more energy efficient and lower your long-term energy costs. Energy Star-certified windows meet EPA guidelines for energy efficiency, so look for those.
Double-pane windows with low-e insulating glass and argon gas provide excellent thermal efficiency. Triple-pane windows with low-e coatings and argon gas offer even better insulation.
For top thermal efficiency with only two panes, vacuum-insulating glass with a vacuum layer, like a thermos bottle, is an option. Some manufacturers offer specialized glass with low-e coatings that block UV rays tailored to different regions.
| | |
| --- | --- |
| Number of Panes | Average Cost per Window |
| Single-pane glass | $250 to $400 |
| Double-pane glass | $500 to $1,000 |
| Triple-pane glass | $500 to $2,500 |
4. Cost of Labor
The number of windows you're changing, how hard the job is, and where your windows are located are some of the things that can change the cost of labor.
You can expect to pay between $100 and $400 per window; that is typical size. If you are having a big repair project, your installer may hire more people to help them finish the job faster.
When it comes to windows that are hard to install and take a lot of work, like skylights, bay, and bow windows, your total cost will also go up. Also, the total cost will go up if you need to replace old window frames.
5. Cost by Window Brand
Branded windows are expensive, but they offer better options. These high-end names offer a lot of different styles and ways to customize them.
It can be cheaper to go with a less expensive name, but it might not have the style and performance that work best in your home.
So, it's smart to look for window names that give you a lot of options without breaking the bank. This way, you can find windows that meet your wants in terms of both quality and price.
| | |
| --- | --- |
| Window Brand | Cost Range |
| Castle Windows | $200 to $1,000 |
| Simonton | $200 to $1,200 |
| Marvin Windows | $500 to $1,700 |
| Pella | $100 to $1,750 |
| Champion Windows | $500 to $1,000 |
| Renewal by Andersen | $700 to $2,700 |
Additional Costs and Considerations Associated With Window Replacement
Other things can affect the total window replacement cost. Here is a list of these other factors:
1. Disposal of materials
A lot of technicians charge for clean-up. Most of the time, dumping costs between $40 and $50.
2. Structural repairs
It can cost an extra $50 to $100 per square foot to fix things like walls and trim.
3. Full-frame vs. retrofit
Costs can go down by 15% to 20% with retrofit. Fees for replacing a whole frame depend on the materials and work used.
4. Weatherproofing and insulation
For a few extra dollars to a few hundred dollars, you can get upgrades that seal holes and add insulation.
5. Geographic location
Pick windows based on the weather. In colder places, you need good insulation, while in hot places, you need airflow and low-e coatings.
6. Window location
Due to the cost of workers and tools, installing on upper floors costs more. Costs can go up for the basement and escape windows. Costs can go up when you add new decorations to halls, living rooms, or kitchens.
How to Know If You Need Replacement Windows
These are some signs that your window needs to be replaced:
1. Windows are damaged
Check your windows for damage that you can see, like cracked glass, problems with the frame, or parts that don't work. These issues can make your home less safe, less energy efficient, and less attractive.
2. Higher power bills
Your windows could be to blame if you witness a big jump in your energy bills. Having windows that aren't energy efficient or don't properly protect your home can make your heating and cooling costs go up.
3. Doesn't dampen sound
Windows are a very important part of reducing noise. If there is a lot of noise in your home, it could mean that your windows aren't blocking out noise well enough.
4. Drafts and water leaks
Windows that draft or leak can be uncomfortable and even cause wear to the building itself. They let air and wetness from outside into your home, which could cause problems like mold or wood rot.
5. Window seals broken
When the seals on windows break, they can't keep heat in as well. This is especially scary for windows that are filled with gases that keep heat in, like argon. If you want to keep your energy economy high, you need to replace windows with damaged seals.
6. Upgrading from single-glazed windows
Some single-glazed windows from older homes may still be around. These windows have only one pane of glass. Modern double-paned windows are better at keeping heat in and noise out than these windows. If your home isn't ancient, installing double-paned windows can make it much more comfortable and save you a lot of money on energy costs.
Installing Replacement Windows Yourself vs. Hiring a Professional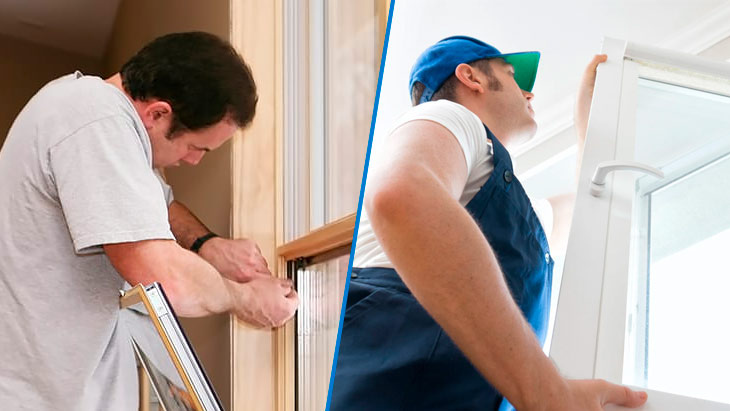 Putting in windows is a difficult job that you should only try if you have done it before. If you want to replace your windows, you should hire a professional window replacement company.
Skilled DIY experts might think about taking on the job, but professional companies guarantee results and back up their work with warranties. If something goes wrong, these guarantees can save the day.
These are some of the main reasons you should hire a pro:
1. Expertise
Do-it-yourself window installations require a lot of understanding and can be hard on the body.
2. Older homes
Putting in unusual or non-standard windows in older homes requires a lot of skill.
3. Structural integrity
Professionals know how to keep your home's structure strong while they're installing things.
4. Warranty requirements
If you want to keep your window warranty, you may need to have a professional fix it.
5. Compliance
Professionals know all about the local building rules and laws that apply to replacing windows.
6. Air sealing
Precise installation is important to avoid problems with air leaks and sealing that homes may have.
7. Safety
They can fix any problems, like mold or rotting window frames, without any risk.
How to Save Money on Replacement Windows?
Replacing windows can cost a lot of money, but there are ways to cut costs. Here are some ways to cut down on window replacement costs:
1. Get multiple quotes
Get free quotes from several businesses to see which ones offer the best deals and choices. You can use these quotes to get a better deal from the company you want to work with.
2. Choose budget-friendly windows
When working on bigger jobs, choose replacement windows that won't break the bank. Even though these windows don't look the sexiest, they save you money in the long run and make your home more energy efficient.
3. Place bulk orders
For large sales, some window makers will give you a discount. Even if it means the total cost of the job goes up, you might want to think about adding more replacement windows to cut down on the cost per window.
4. Shop off-season
Window companies are busiest in spring and fall. Take advantage of off-season shopping, which may lead to special deals. Keep in mind, though, that winter installations expose your home to cold temperatures.
5. Use local incentives
Explore time-sensitive discounts and rebates offered by window installation companies. Check for energy efficiency incentives provided by your state or local government.
FAQs
What is window replacement cost estimator?
It's an online tool that can help you figure out how much it will cost to replace your windows.  
How often should you replace your windows?
Depending on how bad the harm is, you should get new windows every 15 to 25 years.  
Is it cheaper to replace all windows at once?
It's cheaper to replace all of your windows at once, both in terms of work and materials.
Conclusion
That's all you need to know about window replacement costs. If your windows are old or you want to get new ones, this guide will help you figure out how much it will cost. Don't forget that windows can be pricey, so it's best to get someone else to do it. You might damage your house and add to the cost if you try to do it yourself.
Explore Further