Experiencing low water pressure in the house after a plumbing repair is aggravating, affecting everything that involves running water, like showering, doing laundry, washing dishes, and others. Low water pressure happens when water weakly dribbles out of plumbing devices such as faucets or shower heads instead of flowing at its intended speed and volume.
Acknowledging Water Pressure
To identify the exact source, understanding how water pressure work is imperative. Water provided by the municipality is pumped from a natural water source to a treatment plant, from where it goes to pressure tanks at higher elevations, such as water towers, to produce natural pressure. Since gravity helps create pressure, it ensures the water is pressurized when it arrives from an elevated location.
Booster stations, on the contrary, may be required in some instances to maintain the water pressure throughout the city's water lines, notably if your city lacks adequate water towers. If your water derives from a private well, then a tank pressurizes your water which maintains a pressure range that ideally should be between 45 to 55 per square inch (psi). However, a psi reading of less than 40 is regarded as low, whereas below 30 is excessively low.
Reasons for Low Water Pressure
1. Issue from the Water Supplier's End
Source: pcmag.com
Consider asking around or turning valves on and off when experiencing low water pressure before engaging a plumbing company in Sacramento to address the issue. If the neighbors are also in a similar situation, your water supplier is most likely to blame. Call the providers to notify them about this problem and ask them to fix it.
2. New City Regulations
Source: nbcsandiego.com
If there's no problem from the water supplier's end while everyone is facing low water pressure, your district or entire city might have modified some water regulations. In such circumstances, installing a water pressure booster system is the only option, necessitating calling a professional for its installation.
3. Outdated Fixtures
Faulty fixtures sometimes cause low water pressure since mineral deposits, like rust, limestone, or silt, may clog the fixture, preventing water from flowing freely. However, this might be the issue if you experience low water pressure in only one or two fixtures. Turn on each faucet one at a time in your home to examine the water pressure. If you detect a clogged screen or aerator, consider replacing it to resolve the problem.
4. Pressure Regulators
Source: cloudinary.com
A malfunctioning pressure regulator can be another source of low water pressure, which also might result in high water pressure. When you turn the faucet on, you are probably dealing with a faulty regulator if there's no middle way between low and high-water pressure.
While not all homes have a regulator, if you have one, gradually turn the screw clockwise to tighten and counterclockwise to loosen it since tightening will boost your water pressure, whereas loosening will reduce it.
5. Pipe Leak
Source: aucklandproperty.net
Pipe leak is another reason for the low water pressure. Not every leak will come to your notice. At times, the leak may happen under the bathroom floor or outside the house. You need to try and find the leak by searching for wet spots or pools of water. Find out which pipe is leaking.
6. Clogged Water Pipes
Source: atlascare.ca
Undoubtedly, clogged pipes are one of the most prevalent and possible reasons for experiencing low water pressure in the house. If water flows out normally while you turn the faucet on but begins flowing with a decreased pressure, it might signify clogged pipes.
Over time, mineral deposits, rust, and other debris accumulate inside the pipe, clogging it and impeding water flow. If you detect your pipes are blocked, consult a skilled plumber to ascertain whether they need to be cleaned or replaced.
7. Corroded Pipes
Source: fischerplumbing.com
If you have galvanized steel, brass, or copper pipes, then you should keep in mind that these all have an expiry date. Most of them will be useful for 20 years, and after that, they will not be of much use.
It is difficult to know of corrosion from the outside, so you need to look at the property or the city records to see how old the plumbing is.
Also, look for the below-mentioned corrosion symptoms:
Discolored water

Smell

Noises

Fluctuations in temperature

Leaky pipes
Final Thoughts
At last, we would say that low water pressure is a big problem for your house. Many of your daily tasks may get affected due to the low water pressure. So, if you notice a low water pressure, make sure you get the help of professionals to solve the problem.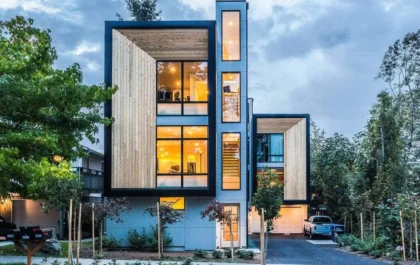 27+ Stylish & Modern Townhouse Designs for Urban Living.
The townhouse's first impression is normally too small, too compact, too narrower, and the list is endless. Well, let us…