Living in beautiful houses with all the luxury, amenities, and facilities is a dream of many people!
Everyone has a different kind of perception of a house, right? You may also think of owning a place, so what are your expectations?
A large pool? A huge bedroom with a walk-in closet? A garage? Or a Gym with modern equipment?
What do you want in your dream home to make it more beautiful and luxurious?
When it comes to houses, you can't say one type of residence is best. Each dwelling is different from another in so many ways, and they all can be beautiful in their own ways. From architecture to style and landscaping, there are plenty of things that make any space beautiful.
Today in this post, we've gathered up some of the top 7 beautiful houses in the world. From expensive modern beautiful homes to affordable, simple beautiful houses, we've included so many different houses, both beautiful big houses, and small cute houses, that make anyone fall in love with them instantly. Each house has its unique features and details that are both comfortable and attractive. So, let's begin with the beautiful house design ideas.
Our Handpicked 16+ Most Beautiful Houses in the World
So are you ready to explore some of the most expensive and beautiful houses in the world?
Let's start.
1. House M – Merano, Northern Italy
Source: adsttc.com
Source: adsttc.com
Source: adsttc.com
Source: adsttc.com
Architects: monovolume architecture + design
Area: 360 m²
Year: 2012
Beautiful!
This will be the word that surely comes out of your mouth after seeing the pictures of this home.
House M is a 360 square metres ultra-modern living space in Merano, northern Italy. With unique exteriors and all-white interiors, there is no doubt why this house is on the list of most beautiful houses in the world.
This is a residential building with an incredible facade and a minimalistic glassy design. With modern architecture and unique elegance, this space is something so basic yet so distinctive. The internal spaces are designed in such a way that they blend seamlessly with the outdoor areas like the pool, lawn, and garden. The building has an underground structure with two upper floors. Apart from this, the house features spacious balconies, bedrooms, and basement parking. This home is a true example of a beautiful house that blends luxury with sophistication.
2. Dupli Casa – Ludwigsburg, Germany
Source: adsttc.com
Source: adsttc.com
Source: adsttc.com
Source: adsttc.com
Architects: J. Mayer H. Architects
Area: 6900 m²
Year: 2008
Designed by J. Mayer H. Architects, the Dupli Casa house is another remarkable example of a home with modern architecture with traditional touches. Located in Ludwigsburg, Germany, the house was specifically designed as per the requirements of the clients (homeowners). They wanted a space where their children could play and enjoy the neighboring views.
The fluid shape and minimalistic construction catch the people's attention immediately. Spread across an area of about 6900 square meters, architects want to show that kids can grow independently without separating from their roots through this house design. The dwelling features four bedrooms, a pool to chill out and relax, and a vast dining area so that all the family members can have meals together.
If you're looking for a house where you and your kids can grow with your family under a single roof, this will be the best house for you.
3. Bellagio La Villa – Hinterland
Source: pinimg.com
Source: mansionglobal.com
Source: bosshunting.com
Source: bosshunting.com
Owner: Paul and Viki Sweeney
Area: 117 acre
Price: $50 million
Look at this gorgeous big mansion!
Worth more than 50 million dollars, Bellagio La Villa is one of the most pretty houses in the world! Located in the Gold Coast Hinterland, this mansion is the matrimonial home of the property developer Paul Sweeney and his wife, Viki Farrar.
This stunning property features 10 opulent bedrooms, 10 bathrooms, a 16-seat dining room, and many master ensuites. Apart from this, there are also a gymnasium, his and her luxurious changing rooms, and a caretaker's cabin.
All the furniture and decorations are custom made, and the interiors also have honed marble flooring, towering elegant ceilings, and many other outstanding amenities.
4. Peconic House – Hampton Bays, US
Source: homedit.com
Source: adsttc.com
Source: adsttc.com
Source: adsttc.com
Architects: Mapos
Area: 4000 ft²
Year: 2016
To make the houses beautiful, one factor that is always important is the Location! Whether you're constructing your home from scratch or not, site location always plays an important role. Obviously, this factor can mean very different things for different people.
Look at the above property. Situated in Hampton Bays, United States, the site was previously just a piece of land surrounded by a lot of vegetation. Originally a small multi-generation family home was built. Homeowners asked the architecture firm Maps to construct something that has a subtle design and goes well with the surroundings.
The designers came up with the Peconic House, which is a secluded family home. This residence has a timeless design for a multi-generational family. The structure has sustainable design strategies and technology and exudes beauty. Made from eco-friendly materials, the exteriors of this building were also kept unpainted to achieve a raw and natural look.
5. Black Villa – Harriman State Park, New York, US
Source: digg.com
Source: mymodernmet.com
Source: redd.it
Source: blogspot.com
Architect: Reza Mohtashami
Year: 2020
Built area: 400 m²
You may have seen many black houses around the globe, but have you seen a house with all-black exteriors and interiors?
Yes, located at the Harriman State Park, New York, US, this residence has everything in black, including decors, interiors, and furnishing.
Designed by architect Reza Mohtashami, the black villa has an area of 400 m². This dwelling features an open living area with a high skylight. To create a contrasting effect, architects include light-colored wood and use it in various house parts like the staircase, center table, and dining table.
Read here more about this spectacular, luxurious house.
6. Casa Meztitla – Mexico
Source: adsttc.com
Source: adsttc.com
Source: adsttc.com
Source: adsttc.com
Architects: EDAA
Area: 400 m²
Year: 2014
People usually think that houses made with stones or raw materials are a bit harsh and don't provide much comfort. However, that's not true!
The best example is the above residence. Designed by EDAA, the Casa Meztitla house is situated on the El Tepozteco Mountain, which is near the popular town of Tepoztlan in rural central Mexico.
This is actually constructed as a holiday house for the family for leisure and entertainment. According to the desire of the clients, architects design the space in such a way that it blurs the boundaries between outside and inside. The house has many large doors and windows with rotating glass that open up to welcome the surrounding nature inside.
The residents can enjoy the tropical weather, the intense sunlight, and the smells of nature.
7. ED&JO Curved house – Famalicão, Portugal
Source: homedit.com
Source: adsttc.com
Source: adsttc.com
Source: adsttc.com
Architects: NOARQ
Year: 2017
Area: 3.950 ft²/ 367 m²
Everyone is aware of this expensive and beautiful house located in Famalicao, Portugal. Well known for its uniquely shaped architecture, this house has white exteriors with blue highlights.
Build by NOARQ architects, this home is constructed on a triangular piece of land on a slope. Because of this triangular landscape, designers and architects have faced a lot of challenges. Plus, there was also an old structure. The architects have demolished the old structure but not entirely. The old stone wall is now acting as the new border around the new house.
If you see the exteriors and facade, you'll notice that the architectural style is clean and minimalist. The beauty of this residence is that even though it has simple architecture, it is one of the most beautiful houses in the world.
The home features one studio and Living and dining located on the first floor, bedrooms on the second floor, and lastly, there is the roof. The entrance of this residence is located at the lowest point, which creates a covered and exterior area.
8. Witanhurst House – London, UK

Source: i2-prod.dailystar.co.uk
9. Sky Garden House – Singapore

Source: cdn.wowowhome.com
10. Tresarca House – Las Vegas, USA

Source: cdn.homedsgn.com
11. Malator House – Wales, UK

Source: holidayinghack.files.wordpress.com
12. Chartwell Residence, Los Angeles

Source: i.insider.com
13. Updown Court, UK

Source: amazing.zone
14. Palazzo Antilla, Mumbai, India

Source: loveincorporated.blob.core.windows.net
15. Villa Leopolda, France

Source: amazing.zone
16. One Hyde Park Penthouse, UK

Source: media.tatler.com
17. Manalapan residence, Florida, USA

Source: ap.rdcpix.com
Craving for some more beautiful house inspiration? Scroll down for inspiration houses!
Source: architecturebeast.com
Source: homestratosphere.com
Source: trvl-media.com
Source: akamaized.net
Source: assets.isu.pub
Source: akamaized.net
Source: luxurypulse.com
Source: pinimg.com
Source: kxcdn.com
Source: familyhandyman.com
Source: medium.com
Also Read: Greek Revival Architecture – America's First Architectural Style!
Wrapping Up!
So this is all about the modern beautiful houses. This is actually one of the collections of the world's most beautiful houses; there are hundreds of residences scattered all over this planet that are still beautiful.
I hope this post has given you some ideas and inspiration for your simple pretty houses new design & decor. If you find this guide helpful and informative, share it with your family and friends.
To know more about the various types of architecture and home improvement techniques and styles or decoration ideas, explore Architecturesstyle.
For daily updates about architecture, don't forget to follow us on our Instagram page, Architecturesstyleideas.
Himadri Shakya
Himadri Shakya is an enthusiastic Content Writer and Editor. She loves to create creative, engaging, and SEO-friendly content. Through her extensive research skills and practice, she has been generating high-quality and informative articles, and blog posts for over 4 years.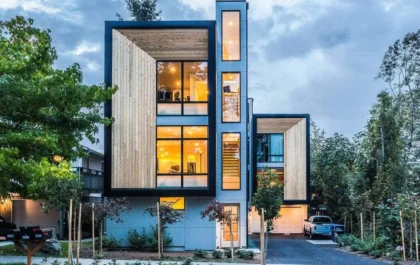 27+ Stylish & Modern Townhouse Designs for Urban Living.
The townhouse's first impression is normally too small, too compact, too narrower, and the list is endless. Well, let us…