The bedroom is considered a sanctuary and as such, it should feel comfy and accommodating after a long day. What could bring that good feeling other than using natural elements to bring calmness into your bedroom? Now that people spend more time in their homes because of the pandemic, it only makes sense to incorporate natural decor in their bedrooms.
There's an endless variety of natural items that one can use to shake up and bring more character to the bedroom. This will only make you feel more at peace and one with nature, thereby helping to bring down the many stressors in life. Nature-inspired bedroom design is something many long for and below are several ways to incorporate that.
1. Natural Materials
Incorporating natural decor is now a growing trend in many homes due to the several benefits it brings. Natural materials can blend with any kind of space, including the bedroom. Consider incorporating more wooden materials such as the bed and tables and adding rocks or pebbles to accentuate the look.
One can also use natural fibers in the bedroom, such as a jute rug and other handmade items like plant hangers, stylish woven baskets, and more. Other natural items you can use include a hide rug, woven pendant light, ceramic pottery lamps, and nature-themed art.
2. Go Green
Having foliage, indoor plants, and flowers in your bedroom adds more comfort and beauty. Indoor plants help to improve your mood, reduce stress, boost healing, and pain tolerance. You should therefore have as many green plants as you can in the bedroom. If you're not good at taking care of plants, choose among several indoor plant options that need little maintenance.
As you check on which plants to have, check on the type of lighting they need to boost their growth. Use light bulbs that will help mimic the kind of growth that happens outdoors or in a greenhouse. Most indoor plants can be grown all year round.
3. Neutral Colors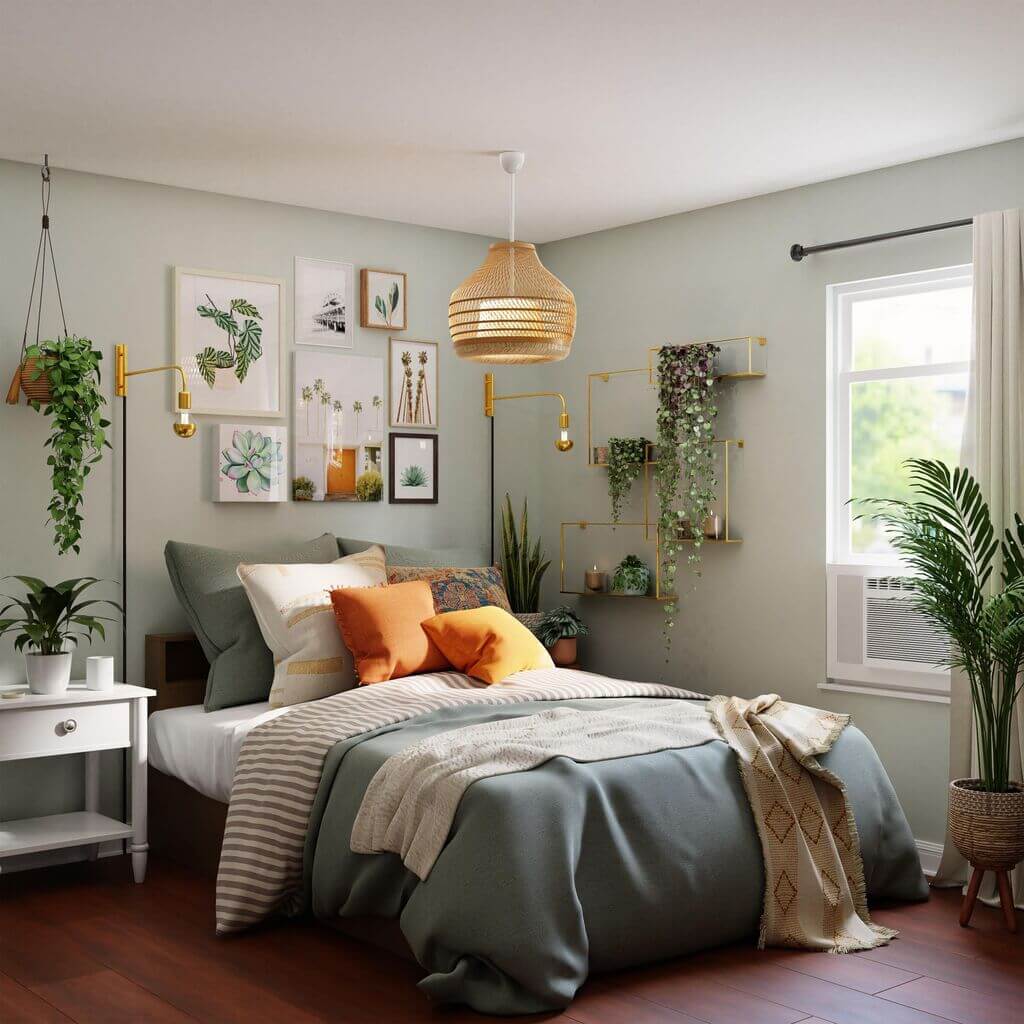 Bold colors aren't always better, especially in the bedroom. Neutral colors make the room feel larger, more welcoming, clean, and airy. They also bring in a nice calming effect that feels soothing and quiet at the same time.
Having a few color pops in the bedroom is not bad but one must avoid having too much of it because it brings distraction and uneasiness. The most used neutral colors include gray, white, black, and sometimes beige and brown.
4. Get Cozy
To make the bedroom feel more comfortable and welcoming, you have to make it cozy. There are many things you can do to make it comfy. This includes having plenty of pillows and warm blankets. 
You can also choose to have a nice comfortable bed with pillars that make the room feel larger.
A good bed must also come with a cozy mattress to help you sleep better. In this case, you can check out Talalay latex mattresses from Nolah Mattress. You can also cover the windows with neutral-colored curtains to make it feel more comfortable and snug.
5. Use Texture
Texture brings dimension to the bedroom, making it more interesting and inviting. Texture can be both visual and tactile and there are several things you can do to have that. You can start with organic materials like woven baskets, handmade artisan ceramics, and wooden spheres. They bring in a warm, welcoming feeling, serenity, and calm.
Don't forget to throw in pillows with various weaves to the bedroom for a livelier look. You can also add some textured blankets, rugs, or a picture frame with a nice feel.
6. Light It Up
You need to have lots of natural light to make your dream bedroom as cozy as possible. Natural light reduces seasonal depression and improves your sleep cycles. If the bedroom doesn't have much light, consider other ways of lighting it up.
Among them are soft light bulbs that don't make it feel artificial. You can also decide to incorporate dimmers in the bedroom as they help to improve your sleep cycles. Other methods of lighting the room can include hanging mirrors on the wall or painting the wall with reflective paint to illuminate the bedroom.
Cozy Up Your Bedroom
The ideas discussed in this guide should help to make your bedroom feel more welcoming and comfortable. Adding texture and painting with neutral colors adds character and warmth to the bedroom. A good bed and mattress cannot be left out of this list as well as having enough natural light.
Discover More