Roscommon House By Neil Cownie Architect in Floreat, Australia!
archistyladmin, 2 years ago
4 min

read
2053
Architects: Neil Cownie Architect
Location: Floreat, Australia
Year: 2018
Area: 550 m²
Source: pinimg.com
If you're thinking that this is an ordinary-looking home, then let me tell you that it is not! This is a Roscommon House which was built in 2018 and it is designed by Neil Cownie Architect. This structure has beautifully connected the past, present, and future. It is specifically designed to have a strong sense of belonging while celebrating the local cultural and architectural history. 
Source: adsttc.com
Now you might be thinking about how a building reflects and connects its past, present, and future? The house design features three-time limits to pay homage to the legacy of modernist and brutalist buildings around. Are you excited to know more about this distinctive residence?
Source: adsttc.com
The lead architect and main contractors of this project are Neil Cownie and Mosman Bay Construction. Their team also includes structural engineer 'Cenit Group,' landscape architect 'PlanE' and 'hydraulics consultant 'Wayne Lupton & Associates.'
Source: adsttc.com
With the help of material experts, the designer team has tried to provide a seamless connection between the interior and exterior. The original plan features raw materials like concrete, dark timber, jalousie glass windows, and goal-coated steel bars.
Source: architecturaldigest.in
The most unique thing about this house is that it reflects the various attributes of its locations. These attributes are: 'Garden Suburb' town planning, modernist architecture, and ideals of the original subdivision.
Source: pinimg.com
There are some modernist and brutalist buildings still remaining in the suburb or in the neighborhood, that's why architects wanted to produce a house design that not only served the needs and desires of the clients but also has a connection with the ethos and that too without mimicking or replicating the past. 
Source: adsttc.com
Clients or the current owners of this house, actually love the concept of modernism, and only because of this, they have purchased land in the Floreat location. They wanted a modern family home that respected the modernist history of the area. Also, they specifically demanded a house that will be constructed from grey timber board finished concrete.
Source: adsttc.com
The design of this house is mainly focused on low energy and water consumption. Therefore many environmental elements are integrated within the building, such as solar orientation to living spaces, and this will also maximize the opportunities for cross ventilation from the prevailing cool winds. 
Source: homejournal.com
There is a 16.5kw photovoltaic array on the roof comprising 50 panels that are currently exceeding pre-installation estimates by 20%. This way, owners only use less than 20% of the overall generated electricity, and the rest 80% is stored in batteries. 
Source: cloudinary.com
The main material in building this house is concrete and wood. Designers have brilliantly comprised these two materials and create incredible things. After all, the owners always wanted a single-story house look. So the first floor features a grand master bedroom with garden-facing windows. 
Source: adsttc.com
'Pocket' courtyards and roof/terrace gardens are included to create a balance between inside and outside design.
Source: cloudinary.com
When you see the interior furnishings, you'll notice that there are a lot of handmade elements such as the heavy linen exposed hand-stitched edging, the custom-designed dining table, external dining table, bedside tables, & the family room rug. 
Source: adsttc.com
You'll be amazed to know that all the walls and ceilings have been designed as a series of unadulterated planes and blocks of interlocking sculptural shapes!
Another point of attraction in this house is the custom-designed pendant lights. They're placed in such a way that they look separated from ceilings by their suspension below.
Source: adsttc.com
Other simple but effective and practical elements are the timber cabinetwork and timber-clad walls elements. They have been used to simplify the visual reading of spaces. Additionally, the fluid kitchen island bench with the hovering stone top reflects the local iconic beachside concrete kiosk building saved by the community.
Source: adsttc.com
The architect said, " My clients gave me the opportunity to provide a holistic design approach and service across architecture, interior design, product design, furniture, artwork selection, and landscape, the house, and its contents work together as one realization."
Source: dwell.com
Do you want to know more about these types of unique houses just like Roscommon House? Read our previous blogs on Merida House by Ludwig Godefroy and La Belle Vue by OKHA.
Source: adsttc.com
Also Read: House in Avanca: A Contemporary Residence By nu.ma in Portugal!
Conclusion
The beautiful Roscommon House in Floreat, Australia, is a perfect example of how you can create a modern and luxurious structure with all the environment-friendly and sustainable materials.  
These long-lasting, low-maintenance materials contribute to thermal mass, maintaining stable internal temperatures regardless of the season. This place also has two types of insulation: thermal and acoustic. Isn't this great? 
I hope you like this blog on sustainable Roscommon House by Neil Cownie Architect. You can always take inspiration from these spectacular designs and can implement some of their sections in your existing home plan or layout. 
 For more architectural guidance and home improvement ideas, keep coming to Architecturesstyle. 
Related posts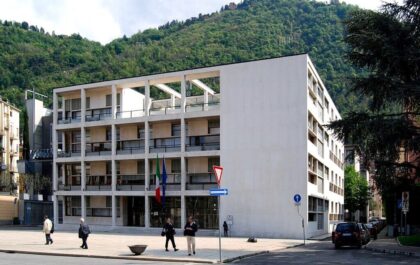 Casa Del Fascio: Fascinating Architecture in Italy
Casa Del Fascio Source: comozero.it Location: Como, Italy Architect: Giuseppe Terragni  Project Year: 1932-1936 Architectural style: Rationalist Type: Civic Casa…