Have you ever dreaded waiting in a room in an office because you were uncomfortable?
Studies show that on average a person spends 21 minutes waiting for rooms at offices. That's just one of the reasons why you need modern commercial furniture to improve office waiting room design to offer comfort to clients, employees, or anyone using the furniture.
Also, the office furniture is how someone gets the first impression of your office. Your waiting room must be the reflection of what your company represents.
Here we have put together 8 ways you can improve your office waiting room with the right furniture.
Pay Attention to Traffic 
Source: googleapis.com
The reception space has to be carefully planned. The entrance and exit must be clearly marked such that people visiting the area know where to go. Another consideration is to make enough space for foot traffic to flow freely around the waiting area. For this, you must avoid placing bulky office furniture. Instead, compact and ergonomically designed office waiting room chairs are best for the area.
By doing this, you can ensure your guests can enter and exit conveniently around the waiting area. With sufficient space for foot traffic flow, you can prevent your guests from crossing paths with others or retracing their steps. Remember, traffic control is essential around a waiting area to ensure everyone's safety and the work gets done quickly and correctly.  
So, if your office is located in an area with more potential clients, take the traffic in your waiting room more seriously to achieve favorable outcomes.  
Also, if you plan to relocate your residence and office, you must include a traffic plan in your office waiting room design. This is especially true if, with the help of a real estate firm like Chatburn Living, you're able to find a viable spot surrounded by condo buildings and residential properties like Casa del Mar. This can be a perfect opportunity to attract more clients and make a good impression with your new office waiting room.
Choose the Right Reception Desk
Source: officesnapshots.com
A reception desk is the focal point of an office waiting area. It should be placed strategically such that it is accessible and viewable from the entrance. Nobody wants to look at a reception desk scattered with papers, boxes, and stuff.
This is why the reception desk you place in the waiting room must have adequate storage and also spacious enough to accommodate all of the necessities such as phones, computers, and printers. You can hire a contract furniture company to design a modern standing desk that has the shape, size, and décor that gels well with the surrounding.
Waiting Room Seating
Source: laserpro.co
Office waiting room chairs are important. They not only have to be comfortable but also look professional and attractive. Measure the space available in the seating area to decide how many waiting room chairs you can fit in without cluttering the area. Also, you might have to put in a few tables.
When measuring keep in mind to leave space for visitors to move freely and also there should be enough space between the seats. Another consideration to make is in what pattern will you set the seats. Some clients do not like to sit with their backs to any doors. Generally, a U-shaped or squared seating arrangement is a good way to arrange chairs.
Comfortable Upholstery
Source: officesnapshots.com
Next is to think about the upholstery. No one likes waiting on plastic or pleather seats that cause sweating and are highly uncomfortable. Your office waiting room needs modern office commercial furniture that has breathable fabric and does not trap heat. Such upholstery is not only comfortable but also sweat-free. Comfortable upholstery enhances the waiting room experience and creates a more comfortable arrangement.
Choose Colors Carefully
Source: collaborative.com
The color of the furniture you put in the office waiting room must be in sync with the colors of the walls and fixtures of the room. Modern commercial furniture is available in colors that are scientifically found to have a calming effect. For example, if you are picking commercial waiting room chairs for a doctor's office, colors such as blue and green are ideal as they have a calming and reassuring effect. Also, the pink color indicates compassion and is ideal for lawyer offices.
For creative workspaces, yellow, red, and dark blue are the colors as they are lively and aggressive. The whole idea is to reflect the color of your company through your waiting room furniture.
Add Mirrors in Small Spaces 
Source: pinimg.com
If your waiting room has a limited area, you can use decorative mirrors to make the space appear larger. Placing large mirrors on empty walls and smaller decorative ones near office waiting room chairs help create a sense of open space.
Right Décor 
Source: berwickshirenews.co
Furniture and color choice must be followed by picking exciting office décor. Pick items that will make impressions such as tasteful art pieces, an aquarium with exotic fish, or a soothing water feature. You can also add beautiful flowers to uplift the vibe in the area. They look and smell good, so everyone will appreciate having them in the waiting room. Another excellent décor idea is to paint an accent wall or add a beautiful accent table that can be a great conversation starter when welcoming your guests. All of these décor items help create a relaxing waiting space.
Set the Mood with Lighting 
Source: thedesigntabloid.com
Last, you can enhance the comfort of the visitors by adjusting the lighting in the waiting area. Depending on the kind of audience you expect, you can set the mood with appropriate lighting. For a calming business office setting, soft and bright lighting is appropriate.
For a homier experience, you can set low, warm light. You should utilize natural lighting as much as possible because artificial-looking light such as fluorescent bulbs can look harsh.
You can do this by keeping all window areas unobstructed during work hours.  
Final Thoughts
The best way to improve the office waiting room area is to put yourself in your guests' shoes. Sit in the area and document the experience to get the idea firsthand. Also, hiring a contract furniture company is advisable to design a waiting area that is optimized for visitors.
Related posts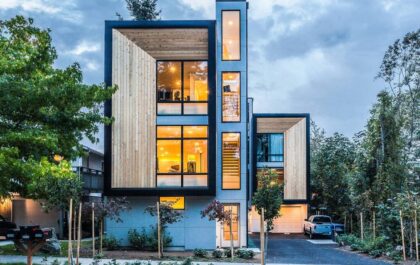 27+ Stylish & Modern Townhouse Designs for Urban Living.
The townhouse's first impression is normally too small, too compact, too narrower, and the list is endless. Well, let us…