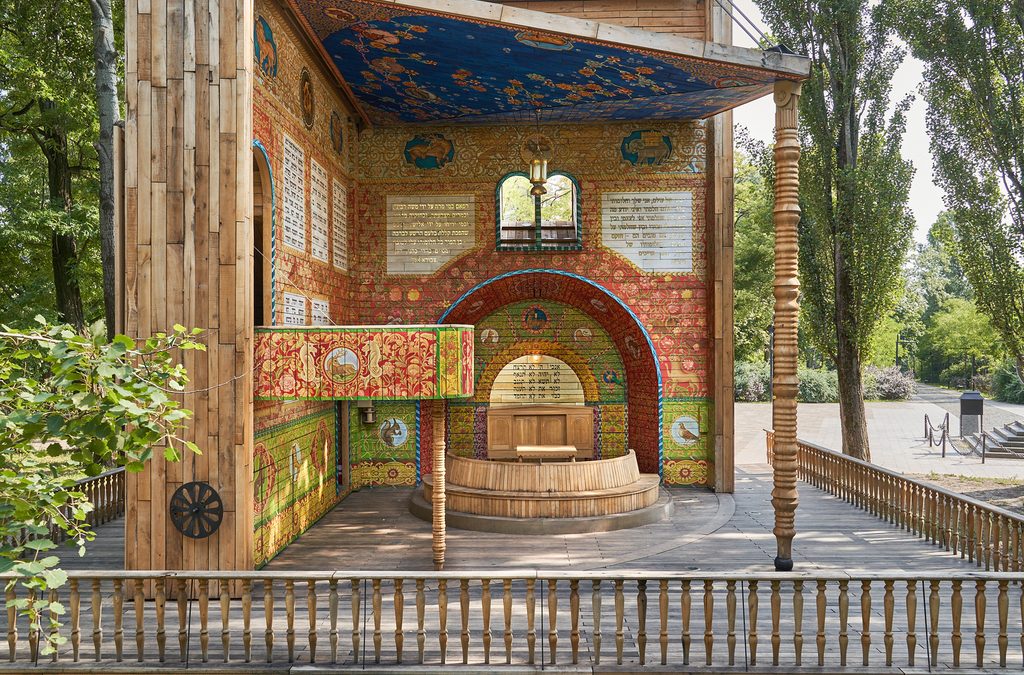 Project Specifications
Architects:

Manuel Herz Architects

Location:

Babyn Yar, Ukraine

Area:

150 m²

Year:

2021
In May 2021, Ukraine unveiled a unique architecture structure at the site of the Babyn Yar massacre. Designed by Swiss studio Manuel Herz Architects, it is a synagogue built of wood. This Babyn Yar Synagogue opens like a pop-up book, and a video of its closing and opening has also been released, which was filmed by photographer Iwan Baan.
Situated at the haunted grounds of Babi Yar, it is built to commemorate the victims of one of the single biggest massacres of Jews during the Nazi Holocaust. People who don't know about this event or place might be wondering why we're calling the site haunted. This site has been called haunted because, at this ancient ravine in 1941, SS officers and their local Ukrainian allies murdered almost 34,000 Jews in just two nights. Pretty scary to hear, right?
It is one of the largest and most infamous massacres of Jews during the Nazi Holocaust. This has happened during World War II, and before ending, the Nazis also killed so many people, around 100,000 people, including Roma, Ukrainians, and the mentally ill. This Synagogue was built for the 80th anniversary of this massacre.
What is a Synagogue?
A synagogue, also spelled synagog, is a building where Jewish assembly or congregation meets for religious study, worship, and instruction.
You can see the full video here:
Babyn Yar Synagogue: The Solemn History
On September 29, 1941, the Nazi German forces shot around 34,000 Jewish men, women, and children dead. Even after this, more than 100,000 people met the same fate in Babyn Yar in the coming months over the following weeks and months. This large ravine is known as "Babyn Yar on the edge of the Ukrainian capital Kyiv." It is also known as 'Babi Yar.'
It was opened on May 14th, coinciding with Ukraine's marking as it is the first day of Remembrance for Ukrainians who saved Jews during World War II.
Babyn Yar Synagogue: Design & Concept
Though it is impossible to memorialize the atrocities that happened years ago adequately, Babyn Yar Holocaust Memorial Center is trying to create a place so that people can remember their loved ones and their sacrifice.
An international nonprofit foundation whose board includes many powerful Jewish personalities like Ronald Lauder and former Sen. Joe Lieberman, and many other Ukrainian representatives has planned to create many-pronged memorials and buildings, including various research institutes, a library, and a museum.
In that process, the first building on the site is a house of prayer: Babyn Yar Synagogue.
"When we start commemorating Babyn Yar, let's start with a synagogue, which brings back Jewish life to the site," said Manuel Herz, the architect in charge.
This unusual pop-up Synagogue has a pair of 11-meter-high walls that are man-operated. It can be open via a wheel to reveal its decorative and detailed interiors. When the structure slowly opens out, the roofs pop out, which provides shelter, a wooden balcony, and a seating area.
Babyn Yar Synagogue: Architecture
After looking at the pictures and videos, many of you might be wondering why architects select the book shape. This is because A BOOK plays an important role in providing information and knowledge. Also, in Jewish Religion, the book – the Siddur (the book of prayers) is considered a useful tool and symbol. 
According to architects, "A book opens a world of wisdom, morals, history, and anecdotes to the congregation."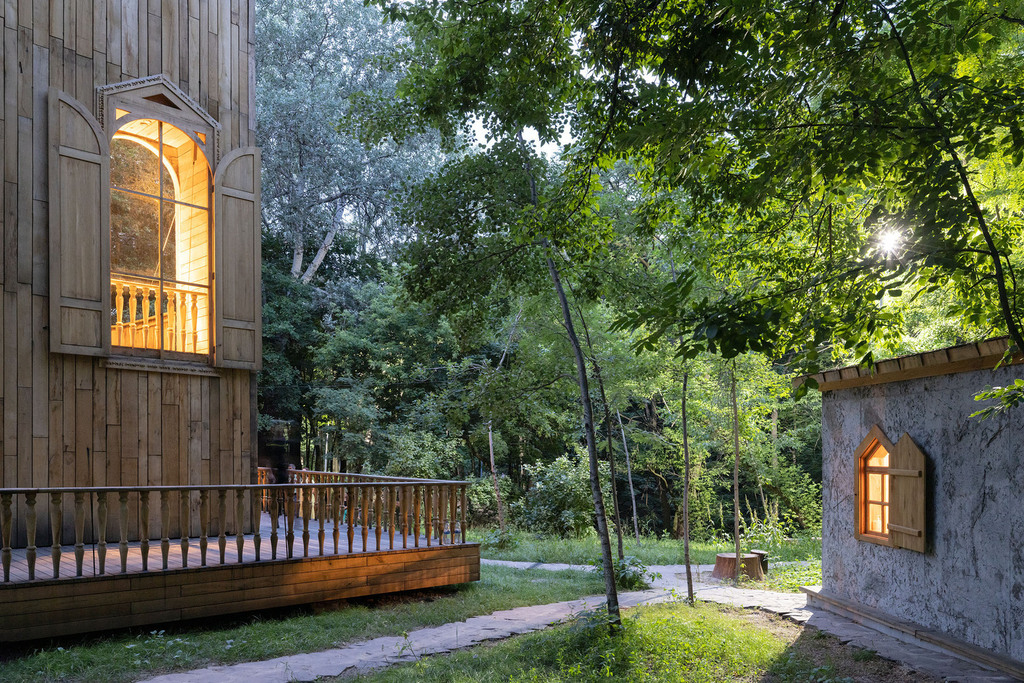 That's why they had decided to mix the Jewish Religious Symbol (book) while also adding a sense of playfulness. They come with a pop-up book concept that looks exactly like the opening and closing of a book in three dimensions. The Babyn Yar Synagogue can be mechanically open and provide generous and sheltered space. This special effect is achieved by examining dozens of these types of volumes, and also the architects take help from structural and mechanical engineers.
When this structure is closed, it covers a rectangular volume of about 26¼ feet wide, 36 feet tall, and 10 feet thick. It is built on a raised platform made from reclaimed oak wood gathered from prewar Ukrainian buildings. This wooden platform is again placed on a strip of concrete.
"The intention was to disturb the ground—which is literally soaked in blood—as little as possible," says Herz.
So during a religious service, a congregation can come together and read and pray together, and later the structure can be closed. After it closes, it becomes a flat, vertical structure that is approximately 8m wide and 11m high.
According to Architects, " this architecture will remind visitors of a prayer book, a Bible, or the magic of a pop-up book where "new worlds unfold, that we could not imagine before. In a sense, the pop-up book can act as a metaphor for the Synagogue."
Babyn Yar Synagogue: Exteriors & Interiors
This structure is situated just behind an existing small monument, a Menorah that dates back to the early 1990s, and the entire site is surrounded by trees. The building was placed on a wooden platform that hovers slightly above the ground.
The entire structure is built from wood, and to provide more stability; an inner steel framework has been placed. There is also some unfolding space in the Synagogue, such as a Bimah (reading platform for the Torah) in the center, benches, and a balcony.
Did you know that 100-year-old oak wood has been used to create the exteriors of this prayer structure? Not only this, this wood has come from different parts of Ukraine. Architects have selected this much old wood because they wanted to make a deep connection from before the massacre to the contemporary era.
"It should be a tree that remembers the world before the Holocaust," Khrzhanovsky said in an earlier interview.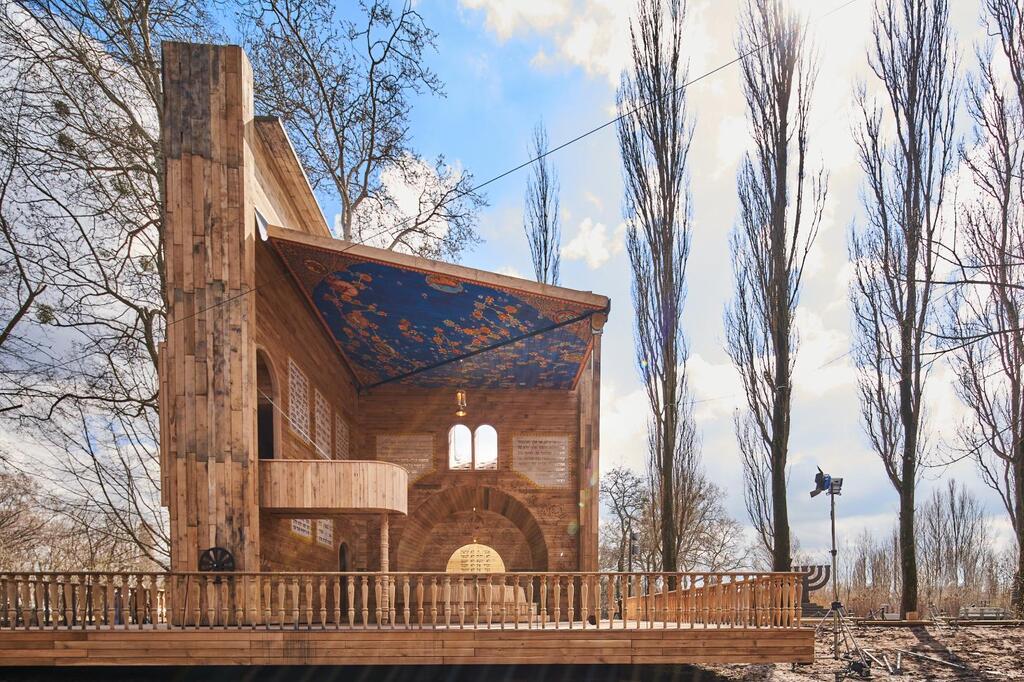 The most beautiful part of the Babyn Yar Synagogue is its ceiling. All the walls and the ceiling of the Babyn Yar Synagogue are specifically painted with various prayers, blessings, and symbols related to Judaism, such as Shma' Israel or the Kaddish. The iconography of this place is also referred to as the interiors of the historic synagogues of Ukraine. These are mostly from the 17th and 18th centuries as they also had been destroyed.
The ceiling celebrates a colorful and playful universe that will be just above the heads of all the visitors. All these symbols also have a special meaning: they all create a star constellation that was visible over Kyiv on the night of September 29th, 1941. And just looking above, people can easily connect to the gruesomeness massacre incident. The designers and architects have thoughtfully created the entire structure.
The Bottom Line
Babyn Yar Synagogue can easily be opened up and collapsed just by using a hand winch. The structure features a retractable roof, balcony, and benches. Its walls are adorned with prayers and blessings, which is the perfect way to tribute the Martyr people.
Moreover, the pop-up book triggers fascination in visitors; they can't resist the temptation and will wonder what's inside. And to explore it, they have to open this book.
So, this is all about Babyn Yar Synagogue by Manuel Herz Architects. I hope this blog has helped you to know more about the Babi Yar and understand the Babyn Yar Synagogue architecture. Don't forget to share it with your friends and family so that they'll get to know about this unique structure: Babyn Yar Synagogue, Ukraine.
Discover More