Have you ever imagined what the ethereal Hobbit Style might look like if it blended with modern parametricism? Isn't that something out of a fantasy world? You will be glad to know that there was a design style known as Art Nouveau architecture that stunned the world in the early nineteenth century. The inspiration behind Art Nouveau design was to break with convention and experiment with newer, more free-form forms of artistic manifestation.
The movement was based on feminine and organic forms, which are hard to replicate in the modern era with all of the cutting-edge tools. However, the Art Nouveau style is commonly seen as just ornamental, with its essential idea being totally overlooked. Let us embark on a journey to explore 20 stunning structures from across the world that embody its ethos.
Top Features of Art Nouveau Architecture
1. Sculptural Forms
Source: fastly.4sqi.net
The Art Nouveau style is influenced by nature and is distinguished by graceful, artistic, organic forms, arches, twisting outlines, and sensuous decoration.
2. Flora and Fauna
Source: thumbs.dreamstime.com
The style was well-known for its eclectic placement of legendary animals and floral embellishments. These structures had meandering asymmetrical lines that resembled flower stalks and blossoms, tendrils, butterfly wings, and other dainty and flexible natural elements.
3. Modern Materials
Source: shutterstock.com
Intricate mosaic work, tinted and curved glass, and ornamental wrought iron are predominant material palettes of the Art Nouveau style.
20 Eccentric Structures of Art Nouveau Architecture
1. La Sagrada Familia
Source: re-thinkingthefuture.com
You can not miss out this one while you are speaking about Art Nouveau Architecture. The Sagrada Familia's style has been compared to Spanish Late Gothic, Catalan Modernism, and Art Nouveau.
Gaudi was a passionately pious Catholic whose exuberant and magnificently intricate visions of organic geometry are embodied in the church. His church design incorporated African mud building, Gothic, Expressionist, and, of course, an Art Nouveau variant emphasizing sea features.
However, after Gaudi's death, the building was left unfinished and is anticipated to be completed by 2026. You can also see type of architecture.
2. Casa Batllo
Source: architecturaldigest.com
Barcelona is a city with numerous Art Nouveau masterpieces to discover. Antoni Gaudi's magnificent structure exemplifies Art Nouveau architecture and Catalan Modernism.
Casa Batlló, located on the Passeig de Gràcia, is one of his most well-known structures, with references to the tale of St. George and the Dragon. The outside is decorated with multicolored shattered ceramics. The roof is covered in scalelike tiles to mimic the image of a dragon.
3. Old England Building
Source: mymodernmet.com
The Old England Building fully annihilates the idea that structures need to utilize traditional material palettes and ostentatious features to stand out.
This former department store in Brussels features a black facade adorned with wrought iron and arched windows. Built in 1899, it is considered one of Belgium's Art Nouveau design treasures. Today's Museum of Musical Instruments is located in the old department store.
4. Museum of Applied Arts
Source: mymodernmet.com
Hungary also had a pivotal role in nurturing the development of Art Nouveau architecture. Museum of Applied Arts in Budapest is the oldest museum of applied arts and is often referred to as the jewel of Art Nouveau design in Hungary.
The Palace of the Museum of Applied Arts was created by two prominent Hungarian architects, dön Lechner and Gyula Pártos. The majestic structure incorporates Renaissance and Baroque elements. Moreover, its design is reminiscent of Hungarian folk art and oriental ornamentation details.
5. Hotel Tassel
Source: mymodernmet.com
Emile Tassel, a physicist and professor, commissioned the Belgian townhouse construction between 1893 and 1894.
Due to its extraordinarily inventive design and ground-breaking use of materials and décor, Hotel Tassel is widely considered the first authentic Art Nouveau structure. Designer Victor Horta was among the first to apply the fundamental principles of the Art Nouveau style to architecture. He divided it into three sections: two classic stone and brick structures, one facing the street and the other towards the garden. The introverted side features a steel and glass structure.
6. Majolikahaus
Source: architecturaldigest.com
Unlike our previous examples, Otto Wagner's Majolikahaus is an illustration of art nouveau residential architecture. Some of the most famous Art Nouveau embellishments may be seen in the apartment building.
This was known as the Secession style in Vienna, and it had the same connotations as Art Nouveau architecture but in a more unique setting of their nation. The facade, which is covered with bright floral designs, is one of the building's most noticeable characteristics.
7. Glasgow School of Art
Source: architecturaldigest.com
Glasgow was one of the wealthiest cities in the world in the late 19th century. Trade and technology had revitalized the ancient harbor and turned Victorian Glasgow into a shipyard. The extravagant Art Nouveau aesthetic undoubtedly made its way into the design profession.
The Glasgow School of Art was a prime example of Art Nouveau architecture. This Rennie Mackintosh-designed structure has Art Nouveau, Japanese, and traditional Scottish ornamental features.
8. Agoudas Hakehilos Synagogue
Source: thespruce.com
This synagogue is the only Art Nouveau structure in Le Marais in Paris. The Agoudas Hakehilos Synagogue was built in 1913 at the request of the Russian-Polish society Agoudas Hakehilos.
It is the work of architect Hector Guimard, a master of the Art Nouveau style. The building's façade is decorated with complex designs inspired by the Ten Commandments.
9. Albert Street
Source: thespruce.com
Riga is home to over 800 Art Nouveau structures that were constructed during one of the most successful eras of the city, the late 19th and early 20th century. This also happened to be the peak of the Art Nouveau style in Europe. Albert Street is a significant Riga street notable for its Art Nouveau architecture.
A prominent designer, Russian-born Mikhail Osipovich Eisenstein, designed several of these structures, including many of the ornate apartment complexes along Albert Street.
10. The Secession Building
Source: mymodernmet.com
Architect Josef Maria Olbrich's structure effectively embodied the Vienna Secession's goal: to stand out and to present a new kind of aesthetic. The white cubic structure was conceived as an exhibition hall for Secessionist designers and artists. At the summit of the structure is an enormous open metal work sphere made of 3,000 golden leaves.
11. Hotel Metropol
Source: re-thinkingthefuture.com
The Hotel Metropol in Moscow is a remarkable example of Art Nouveau interior design. This hotel has an almost flat and simple exterior and is recognized as the first major extant hotel before the Russian revolution.
In contrast to the outer appearance, the interior grandeur screams extravagance on several levels. The golden color that adorns the interiors gives it a regal appearance that suits its illustrious guests.
12. Jubilee Synagogue
Source: re-thinkingthefuture.com
The Jubilee Synagogue in Prague is an excellent example of the juxtaposition of Art Nouveau architecture and Moorish design. The brainchild of famed architect Wilhelm Stiassny, it is richly ornamented and fitted with a massive organ.
The synagogue's front is worth seeing on its own; enormous arcades, a remarkable rose window in the style of the hexagon Star of David, and twin turrets on each side of the entryway. Inside, Moorish features are layered with art nouveau patterns in architecture on Moorish elements.
13. Hotel Saint Cyr
Source: wikimedia.org
Who says a structure has to be massive in order to stand out? This cramped structure created by Gustave Strauven in the heart of Brussels is a shining example of Art Nouveau architecture.
The Hotel Cyr has an eclectic gothic façade with fern-like corroded ironwork throughout the exterior. A curving metal beam in the shape of a circle supports this unique construction. Because of its opulence, the structure has been dubbed Art Nouveau-Baroque.
14. Casa Amatller
Source: thinkingthefuture.com
Casa Amatller, designed by Josep Puig I Cadafalch, is rich in symbolism and a one-of-a-kind specimen of Art Nouveau in Barcelona. The facade is flat with ridges offset from the cornice. Stained glass in a modernistic design covers the main roof of the home.
Antoni Amatller, a chocolatier, bought it, and his family still owns the estate. The mansion has been meticulously restored to its original splendour, as it was at the turn of the twentieth century.
15. La Chemiserie Niguet
Source: thinkingthefuture.com
La Chemiserie Niguet in Brussels is a unique example of an Art-Nouveau design for storefronts. This Paul Hankar-designed structure was formerly a floral nursery.
The Art Nouveau Floral-inspired design incorporates curving lines that imitate tendrils and greenery, which match the plants in the shop. Paul Hankar used his signature Mahony woodwork in the storefront to emphasize the structure's opulence.
16. Jugendstilsenteret: Alesund
Source: simpleviewcms.com
Scandinavia's center for Art Nouveau architecture is Ålesund. The Art Nouveau Centre, located in the middle of Ålesund, is a national reference centre for the Art Nouveau style. It was known as "Jugendstil," after a prominent German magazine named Jugend.
A catastrophic fire devastated the city in 1904, but it was reconstructed in Scandinavian design elements.
17. Casa Mila
Source: adsttc.com
Casa Milà is a renowned example of organic free flowing shapes, which are an important component of the Art Nouveau style. This Gaudi-designed structure appears to be carved out of a single rock. It has a free floor design with no load-bearing walls, with the weight carried entirely by the curved iron beams surrounding the facade.
18. Gresham Palace
Source: ak-d.tripcdn.com
The Four Seasons Gresham Palace in Budapest is a renowned hotel rich in European history and decorative Art Nouveau. The façade is stunning, with stone frescoes, towering columns, and romantic embellishments.
The entrance welcomes you with its domed glass cupola, spectacular chandelier, and Moorish mosaics. However, the structure was heavily damaged during WWII and lost much of its previous lustre. During World War II, the Red Army utilized the site as an army barracks.
19. House with Chimeras
Source: static.riel.ua
House with Chimeras, commonly known as Horodecki House, is a stunning brick Art Nouveau structure. It was created by WadyovHorodecki, commonly known as Kyiv's Gaudi. With its frogs and elephant figures, the structure is greatly influenced by Guadian architecture. However, it is known as the House of Chimeras due to the extensive usage of grotesque aesthetics.
20. Metro Entrances in Paris
Source: media.istockphoto.com
The Art Nouveau movement was responsible for several renowned landmarks in France. Every visitor to Paris has seen the metro entrances, which are notable examples of Art Nouveau architecture.
Designer Hector Guimard created these wrought iron structures to mimic the curved forms of botanical symbolism. The metro entrances were conceptualized in two styles: those with roofs and those without canopies. The former, often known as édicules or kiosks, had a fan-shaped glass awning in front. In some cases, there was opaque paneling with floral designs.
Art Nouveau Architecture: The Art Trend of the Future!
The core premise of the Art Nouveau Movement was to employ industrial revolution materials and technology to create legendary artistic elements of the classical era. Design was reinvented in an effort to break free from the previously popular historical styles.
This mammoth design exploration had to come to an end after only 20 years because it could not withstand the severity of World War 1. However, numerous constructions throughout the world demonstrate the majesty of Art Nouveau Architecture.
FAQs: Art Nouveau Architecture
1. What Is the Significance of the Name Art Nouveau?
The Maison de l'Art Nouveau ("House of the New Art"), a gallery founded in Paris in 1895 by the Franco-German art dealer Siegfried Bing, is the inspiration behind the name Art Nouveau.
2. What Did the Artists of Art Nouveau Reject?
Designers of Art Nouveau produced a wholly new style of decorating, rejecting the popular nineteenth-century tendency of replicating historical forms, particularly Classical aesthetics.
3. What's the Distinction Between Art Deco and Nouveau?
Art Nouveau and Art Deco are two of the twentieth century's defining art trends. Art Deco contrasts harsh angles and mathematical forms with Art Nouveau's graceful curves and sweeping lines.
For more information about the latest architectural development, keep coming to Architecturesstyle.
Also, do follow us on our Instagram page, Architecturesstyleideas, to get daily updates.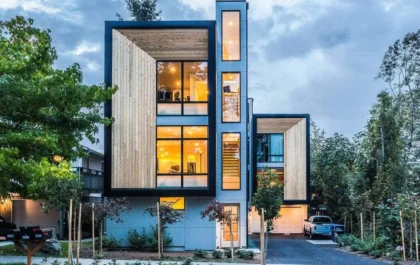 27+ Stylish & Modern Townhouse Designs for Urban Living.
The townhouse's first impression is normally too small, too compact, too narrower, and the list is endless. Well, let us…