With so many stunning and budget-friendly choices like marble, granite, porcelain, and ceramic tile, you can achieve a high-end custom bathroom flooring look without the huge price tag. Whether you want an elegant stone look or a fun patterned tile, the possibilities are endless. Read on to get inspired and find the perfect new flooring for your bathroom. Your dream bathroom starts from the ground up!
4 Unique Bathroom Flooring Ideas
1. Granite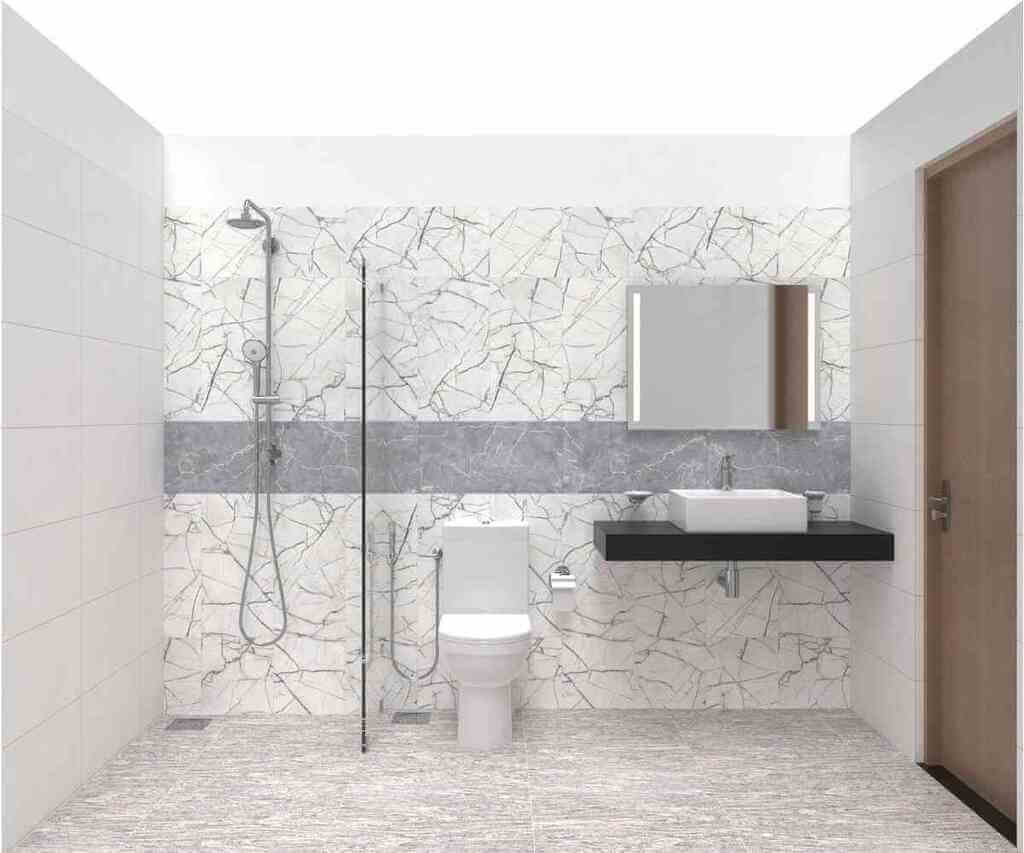 Granite is a popular choice for bathroom floors and countertops. This natural stone is stylish, durable, and water-resistant. Granite tiles come in a variety of earthy hues like tans, browns, and grays with interesting veining and patterns. The stone's natural beauty and variation mean no two granite floors will look exactly alike. Granite tiles typically range from 12 inches to 24 inches square, so you have options for larger stone slabs or smaller mosaic-style tiles.
Granite is one of the hardest stones which makes it very durable and scratch-resistant. It won't stain, scuff or scratch easily under heavy use and its non-porous surface prevents water damage.
Granite tiles can last a lifetime with proper care and maintenance. While granite tiles require sealing to prevent staining, they are low maintenance overall. Simply sweep and mop regularly to keep your granite floor clean. Re-sealing every few years will protect the surface. Avoid harsh chemicals that can dull the finish.
Granite tiles may cost more upfront but can save you money in the long run. Their durability means fewer repairs or replacements are needed. Granite also adds value to your home. Whether used for floors, walls, countertops, or backsplashes, granite's natural beauty and longevity make it a top choice for elegant, high-end bathrooms. Add some granite and you'll have an eye-catching space you can enjoy for years to come.
2. Marble Tiles
Marble tiles are a timeless choice for bathroom floors. Their natural beauty and elegance can make a striking statement in any space. Marble comes in a variety of colours and patterns, from creamy whites to deep, dramatic grays. The stone is porous, so it needs to be sealed properly to prevent stains, but its polish and shine are unmatched.
Polished marble tiles have a glossy, reflective surface, while honed marble tiles have a matte, satin-smooth finish. Either way, marble adds a touch of luxury.
However, marble can be a little expensive, especially for large bathrooms. It also scratches and stains easily, so marble may not be the most practical choice for high-traffic or kid-friendly bathrooms. On the plus side, marble lasts virtually forever and holds up well to moisture.
For the best results:
Have marble tiles installed by a professional to ensure tight seams and proper sealing?

Seal marble tiles every 6-12 months to protect them from water damage and stains. Use a penetrating sealant, not a surface sealant.

Clean marble tiles regularly using a soft cloth or mop and a pH-neutral cleaner. Avoid abrasive cleaners.

Place protective pads under furniture and rugs to prevent scratches.

Repolish or re-hone marble tiles overtime to restore the shine. Professional services can grind down scratched or etched areas.
Marble tile flooring is an investment, but with the right care and maintenance, marble can stay stunning for decades. For natural stone beauty that lasts, marble is hard to beat.
3. Porcelain Tiles
Porcelain tile is an excellent choice for bathrooms. Made from densely packed clay and fired at high temperatures, porcelain tiles are non-porous, stain-resistant, and nearly impermeable. They come in a variety of styles, textures, and price points to suit any design aesthetic.
Consider large format porcelain tiles, like 12 by 24 inches or bigger. Fewer grout lines make for an easy-to-clean surface and a seamless look. For smaller bathrooms, stick to a lighter coloured tile which will make the space appear more open and airier. In larger bathrooms, you have more flexibility to use darker colours or busy patterns.
Porcelain tile flooring and shower walls are a worthwhile investment that will last for decades. When installed and cared for properly, porcelain tiles can withstand the demanding conditions of a bathroom environment without showing signs of wear or water damage.
4. Ceramic Tiles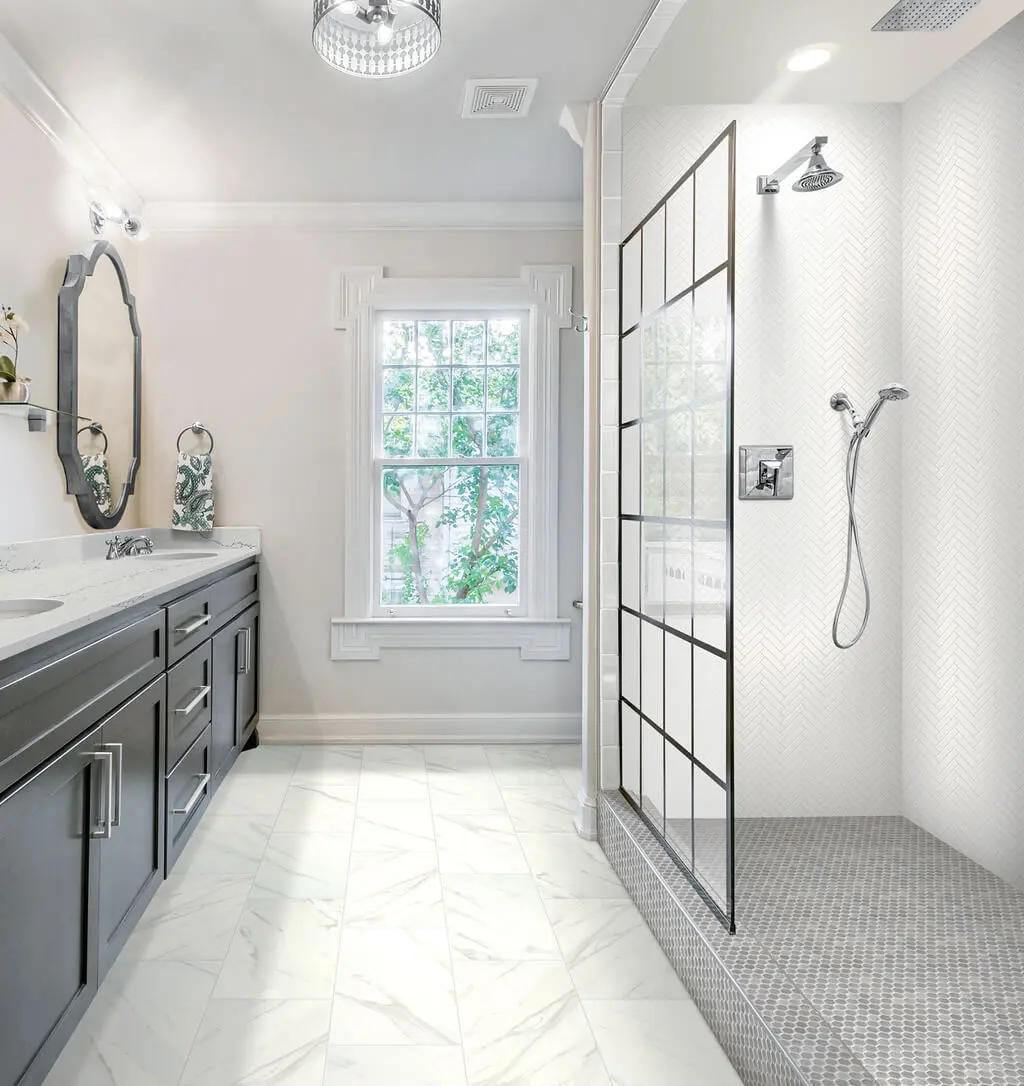 Ceramic tile is budget-friendly and easy to maintain. Simply sweep and mop regularly with a damp mop or cloth to keep your ceramic tile floors clean. For stuck-on messes, use a non-abrasive tile cleaner or a mixture of dish soap and water. Avoid using abrasive cleaners, as these can damage the tile surface over time.
Ceramic tile comes in a wide range of colours, patterns, and finishes to match your bathroom decor. Choose from monochromatic tiles in solid colours or natural stone looks, decorative patterned tiles, or tiles with accent strips and decorative edging for a custom look. Mixing and matching tiles of different styles, sizes, and textures is an easy way to create your own unique design.
Ceramic tile won't warp, stain or suffer water damage over time. For extra slip resistance, choose a tile with a matte, textured finish or a tile with slip-resistant properties built right in.
Conclusion
Natural stone, marble, porcelain or ceramic tiles can all work beautifully and give your space a high-end custom look without a huge investment. Any of these choices will instantly transform your bathroom into a stylish, spa-like retreat. Why not start with a stylish new floor that you'll enjoy for years to come? Pick your favourite from these chic and durable options and get ready to love your new dream bathroom!
In case you missed it!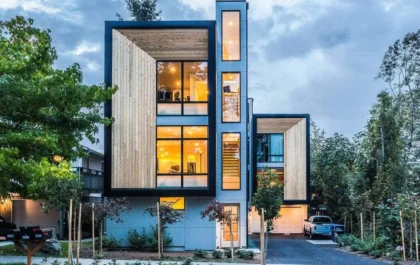 27+ Stylish & Modern Townhouse Designs for Urban Living.
The townhouse's first impression is normally too small, too compact, too narrower, and the list is endless. Well, let us…