Aside from serving its essential functions, the bathroom is a haven where you can relax and rejuvenate throughout the day.
Unfortunately, many household bathrooms have turned into cold and sterile spaces. Instead of serving as a calming sanctuary to gather one's thoughts, the space is cluttered and cramped with more hygiene products than anyone would ever need.
But it doesn't have to be this way! With a few design tweaks, you can easily transform the look and feel of your bathroom to make every visit feel sublime.
Below, we'll share seven on-trend designs to Refresh Your Bathroom
1) Marbled Walls
Source: rollza.in
Gone are the days of bland, beige wallpapers. These days, homeowners are turning to marbled walls to give their bathrooms a luxurious feel.
If you're willing to spend some time and money to achieve a feat of luxury, marbled walls are definitely the way to go. They're elegant and classic, and make a perfect complement to white tubs and toilets. They also make your master bathroom feel spacious, making you want to spend a little bit more time during each visit.
That said, not everyone's willing to go to the lengths to attain marbled walls. And that's okay! A suitable alternative is to apply marble wallpaper around your bathroom. That said, be sure to use a waterproof variant to maintain its quality when it inevitably gets splashed on with shower water.
2) Irregular Mirrors
Source: inspireddesigntalk.com
Some love it, others don't get the hype around it. But there's one truth surrounding these mirrors: they have sparked quite an extensive discussion about their eccentric yet stylish appearance!
They may look a bit eccentric at first glance, but irregular mirrors are a fantastic way to add some personality to an otherwise dull bathroom. They come in all shapes and sizes, so you're sure to find one that fits your preferred style.
If there's little room for a complete overhaul of your bathroom, a simple item change can do just the trick. And what better item to replace than the one you're likely to look at every day? We can't recommend this mirror style enough, especially if you have a generally small bathroom to work around with.
3) Statement Lighting
Source: decoist.com
Creative Lighting is an often-overlooked element in bathroom design, but it can make all the difference in terms of both function and style.
If your bathroom feels dark and dated, try swapping out your existing light fixtures for something more modern. You won't believe how this little switch-up can make a big difference.
Pendant lights and sconces are especially popular right now and can look exceptional in the right bathroom. But if you don't have enough room in your bathroom for extra light, a simple bulb replacement to something more warm-toned can quickly change the feel of the place just fine.
4) Luxe Linens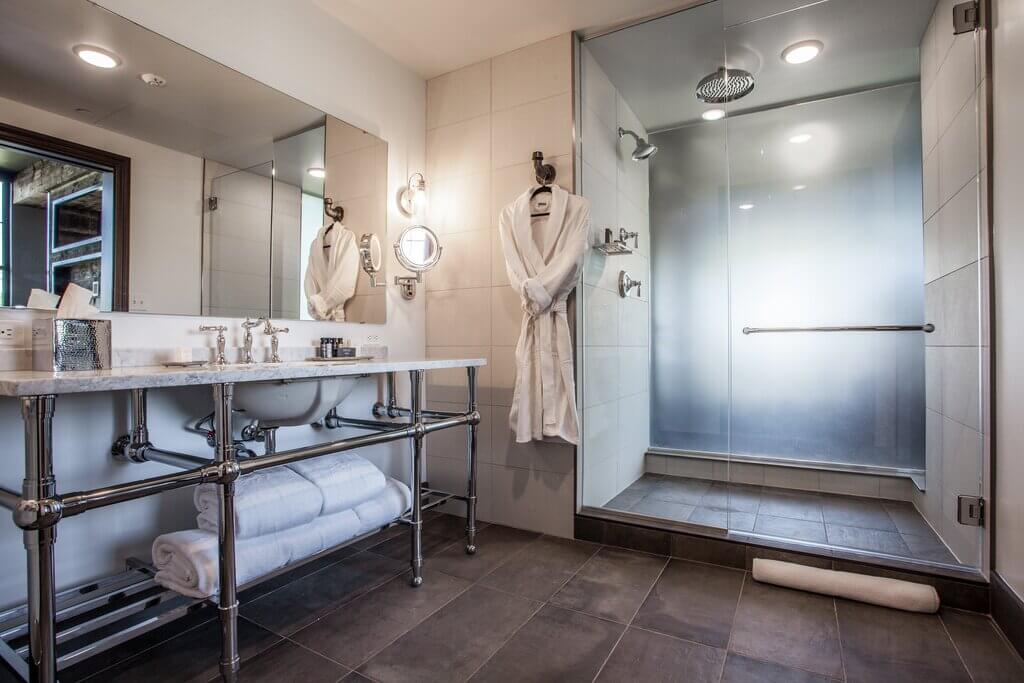 Source: qtxasset.com
A luxe material such as linen or velvet can turn up the aura of the bathroom quite significantly. These fabrics not only dry faster, but they look modernly stylish when placed alongside one another. This is especially true if they have uniform color schemes that complement the walls and tiles of the bathroom.
If you're not sure where to start, incorporate linen into your design scheme by swapping your current towels, robes, and shower curtains with linen or other easy-to-breathe fabrics. You'll feel like royalty in no time.
5) Bring on the Candles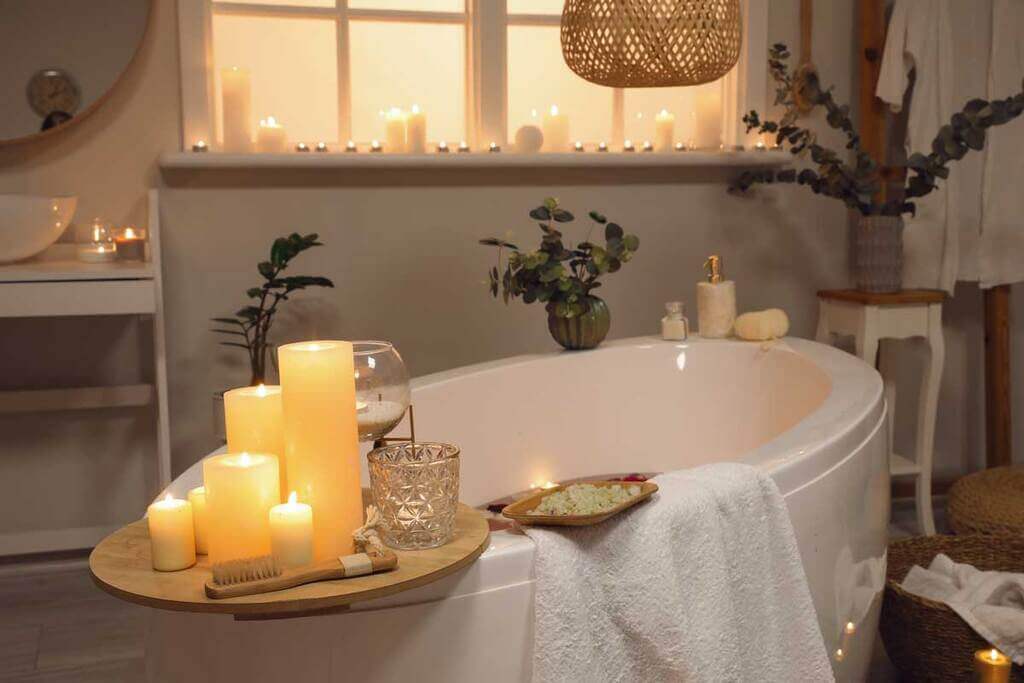 Source: ideadesigncasa.org
The damp and humid environment of the bathroom is the perfect place to enjoy the flickering flames of candles. Not only do they provide a relaxing atmosphere, but they also come in various scents that are primed to give your olfactory senses a delight.
The best part about scented candles is that there's an entire catalog of scents that you can deploy in your bathroom. In the mood for something herbal? Try eucalyptus or lavender. If you're looking for something a bit sweeter, vanilla never fails to please. And if you're currently vibing with woodsy scents, give sandalwood or cedar a go.
Also Read: How Often Should I Deep Clean My Bathroom?
6) Hanging Shelves
Source: sndimg.com
Is your current bathroom lacking ample counter space? Or maybe you're just looking for a way to make it feel more organized?
Either way, one way to keep your bathroom essentials within arm's reach is to install a hanging shelf. This way, you can take advantage of unused wall space and make it work double duty as both storage and decoration.
On top of that, a hanging shelf is a fantastic way to show off some of your favorite trinkets and toiletries to your guests. While it may seem excessive to show off in a bathroom, it can make your home feel all the more sophisticated and lavish. Check bathroom products on ArchiPro for some bathroom decor inspiration.
7) Discreet Trash Bins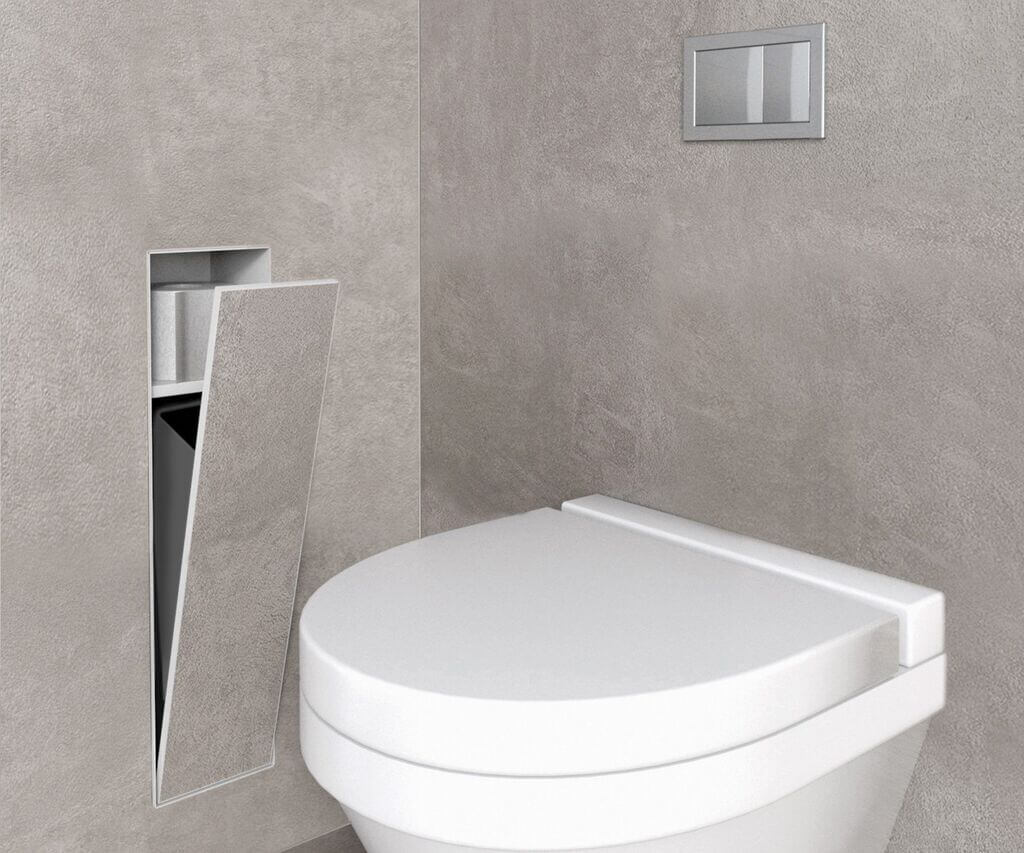 Source: pinimg.com
Are you still using an open wastebasket in your bathroom? If so, an upgrade may be in order.
One way to make your bathroom feel less messy is by utilizing a cover for your trash. This way, you can discreetly hide away any unsightly garbage and make your space feel neater as a result.
The good news is that there are plenty of different options on the market that are both stylish and functional. Whether you're looking for a simple step can or a more decorative option, there's sure to be something that fits your needs.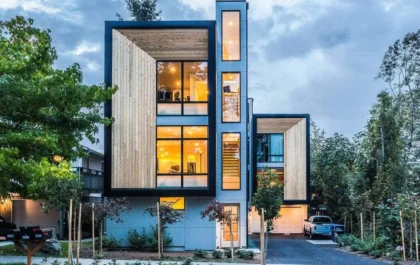 27+ Stylish & Modern Townhouse Designs for Urban Living.
The townhouse's first impression is normally too small, too compact, too narrower, and the list is endless. Well, let us…