Your deck's design is important in establishing a secure and aesthetically pleasing outdoor area. The deck railing project is one component that can improve the looks overall while offering necessary safety features. The benefits of installing glass railings for deck design will be discussed in this article.
Advantages of Adding Glass Railings to a Deck
Open View of Nature with Tempered Glass Panels
The deck railing system offers unmatched views of the surroundings, letting you fully appreciate nature's beauty. Traditional railing materials like metal or wood can obstruct your vision. Glass panels, on the other hand, provide a seamless blending of your outdoor living space with nature, creating a serene and magnificent environment.
Modern Style with a Reliance on the Classics
Glass railing system offers a sleek, minimalist design that blends with many architectural styles and gives your deck a touch of luxury. Glass railings with powder coating add to the beauty of any property, whether it is modern or traditional, and create an outside area that is visually attractive.
The deck's modern design incorporates full glass panels securely, offering both safety and unobstructed views of the surrounding landscape.
Safety Without Deterioration of Appearance
Glass deck railing offers an essential safety purpose in addition to improving aesthetics. Due to the transparency of the glass, you can always keep an eye on any children, animals, or other activities taking place on the deck and ensure their safety.
Additionally, tempered glass panels offer a strong and long-lasting barrier that helps stop slips and falls, especially on high decks. The deck railing glass panels are securely held in place with a specially engineered glass gasket and mounting brackets, ensuring a reliable and visually seamless installation.
Families and those who enjoy hosting guests can feel secure using this extra safety measure.
Durability and Easy Maintenance
Contrary to common assumption, glass deck railing with wide aluminum pickets is extremely durable and needs no upkeep. In order to make the glass resistant to cracks, chips, and other sorts of damage, it is either tempered or laminated of the highest quality.
Modern glass railing systems are made to survive the weather, including dampness, UV radiation, and high temperatures. It only requires occasional washing with light soap and water to keep its spotless appearance.
Unique Customization Options
With so many options for personalization available for glass deck railing, you may make a one-of-a-kind design that matches your personal preferences. To obtain the required level of seclusion and aesthetics, pick from a variety of tempered glass choices, including clear, tinted, or frosted.
Additionally, glass panels can be paired with other frame materials, such as stainless steel, aluminum, or wood, giving you the flexibility to fit the current style of your deck or to create a striking focal point.
Choose Art Metal for Masterpiece Glass Deck Railings
Your outdoor living environment is made more elegant, sophisticated, and safe with glass deck railings. Glass railings are a wise investment for any deck because they provide unhindered vistas, increased safety, durability, low maintenance, and personalization options.
The best option when looking for top-notch glass panel items is Art Metal. Art Metal provides a variety of premium glass railings with their remarkable quality, craftsmanship, and attention to detail, which will turn your deck into an alluring and welcoming space.
Conclusion
If you are considering installing glass railings for the deck, then you should definitely go ahead. Because Glass railings are incredibly low maintenance, and durable, they will add value to your home.
In case you missed it!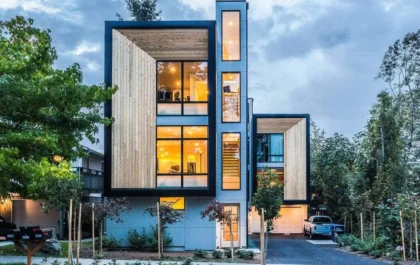 27+ Stylish & Modern Townhouse Designs for Urban Living.
The townhouse's first impression is normally too small, too compact, too narrower, and the list is endless. Well, let us…