Spending time in your garden, backyard or patio is one of life's simplest pleasures. Just as British poet Alfred Austin wrote "Head in the sun, heart with nature. To nurture a garden is to feed not just the body, but the soul." If you're lucky enough to own just about any type of private outdoor space, 'tis the season to start preparing for the lovely weather that's just around the corner. Aussies are well known for their love of nature and outdoor activities. However, to think that we don't love our creature comforts as well is ludicrous. That's why when it comes to outdoor garden furniture and accessories, we're often spoiled for choice.
From lazy bags to dining sets and everything in between, there's a myriad of ways to take the inside comfort outside. But how does one choose the right way?
Bring the Fine Dining Experience Outside
Today, it's easy to fall in love with the stylish outdoor furniture on the market. But before buying, don't forget that you only have limited space to work with, so it's best to use your outdoor grounds wisely. While luxury properties often have an alfresco bar, kitchen, patio set and dining set, for us mere mortals, this arrangement means sacrificing the whole backyard space to stuff and things.
If you're furnishing a smaller backyard and don't want to splurge, buying multi-purpose outdoor furniture such as a dining table and chairs is enough to bring the fine dining experience outside without depleting your budget or free space.
Having dining set outside is perfect for spending quality family time in nature, entertaining guests or enjoying a good afternoon read in solitude surrounded by nothing else than greenery, chirps and whirrs.
However, instead of heading out to the nearest store and buying the first dining table you lay your eyes upon, do a little research about the quality aspects of outdoor garden furniture. This is very important especially for those who buy outdoor furniture for the first time.
Although buying a cheap plastic dining set may seem like a steal, this decision may end up costing even more than buying a high-quality set made from durable teak or concrete. What good is an affordable set if you have to replace it every season, right?
Another thing to consider here is the size of your dining set. Be mindful about your space and ensure that your garden remains functional and accessible for you to fully enjoy.
Create a Chill-Out Zone & Soak up the Greenery
Do you prefer to have your meals under the AC? Let's see what else you can do with a big empty backyard. Instead of going for a dining set that you probably won't use very often, opt for laid-back garden furniture to create a peaceful sanctuary on your patio or in your backyard.
You can combine a comfy lounger with a stylish coffee table and have an easy to love chill-out zone for the whole family. For next-level lounging, you can also furnish your garden with a hammock or a fluffy lazy bag.
Just imagine… Coming home after a long day at work and crushing onto your soft lounger surrounded by trees, flowers and birds. It's like having a secret shelter from all the hustle and bustle of modern life. However, this idyllic daydream can quickly turn into a nightmare with the wrong furniture.
Sweaty thighs on plastic chairs, wobbly recliners, soaking wet or mouldy lazy bags; remember those? Yuck!
That's why you shouldn't buy garden furniture just because it looks good in store. Your garden furniture should be a fusion of functionality, durability and comfort. So what do you use for garden furniture you ask?
Some of the materials that tick all these boxes are concrete, wood and wrought iron for the frames. and as far as the cushions and pillows go, it's best to stick to acrylic fabrics that are strong, weather-resistant, breathable and easy to clean.
Create a Lovely Ambience at Night 
Want to make those nights under the stars even more magical? Place an outdoor fire pit near your seating arraignment and let the flickering light and crackling sounds soothe your mind. Throw in a marshmallow or two, and your tummy will thank you too.
Apart from adding ambience, fire pits are also a great idea to create a multi-season outdoor space. Just light your fire pit and let it warm up your body and soul. Why miss out on nature's beauty just because the temperatures have dropped?
Create an Illusion of a Bigger Space
Although pots and planters aren't considered furniture, they're often the missing piece of the garden design puzzle. Garden planters can be much more than containers for your plants. If chosen wisely, they can double as decoration and even help you create borders for your outdoor area.
Similarly to room dividers, you can use large garden planters to zone up your outdoor space and make it seem larger than it actually is.
Conclusion
For instance, if you want to have both a dining and lounging area, you can use giant planters to divide the plot in two. This will add depth and create an illusion of a bigger backyard. The best thing about this trick is that it works well with all gardens, no matter how big or small.
With that being said, you're now ready to start your hunt for outdoor furniture for sale. Oh, and one more thing, if you're furnishing your garden for year-round comfort, make sure to include a patio umbrella or a gazebo on your shopping list so you can enjoy your furniture no matter the weather. 
Discover More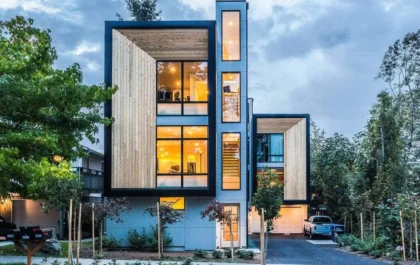 27+ Stylish & Modern Townhouse Designs for Urban Living.
The townhouse's first impression is normally too small, too compact, too narrower, and the list is endless. Well, let us…