Gutter cleaning is not only a headache, but it may also be risky if you do it yourself. You can spend money on gutter guards to reduce the amount of time and effort you put into this task. They prevent leaves and other debris from clogging your gutters while still allowing water to pass through.
"Gutter guards place a layer of protection on top of your gutters; it's your gutter's first line of defense against debris and clogs," says Jeff Beck, Chief Growth Officer of Leaf Home.
Yet, not all gutter guards fulfill their promises. Continue reading to find out more about the best gutter guards to use in your home.
Top 4 Benefits of Gutter Guards For You
1. Money and Time Saver
Gutter cleaning gets considerably easier. Spend less time cleaning the gutters and avert spending for gutter cleaning twice, three times, or more annually.
2. Safety Ensured
By avoiding the need to climb a ladder many times a year to clear your gutters, you save time while minimizing your risk of injury.
3. Optimum Performance
Even in locations where downpours and storms are regular, gutter guards may maximize the efficiency of your gutters by preventing the buildup of debris.
4. Prevention from Animal and Pest Infection
You won't have to worry as much about hives developing or rats getting into your gutter system because fewer animals will have access to it.
How to Install Gutter Guards?
Source: blogspot.com
Installation of gutter guards is rather easy. Although it is a simple installation process, DIY installation is not advised for novices. It is easier to install certain gutter guards than others. Just adhere to the instructions that came with your gutter guards. Consider seeking assistance from a professional if the task appears to be too difficult.
What Do You Need For A Gutter Guard?
Source: pinimg.com
For various dwellings and geographical locations, different gutter guard styles are preferable. Also, not all gutter covers deliver the best outcomes. Here, we've included a list of some of the most important aspects to take into account when choosing the best gutter guard.
DIY vs. Pro Gutter Guards
Source: pinimg.com
Gutter guards can be installed all by yourself, but it is generally not recommended. The most spartan guards to install are drop-in guards made of foam or brush, but doing so is physically demanding and might be hazardous. Moreover, DIY guards often need more regular upkeep and cleaning.
The life of your home can be extended by using higher-quality gutter guards, such as surface tension, mesh, and micro-mesh, which often need professional installation. In addition to professionally installing gutter guards, other gutter services like setting up new gutters and downspouts may also be very beneficial. Also, because of their extensive industry knowledge, these professionals can identify and address minor problems like sags or leaks before they turn into expensive disasters.
Major Materials Used For Gutter Guards
Source: pinimg.com
The materials for gutter guards may vary by product. Foam gutter guards are generally not recommended as they are highly susceptible to molding. Plastic gutter guards are a little better, but they need to be replaced frequently since they might swell and break due to weather changes.
Heavy-duty metal gutter guards are preferable. For instance, the best gutter guards with reverse curvature and micro-mesh are usually made of stainless steel. One of the durable materials is stainless steel, which is resistant to rust, corrosion, expansion, and warping.
Similar outcomes may be achieved using copper, a rare metal. While less durable than stainless steel and susceptible to piercing by tree branches, aluminum is also rust- and corrosion-resistant.
Warranty of Gutter Guards
Source: pinimg.com
With gutter guards, a warranty adds an extra layer of security and assurance. Often, gutter guard warranties last for more than 20 years. Several companies additionally offer transferable lifetime warranties, enabling new homeowners to continue safeguarding their homes after moving in.
Nevertheless, there are restrictions on these warranties. Any alteration to the guards' surrounding structure or roof, in particular, is likely to void your warranty.
Cost of Gutter Guards
Source: pinimg.com
Gutter guard prices vary depending on the quality of the materials, the size, and shape of your roof, and whether a professional installation is necessary. Several full-service suppliers also apply job-by-job negotiating sales techniques.
What Are The Types of Gutter Guards?
Gutter guards, often called gutter covers, come in a variety of styles. Each kind employs a distinctive technique to keep trash out while allowing water to flow. Different types are more suitable for different settings and households. Some of the most common types of gutter guards are as follows –
1. Foam Gutter Guards
Source: pinimg.com
A gutter guard of foam is designed to fit within your gutters. It allows water to pass through while keeping debris on top. The effectiveness of a foam guard depends on its layout and the quantity of waste, so some blockage may still happen. Overall, a foam gutter guard is a temporary fix for your gutters.
2. Brush Gutter Guards
source: pinimg.com
Leaf and other debris are kept out of the gutter by brush gutter covers that sit within the gutter and use heavy brushes. While it is better suited for huge waste, such as leaves, and pine cones, its form makes it easy for water to pass through.
3. Screen Gutter Guards
Source: pinimg.com
The screen gutter covers are similar to the door or window screens in your home. Large holes in screen gutter guards allow rainfall while keeping larger debris out, pass. Smaller debris might still pass the screen, though, owing to its wider perforations.
4. Surface Tension or Reverse-Curve Gutter Guards
Source: gutterhelmet.com
Surface tension or reverse-curve gutter covers divert rainfall into your gutters while using surface tension and water flow to drive leaves and other debris into the ground. Since they are often visible from the ground, reverse-curve gutter covers are sometimes thought to be less aesthetically pleasing than others.
5. Mesh or Micro-Mesh Gutter Guards
Source: pinimg.com
Identical to screen guards, mesh and, gutter guards with micro-mesh, have extra trash blocked by a compact design, including tiny debris like pine needles. Especially with micro-mesh, professional installation is necessary. Gutter guards made of micro-mesh and mesh are often regarded as the most effective.
10 Best Gutter Guards You Should Know About To Protect Your Gutters
1. LeafFilter Gutter Guards
Source: pinimg.com
The LeafFilter gutter guards are made of micro-mesh of steel with a transferable lifetime warranty. They offer a three-piece gutter guard system that uses the surface tension method to pull water through the gutter but push off debris. Its steel body ensures the guard does not get wrapped up in extreme temperature changes.
To save maintenance and prevent unnecessary roof manipulation, LeafFilter pitches the guard flush with your roof. The company also asserts that its design can capture tiny particles of dirt like shingle grit and pollen.
Pros –
Transferable lifetime warranty.

New gutter installation.

Detailed and convenient installation.
Cons –
Several limitations in warranty.

Aggressive sales tactics.
2. LeafGuard Gutter Guards
Source: vimeocdn.com
Made of aluminum, LeafGuard gutter guards are among the best gutter guards with a transferable lifetime warranty. It features a small slit on the side and a rounded curve on top. With this design, rainwater is channeled via downspouts and away from the base of your home while blocking and removing dirt from your gutters. LeafGuard adds downspouts that are 30% bigger than typical for maximum efficacy.
Pros –
They offer durable one-piece reverse-cu

rve gutter guards.

All metal construction.

Transferable lifetime warranty.
Cons –
Online pricing information is not available.

New gutter installation is required.
3. HomeCraft Gutter Guards
Source: pressablecdn.com
The HomeCraft gutter guards are made of marine-grade, micro-mesh of steel and have a transferable warranty. HomeCraft uses concealed, reinforced metal hangers affixed to your fascia boards to further secure its gutter guard during installation. The guard has an aluminum frame with powder coating, which enables it to suit practically without regard to gutter size, and the need for concealed hangers.
Pros –
Lifetime transferable warranty.

Unique, low-raised diamond design.

Metal roof works
Cons –
Online pricing information is not available.

Several clients complain that getting quotes is difficult.
4. All-American Gutter Guards
Source: allamericangutterprotection.com
The gutter guards by All-American are made of micro-mesh of aluminum and have a lifetime warranty. They provide micro-mesh guards similar to LeafFilter. Being made of 100% aluminum. They won't bend or warp, are lightweight, and can tolerate extreme weather conditions.
Pros –
100% aluminum body.

Installs and services gutters, downspouts, and gutter guards.

Lifetime guarantee.
Cons –
Home visits are required for a quote.

Customer feedback citing challenging installation schedule.
5. MasterShield Gutter Guards
Source: mastershield.com
They are among the best gutter guards, with copper and micro-mesh of steel and a transferable warranty. The guard is pitched with a Shingle-Safe design, similar to LeafFilter. They use 99.9% pure copper wires woven into a 316 surgical-grade stainless steel filter.
MasterShield's guards allow rainfall to travel through your gutter system while allowing debris to roll over the top. Another characteristic of the gutter guards is MasterShield's Ice Shield, an adjustable heating element. To match your roof or current gutter system, the firm now offers its gutter screens in 14 colors.
Pros –
Transferable lifetime warranty.

Pitched installation for shedding debris.

Patented design with copper to break down organisms and oils.
Cons –
Online pricing information is not available.

Advertisements make the misleading claim that you'll never have to unclog your gutters again.
6. Raptor Gutter Guards
Source: raptorgutterguard.com
Made out of stainless steel micro, the Raptor gutter guards have a warranty of 25 years. They are DIY and highly efficient gutter guards. It is composed of corrosion- and rust-resistant 304 SS (stainless steel). The Raptor gutter guard has 900 divots per square inch and is extremely compact. You can also renovate your home easily.
Its design filters water well while offering enough resistance against small particles like shingle grit and pine needles. The gutter guards from Raptor are eco-friendly as well. Aluminum and stainless steel, which are 100% recyclable, are used by the firm in place of plastics and PVC (polyvinyl chloride).
Pros –
DIY micro-mesh guards.

Compatible with multiple gutter styles.

25-years warranty.
Cons –
Materials are hard to cut during installation.

Tiny mesh holes lead to overflow.
7. FlexxPoint Gutter Guards
Source: amazon.com
The FlexxPoint offers one of the best gutter guards, made from micro-mesh of aluminum with a warranty of 50 years. They provide a range of excellent meshes for gutters. To fit the color scheme of your home, you may select guards in black, white, matte silver, or brown.
You may easily order the guards that your home needs because they are available in lengths of 22', 102', 125', 200', and 204'. A 3-point design is used by FlexxPoint. This acts as a weir, limiting water flow over the gutter cover and avoiding water overflow and consequent foundation damage.
Pros –
Its thick design improves its longevity and strength.

Your roof's warranty will not be void.

50-years warranty.
Cons –
The warranty has exclusions in many cases.

Consumer concerns regarding freezing in cold climates are received.
8. Gutter Guards by Amerimax
Source: amazon.com
Steel micromesh, vinyl, or surface tension are used in the gutter guards by Amerimax. They offer a warranty of 10-20 years, depending on the product. Amerimax offers a variety of gutter guard products.
The company offers two micro-mesh gutter guards that are self-installable: Snap-In and Leaf Guard. Both of these gutter guards are easy to install, particularly the Snap-In gutter guard, which just snaps into the shape of your current gutters.
These guards are also cost-effective because they are made of vinyl, which is less expensive than other types in the market. Vinyl gutter guards aren't as strong or environmentally friendly as micro-mesh gutter guards made of steel and aluminum, though.
Pros –
Available in 3 widths.

Compatible with multiple gutter styles.

Easy to cut for installation.
Cons –
It has the smallest warranty, with a 10-year duration.

According to consumer testimonials, the slippery paint may result in overflow problems.
9. Brush Gutter Guard
Source: amazon.com
Made with nylon, the Brush gutter covers are available in various styles. To prevent the gutter from being clogged with pine needles, leaves, insects, and other potentially harmful waste, a stiff-bristled brush is placed inside it. Rainwater runs easily and unhindered throughout with the brush in place.
Being among the best gutter guards, a brush is convenient since you can place it in the gutter without any equipment. The brush also includes a helpful sizing guide and a variety of width and length options. You also gain since less debris builds up in your gutter when a brush gathers leaves and other debris.
Pros –
Easy installation.

Installation doesn't require any hardware or tools.

Rainwater can flow freely.
Cons –
They are expensive.

Debris can get accumulated on the top.

Over time it can get unsightly.
10. Frost King Plastic Mesh Gutter Guard by Thermwell
Source: wfcdn.com
The Frost King plastic mesh gutter guards by Thermwell are cheap plastic gutter guard options. They keep large debris and pests like mice and birds out of your gutter. The 6-inch-wide by 20-foot-long roll of plastic screen gutter guard may be customized to suit the gutter by simply cutting it with regular scissors.
Without using screws, tacks, nails, or any other fasteners, the gutter guard may be easily installed. Just insert the guard into the gutter, being careful to bend the middle of the guard upward towards the entrance rather than downward into a trough where debris would gather.
The gutters are protected all year round by the plastic material, which won't rust or corrode and is quite resistant to harsh temperature changes.
Pros –
They are easy to cut and can be adjusted to multiple gutter sizes.

Affordable.

Lightweight and easy to install.
Cons –
This item could be difficult for beginners to installing.

Being visible, they may not be aesthetically pleasing.
Clean Up Your Gutter With The Best Gutter Guards!
Source: firstamericanroofing.com
The best gutter guards are capable of withstanding strong rainstorms, offering effective filtration, and protecting your house from any water damage. Although gutter guards don't eliminate the need for cleaning, they do reduce the frequency, which saves you time and stress.
To choose the best gutter guard for your gutter system, it is advised to evaluate at least three different gutter guards. And having read this article must have given you some knowledge about gutter guards.
FAQs: Best Gutter Guards
1. Which Gutter Guards Are Best for Pine Needles?
Pine and other evergreen trees shed their leaves seasonally, which can create a nuisance for your gutter maintenance. Hence, surface tension and micro-mesh gutter leaf guards are the best choices, as they don't have a large hole for needles to pass through.
2. Which Is the Best Gutter Guard for Heavy Leaves?
To introduce gutter protection from heavy leaves, use mesh, micro-mesh, surface tension, and screen gutter guards. While purchasing, pay more attention to the guard's construction and build quality because leaves are big and are obstructed by most gutter guard designs.
3. Which Gutter Cover Works in Ice and Snow?
The best gutter guard for snow and ice is the one with heating elements. Without it, hazardous icicles and ice dams might develop inside your gutters. A wire that runs through heated gutter guards typically distributes heat to stop liquid from freezing.
4. Which Gutter Guard Is Maintenance-Free?
There is no such gutter guard that is entirely maintenance-free. Removing the need to clear up your gutters is made possible by high-quality guards that keep dirt out of them. You need to clean up your gutter a little or more often, at regular intervals.
5. Is the Installation of a Gutter Guard Effective?
No gutter guard will keep gutters free of debris, but they will significantly reduce how frequently homeowners must clean their gutters. The efficacy of gutter guards varies depending on the type. Interim solutions such as foam and brush guards are less effective than high-end choices such as reverse-curve and micro-mesh.
6. Is It Worth Purchasing Gutter Guards?
If you wish to minimize the frequency of gutter cleaning, a gutter guard is a good investment. Gutter guards still need to be maintained occasionally, but they don't need to be cleaned as often as unprotected gutters, so they're an excellent alternative for people who don't want to climb a ladder to clear out their gutters several times a year.
7. What Are Some Typical Grievances Expressed by Gutter Guard Users?
Some of the most common issues raised by gutter guard users are the need for continuous gutter maintenance, the inability of the guards to function during the winter months due to icicles and ice dams, and the fact that bees and other pests can still make nests in gutters.
8. What Kind of Gutter Guard Is the Easiest to Install?
Though there are several options available on the market for the best gutter guards, brush and foam gutter guards are the most common choices. Both foam and brush guards are inexpensive and simple to install.
9. How Can Gutters Be Cleaned Without Taking Off Gutter Guards?
With the following steps, you can easily clean your gutter, without even taking off the gutter guards –
To catch falling debris, place a drop cloth at the foot of the ladder.

Set up and secure the ladder from falling.

Put on your safety gloves and ascend the ladder to the gutters.

Clear away any debris that has accumulated on the gutter guards' upper surface.

To remove any extra dirt and other materials and to break up any clumps of tiny debris, rinse the gutters with a hose or pressure washer.

Continue until the stormwater drainage system is totally clean, then go on to the subsequent sections of the gutter and repeat.
10. How Often Should Gutter Guard-Equipped Gutters Be Cleaned?
As long as the top of the gutter guard is kept largely clear of debris like twigs and leaves, gutters fitted with gutter guards don't require regular cleaning. Typically, the main stormwater drainage is cleared of debris with a complete cleaning every two years.
More from The Architecturesstyle
For more information about the latest architectural development, keep coming to Architecturesstyle.
Also, do follow us on our Instagram page, Architecturesstyleideas, to get daily updates.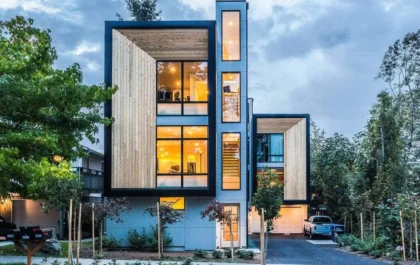 27+ Stylish & Modern Townhouse Designs for Urban Living.
The townhouse's first impression is normally too small, too compact, too narrower, and the list is endless. Well, let us…