It's fair to say that a lot of us like to think of ourselves as DIY superstars.
And while some of us do have the midas touch when it comes to DIY projects, for the most part, we fumble our way through.
Well, when it comes to DIY and your home, there are some jobs that are downright foolish to attempt yourself, and today we want to talk about one of them – gutter maintenance and installing your own gutters.
Installing your own gutters could not only mean tedious work, but it also spells disaster especially for those who haven't even done a single housework.
To help you understand, we've compared the pros and cons of doing this by yourself vs with the help of a professional, so keep reading to learn more.
DIY Gutter Maintenance and Installation
Source: forbes.com
So, we're going to take a guess and say that you're opting to install your own gutters because you
a)

Don't want to do the research to find someone else to do it; and

b)

You want to "save" some money

c)

or you simply want to give it a try
Well, let us list out some of the pros and cons of DIY gutter work see whether this job is really for you.
Pros of DIY:
Well, the most obvious pro is that you're not having to pay someone else to do the work.
You also get the satisfaction of completing the project, if you manage to. You get the bragging rights that you've successfully installed gutters without any professional help.
There are no strict deadlines to meet, you can do the work at your own pace. So no matter when you decide to finish it, no one can boss you around. Except your partner of course!
You don't need to spend any time trying to find someone to do the work in the first place.
Source: lindusconstruction.com
Cons of DIY:
If you don't have any experience, there is a high chance you're going to have to spend a lot of time researching how to actually get the job done.
The smallest mistake, like a missing fastener, incorrect installation, or any form of damage could lead to costly issues. These issues might be immediate or they might not occur for a while, but without the experience and know-how, you're at a higher risk of something bad happening.
Not that we're underestimating your DIY super powers, but disaster is just more likely to happen during DIY gutter installations.
While you're not paying someone to do the work you're still spending time on the project, and you know what they say, time is money.
Even if you're not paying someone else to do it, the chances of saving money on the process isn't that high. Not only is it costing you in time, but if you don't have the tools or equipment, you need to buy or rent it.
It's a risky job. Gutter professionals are highly trained and skilled individuals who are used to climbing up and down ladders and at working at heights. If you're not used to it, this kind of work can be extremely dangerous.
Source: kguardheartland.com
A trained and qualified professional can give you peace of mind when it comes to projects around your home improvement. Here's the pros and cons of working with a professional gutter expert.
Pros of Professionals
A professional roof and gutter plumber has been trained in all aspects of gutter maintenance and installation. They are also familiar with lots of different kinds of roofs as well as the latest techniques to perform their work.
It's convenient, the pressure to complete the task is not on you. You don't have to worry about understanding how to use the equipment, the right materials or anything else.
There's no risk of you hurting yourself.
The cost might actually work out to be better than if you did it yourself as often the gutter experts have access to materials at better prices because they tend to purchase in bulk.
The job will take a lot less time than if you do it.
Cons of Professionals
It might be more expensive than DIY. This will depend on the kind of materials you have access to and the size of the house.
You need to find the best professional for the job, which can take time.
Let's Wrap it Up
As you can see, when it comes to your home's gutters the pros of working with a professional clearly outweigh the pros of DIY gutter work.
Not only are you going to save time and effort, but you'll end up saving loads of cash as well.
So if you're thinking of installing your gutters yourself, save yourself the trouble and find the best roof gutter installations near me in Sydney at Gutterline instead.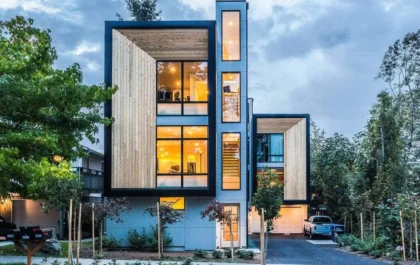 27+ Stylish & Modern Townhouse Designs for Urban Living.
The townhouse's first impression is normally too small, too compact, too narrower, and the list is endless. Well, let us…