Whether you're making your first steps onto the property ladder or you're in the process of selling, upsizing or downsizing from your existing home, there are plenty of factors to consider when making a move.
While the process of buying property can be notoriously complicated, you could save yourself some considerable headaches by investing in a new build home. But what factors do you need to consider when buying a new build home.
The New Build Property
Source: novellosurveyors.co.uk
Essentially, new build homes are residential properties that have been newly constructed rather than renovated, re-purposed, or refurbished from previously existing structures. In 2021-2022 in the UK, there was a 10% increase in net additional dwellings and a 15% increase in the number of council tax and domestic properties.
This means that new buyers are being increasingly drawn to newer properties due to the fact that they generally require less maintenance, are more reliable, and provide more flexibility in terms of design and collaboration during the development stage.
If you're looking to craft your dream home, a new home construction could be the best option, but what other essentials should you consider?
Buying Off-Plan
Source: sourcedfranchise.co
If you decide to 'buy off-plan property, you'll purchase a new property that has yet to be built. The advantages of buying off-plan include a more customizable design, a better choice of land plots, discounted purchase prices, and the fact that your new build home could rocket in value before you even move in! You could also benefit from a Help to Buy equity loan or the government First Home scheme if you choose to buy off-plan.
The most important dates to consider here include the short-stop date (estimated date of when the build will be completed) and the long-stop date (a set date by which the build must be completed).
Energy Efficiency
Source: greenerideal.com
One of the main advantages of going with a new build home is increased energy efficiency. Older UK housing stock is notoriously inefficient in terms of insulation, with around 3.8% of the 24 million dwellings in England found to have problems with dampness in 2021. While newer properties are less likely to lose heat and be susceptible to drafts and mold, it's important to check the energy efficiency of any new build home.
This includes the power supply and EPC rating (which will be higher than those of older properties), as well as the presence of an EV charging point and eco-friendly alternative to gas, like an air source heat pump.
The more energy efficient the property, the lower your outgoings and the higher the potential reselling price.
Extra Protection with New Builds
Source: bellway.co.uk
As a new-build property buyer, you could be eligible for NHBC Buildmark, which offers a 10-year warranty and insurance coverage for new-build homes. You could also be afforded extra security against the builder's insolvency and deposit protection.
A new build home will come with white goods; you will need to make sure you receive the guarantees for these on completion, as they will be needed in the event of an error.
Chain-Free and Flexible
Source: stmodwenhomes.co.uk
Going with a new build home is one of the easiest ways to avoid chains, one of the biggest obstacles that often hold first-time buyers back from stepping on the ladder.
By purchasing a new build home, you'll likely find the process much faster and more flexible, both in terms of financing (many developers offer home-buying schemes in line with government initiatives) and by avoiding chains.
Also Read: Two Off-Plan Projects in Dubai with Resort-Style Living
Interior Design and Landscaping
Source: wheatcrofthomes.co.uk
Buying off the plan allows you to have some input into the interior design. Choosing everything from flooring to the kitchen and bathroom. Many developments have standard fittings, but you can upgrade these if you wish to go for something a little different.
Another thing to consider is decorating a new building when you've moved in. It's advised to wait between 9 and 12 months for the drying-out process to take effect. If you decorate before this, you will see small shrinkage cracks appearing, which is normal, but it means a re-paint.
If you have dreamed of a landscaped garden, just be aware that the garden of a new build home is left blank. Although it will be an area of soil when you first move in, it's a blank canvas for you to landscape.
Is There Scope to Add Value
Source: thearchitecturedesigns.com
You might be buying a new building property for the simple reason that you don't wish to do any major work to the building; however, looking at the property's potential for future development is important.
When looking at the plans for the property consider, could you add additions that would increase the home's value at a later date. Loft conversions, conservatories, and extensions are common ways to add value.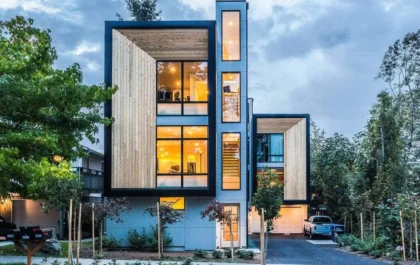 27+ Stylish & Modern Townhouse Designs for Urban Living.
The townhouse's first impression is normally too small, too compact, too narrower, and the list is endless. Well, let us…