Cladding made of stone is a beautiful method to improve visual appeal. Many other advantages include affordability, accessibility, and durability. It goes well with various themes and compliments the overall impression. A suitable type of exterior house stone can be chosen and applied based on availability.
It looks majestic when exterior house stone is used for a home's facade. Many ordinary properties are elevated to another level by using types of natural stone for house exteriors. Listed below are five advantages to think about, if you are considering adding exterior house stone to your house.
Top 5 Merits of Exterior House Stone
1. Easy Maintenance
Exterior house stone is a material with an inherent beauty that endures for a very long period. In contrast to other varieties of cladding, this style doesn't require a lot of maintenance. You won't have to be concerned about repainting or external factors that will damage or destruct your house's facade.
2. Visual Aesthetic
There is no debate over which house looks nicer when comparing houses with various types of exterior house stone to the normal ones. Constructing with stone cladding enhances refinement and gives your property a more refined, attractive appearance.
3. Most Economical Option
Contrary to popular belief, exterior stone house cladding is not necessarily pricey just because it has an expensive appearance. Like all other building materials, these types of stone for house exteriors are available in a variety of grades, giving homeowners the option to spend more money on full-grade stone or spend less money on less expensive cladding.
4. Long-Lasting Quality
The exterior stone house is incredibly durable. Even when a house is being torn down, we can still recycle the stone cladding. As mentioned earlier, stone cladding is extremely resilient and can withstand extreme weather. It maintains its original appearance with very minimal attention and ages incredibly gracefully.
5. Natural Insulation
Natural insulation is one of the highlighting features of exterior house stone. It can help maintain the desired temperature in your home when used as cladding. Unlike other similar materials, these do not immediately warm up or cool down the temperature outside.
Top 25 Types of Exterior House Stone for Your Next Project
1. Nature-Inspired Exterior House Stone
Source: westviewconcrete.com
Real stones, including granite, sandstone, slate, marble, and limestone can create natural exterior house stone cladding. Homeowners prefer this installation technique since it is economical, produces the same texture and appearance as full stone, and still has many of the same advantages. Let's see exterior wall cladding ideas for your home.
2. Type of Exterior House Stone: Engineered Cladding
Source: squarespace-cdn.com
Man-made stone veneer is referred to as an engineered stone. Although this artificial stone siding choice is less expensive than actual stone, it doesn't sustain as long as them. Crushed stone is combined with other materials to produce engineered stone. Concrete might also be used in some versions.
3. Limestone Cladding
Source: adsttc.com
A residence can achieve a rustic appearance by using limestone. This type of natural stone for exterior facades can survive a wide range of temperatures and is ideal for different climates. Also, it comes in a variety of colors. The most preferred choice when designing your home is limestone, because of its versatile character.
4. Compelling Type of Stone for House Exterior
Source: champlainstone.com
One of the most durable exterior house stones on the market is the Flint cladding. It can withstand practically anything, much like so many other external stone varieties. The insulating qualities of flint are another distinctive feature that makes it ideal for keeping a house warm in cold climes.
5. Sandstone is a Type of Natural Stone For House Exterior
Source: pinimg.com
Sandstone has good weather-resistant qualities if you're searching for something sturdy. It's one of the finest types of natural stone for house exteriors and is popular for gardens and frequently used as stepping stones. It requires little care and performs admirably well, in hot, dry conditions.
6. Granite Cladding
Source: pinimg.com
Granite is primarily heat-, moisture-, and scratch-resistant. Because of its climatic adaptability, it can survive any weather unmodified for years. Granite gives a building's exterior a sleek, opulent appearance.
Therefore, those who enjoy giving their homes a posh, sophisticated appearance frequently choose granite.
7. Quartzite is a Type of Stone for House Exterior
Source: googleusercontent.com
Regarding appeal and durability, this is identical to marble. However, there is a tiny distinction between them. Quartzite is unique because of its crystalline and dazzling structure. When used as external wall coverings, it creates a brilliant, sparkling impression.
8. Travertine Cladding
Source: dezeen.com
Travertine has the distinction of being one of the most attractive stones present and is available in a huge variety of exquisite hues, including blue, beige, and orange. We can frequently apply it to a variety of surfaces, including tiled floors and outdoor walks.
During construction, we can fill the cavities in travertine with grout to increase its longevity and avoid cracking.
9. Gneiss Cladding
Source: googleusercontent.com
This type of exterior house stone is well-known for its strength and integrity. They are also appropriate for cladding internal courtyard and exterior walls. This is a component of strength, and it doesn't rot and isn't fragile. The granite in the gneiss's composition provides it with a great deal of durability.
10. Soapstone Type of Exterior House Stone
Source: pinimg.com
Your outdoor kitchen will be unique with soapstone countertops and sinks! It won't etch or stain because it is naturally non-porous. In addition, soapstone may be utilized in a variety of outdoor applications, such as outdoor fireplaces, pool surrounds, and it can survive extreme climatic conditions. You can also check exterior house colors ideas.
11. Slate Cladding
Source: archdaily.net
Slate is a type of exterior house stone siding that has high durability, requires no painting or sealing, is resistant to acid rain, can withstand extreme heat and cold, and never catches fire. Slate has been utilized for roofing and siding for more than a thousand years, and the results are remarkable.
12. Heather Blue Cladding
Source: googleusercontent.com
The façade of a country house would look stunning in a gorgeous heather blue with green veining. It is a symbol of excellent architecture and is highly respected everywhere in the world. When employed in rehabilitation projects, they can immediately improve the aesthetic appeal.
13. Nordic Style Cladding
Source: pinimg.com
The color scheme of the Nordic type of exterior house stone is a delightful blend of light green, gray, and muted pink. This stone has a Nordic aesthetic because of its neutral colors. The installation process is quick and simple. It is highly popular in modern or contemporary designs.
14. Faux Stone Exterior Cladding
Source: googleusercontent.com
They are polyurethane-based, making them lighter than solid stone. The fact that this one is made of panels rather than stones makes it completely distinct from other cladding materials. This exterior stone still appears to be natural to the bare eye despite being created using a different material.
15. Craftsmen Type of Exterior House Stone
Source: googleusercontent.com
We may combine stone and wood cladding in craftsmen-style residences. They frequently have subtle brown, green, or earthy golden paint colors that combine well with natural stone. They can, also serve as a fantastic canvas for darker colors because of their straightforward form.
16. Cultured Exterior House Stone
Source: squarespace-cdn.com
A cultured stone is made from a synthetic material that resembles natural stone. It is also known as an architectural stone. To get a natural range of hues similar to natural stone, cultured stone is produced by blending cement or similar mixes with iron oxides into a mold. The mold is then painted or colored.
17. Exterior House Stone Panels
Source: kingdomstones.com
Building industry professionals and homeowners are embracing it. Stone veneer gives flair and texture to a home besides being more resilient and waterproof than wood siding. Exterior stone veneer offers a wide selection of alternatives for a variety of applications that will match almost any home design and increase curb appeal.
18. Onyx Exterior House Stone
Source: googleusercontent.com
Onyx stones that belong to the marble family are prominently used in interior surfaces. With proper attention and care, this type of exterior house stone will be a great outdoor wall. To protect it from direct exposure to the natural weather, it can be installed in a niche setting and with appropriate lighting.
19. Type of Exterior House Stone: Marble
Source: dezeen.com
The history of Marble exterior house stone is both prosperous and volatile. Since marble is difficult to use in construction, and they have created cheaper alternatives, marble has steadily lost popularity as a façade treatment. But many modern architects are attempting to bring marble back its former splendor.
20. Concrete Stone Cladding
Source: thdstatic.com
Cement is essentially molded together to resemble stone to create cement stone. This is a good alternative to natural stone in your home, and it is also a reasonable price. Also, utilizing cement might make it simpler to create forms and patterns.
21. Basalt Exterior House Stone
Source: pinimg.com
Basalt is a volcanic stone that is dark, blue-gray, and appropriate for outdoor wall cladding applications. The most commonly used type of volcanic rock in a building, appears to be a very fine-grained texture. One noteworthy characteristic of basalt is its extraordinary capacity for insulation.
22. Type of Exterior House Stone: Jerusalem Cladding
Source: archiexpo.com
Jerusalem stone, one of the first stones used in architectural construction, is created from light-colored limestone and dolomite. Compared to other limestones, this type of stone is far more dense and weatherproof. As a result, Jerusalem stone is frequently used for exterior cladding.
23. Tudor Type of Exterior House Stone
Source: homebunch.com
Warm grays, a variety of brown tones, and cream or white accents are all components of a traditional Tudor color scheme. In contemporary Tutor homes, you can encounter wooden structural members in earthy sage green tones or other similar tones. The prominent feature of a Tudor residence is often an arched wooden doorway framed with exterior house stones of various sizes.
24. Single-Level Exterior House Stone Cladding
Source: googleusercontent.com
There is always room for creativity playing with different types of exterior house stone cladding. Designers and architects try to make it as interesting as possible. Here in this style, they have applied the cladding style to the facade of the lower floor. Which looks connected with the landscape and stands out when visualized as a whole.
25. The Classic Combo of Stone and Brick
Source: men-lifestyle.net
The charm of brick and exterior house stone design work is in its versatility, whether you choose a classic style or an edgy geometric look. Brick and stone construction, whether simple or elaborate, transcends time, fusing the ancient and the contemporary style.
Source: worstroom.com
Source: worstroom.com
Source: worstroom.com
Source: worstroom.com
Source: worstroom.com
Source: worstroom.com
Source: worstroom.com
Source: worstroom.com
Source: worstroom.com
Source: worstroom.com
Source: homedit.com
Things to Consider While Opting for Exterior House Stone
Examining you

r exterior house stone sidi

ng every few months is the easiest way to maintain it.

Look for any scratches or chips as you walk around the outside of your home.

Look for loose stones and pest invasion indications.

Carpenter ants and termites cannot damage your stone veneer, but Mason bees can drill into it and build nests.

Although stone veneers are highly durable, it is always preferable to detect problems early on.
Also Read: 20+ Exterior Brick Paint Color Ideas That You'll Love
Conclusion
A very adaptable and elegant type of cladding is exterior house stone. It is strong, weatherproof, low maintenance, and can be tailored to complement your existing color scheme. On an important note, exterior house stone for your home enhances its all-natural beauty and elegance. These reasons make stone cladding a great choice for your home.
FAQ Regarding Types of Stone for House Exterior
1. Is It Possible to Paint on Top of the Exterior Stone Cladding?
Depending on the manufacturer's recommendations, exterior house stone can be painted. It is ‌not advisable to do so, particularly if the stone veneer you're using is cementitious. When proceeding with the process, it is advisable to consult a professional for advice on the best primer and paint to use.
2. What Is the Basic Cleaning Process of Exterior House Stone?
The best cleaning solution for most stone cladding is normal soap and water. It is not advised to perform power washing as it can affect the top layer rather than cleaning it. A power wash may cause something to the surface if there are grout joints or natural stones.
3. Is It a Good Idea to Go for Stone Cladding on Columns?
Yes, you may go for exterior house stone on house columns pretty much anywhere. Yet, smaller columns do not offer the optimum workability, trying to do something similar would be quite challenging.
4. What Is the Top Choice for the Exterior House Stone?
One of the most popular building materials for exterior house stone is granite cladding. The resilience and longevity of this stone's tint and texture are its distinguishing characteristics.
5. Which Is a Cheaper Option Stone or Brick?
Stone and brick are two building materials that are the finest yet expensive options. However, a few elements, such as the precise details of your project and the site of your property, will affect the pricing.
More from The Architecturesstyle
For more information about the latest architectural development, keep coming to Architecturesstyle.
Also, do follow us on our Instagram page, Architecturesstyleideas, to get daily updates.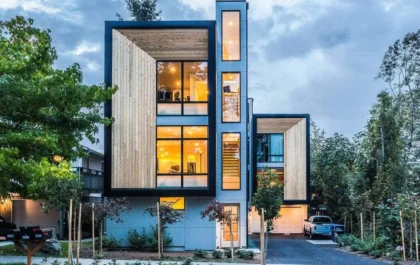 27+ Stylish & Modern Townhouse Designs for Urban Living.
The townhouse's first impression is normally too small, too compact, too narrower, and the list is endless. Well, let us…